Spaghetti Squash Pizza! Customize with your favorite pizza toppings for an easy to make meal that's low carb, filling and delicious! Gluten Free + Low Calorie
A lot of people are curious about what I eat on a regular basis. I used to do weekly posts showcasing my eats for a day, but the truth is I eat a lot of the same foods over and over again, and was feeling like I was always sharing the same thing over and over.
The thing is once you have a couple really good recipes in your back pocket you can easily turn to for meals, it's hard breaking free of them to try something new. When I instruct my cycle classes, I tell the participants all the time if they want to see change, they have to push themselves out of their comfort zone. Guess I need to take my own advice.
The same goes for food. When you're transitioning to healthier eating, it's not about giving up foods you love as much as finding healthier ways to eat those foods. You can still get the same delicious flavors and textures so you don't feel deprived.
In many ways, I'm thankful for you guys being here every day because it's my motivation to make new, healthy twists on reader favorites. It pushes me outside my comfort zone. Like this Spaghetti Squash Pizza which I'll get to in a minute!
Recently a woman I've been coaching asked what pizza I eat. I told her I haven't eaten pizza in years, but was happy to give her some healthier options. Not that there's anything wrong with pizza. It can be made healthy with the right ingredients. I just don't crave it like I did before I lost 80 pounds.
Now when I crave a pizza-like dinner, I either make my own crust, use tortillas or buy Udi's pre-made gluten free crusts.
Then a few weeks ago, the guy and I went out to dinner at an Italian restaurant. He was very concerned I wouldn't find something healthy. I assured him, I've got eating out down to a science. I always look at it as a challenge!
As it turns out the restaurant had spaghetti squash on the menu as a substitute to pasta and pizza. He was beyond confused as to what spaghetti squash was, and I was over the moon happy I didn't have to completely rearrange the menu to get something I enjoyed. Winning!
The dinner was so good! I kept thinking to myself I have to recreate this at home, and here we are today with Spaghetti Squash Pizza!
It took me a whopping 35 minutes to make this dinner! I warmed the spaghetti squash in the microwave 5 minutes before roasting it to make it a easier to cut and de-seed. I roasted it 30 minutes, then scrapped the flesh, added sauce, toppings, a sprinkle of cheese, and placed under the broiler 5 minutes before eating. So easy!
For the toppings, I used Trader Joe's Misto All Griglia with eggplant, zucchini and red peppers. The veggies are pre-grilled so they're ready to go! I also used antibiotic, hormone free chicken sausage and no salt added marinara sauce with my own seasonings. That's what I used to re-create what I ate at the Italian place and to keep the dinner super easy. But the spaghetti squash pizza can be easily customized to what you like.
It's an easy weeknight dinner to re-create your favorite pizza flavors in a healthier way. The question is are you willing to step outside your comfort zone and take on the challenge?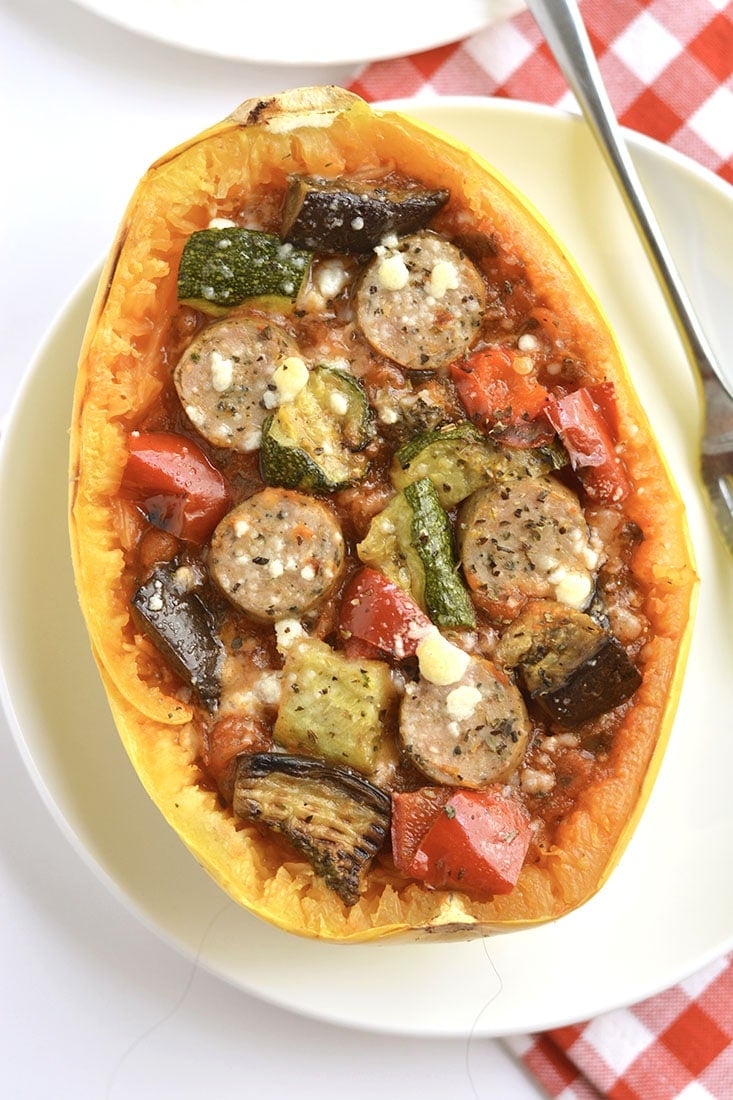 Spaghetti Squash Pizza
Spaghetti Squash Pizza! Customize with your favorite pizza toppings for an easy to make meal that's low carb, filling and delicious! Gluten Free + Low Calorie
Ingredients
2 spaghetti squash ~4 cups of flesh
3 hormone-free chicken sausage sliced into thin quarter-inch slices
16 ounce Trader Joe's Misto All Gringlia
1 1/2 cups tomato basil marinara sauce no-salt added
1 teaspoon garlic powder
1 teaspoon onion powder
1 teaspoon basil
1 teaspoon oregano
2 tablespoons grated parmasen
Salt and pepper to taste
Instructions
Preheat oven to 400 F. Prepare a large baking pan with parchment paper.

Place spaghetti squash in the microwave 5 minutes to soften then slice lengthwise and remove seeds.

Place spaghetti squash on baking sheet flesh facing up, sprinkle with salt & pepper then place flesh face down. Bake 30 minutes.

Remove the spaghetti squash from the oven, flip it so the flesh is facing up and let it cool 5 minutes. Using a fork, scrape the flesh from the skin.

Spoon the marinara sauce over the spaghetti squash and sprinkle the seasonings on top, dividing it evenly between each squash half. Stir the sauce to cover the flesh.

Place the vegetables and chicken sausage over each squash half. Sprinkle with parmesan cheese.

Set under the broiler 5 minutes to warm the ingredients and melt the cheese. Remove and serve immediately!
Nutrition
Serving: 1servingCalories: 261kcalCarbohydrates: 21.6gProtein: 11.8gFat: 15.7gSaturated Fat: 3gCholesterol: 39.3mgSodium: 960.4mgFiber: 5.3gSugar: 8.9g
What I Used For The Recipe