Turkey Veggie Meatballs With Spaghetti Squash packed with carrots, zucchini and onion and paired with spaghetti squash pasta making it paleo and gluten-free. A healthier and lighter alternative to pasta! Paleo + Gluten Free + Low Calorie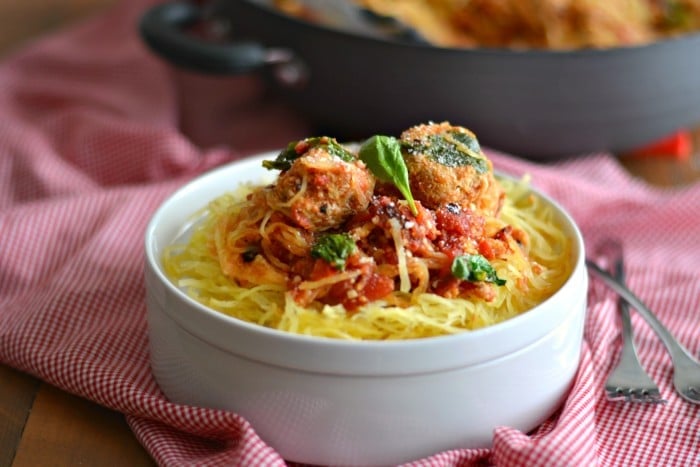 Hi Guys! TGIF! How's the week been? I have one word. Pictures. Pictures. Pictures. Ok, so technically that's 3 words. I am quite literally drowning in pictures these days and it's overwhelming me. I was editing photos the other day when my computer kindly informed me I was viewing image 5,892.
Holly cow! I knew I had a lot of pictures, but I had no idea it was that out of control. It doesn't help I have a MAC and the device sharing and cloud thing decides to randomly double them on my phone. One of these days I'll figure that phenomena out.
The ugly truth about blogging is you become a weird picture collector. Everything suddenly becomes picturesque. I mean you never know when you're gonna need that picture of last night's dinner to post on Instagram, Facebook or Twitter.
Then months later you realize you never posted it and can't even remember what it was you were planning to post about it that was so interesting at that time. They should make special phones for bloggers. We do weird stuff.
I finally bought an external hard drive with the intention of sorting through my pictures & organizing in folders so I can delete them from my devices. It will help me be more efficient so I don't have to scroll through all 6k of them when I'm editing.
I had pictures from 1998 on my computer. That was a really long time ago. I'm not even sure how those got on my computer, but I am sure I won't be needing them anytime soon. So now I'm working on my new picture "project". I feel like I'm climbing a small mountain alone. Worst job ever.
If there were one thing I wish I'd known about photography when I started blogging, it's to name every single image with a real name. Not "image1" or "pic2," but something descriptive like "turkey-spaghetti-squash-meatballs."
This allows search engines to find your content. You may have heard of SEO. Search engines aren't looking for image 1 or pic2. When was the last time you googled "image1?" You get the point.
The same thing applies to you when you're running searches on your own photos on your blogging platform or computer. I can't tell you how many times I've spent hours searching for a picture on my computer and then resort to downloading it from my website and re-saving it because I probably saved it as "image100" at some point before I knew any better.
Hence my 6k picture dilemma. That's 1st year blogging lesson #13. By the way, it also helps if you store them in their own folders i.e. "turkey spaghetti squash meatballs."
When I went on that date a few weeks ago, I told the boy I do freelance writing and recipe photography. There was no way I'd tell him I was a blogger without knowing him a whole lot better. He asked if I wrote on a tablet to which I responded no.
I need a big, bad computer for photo editing. Now that I think of it. He should've know that. He claimed he was into photography and could teach me more about it. Can't be that into it.
Speaking of editing, PicMonkey is the greatest blogging resource for photo editing. If you're not using it, you need to be. They have a free version which will be help you tremendously if you're just starting out. As you progress I do recommend investing in the yearly membership for the small cost and all the extras you get, it's worth it.
I suppose that makes 2 tips today. Apparently I can't count. Surely I can eat and now if you'll excuse me I'm about to face plant into this turkey spaghetti squash deliciousness and sleep for days. Happy Friday!
Turkey Veggie Meatballs With Spaghetti Squash
Turkey Veggie Meatballs With Spaghetti Squash! Italian turkey meatballs veggie packed with carrots, zucchini and onion and paired with spaghetti squash pasta making it paleo and gluten free. A healthier and lighter alternative pasta dish! Low Carb + Low Calorie + Gluten Free
Prep Time 20 minutes
Cook Time 40 minutes
Total Time 1 hour
Servings 4 servings
Calories 243 kcal
Ingredients
1 lb lean ground turkey
28 oz fire roasted crushed tomatoes
1/2 cup fresh parsley
1 tbsp extra virgin olive oil
1 1/4 tsp italian seasoning
1/2 tsp garlic minced
1/2 tsp red pepper flakes
1 zucchini peeled and shredded
1/2 yellow onion finley chopped
1/2 cup carrots shredded (2 medium carrots)
4 tbsp grated parmasean cheese optional, omit for Paleo
Instructions
Preheat oven to 375 F place sliced spaghetti squash in half facing down on a

baking sheet

lined with parchment paper. Cover with tinfoil.

Bake 40 minutes at 375 F, remove from the oven and remove tinfoil to cool as you prepare the meatballs.

Finley shred carrots, onion, zucchini, garlic and half the olive oil in a

food processor

.

In a medium mixing bowl, add turkey, shredded vegetables and spices.

Gently mix ingredients together with a spatula then form into 12 meatballs.

Heat a

large skillet

to medium heat and add other half extra virgin olive oil. Add meatballs to skillet.

Cook meatballs 10 minutes then flip and cook another 5-10 minutes.

Reduce to low heat. Add diced tomatoes to skillet and simmer 5 minutes.

Meanwhile remove spaghetti squash from skins using a fork.

Add parsley and spaghetti squash to skillet. Coat with sauce and cook another 5 minutes to heat.

Serve immediately and sprinkle with parmesan as desired.
Course Dinner
Cuisine American, Italian
Keyword dinner, gluten free, healthy, Italian, low calorie, low carb, meatballs, Paleo, spaghetti squash, veggie
Nutrition facts per serving (1serving)
Calories 243 kcal
Fat 5 g
Saturated Fat 1 g
Cholesterol 94 mg
Sodium 267 mg
Potassium 0 mg
Carbohydrates 13 g
Fiber 4 g
Sugar 8 g
Protein 37 g
Vitamin A 0 %
Vitamin C 0 %
Calcium 0 %
Iron 0 %
What I Used For The Recipe