This post contains affiliate links. As an Amazon associate I earn qualifying purchases. Click here for more about this policy.
Healthy Air Fryer Mustard Salmon is a delicious mustard-glazed salmon recipe. Pair with a vegetable and another side for a simple nutrient dense meal. A naturally low calorie, gluten free meal made in 10 minutes. Low Calorie + Gluten Free + Paleo + Low Carb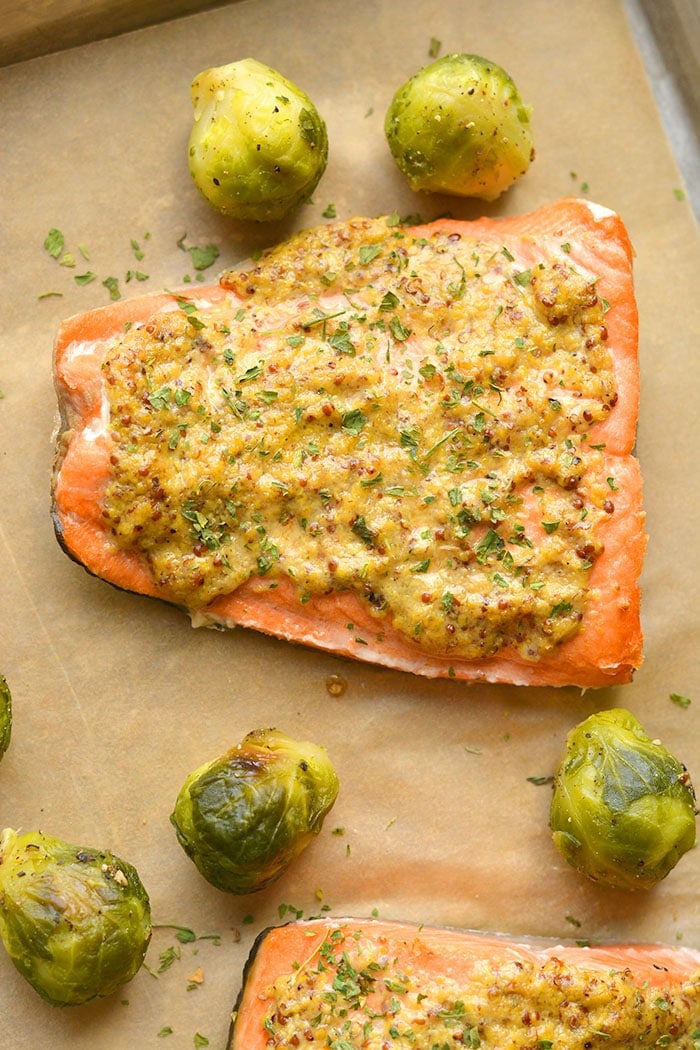 I love simple when it comes to meal time. Many of my clients think I spend hours make fancy meals and meal prepping, but the truth is I don't have the time to for that. Most of my meals are simple and basic.
The truth is no one wants to spend a lot of time thinking about food, not even me. That's why I make a real effort to put simple recipes on this website that anyone can incorporate and that family members can enjoy as well!
This is air fryer salmon recipe is another easy, throw together meal. It's healthy, quick to make (takes less than 10 minutes) and has a ton of flavor. So simple, so delicious!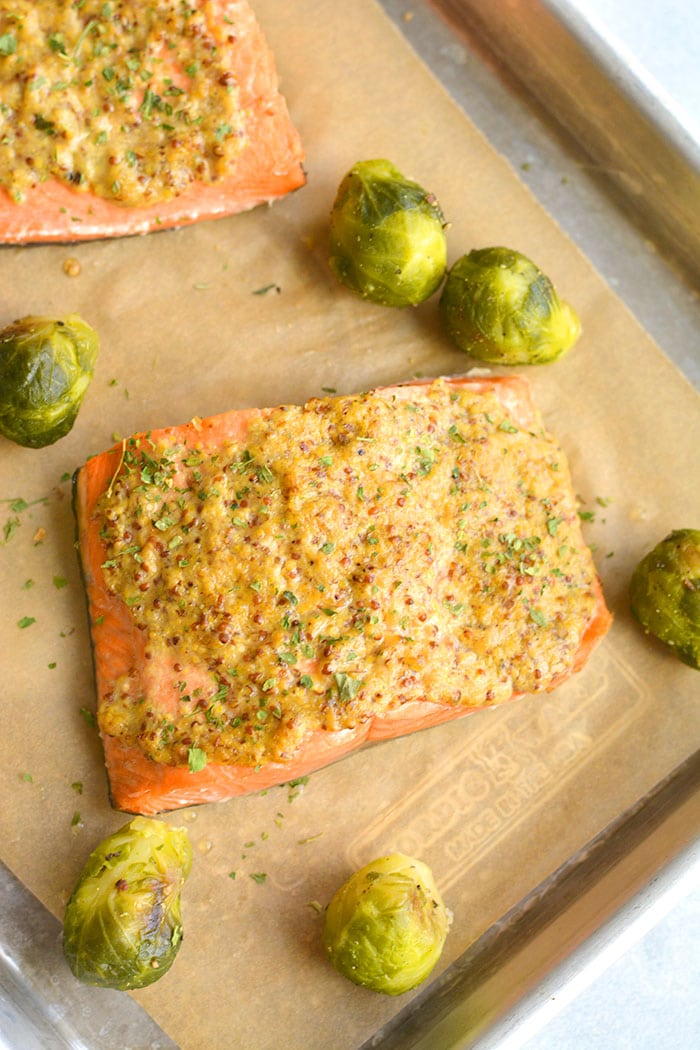 What Makes This Salmon Recipe Healthier?
Here's a few more reasons why I love this healthy air fried salmon recipe!
High Protein - This recipe has 35 grams of protein per serving which is a good amount for a female or male. Protein stabilizes blood sugar, keeps hunger and cravings away and protein is important for weight loss.
Low Calorie - I always say this, but reminding you that calories are not everything. The right balance of (nutrients) carbs, protein and fat within the calories is what's important. This recipe is 272 calories and high protein and has a good amount of healthy fat. You can easily add a veggie and another side to this salmon meal!
High Omega-3's - Salmon is naturally high in omega-3 fatty acids which the body can only get from food. This is a healthy type of fat everyone needs more of! Fat is also filling which can help with hunger and cravings.
Low Saturated Fat - Saturated fat isn't bad per se, but we do want to control how much of it is in the diet as it is not as ideal. Using the air fryer makes this recipe lower in fat as it is air fried instead of fried in a batter of oil.
Ingredients To Make Air Fryer Mustard Salmon
Here's the ingredients you need for making air fryer salmon. You will also need an air fryer and parchment paper to make this recipe.
Salmon Filets (I get mine from Butcher Box)
Whole Grain Mustard
Garlic Powder
Dried Parsley
Salt and Pepper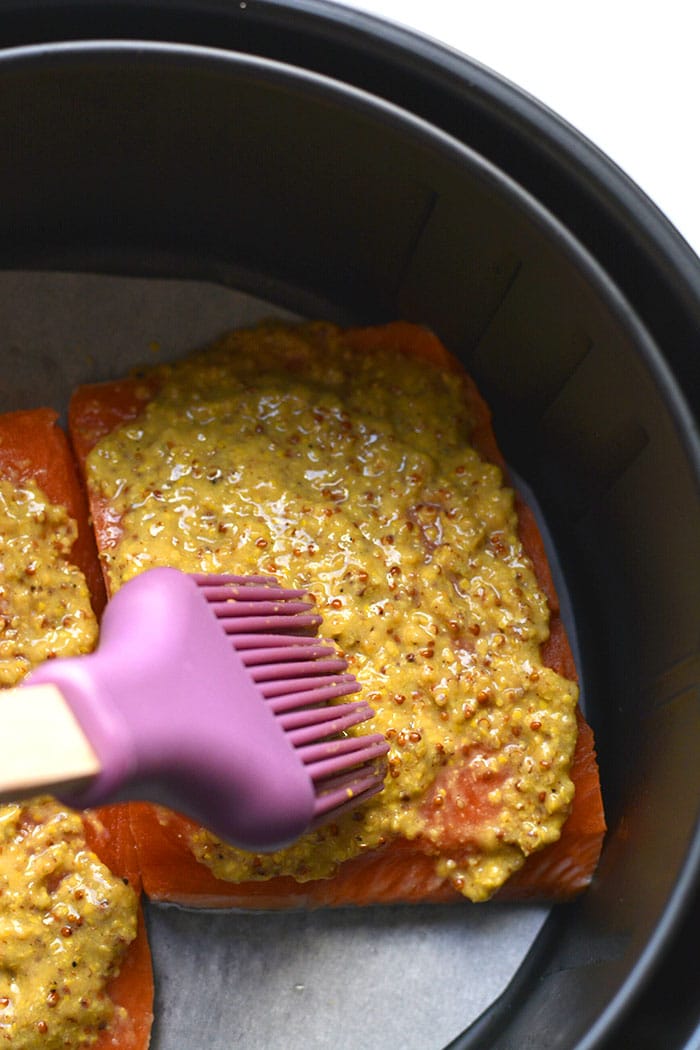 How Do You Make Air Fryer Salmon With Mustard
Making this air fryer salmon could not be easier! I used to make mustard salmon in the oven, but now that I have an air fryer I won't be turning back.
Before making the recipe, make sure your salmon is thawed. I get my wild salmon fillets from Butcher Box. To thaw, simply remove them from the freezer overnight and place in the refrigerator.
Step one for making the recipe is mixing together the oil, mustard, garlic powder, salt and pepper. Then spreading the mixture evenly over both salmon filets. If you purchase a large fillet, cut it into serving sizes before cooking.
Step two line the air fryer basket with parchment paper. This makes removal and cleanup so simple! I literally just cut a round section of parchment paper. Then place the prepared salmon on the parchment paper and cook 8 minutes, up to 10 minutes if you have thicker salmon.
For the best salmon, it should be cooked to medium-rare otherwise it does get tough and chewy. A common mistake most people tend to do with salmon is overcook. Once the salmon starts to turn white it's done.
Remove the salmon from the air fryer, add the dried parsley on top and serve!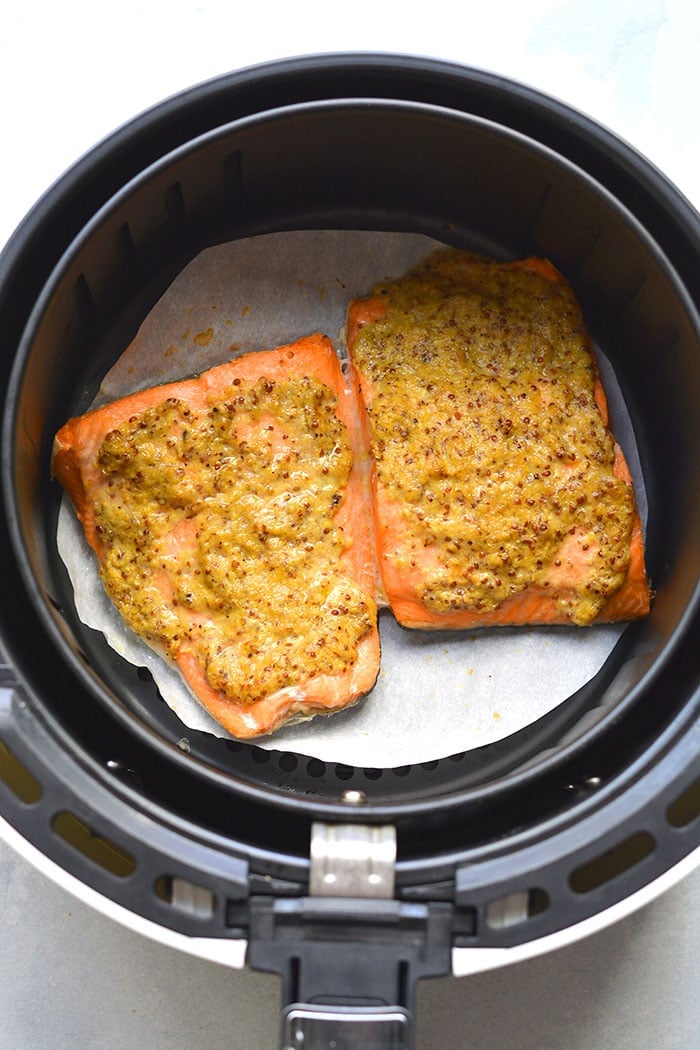 Can You Bake Mustard Salmon In The Oven
Yes! You can definitely bake this mustard salmon recipe in the oven. The steps are the same in the oven and you shouldn't need to adjust the temperature unless your oven runs hotter.
Can You Make Frozen Salmon In The Air Fryer
Yes, you can cook the salmon frozen. So in the event you do not thaw salmon ahead of time, you can make it in the air fryer frozen. Simply add the mustard mixture over the top and bake at the same temperature about 14-16 minutes. I recommend you set the timer to 10 minutes to check that is medium rare.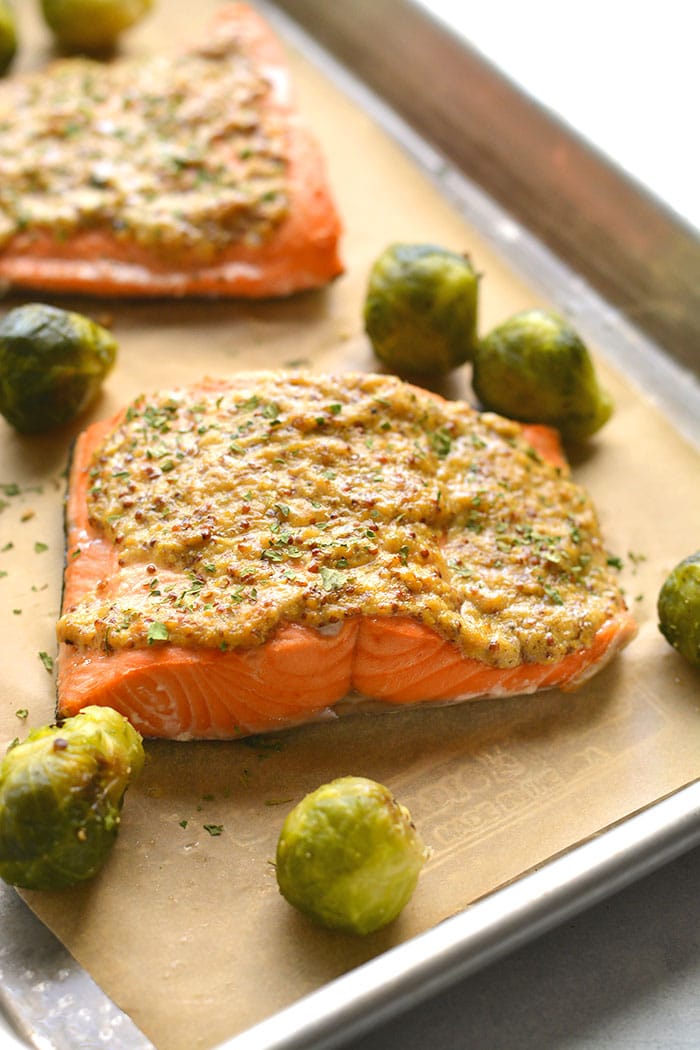 Substitutions For Low Calorie Mustard Salmon
Here's a few substitutions you can make for this air fryer mustard salmon. Please remember that substitutions you make will change the nutritional values you see in the recipe below.
Salmon - Fish like cod, haddock, halibut, tilapia or chicken breast would work.
Whole Grain Mustard - Any mustard will work.
Extra Virgin Olive Oil - You can omit this or substitute with an oil you enjoy.
Garlic Powder - You can omit if you want.
Dried Parsley - Fresh, chopped parsley can be used or another herb like basil or Italian seasoning, or you can omit.
What To Serve With Mustard Salmon
Here's a few ideas for what you can serve with your air fryer mustard salmon.
Vegetables - Roasted broccoli, roasted cauliflower, mixed greens or salad, green beans, asparagus, zucchini, mashed cauliflower or any veggie you enjoy would work!
Starches - Air fryer sweet potato fries, baked potato, healthier mashed potatoes, mashed potato muffins would be delicious with this salmon!
Grains / Legumes - Beans, lentils, quinoa or rice can be added easily.
Healthy Air Fryer Mustard Salmon
Healthy Air Fryer Mustard Salmon is a delicious mustard-glazed salmon recipe. Pair with a vegetable and another side for a simple nutrient dense meal. A naturally low calorie, gluten free meal made in 10 minutes.
Instructions
Mix together the olive oil, whole grain mustard, garlic powder, salt and pepper in a small bowl.

Cut the salmon into two pieces if purchased whole then spread the mixture over the salmon to cover completely.

Place parchment paper in the basket of the air fryer to prevent sticking then place the salmon pieces on top. Cook 8 minutes at 400 F. Note, you may need to preheat your air fryer first. Mine does not require preheating.

Remove the salmon from the air fryer and serv immediately with dried parsley on top. Store in the refrigerator up to 3 days.
Notes
My Amazon shop has more product similar to those used for this recipe and that I recommend to my weight loss clients.
If you enjoy this recipe, check out my cookbook for more recipes!
Nutrition
Serving: 1servingCalories: 272kcalCarbohydrates: 1gProtein: 35gFat: 13gSaturated Fat: 2gCholesterol: 94mgSodium: 246mgPotassium: 863mgFiber: 1gSugar: 1gVitamin A: 79IUVitamin C: 1mgCalcium: 30mgIron: 2mg