This post contains affiliate links. As an Amazon associate I earn qualifying purchases. Click here for more about this policy.
Healthy Air Fryer Sweet Potato Fries are a low calorie side made easy in an air fryer. Deliciously crispy and fried without the oil. Low Calorie + Gluten Free + Paleo + Vegan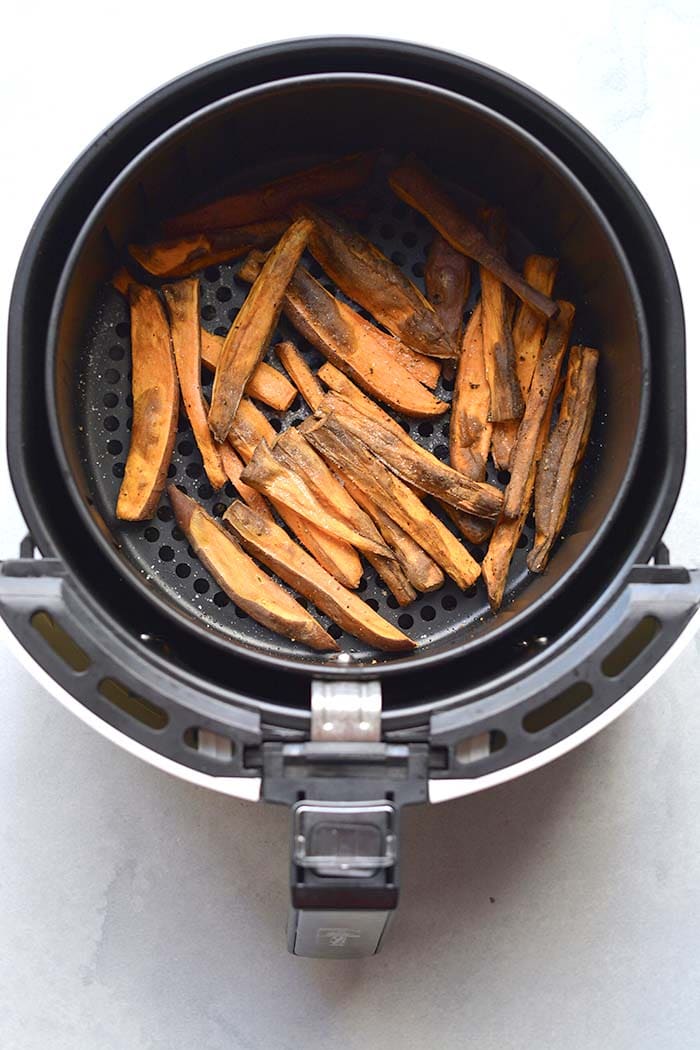 I asked you guys what recipes you wanted to see more of this year and overwhelmingly you said air fryer recipes so here we are with the first air fryer recipe!
I got my air fryer last year and have been having fun making recipes with it. If you don't have one yet, here's the air fryer I have. I recommend getting one that is a bit larger if you have a larger family - there's just two of us so this size is perfect for us.
Today I've got a simple recipe for you SWEET POTATO FRIES. My clients are always interested in how to make vegetables more delicious and in easy ways (like this roasted broccoli recipe everyone loves!).
But first, let's talk about why an air fryer makes food like sweet potato fries better for you...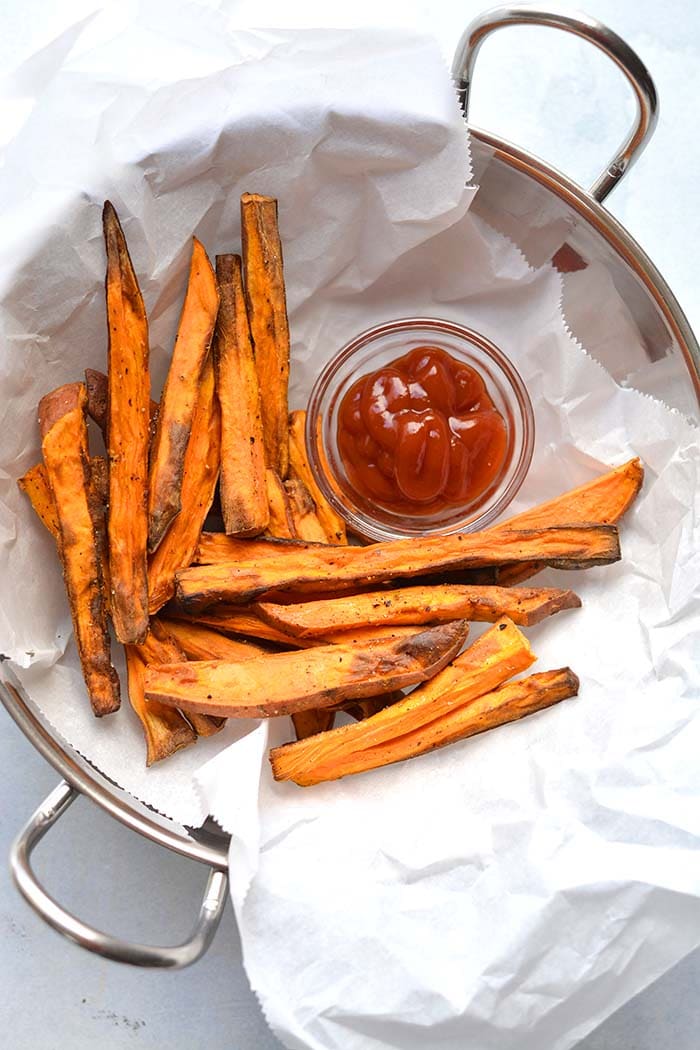 Is Using An Air Fryer Healthy?
Using an air fryer is healthier because you use little to no oil. Air fryers use air to cook the food, and it does not require submerging the food in a basket of oil. The oil adds significant calories and you need a slight calorie deficit for weight loss. With an air fryer, you are able make foods like fries crispy and give them that yummy, fried taste without the extra calories!
What You Need To Make Air Fryer Healthy Fries
1 Sweet Potato / Yam (6 ounces)
Garlic Powder
Salt, Pepper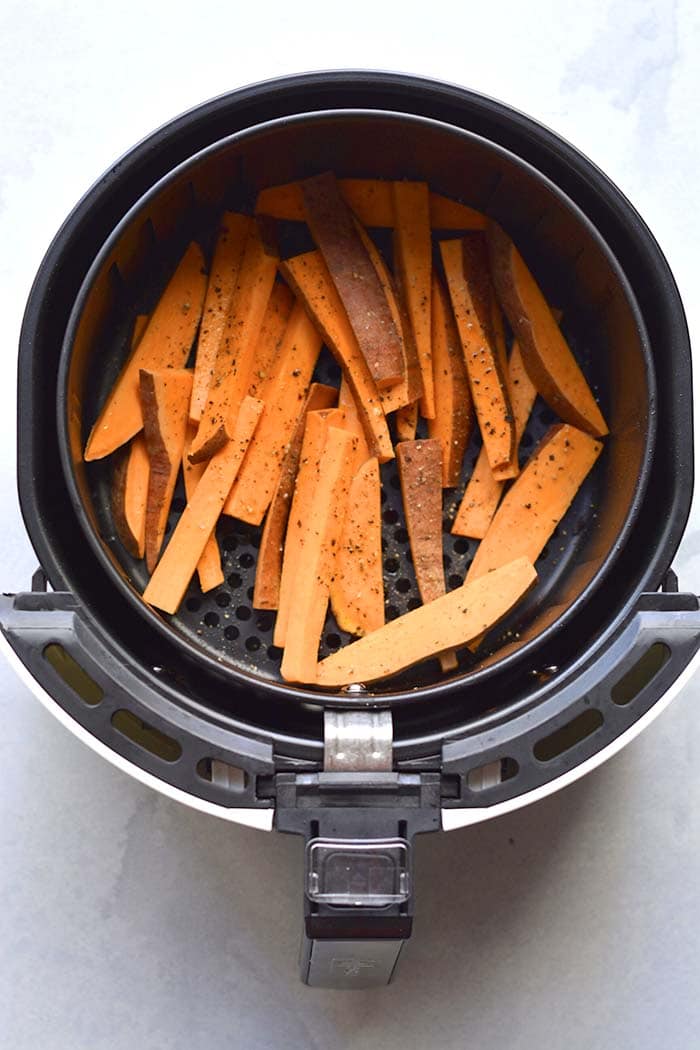 How To Make Air Fryer Sweet Potato Fries
Start by scrubbing and washing your sweet potato. Slice into 1/4-inch fries then lightly spray with avocado oil spray and sprinkle the seasonings on top. Toss to combine. You can do this in the air fryer basket.
Cook at 400 F for 7 minutes then flip and cook another 6-7 minutes until desired crispness before removing an enjoying. Please note that all air fryers cook a bit different. If you're new to air frying you will want to watch your fries carefully.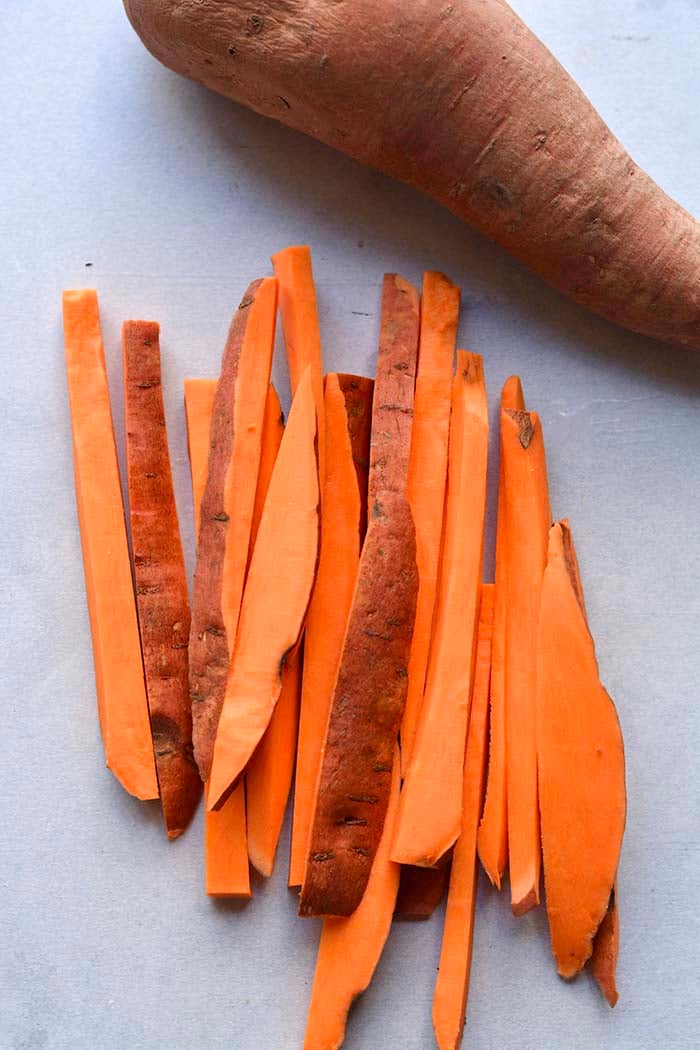 Can You Cook Sweet Potato Fries In The Oven
Absolutely! Before I bought an air fryer, I always made sweet potato fries in the oven. To cook sweet potato fries in the oven, place the uncooked fries in an even layer on a sheet pan covered with parchment paper. Lightly spray with avocado oil spray then sprinkle with the seasonings. Bake at 400 F 15-18 minutes rotating half way through. Cook time may vary for different ovens.
Substitutions For This Sweet Potato Fry Recipe
Avocado Oil Spray - You don't technically need the spray but the starch from the potatoes will stick together if it doesn't have a tiny amount of oil. I recommend being careful with the amount you use. You just need a tiny amount. Since this is 400 F recipe, avocado oil is recommended. Other oils are dangerous to use above their smoke points.
Seasonings - Any seasonings work with this. Feel free to add more as you wish!
Sweet Potatoes / Yams - See the note below about other potatoes.
Can You Substitute Other Potatoes To Make Air Fryer Fries
You can use potatoes like russet, Yukon and gold potatoes in the air fryer. I have not fully tested these varieties yet. I made russet fries once and they needed to cook longer than this sweet potato fries.
Once I test these varieties, I will update this post (there's only so much food I can eat!). If you test it before I do, comment below. This greatly helps others!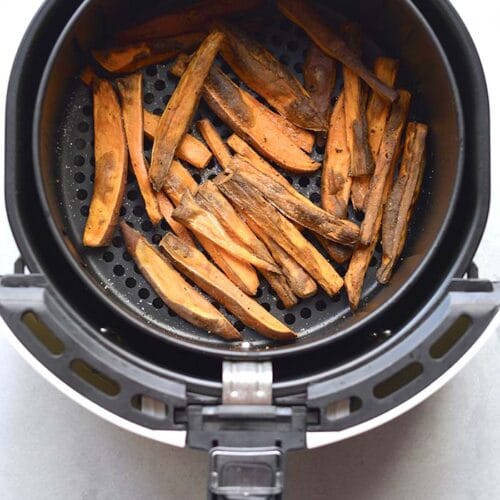 Healthy Air Fryer Sweet Potato Fries
Healthy Air Fryer Sweet Potato Fries are a low calorie side made easy in an air fryer. Deliciously crispy and fried without the oil.
Instructions
Scrub and wash the sweet potato. Slice the sweet potato (with the skin on) to 1/4-inch thickness into fries.

Lightly spray the fries with avocado oil spray. Avocado oil is recommended for temperatures about 350 F.

Sprinkle with garlic powder, salt, pepper and toss to combine. Add the sweet potato fries to the air fryer basket.

Heat the airfryer to 400 F. Note - some air fryers require preheating, mine does not. Cook 7 minutes then toss the basket and cook another 6-7 minutes.

Remove from the airfryer and enjoy!
Nutrition
Serving: 1servingCalories: 100kcalCarbohydrates: 23gProtein: 2gFat: 1gSaturated Fat: 1gSodium: 353mgPotassium: 381mgFiber: 3gSugar: 5gVitamin A: 16031IUVitamin C: 3mgCalcium: 34mgIron: 1mg