This post contains affiliate links. As an Amazon associate I earn qualifying purchases. Click here for more about this policy.
Healthy Strawberry Greek Yogurt Muffins! Bursting with strawberries and creamy greek yogurt, these easy to make muffins make a delicious low calorie breakfast or snack. Quick to make and gluten free too! Gluten Free + Low Calorie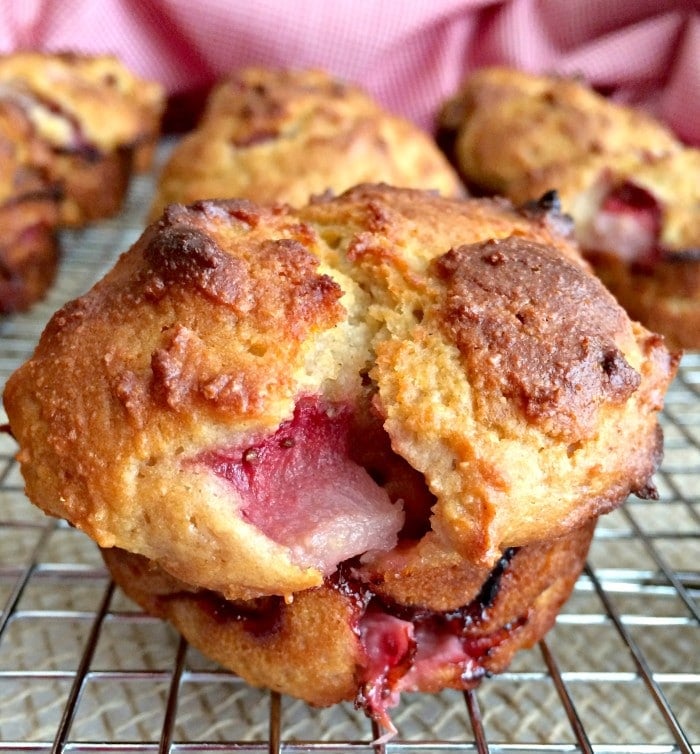 Ready for a melt in your mouth strawberry muffin that's healthy? If you answered yes, then you're in the right place! This healthy strawberry muffin recipe is moist, slightly sweet and will satisfy your craving for a treat!
I always tell my clients that treats are part of their weight loss plan. If you try to restrict and cut out foods you enjoy, then that's a sure way to give up and self-sabotage. I find when my clients intentionally incorporate treats in their diet, they're compliance is much greater and they actually enjoy losing weight!
So whether you're choose a healthier treat like these strawberry Greek yogurt muffing or something else, just know it's perfectly okay to intentionally plan to have them.
Click here to pin this recipe.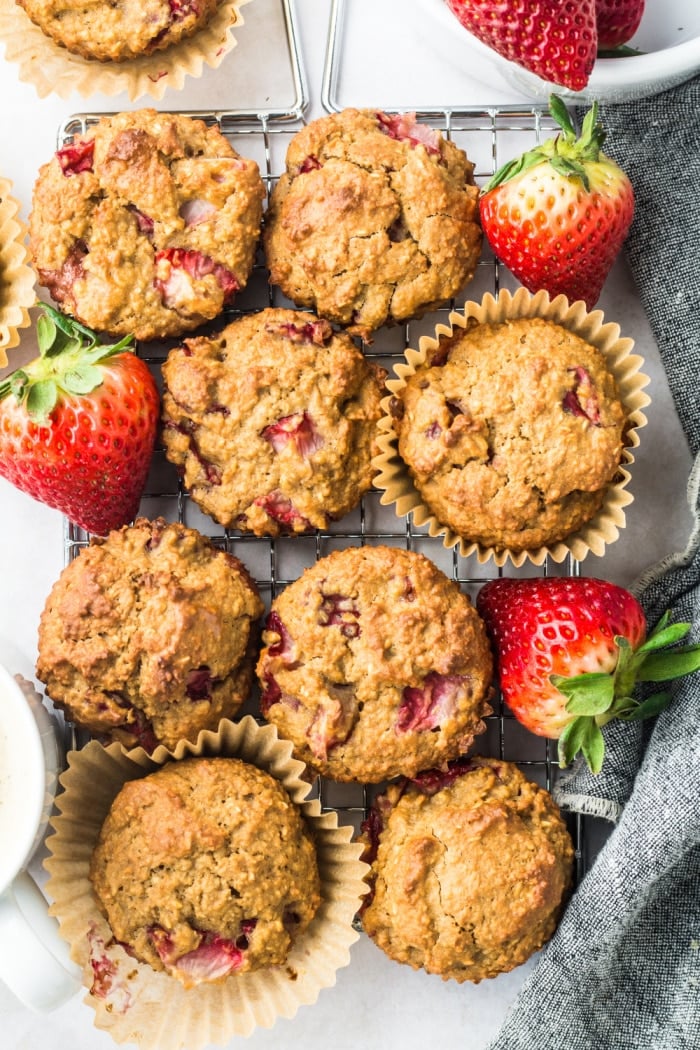 What Makes This Strawberry Muffin Recipe Healthy?
Not only are these strawberry muffins gluten free, but they also pack a big protein punch with the Greek yogurt and provide you vitamin C from the strawberries. They're dense, creamy and under 100 calories. Here's a few more reasons why I love them!
Low Calorie - Each muffin is 83 calories each and are nutrient dense. Low calorie is meaningless unless you've got nutritious ingredients. Since these are very low in calories, you can make larger muffins too!
Gluten Free - The ingredients used in this recipe are gluten free including the oats.
High Protein - I always recommend my clients eat foods that are higher in protein to stabilize hunger and cravings, but when it comes to baked goods this is especially important. The Greek yogurt provides a protein packed muffin!
Higher Fiber - Each muffin has 2 grams of fiber from the rolled oats and strawberries. I talk about the importance of fiber for weight loss in my free weight loss class!
Low Sugar - This recipe is very low in sugar, only 4 grams per muffin. Most of that sugar is naturally occurring from the strawberries and small amount from the coconut sugar. See notes below on sugar substituting.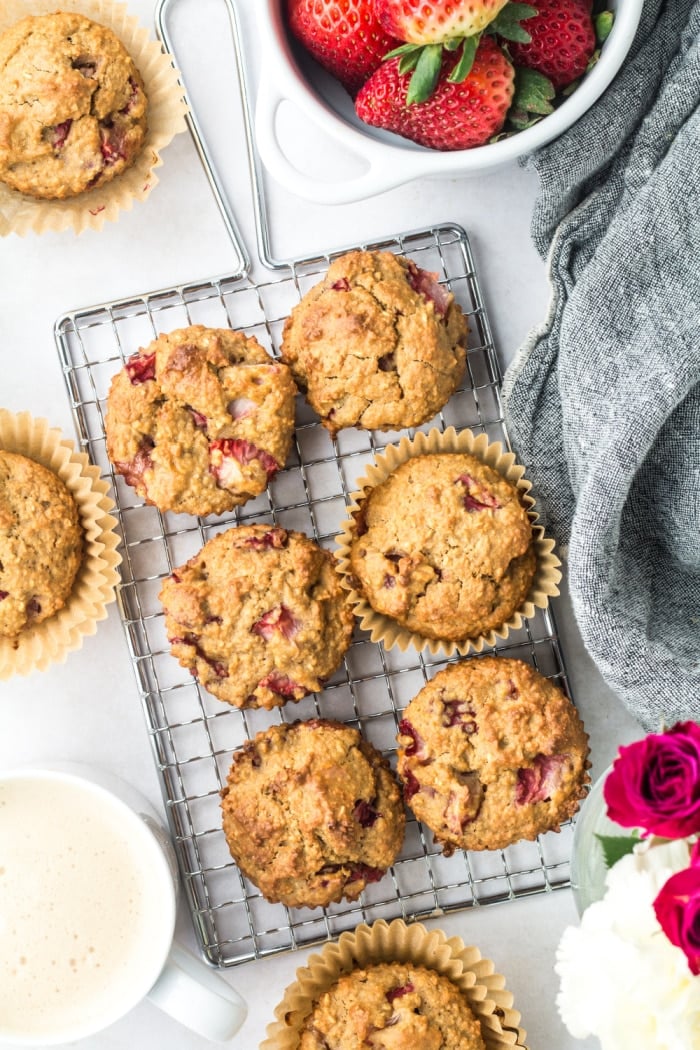 Ingredients for Strawberry Muffins
Here's what you will need to make these healthy strawberry muffins! I also recommend using paper muffin liners like these, a food processor or blender and this is the muffin tin I use.
Egg Whites
Baking Powder
Baking Soda
Lemon Juice
Strawberries, fresh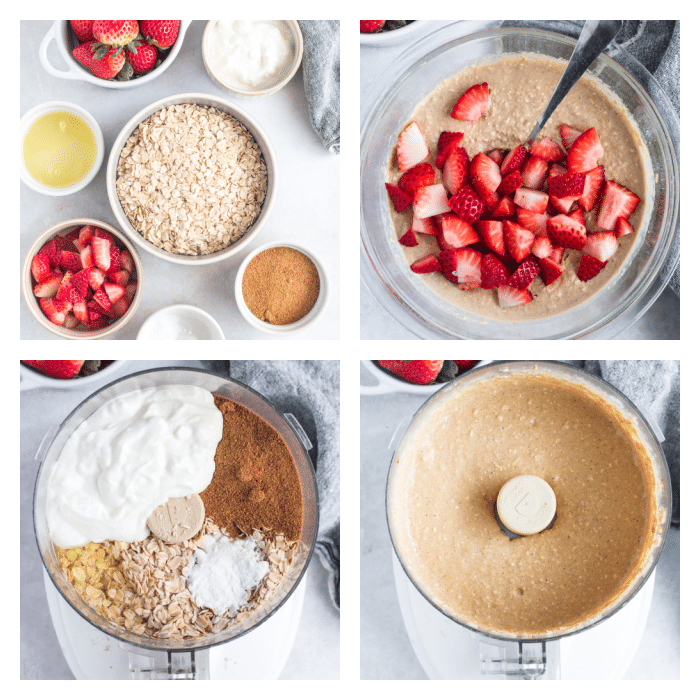 How To Make Low Calorie Strawberry Muffins
Making Strawberry Muffins with Greek yogurt is a breeze! Start by preheating the oven to 400 F and preparing a muffin tin with muffin liners. I highly recommend those for easy removal.
Then place all the ingredients except the strawberries in a food processor or blender. Blend until the ingredients are smooth. Roughly dice the strawberries - you want to avoid huge pieces as it will weigh down the batter and the muffins may not rise or break. Fold the strawberries into the batter.
Transfer the batter evenly into the muffin liners and bake! You will know they're done when they're slightly browned around the edges and a toothpick can be removed from the center clean. Remove the muffin tin from the oven and let it cool at room temperature until removing and enjoying!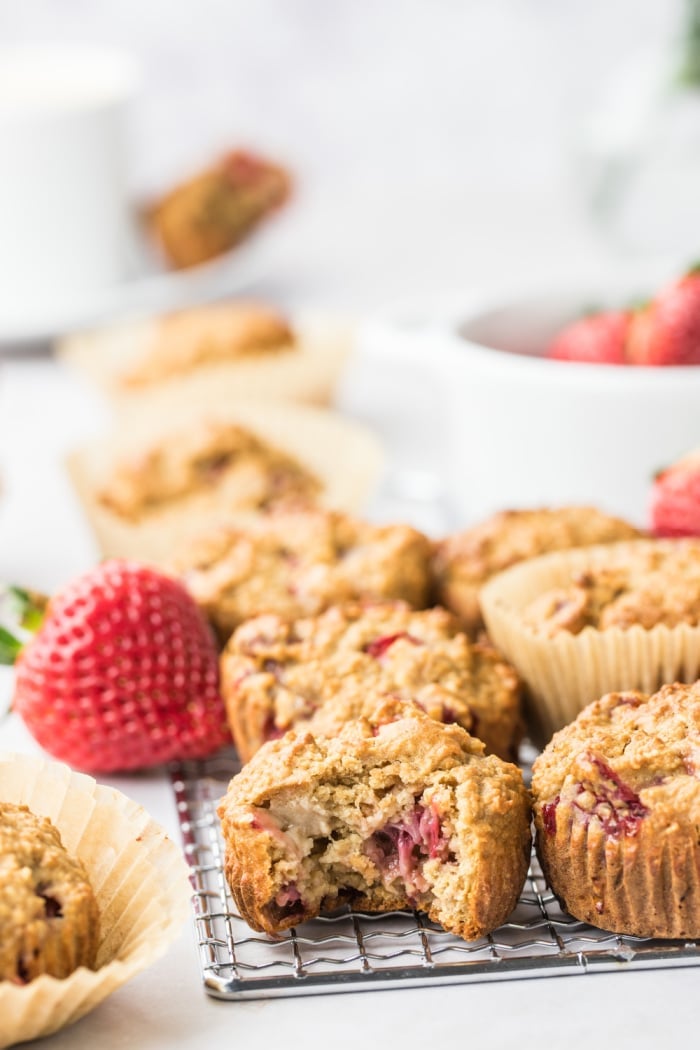 How To Store Gluten Free Strawberry Muffins
These muffins can be stored in a sealed container or plastic bag in the refrigerator up to 7 days. You can eat them cold or my personal favorite is to warm strawberry muffins in microwave for a few minutes with a little Reddi-whip or Greek yogurt on top. It's like a mini strawberry shortcake!
Can You Freeze Strawberry Muffins
Yes, you can freeze strawberry muffins! Place the muffins in a plastic bag or freezer safe container after they have fully cooled. They can be frozen up to 60 days. To eat, take them out of the freezer and place them in the refrigerator overnight to thaw.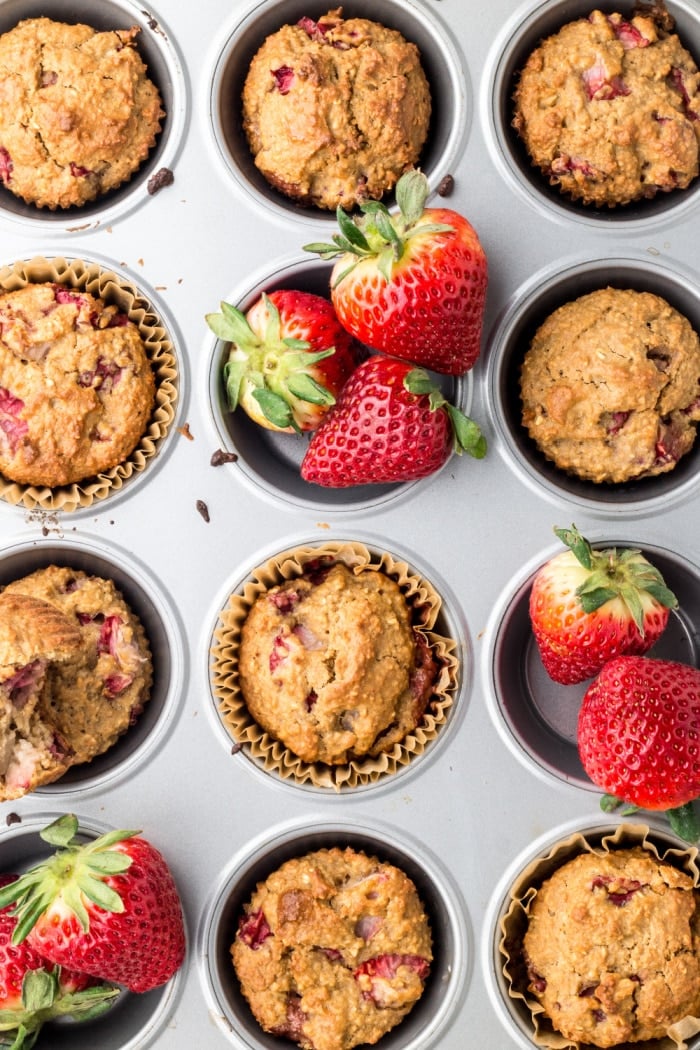 Substitutions For Healthy Strawberry Muffins
Here's a few substitutions you can make for this low calorie strawberry muffin recipe! Please remember that substitutions will change the nutrition facts you see in the recipe below so always re-calculate your nutrition if that's important to you.
Gluten Free Rolled Oats - You can substitute regular rolled oats or gluten free oat flour. I have not tested gluten free flour or almond flour. I never use white or whole wheat flours so I'm not sure if those will work here. Coconut flour will not work with this recipe.
Coconut Sugar - I love coconut sugar as it is slightly lower glycemic which means it's slightly better for you than white or brown sugars. You can substitute monkfruit for a zero calorie sweetener.
Egg Whites - You can substitute 1 whole egg for the 2 eggs whites; however, I do not recommend this as it will reduce the protein and increased the calories.
Greek Yogurt - Dairy free yogurt can be substituted generally for Greek yogurt. In baking, I have found that dairy free yogurts are not as thick as Greek yogurt so I cannot guarantee the same results with a dairy free yogurt.
Strawberries - I recommend fresh strawberries for this recipe. You can use frozen strawberries and thaw them for this recipe. If you do use frozen, I recommend using 3/4 cup instead of a full cup as they do have more moisture. I also recommend draining them in a colander before mixing them into the batter.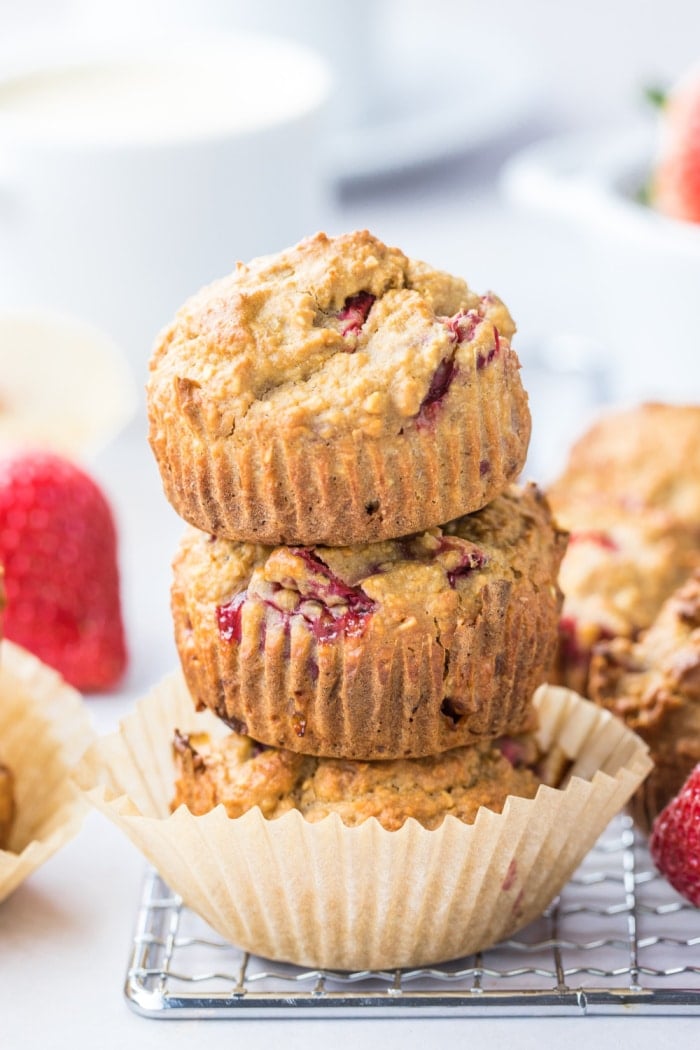 Click here to pin this recipe.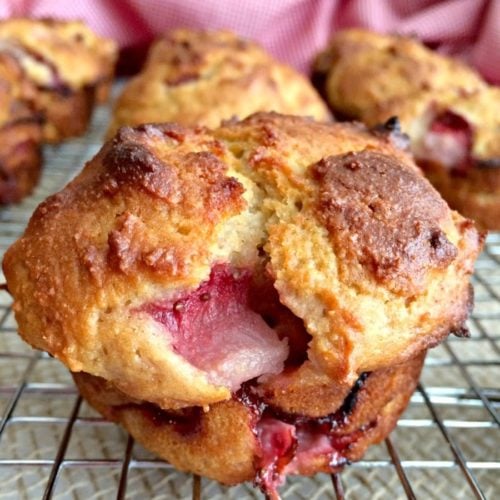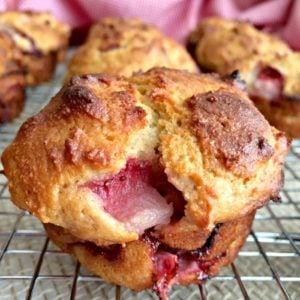 Strawberry Greek Yogurt Muffins
Healthy Strawberry Greek Yogurt Muffins! Bursting with strawberries and creamy greek yogurt, these easy to make muffins make a delicious low calorie breakfast or snack. Quick to make and gluten free too!
Instructions
Preheat 400 F. Prepare muffin tin with liners or spray with nonstick cooking spray.

Place all ingredients in food processor except strawberries. Blend until oats are smooth. Pour into a bowl and gently fold in strawberries. Then transfer to the prepared muffin tin.

Bake 22-25 minutes until a toothpick can be removed smooth. Cool in the pan 5 minutes before removing and cooling another 20 minutes on a wire baking rack.
Nutrition
Serving: 1muffinCalories: 83kcalCarbohydrates: 15gProtein: 4gFat: 1gSaturated Fat: 1gCholesterol: 1mgSodium: 79mgPotassium: 176mgFiber: 2gSugar: 4gVitamin A: 239IUVitamin C: 2mgCalcium: 66mgIron: 1mg
What I Used For The Recipe