This post contains affiliate links. As an Amazon associate I earn qualifying purchases. Click here for more about this policy.
Gluten Free Roasted Garlic Cauliflower Mash! A healthy low-calorie alternative to mashed potatoes. Made with simple, real food ingredients with the same consistency as real potatoes.
This Gluten Free Roasted Garlic Cauliflower Mash was originally published November 2014. I've retested and rephotographed the recipe for you friends. It's so so good. Enjoy!
I love my mashed potatoes. In fact, potatoes are shown to be one of the healthiest foods to eat and it makes me sad there's this trend of avoiding them. One of the side effects of our society chronically dieting is avoiding real food.
Well, I'm not avoiding real food but I do like to lighten up traditional recipes and rotate different carbs in my diet for variety. Today I'm sharing one of my favorite recipes.
Gluten Free Roasted Garlic Cauliflower Mash
Cauliflower mash! Not only is it naturally gluten free, it's also dairy free and comes with an abundance of flavor friends.
Made with just 4 ingredients, this is by far favorite one of my favorite recipes. It's creamy, delicious and the texture is exactly like mashed potatoes. In fact, I've had people think they were the real deal when I've served them before. That's pretty awesome considering they're way less calories than mashed potatoes.
Not only is this a healthy substitute for the holidays, but it can be served year round!
What You Need
Head of Cauliflower
Garlic
Dried Parsley
Milk, sour cream or Greek yogurt
Salt and pepper
How To Make Gluten Free Roasted Garlic Cauliflower Mash
There's two easy ways to make this recipe. The first is roasting the cauliflower in the oven and is my preferred method. Roasting makes the cauliflower very tender so it's creamy and fluffy after it's cooked and blended.
If you roast it, toss it on a sheet pan with salt and pepper and roast at 375 F for 40 minutes. Then remove from the oven and blend with the other ingredients in a food processor.
The other method is boiling the raw cauliflower florets in a large pot of water. If you go this route, keep the water boiling 30 minutes or until the cauliflower is fork tender.
Then drain the water from the cauliflower and blend. Either method works well. It's really a matter of personal preference and how much oven or stovetop space you have.
What To Use To Thicken Your Cauliflower Mash
Several ways to make your cauliflower mash thick and fluffy like real mashed potatoes. Coconut milk, regular milk, almond milk, Greek yogurt, coconut yogurt or sour cream all work.
Personally, through the years I've tried them all and my favorites are coconut milk, Greek yogurt and sour cream. They make the mash creamier than the others.
Depending on your dietary restrictions and the type of diet you prefer to follow, any of these will work. Just sharing what I love best with you!
More Recipes To Try
Healthier Mashed Potatoes & Cauliflower
Maple Tahini Butternut Sweet Potato Mash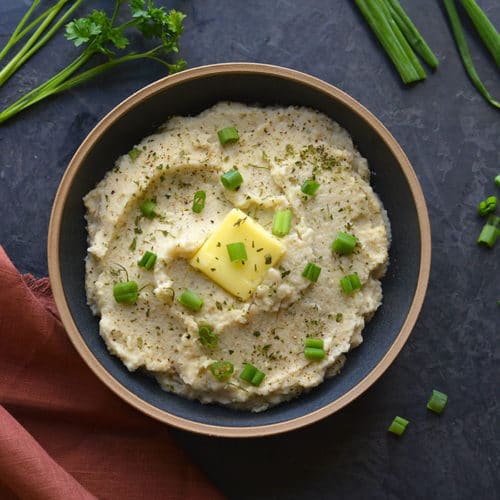 Gluten Free Roasted Garlic Cauliflower Mash
A creamy, delicious, hearty and healthy comfort food this Roasted Garlic Cauliflower Mash is waist friendly! A perfect holiday substitute to traditional mashed potatoes. Paleo + Gluten Free + Vegan + Low Calorie
Ingredients
1 head cauliflower washed, de-stemmed and sliced
2 tablespoons garlic minced
1/3 cup light coconut milk or milk of choice, sour cream or Greek yogurt
1/2 tablespoon dried parsley
Salt and pepper to taste
Instructions
Preheat oven to 375 F. Prepare a baking sheet with parchment paper. Place cleaned and sliced on baking sheet. Spray with cooking spray, salt and pepper.

Roast 40 minutes until the edges begin to brown slightly.

Remove the cauliflower from the oven. Cool 5 minutes on the pan then add to a food processor.

Next add the remaining ingredients to the food processor. Blend 2-3 minutes until a potato like consistency appears.

Remove from the food processor and serve immediately.

Store leftovers in the refrigerator up to one week. To reheat, add a bit of milk to restore the creaminess of the mash.

This recipe can also be made in advance. Make the recipe them place in an oven safe dish. Reheat in the oven at 350 F for 30 minutes and serve.
Nutrition
Serving: 1servingCalories: 127kcalCarbohydrates: 21gProtein: 7gFat: 3gSaturated Fat: 2gSodium: 121mgPotassium: 955mgFiber: 6gSugar: 6gVitamin C: 139mgCalcium: 70mgIron: 2mg