This post contains affiliate links. As an Amazon associate I earn qualifying purchases. Click here for more about this policy.
Healthy Mexican Cauliflower Rice is a low calorie, low carb dish made in one skillet with just a few ingredients. A healthy side dish recipe you can add to a meal, soups, salads and more! Low Calorie + Low Carb + GF + Paleo + Vegan + Whole30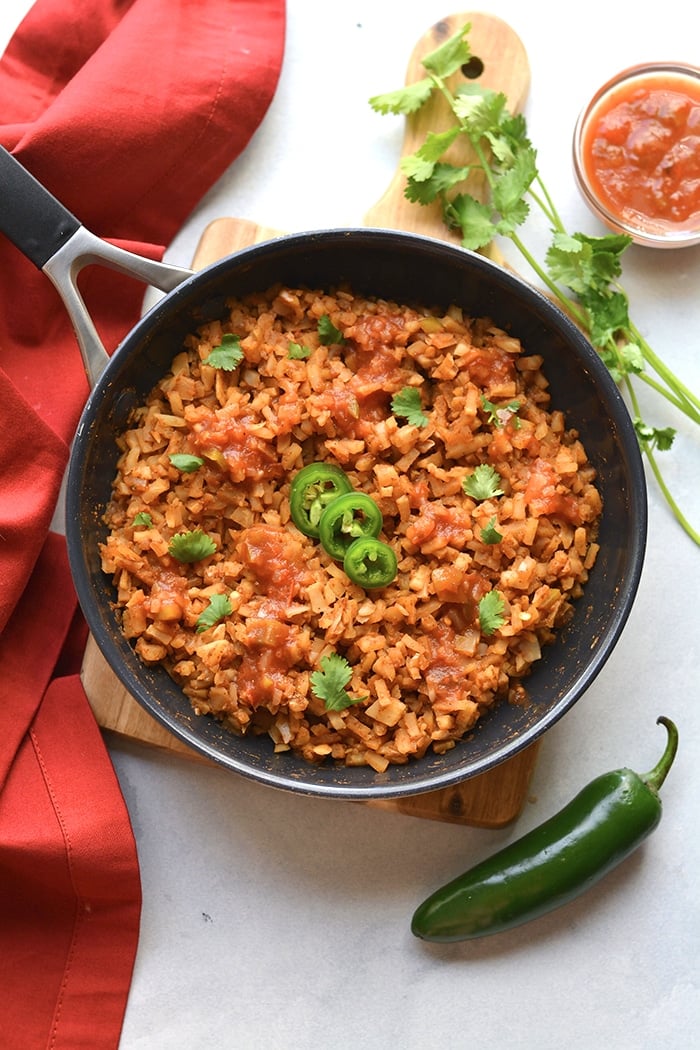 I've been adding cauliflower rice to recipes for years. In fact, many recipes here have cauliflower rice added to it or cauliflower used as a thickener. It's an easy way to add produce to your diet and I find that none of my clients are getting adequate produce when they begin working with me.
I personally am not a big fan of eating cauliflower rice on its own, but this Mexican spiced cauliflower rice is a huge hit in my house. I make it all the time. It's one of those recipes I make all the time but never realized to put on the blog until now!
What Makes This Mexican Cauliflower Rice Low Calorie and Healthy
Here's a few reasons why I love this Healthy Mexican Cauliflower Rice recipe and why it's healthy too!
Low Calories - Cauliflower is naturally low in calories and a calorie deficit is required for weight loss. This recipe has 31 calories per serving which is about a 1/2 cup.
Low Carb - Cauliflower rice is also naturally low carb making it perfect if you're watching calorie intake for weight loss.
Gluten Free - This recipe is made with all naturally gluten free ingredients. It's also Paleo, Whole30, Vegetarian and Vegan friendly.
Easy Way To Eat Vegetables - You know I'm ALL ABOUT THE VEGGIES! This recipe is an easy way to ADD veggies to any meal. It tastes great and is family approved.
High Volume - Cauliflower rice is naturally low in calories so you can eat a lot of it and fill up quickly. Since it is a vegetable, it will give you great energy and stabilize blood sugar while giving you some awesome nutrients.
Ingredients for Mexican Cauliflower Rice
Here are the ingredients you need to make Mexican flavored cauliflower rice. You will also need a colander and small skillet.
Cauliflower rice, frozen
Salsa
Onion Powder
Oregano
Cumin
Chili Powder
Paprika
Garlic Powder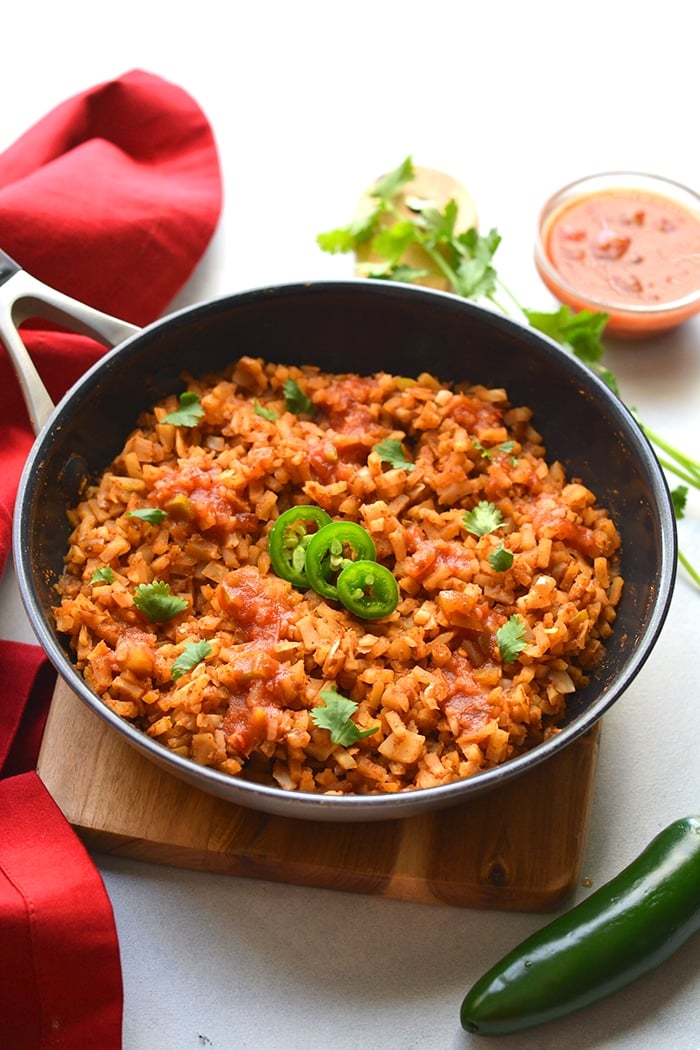 How To Make Mexican Rice Low Carb
Here are the steps for making cauliflower rice with Mexican seasonings!
First, thaw your cauliflower rice overnight. You can cook it frozen, however, it will be watery and not as delicious as if you cooked it thawed. While you could use fresh cauliflower rice to make this recipe (the cooking time will be slightly longer), I do recommend using frozen cauliflower as it has less cauliflower-like taste.
You can thaw your cauliflower rice overnight in the refrigerator.
To make Mexican cauliflower rice, first drain your thawed cauliflower in a colander.
Second, heat a small skillet over medium heat and add the cauliflower rice to it with the salsa and seasoning. Cook 5-7 minutes until fragrant and the rice is al dente. You can cook it longer or shorter according to your taste buds too!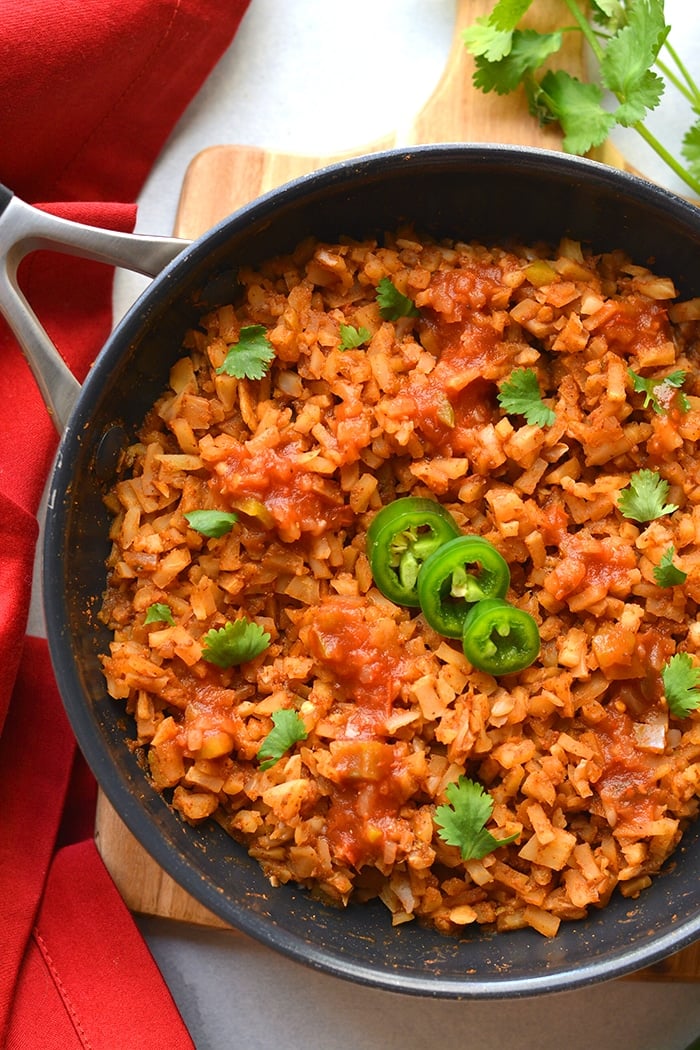 What To Serve With Low Calorie Mexican Cauliflower Rice
Mexican Cauliflower Rice makes a wonderful low calorie side dish and goes well with many meals.
The recipes I recommend you serve with Mexican Cauliflower Rice are healthy taco salad, low carb taco soup, crockpot chicken taco bowls, taco casserole, shrimp chipotle taco soup or enchilada soup. You can also serve it with chicken guacamole burgers, salmon, scallops too!
Substitutions for Gluten Free Mexican Cauliflower Rice
Here are substitutions you can make for this Low Calorie Cauliflower Rice recipe with Mexican spices! Keep in mind any substitutions you make will change the nutrition values you see below.
Cauliflower Rice - I recommend you use frozen, but you can use regular cauliflower rice too. Grains like quinoa, faro, brown rice etc. work with this recipe too. Cook the grain according to package instructions first then following the instructions as outlined below.
Salsa - Use any salsa you enjoy in the recipe. If you do need to omit it, I recommend using vegetable broth as a replacement. The texture will be different, but the flavor will be there with the spices.
Spices - Feel free to omit or add any spices you enjoy. This recipe is very adaptable!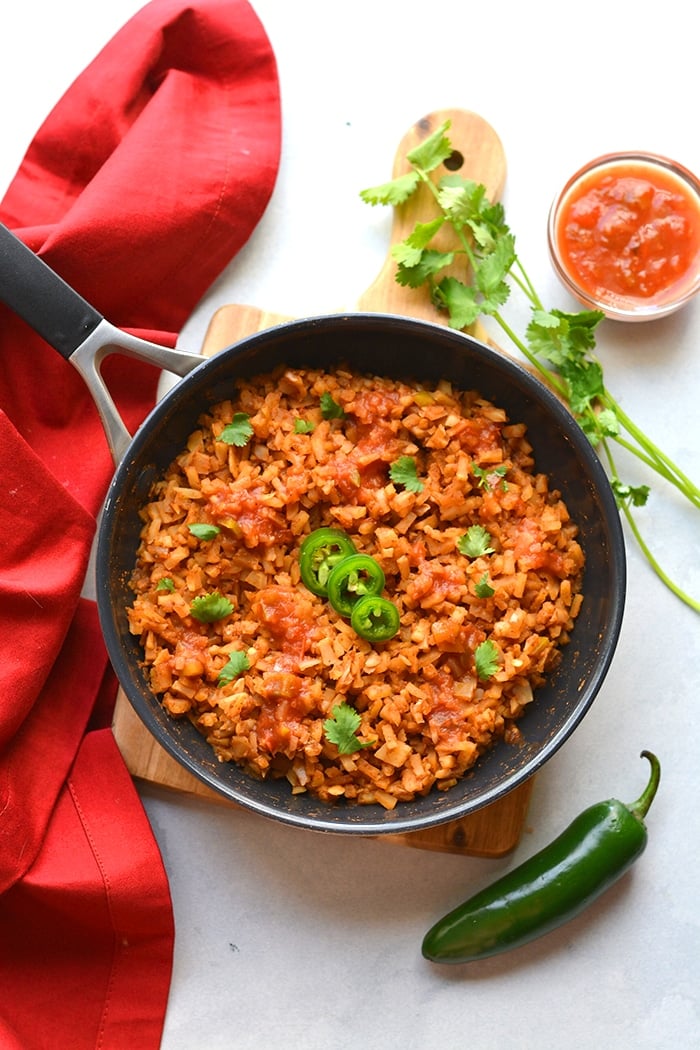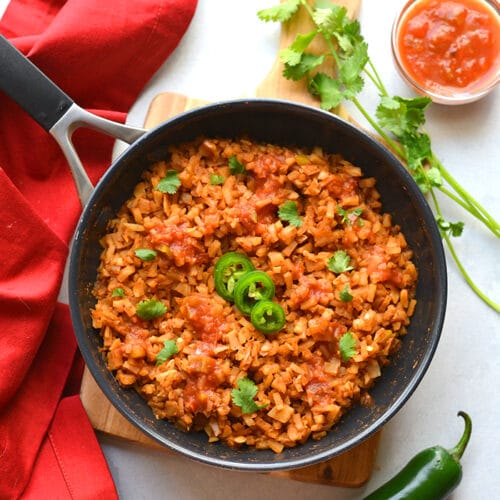 Healthy Mexican Cauliflower Rice
Healthy Mexican Cauliflower Rice is a low calorie, low carb dish made in one skillet with just a few ingredients. A healthy side dish recipe you can add to a meal, soups, salads and more!
Instructions
Drain the thawed cauliflower rice in a colander. I recommend thawing in the refrigerator overnight or you can do it at room temperature. Times will vary depending on the season and where you live.

Once the cauliflower is drained, add it to a small skillet with the salsa and seasonings. Heat to a medium heat, stir and cook 5-7 minutes until al dente or to the texture you prefer.

Remove the cauliflower rice and serve! Feel free to garnish with cilantro and jalapenos if desired.

Store the Mexican cauliflower rice in the refrigerator for up to 7 days in an airtight container.
Nutrition
Serving: 1servingCalories: 31kcalCarbohydrates: 6gProtein: 2gFat: 1gSaturated Fat: 1gSodium: 181mgPotassium: 334mgFiber: 2gSugar: 3gVitamin A: 210IUVitamin C: 41mgCalcium: 33mgIron: 1mg