This post contains affiliate links. As an Amazon associate I earn qualifying purchases. Click here for more about this policy.
Low Carb Taco Salsa Casserole is a wholesome, protein packed meal with a kick! Super easy to make ahead, delicious and family approved! Low Carb + Paleo + Low Calorie + Gluten Free
I love Mexican food and I live in a house of Mexican food haters. For those of you struggling with picky eaters, I get it! No...really I do. The struggle is so real. I dream of the day when I can go to a Mexican restaurant and enjoy chips and salsa with some fajitas. Wanna come?
My love for Mexican food grew stronger as I worked in Mexico for several years. While Mexican food can be unhealthy and not so light, it's VERY easy to lighten up. Mexican food is usually filled with vegetables (another struggle bus for us) and tons of flavor. Mexican spices really take bland foods from boring to fabulous.
And I know I have a winner dinner on my hands when they ask for seconds or for me to make a dish again. The hardest part is getting them to try it that first time. Am I right?
Low Carb Taco Casserole
This low carb taco casserole was definitely a hit and so easy to throw together and make for a quick dinner. Sure, you can make everything in a skillet or even make crockpot tacos bowls, but there's something comforting about a homemade casserole. The aromas in the kitchen while it's baking are insane. It will bring everyone to the kitchen!
This recipe couldn't be simpler. Salsa, veggies, meat, eggs, spices and you're in business!
I added nutritional yeast on top to give it a cheese-like flavor. It's a great dairy free option. If you haven't tried it, it's a must! We enjoy dairy minimally for my Hashimoto's disease, but if you good with dairy you can always swap with real cheese.
What You Need
Ground Chicken (or meat of choice)
Red, Green, Yellow Bell Pepper
Jalapeno
Green Salsa
Red Salsa
Eggs
Onion Powder, Oregano, Cumin, Paprika, Chili Powder
Olive Oil
Nutritional Yeast or cheddar cheese
Helpful Tips
There's no grains or tortillas in this casserole so expect it to be runny. It's one of those foods that won't look pretty, but has amazing flavors!
If you're keeping it low carb, serve it over a simple bed of lettuce or on tortillas. I recommend cauliflower tortillas for a lower carb tortilla option or gluten free or almond flour tortillas. Finding grain free and gluten free tortillas can be a pain depending on where you live and they're insanely expensive. My homemade ones are very easy to make!
Want more carbs? Here's a few options. Add add quinoa or instant rice to the casserole before baking and bake it together. Adding grains will soak up more liquid so it will be less runny. The other option is to buy grain free or gluten free tortillas and layer it like a lasagna and bake together.
So many directions you can take this goodie!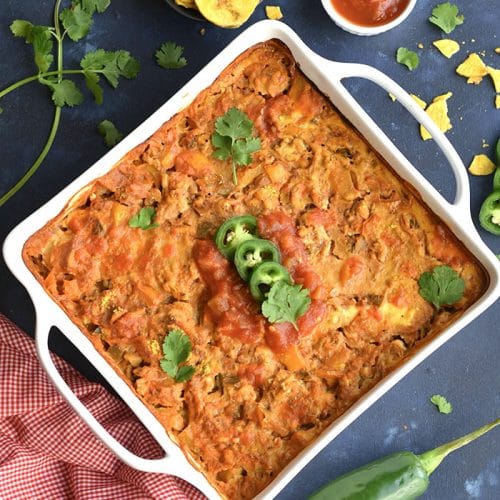 Low Carb Taco Salsa Casserole
Low Carb Taco Salsa Casserole is a wholesome, protein packed meal with a kick! Super easy to make ahead, delicious and family approved! Low Carb + Paleo + Low Calorie + Gluten Free
Instructions
In a sauté pan, add the extra virgin olive oil with the diced bell peppers and jalapeños. Cook 3 minutes until slightly tender.

Then add the ground chicken with the onion powder, oregano, cumin, paprika and chili powder. Break up the meat as it cooks with a wood spoon or spatula.

Once the meat is cooled, remove the pan from the heat to cool slightly.

As the meat cools, whisk together the eggs in a large mixing bowl. Add the green and red salsa with the eggs.

Stir in the ground chicken mixture and transfer to the baking dish. Sprinkle with nutritional yeast (if not Paleo, you can add a bit of cheese).

Bake at 350 F 1 hour 15 minutes or until the center is set. Remove from the oven and let the casserole sit at room temperature 15 minutes before slicing and enjoying.

Note the casserole will be liquid-y after baking, but it's really delicious! Add it to grain-free tortillas or serve over a salad.
Nutrition
Serving: 1servingCalories: 302kcalCarbohydrates: 10gProtein: 25gFat: 17gSaturated Fat: 4gCholesterol: 220mgPotassium: 966mgFiber: 2gSugar: 5gVitamin A: 1910IUVitamin C: 122.8mgCalcium: 40mgIron: 2.5mg
What I Used For The Recipe