This post contains affiliate links. As an Amazon associate I earn qualifying purchases. Click here for more about this policy.
This Healthy Taco Salad is a low calorie meal packed with veggies, ground turkey, black beans and topped with a Greek yogurt salsa dressing. A super simple meal that's filling, high in protein and fiber to keep cravings away. Gluten Free + Low Calorie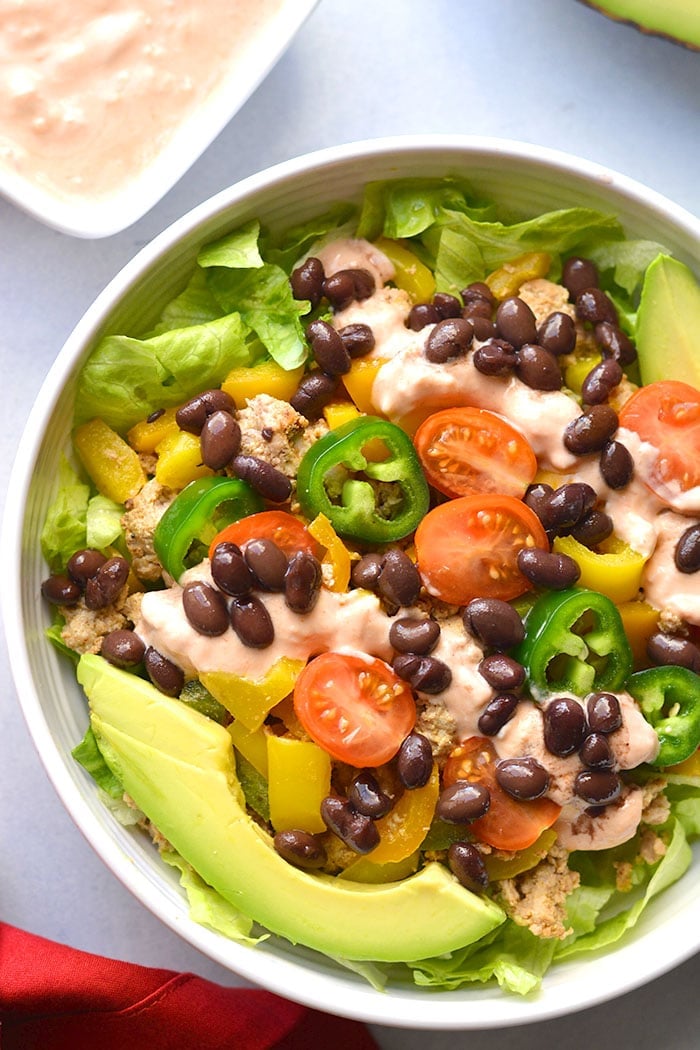 I've been sharing this healthy taco salad recipe with my clients for years as an easy way to get a high protein, high fiber lunch that's weight loss friendly. It's such a popular recipe among my clients that I decided to share it with you!
It's loosely based off this shredded chicken taco bowl recipe that's also a favorite and very popular here. I hope you love it too!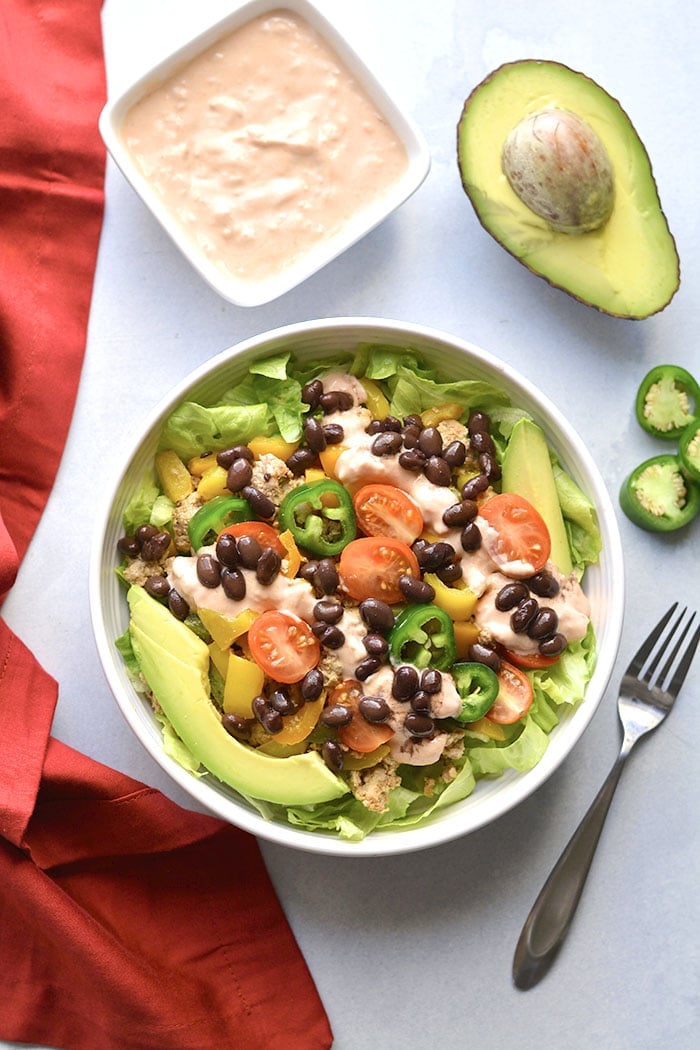 What Makes This Healthy Taco Salad Healthy
My clients love taco salads because they're filling, delicious and super simple to make and throw together for weight loss friendly lunches during the week. Here's more reasons why this taco salad is healthier.
Low Calorie - This recipe is 393 calories for a serving (a good amount for a meal), and that one serving is a TON of food. This isn't like other salads. You won't be hungry after eating this salad. It's filling!
Low Fat - This recipe has just 2 grams of saturated fat (less optional fat). The remaining fat is healthy fat the body needs! The amount in this recipe is considered low fat.
High Protein - 39 grams of protein per serving. That is a good amount of protein to keep hunger and cravings under control.
High Fiber - 15 grams of fiber comes from the beans and veggies. Fiber is a very important weight loss management food, which I talk about in my free weight loss class.
Ingredients For Healthy Taco Salad
Here's the food ingredients you need to make this healthy taco salad. You will also need a large skillet, cutting board and colander.
Ground turkey breast, 97-98% lean
Black Beans
Bell Peppers
Red Onion
Jalapeño
Grape Tomatoes
Head of Romaine Lettuce
Cumin
Chili Powder
Onion Powder
Paprika
Salt + Pepper
Greek Yogurt + Salsa For The Dressing
Avocado, limes, cheese - optional for toppings
How To Make A Taco Salad Low Calorie
Step one - Heat the olive oil in a large skillet over medium heat with the bell peppers, red onions, jalapeño. Cook 4 minutes stirring occasionally.
Step two - Add the ground turkey breast with the seasonings, salt and pepper to the skillet. Cook until the meat is browned, breaking up the meat with a spatula while you cook it.
Step three - Drain the canned black beans in a colander and rinse then add to the skillet, reduce the heat to low and stir. Note, if using dry beans you will need to cook these in advance of this recipe as they take much longer.
Step four - Mix the Greek yogurt and salsa together in a bowl if using for the dressing.
Step five - Assemble your taco salad and eat!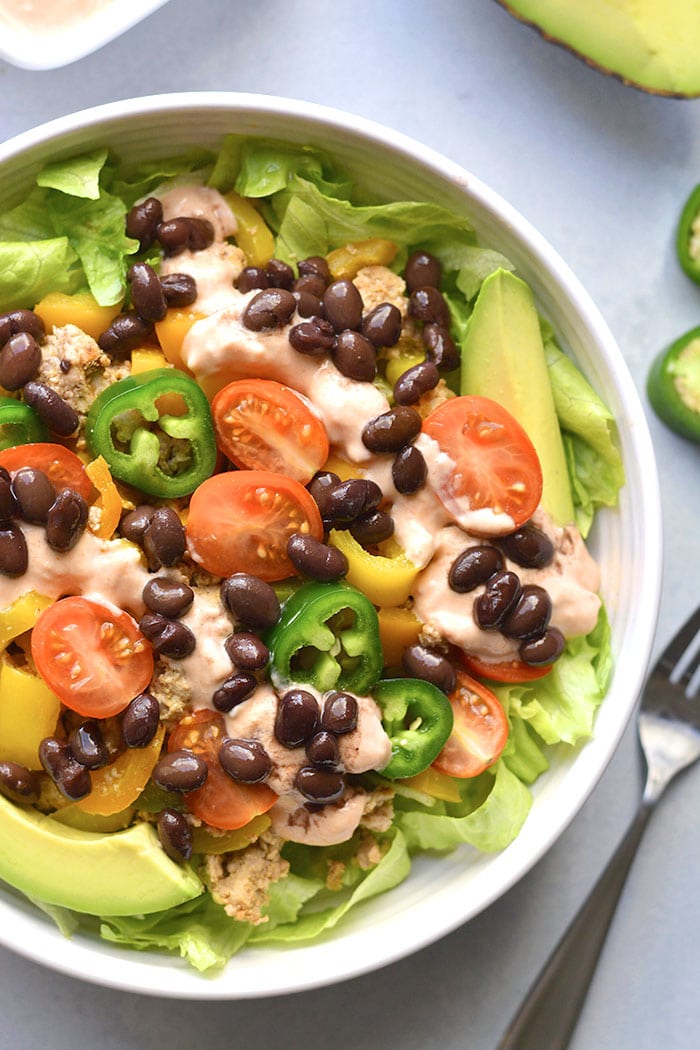 How To Meal Prep A Taco Salad For Quick Lunches And Dinners
Many of my clients love meal prepping taco salads for their lunches. You can this easily by cooking everything per the instructions then storing the taco meat and beans in a meal prep container separate from the lettuce, grape tomatoes and dressing.
When you're ready to eat, place the lettuce in a bowl then reheat the taco meat 1-2 minutes in the microwave. Top the bowl of lettuce with the taco meat, sliced grape tomatoes and drizzle with the Greek yogurt taco dressing.
Substitutions For Taco Salad Recipe
Here are substitutions you can with this recipe. Remember substitutions will change the nutritional values listed in the recipe card.
Ground Turkey - ground chicken, lean ground beef, tofu, or vegetarian substitutes like beyond meat work.
Black Beans - Any bean variety such as lentils, white beans, etc. will work as a substitution in this recipe. For a Paleo version, you can simply omit the beans. If using dry beans, cook them separately before cooking this recipe.
Seasonings - You can use taco seasoning instead of the seasonings listed in this recipe; however, I recommend you check the ingredients to ensure it does not have chemicals or added sugar.
Jalapeño - You can omit this if it doesn't work for you.
Romaine Lettuce - Any greens you enjoy can be used.
Bell Peppers - Any veggies work great in this recipe. Zucchini, cauliflower, broccoli, eggplant, poblano peppers are my recommendations.
Greek Yogurt - Any plain, dairy-free yogurt will work such as cashew or almond yogurt.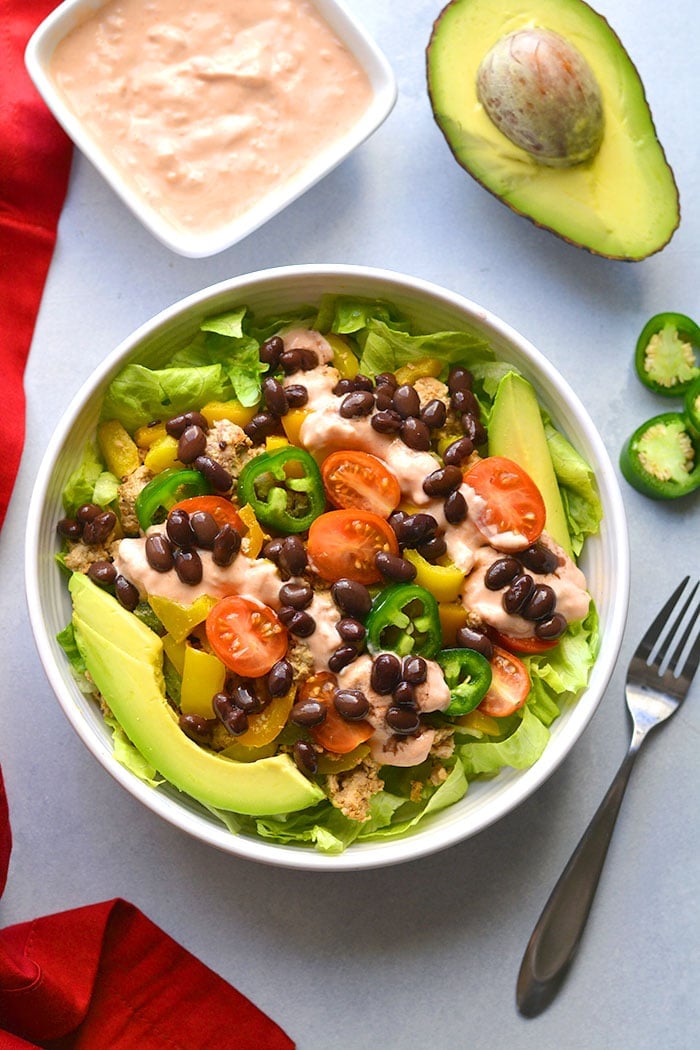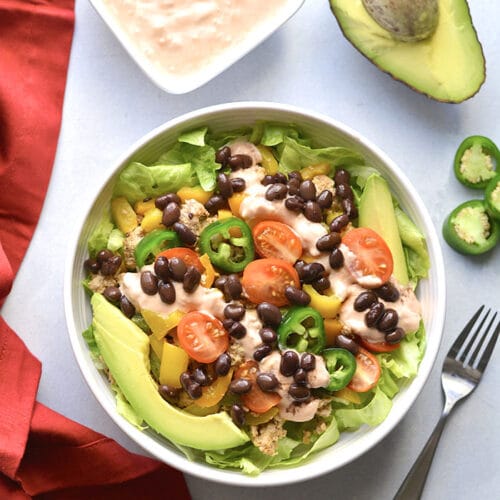 Healthy Taco Salad
This Healthy Taco Salad is a low calorie meal packed with veggies, ground turkey, black beans and topped with a Greek yogurt salsa dressing. A super simple meal that's filling, high in protein and fiber to keep cravings away.
Ingredients
For The Salad
1 head romaine lettuce shredded
1 cup grape tomatoes sliced
For the Dressing
1/2 cup Greek yogurt nonfat plain
1/2 cup salsa
Instructions
Heat a large skillet to medium heat. Add the olive oil to the skillet with the diced bell peppers, red onion and jalapeno. Stir and cook 4 minutes until the veggies are almost tender.

Add the ground turkey to the skillet with all seasonings plus salt and pepper. Break the meat up with a spatula as it cooks and mix it with the veggies. Cook until the meat is browned.

Drain the canned black beans in a colander, rinse then add to the skillet and stir them in. Cook on low while to heat the black beans while you prepare the dressing.

In a bowl, stir together the Greek yogurt and salas until smooth to make the dressing. Set aside.

Assemble the taco salad by placing the lettuce in the bowl, topped with the meat mixture, sliced grape tomatoes and dressing.
Notes
Serving size of the taco meat is about 1 cup. Serving size of the dressing is 3-4 tablespoons.
Dressing is not calculated in the nutritional values. This is 26.25 calories per serving.
My Amazon shop has more products similar to those used for this recipe and that I recommend to my weight loss clients.
If you enjoy this recipe, check out my cookbook for more healthy recipes.
Nutrition
Serving: 1servingCalories: 393kcalCarbohydrates: 38gProtein: 39gFat: 11gSaturated Fat: 2gTrans Fat: 1gCholesterol: 62mgSodium: 82mgPotassium: 1370mgFiber: 15gSugar: 6gVitamin A: 15268IUVitamin C: 79mgCalcium: 114mgIron: 6mg