Paleo Honey Mustard Chicken Salad! Crispy almond flour tenders served over a bacon salad with a lightened up honey mustard dressing. A healthier mustard chicken that's family approved! Gluten Free + Paleo + Low Calorie
July! I always yearn for summery food (cold salads, fresh veggies, corn on the cob) in July. We take most of our vacations in July to escape the heat. Don't get me wrong, I love the desert but going somewhere where it isn't a million degrees helps you survive. 
Wherever you are, let's just pretend it's a perfect 80 degrees and we're dining by the ocean. Bring the summer vacation vibes to you if you can't go to them!
Hence this recipe. It screams summer, right! Light flavors, lots of vegetables and healthy. No really, this dish is super GOOD for you!
Paleo Honey Mustard Chicken Salad 
In case you haven't noticed, July has been all about salads and this Paleo Honey Mustard Chicken Salad is one you don't want to miss! What makes it healthier? Two things!
First, the dressing is lightened up. Less oil and less honey. Most dressing's use a ton of oil and it's unnecessary. They also use inflammatory oils. This uses olive oil which is anti-inflammatory.
And… while honey does have trace minerals, it's still a sugar and needs to be consumed in moderation like any sugar. In fact, honey can only be processed in the liver so I always recommend my clients proceed with caution with honey.
Second, the chicken is breaded but in a healthy way! Almond flour makes the perfect crust to get crispy, breaded chicken. It's the breading without the breading. Why is it better for you? Less sugar, less carbs and high in omega-3 healthy fats. 
A traditional honey mustard chicken recipe made good for you. Are you ready to try it?
What You Need
Chicken Tenders
Egg White
Almond Flour
Tapioca Flour
Paprika, Garlic Powder
Greens
Grape Tomatoes
Bacon
Carrots
Red Onion
Yellow Mustard
Olive Oil
Lemon Juice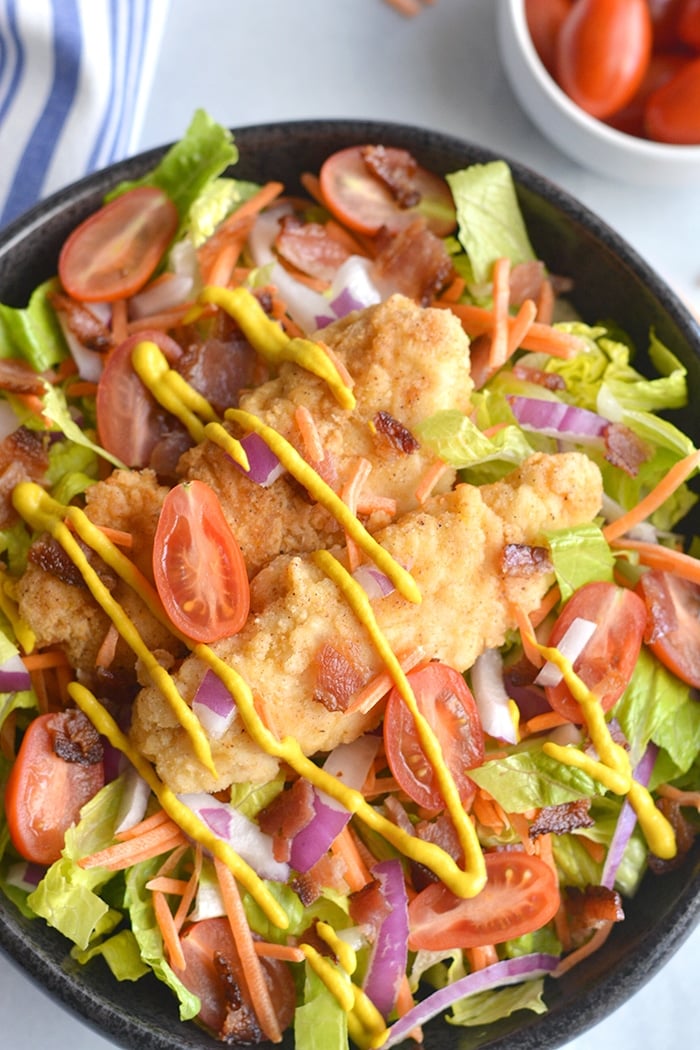 Helpful Tips
You can make the breaded chicken two ways. Either in the oven or in a skillet. For this recipe, I used the skillet. It gives the chicken a really nice crusty coating. You can also do it in the oven like I did in this buffalo almond flour chicken tenders recipe. Both methods work! It's really matter of your preference. 
If you make it on the skillet, I recommend using avocado oil or coconut oil to "fry" the chicken. Both are high smoke point cooking oils. The coconut oil does have a stronger flavor so if you want your chicken to taste like coconut oil and you love it, then use it. I personally love using avocado oil. The taste is mild so you can't detect it in the chicken. 
I have not tested other flours with this recipe. If you do, please comment below and I will update the recipe card to help others!
Paleo Honey Mustard Chicken Salad
Paleo Honey Mustard Chicken Salad! Crispy almond flour tenders served over a bacon salad with a lightened up honey mustard dressing. A healthier mustard chicken that's family approved! Gluten Free + Paleo + Low Calorie
Prep Time 15 minutes
Cook Time 20 minutes
Total Time 35 minutes
Servings 4 servings
Calories 500 kcal
Ingredients
Instructions
Preheat the oven to 350 F. Line a baking sheet with parchment paper, add the bacon slices and place in the oven.

Bake at 350 F 5 minutes then lip and cook another 5 minutes or until crispy. Remove from the oven and set aside to cool.

While the bacon cooks, whisk together the egg white with 2 tablespoons water in a bowl. Set aside.

In a seperate bowl, mix together with a spoon the almond flour, tapioca flour, garlic powder, paprika, salt and pepper. Set aside.

Heat a large skillet to medium-high heat. Add avocado oil to cover the bottom of the pan. Heat 5 minutes until sizzling.

Place a chicken tender in the egg wash and shake off the excess. Immediately place the chicken tender in the almond meal bowl and coat liberally. Shake off, then place in the skillet. Repeat for remaining chicken tenders.

Cook 3 minutes then carefully flip with a tongs to not lose the breading and cook another 3 minutes.

Once the chicken is gold brown, transfer to a plate lined with paper towels and pat dry to cool.

While the chicken cools, prepare the dressing in a blender by blending together the mustard, lemon juice, honey and oil until combined.

Prepare the salad bowls by layering the salad, red onion, carrots, grape tomatoes and chicken on top.

Roughly chop the bacon and crumb a slice over each salad bowl.

Drizzle with the dressing and enjoy!
Course Dinner, Lunch
Cuisine American
Keyword almond flour, bacon, breaded, chicken, dairy free, gluten free, honey, low calorie, low sugar, mayo free, mustard, salad, skillet
Nutrition facts per serving (1serving)
Calories 500 kcal
Fat 29 g
Saturated Fat 5 g
Cholesterol 87 mg
Sodium 665 mg
Potassium 919 mg
Carbohydrates 28 g
Fiber 7 g
Sugar 9 g
Protein 35 g
Vitamin A 11370 %
Vitamin C 14.6 %
Calcium 112 %
Iron 3 %
Meal Plans
Get a meal plan designed to meet your weight loss goals.
Learn More
What You Need