Meal Prep Cranberry Walnut Chicken Salad! A simple chicken salad that's healthy and packed with fall flavor. Rich in protein and fat to keep you full from lunch until dinner! Gluten Free + Low Calorie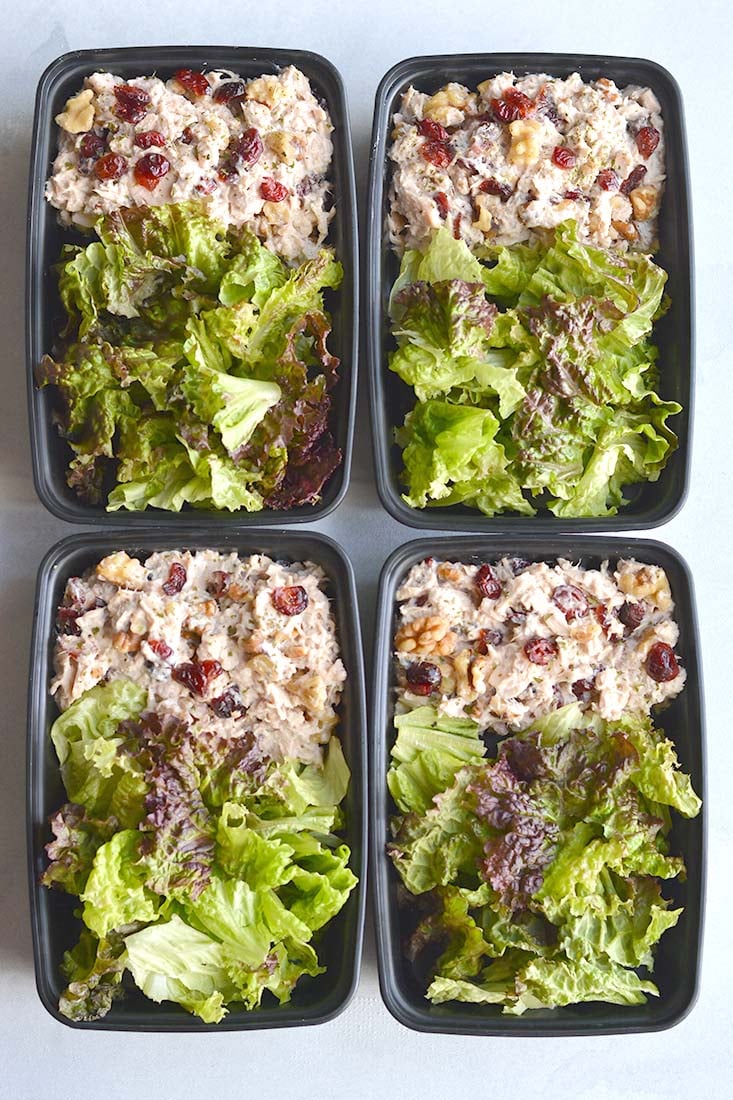 I've talked endlessly about the importance of eating enough protein to reduce carb and sugar cravings. The women in my membership and sugar challenges can attest to the importance of this. One of the women said "I wouldn't have thought about this before this challenge, but I feel it must be not eating enough protein."
I've coached hundreds of women and I always find they aren't eating the right amount of protein at each meal to control their cravings. It's a common problem. Hey, we're women…we love carbs! I get it, but our bodies especially are 35 don't love them as much. Sorry ladies. It's just a part of life.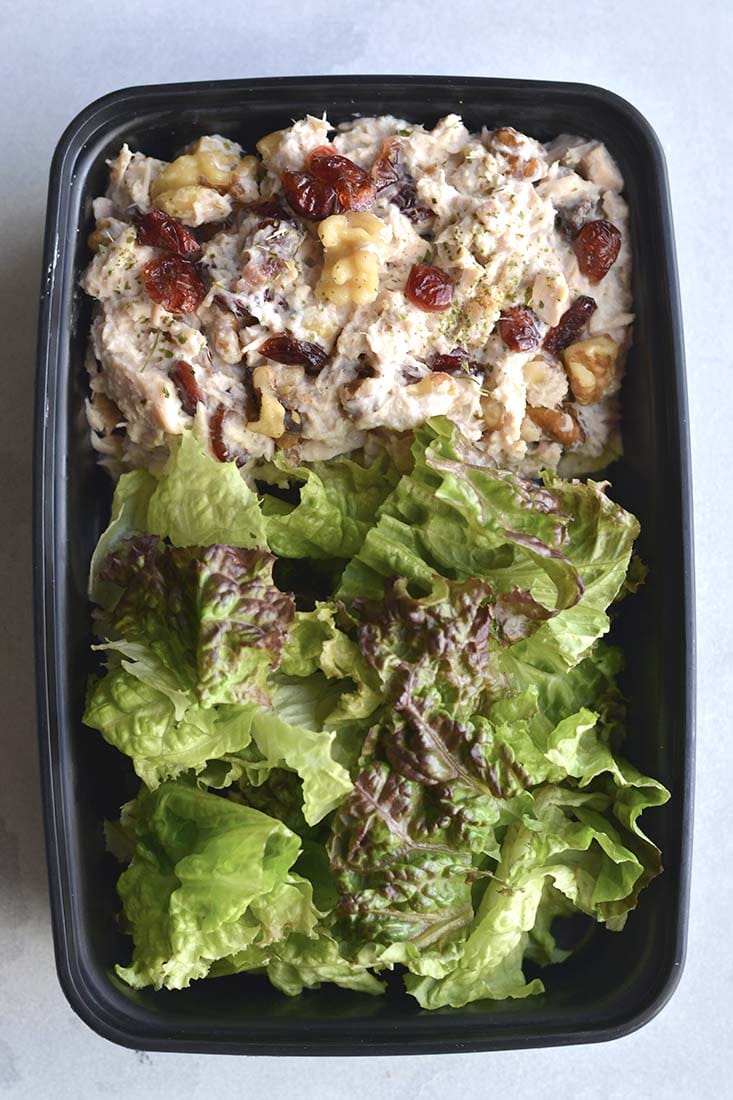 That's why I'm always sharing meals that have the right amount of protein and are easy to incorporate into your real life. Because let's face it. Counting macros and calories isn't for everyone. I actually find the people who do it, tend to omit entire food groups (like vegetables) and end up with nutritional deficiencies over time.
It's important to me to share not only good recipes with you, but also recipes that have the RIGHT nutrition that are easy to ADD to your life.
This Cranberry Walnut Chicken Salad is an example of this! Not only is it an easy chicken salad but it's delicious and has the right combination of textures and flavors. A great make meal prep lunch that's effortless to make and guaranteed to keep you full!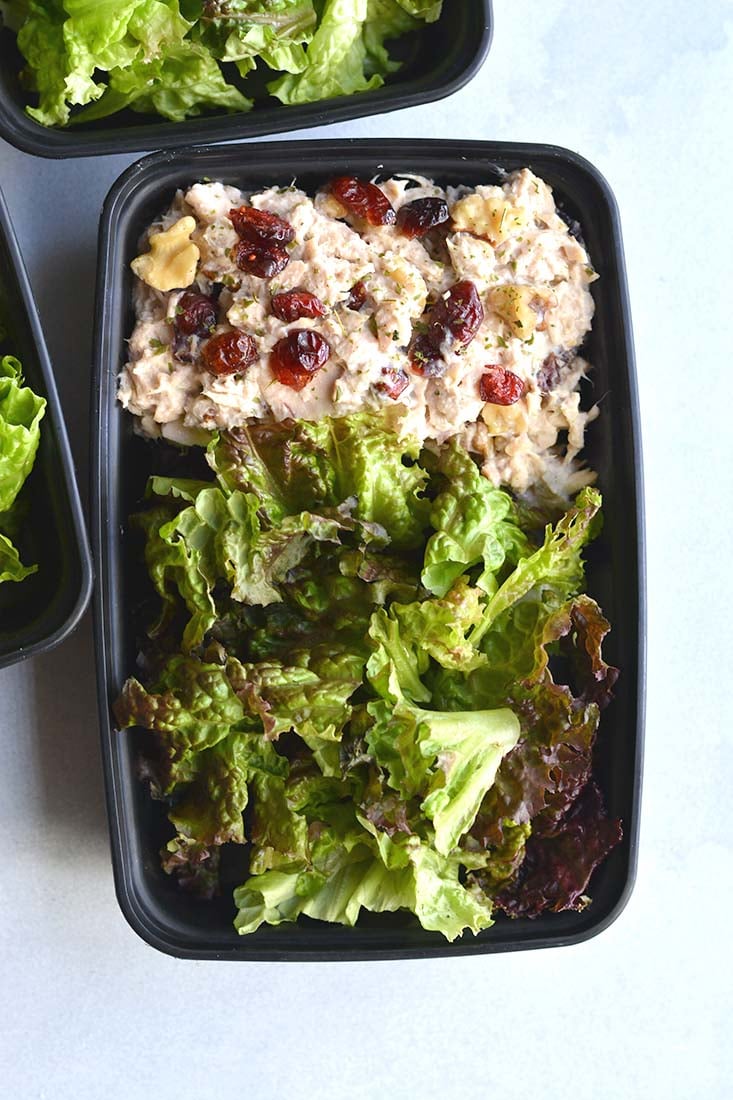 More Easy Salad Recipes
Meal Prep Cranberry Walnut Chicken Salad
Meal Prep Cranberry Walnut Chicken Salad! A simple chicken salad that's healthy and packed with fall flavor. Rich in protein and fat to keep you full from lunch until dinner! Gluten Free + Low Calorie
Servings 4 meal preps
Calories 292 kcal
Instructions
Drain the water from the canned chicken using a colander then transfer the chicken to a mixing bowl.

Stir together the Greek yogurt, lean juice, tarragon, dried cranberries and walnuts.

Divide the mixture into 4 meal prep containers (about 1 cup) then add 1 1/2 cups of greens to each. Store in the refrigerator until ready to eat.
Recipe Notes
My shop has more products similar to those used for this recipe and that recommend to my nutrition clients.
Course Lunch, Meal Prep, Salad
Keyword chicken, cranberry, gluten free, greek yogurt, low calorie, low calorie meal prep, meal prep, salad, walnut
Nutrition facts per serving (1meal prep)
Calories 292 kcal
Fat 13 g
Saturated Fat 2 g
Cholesterol 54 mg
Sodium 537 mg
Potassium 333 mg
Carbohydrates 11 g
Fiber 0 g
Sugar 5 g
Protein 31 g
Vitamin A 870 %
Vitamin C 14.4 %
Calcium 57 %
Iron 2 %
What I Used For The Recipe