Meal Prep Hummus Tuna Salad ready in 10 minutes! This high protein, low carb tuna salad is mixed with fresh veggies for a light and filling meal. Quick to prep, easy to eat on the go! Low Carb + Gluten Free + Low Calorie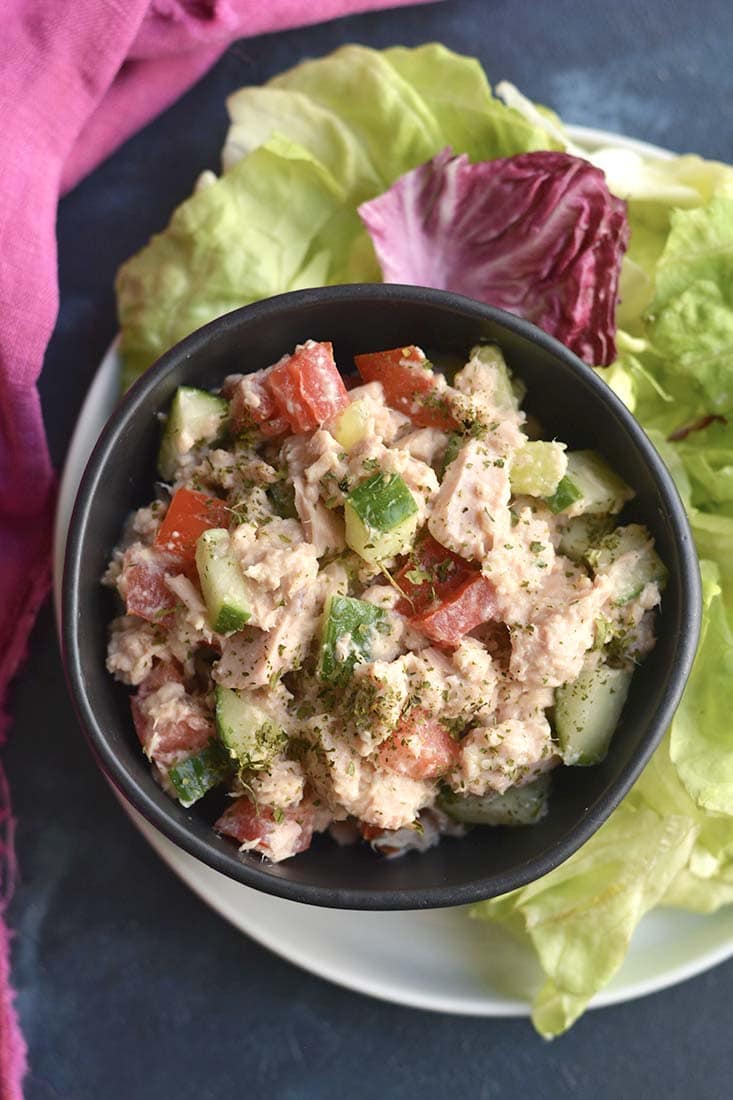 Meet my new favorite lunch! Meal Prep Hummus Tuna! I mixed my two favorite foods and got the BEST new recipe. I can't stop eating it and I love the fact that it takes minutes to prep. Honestly, I think those recipes are the best kind for everyday use.
Sorry, Julia Child. I'm not up for spending hours in the kitchen preparing a meal. No matter how much I love to cook, you will never find me doing that!
Funny thing is, I used to hate tuna. HATE!!! As in, avoided it like the plague until a few years ago. Then during my 80 pound weight loss I somehow one day got the courage to try it. After years of avoiding tuna, you know what I realized? That I loved tuna!
Click here to pin this recipe!
The reason I thought I hated it was because my Mom used to make tuna salad with mayo and peas when I was a kid. It was the mayo that made my stomach do flip flops, not the tuna!?! To this day, I'm still not about the mayo.
So, yes now I love tuna but it is a bland food. It's like chicken. You can only eat so much plain chicken breast, or in this case, tuna before you get bored. All it needs is a little dressing up to make it taste like something brand new. This Meal Prep Hummus Tuna does just that!
I used regular humus for mine, but you can pick any flavor you love and mix it with the tuna. For a Paleo version, this no bean hummus is my go to. I added tomatoes and cucumber for a real mediterranean feel. It gives the salad more substance and taste. I also added coriander and parsley. The coriander really brings out the flavor of the hummus!
Enjoy this Meal Prep Hummus Tuna Salad on butter lettuce, kale, in a gluten free wrap or bread. To keep the lettuce fresh, I use produce saver sheets. They are AMAZING. Lettuce lasts so much longer with them. Trust me!
Click here to pin this recipe!
Meal Prep Hummus Tuna Salad
Meal Prep Hummus Tuna Salad ready in 10 minutes! This high protein, low carb tuna salad is mixed with fresh veggies for a light & filling meal. Quick to prep, easy to eat on the go! Gluten Free + Low Calorie
Prep Time 10 minutes
Total Time 10 minutes
Servings 4 meal preps
Calories 152 kcal
Course Lunch, Meal Prep
Cuisine American
Keyword 10 minute meal, easy, egg free, gluten free, healthy, hummus, low calorie, low carb, lunch, mayo free, meal prep, salad, tuna, tuna salad
Nutrition facts per serving (1meal prep)
Calories 152 kcal
Fat 6.2 g
Saturated Fat 1.4 g
Cholesterol 10 mg
Sodium 209.8 mg
Potassium 306 mg
Carbohydrates 7.5 g
Fiber 2.3 g
Sugar 1.9 g
Protein 15.9 g
Vitamin A 325 %
Vitamin C 5.3 %
Calcium 27 %
Iron 1.7 %
What I Used For The Recipe