This post contains affiliate links. As an Amazon associate I earn qualifying purchases. Click here for more about this policy.
Healthy Monterrey Chicken Pasta is a protein packed pasta recipe made with a low calorie BBQ sauce, veggies and gluten free chickpea pasta. An easy meal made in a skillet in under 30 minutes! Gluten Free + Low Calorie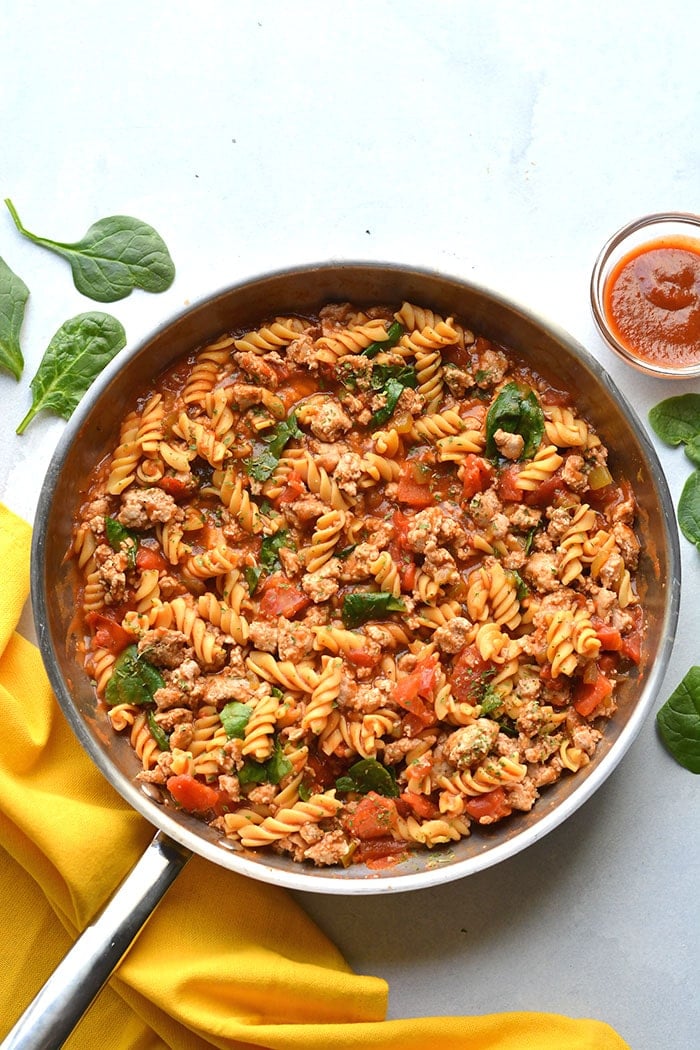 Ever make a recipe on accident and it turns out to be the most delicious thing ever? No?!? Just me...
In all honesty this was supposed to another recipe but I accidentally put BBQ sauce in and thought oh well, we're doing this. And wow... was it the best recipe ever. To quote my boyfriend "this is the weirdest, most delicious tasting thing ever." He's super picky and hard to please when it comes to food too!
I wanted to do a healthier Chili's Monterrey chicken recipe and this is what ended up happening. We love it and it's so easy to make too - takes less than 20-minutes to make this healthy meal. It's filling, delicious and healthy!
What Makes This Monterrey Chicken Recipe Healthier
I always like to share with you what makes the recipe healthier. Here's a few reasons why this is a healthier meal for you and great for weight loss.
High Fiber - I know some will freak out over the carbs, but the NET carbs are 32 grams per serving and there's 10 grams of fiber. Fiber is the number of food that is proven to aid in weight loss and hormone balancing. Anything below 150 grams daily carbs is considered low carb. I talk about the importance of fiber and carbs in my free weight loss class. The fiber in the recipe comes from the chickpea pasta and spinach.
High Protein - The ground chicken breast and chickpea pasta make this recipe high protein. There's 38 grams per serving. I generally recommend 25-40 grams per meal depending on the person and their goals.
Gluten Free - This recipe is naturally gluten free. Chickpea pasta, or any plant-based pasta is gluten free.
Low Calorie - Each serving is 414 calories. This is considered low calorie and the portion sizes are large, about 1 1/2 cups each.
Ingredients For Monterrey Chicken Pasta
Here's what you need to make low calorie Monterrey Chicken with pasta! I recommend having a large skillet with a cover for this recipe. Everything is made in one pot. No straining the pasta or cooking the pasta separately necessary!
Ground Chicken Breast
Chickpea Pasta
Canned Diced Tomatoes
Canned Green Chiles
Chicken Broth, low sodium
Spinach
Parsley, Salt, Pepper
How To Make Low Calorie Monterrey Chicken with Pasta
Making this recipe is soooo easy! It takes 15-minutes from start to finish and there's no prep involved other than opening a few items. This is literally one of those recipes you can dump in a skillet and have a healthy dinner ready in minutes. Here's how you make it.
Step one is to brown the ground chicken breast in a large skillet. We are not using oil to brown the chicken instead, you will use 1/4 cup of chicken broth to do this with. Add the salt and pepper and breakup the ground chicken as you cook it.
Step two add the canned diced tomatoes with their juices, the green chiles, broth and pasta to the skillet. Stir and bring to a boil. Once boiling, reduce to a simmer and cover. Cook until the pasta is al dente.
Step three is adding the spinach and BBQ sauce. Stir it in with the other ingredients in the skillet along with the dried parsley. Serve and enjoy!
How To Store Monterrey Chicken Pasta
This recipe tastes even better after it's been stored overnight! Leftovers can be stored in the refrigerator up to 5 days. You can reheat them in the microwave, on the stovetop or in the oven.
Can You Freeze Monterrey Chicken Pasta
Yes, you can freeze this recipe! I recommend cooking everything first, cooling to room temperature then placing in a freezer safe container up to 60 days.
When you're ready to eat, remove the meal from the freezer and place in the refrigerator overnight to thaw. Reheat in a skillet and serve!
Substitutions For Gluten Free Monterrey Chicken with Pasta
Here's a few substitutions you can make with this recipe. Please remember that when you make recipe substitutions that it does change the nutritional values you see in the recipe below. You will need to calculate your own nutrition if you make substitutions.
Ground Chicken - Lean ground turkey, lean ground pork or a vegetarian plant-based substitute like Beyond Beef would work. You can substitute with lean ground beef. Just note this will increase the calories a lot more than the other substitutes.
Chickpea Pasta - I love chickpea pasta because it's high protein and high fiber. You can substitute this for lentil pasta, edamame pasta, black bean pasta or any plant-based pasta variety. You could use whole wheat pasta, but I highly recommend you give plant-based pasta a try as it has a lot more protein and nutrients than whole wheat.
Spinach - Yes, you can use frozen spinach, but I recommend you squeeze out any excess liquid after thawing it. Kale or any greens you enjoy can be substituted. Other veggies could easily be added to this recipe too like green beans, broccoli or zucchini.
Chicken Broth - Any broth can be used.
BBQ Sauce - You can use my low sugar BBQ sauce recipe or I recommend one that is lower in sugar or that does not have added sugar like Primal Kitchen, G. Hughes, Tessamae's, Annie's or Noble Made.
Green Chiles - You can omit these. They do not add a lot of spice, but they do add a lot of flavor to the recipe so I recommend you give them a try before omitting them.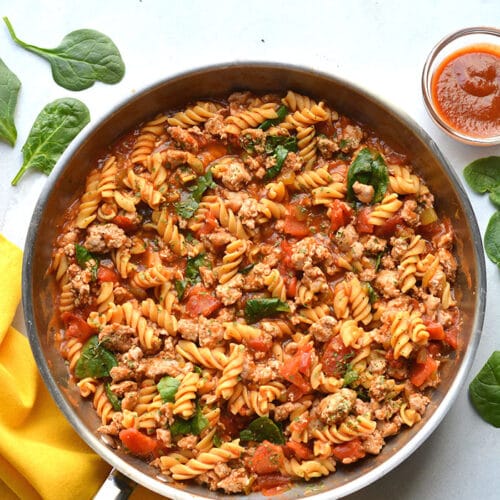 Healthy Monterrey Chicken Pasta
Healthy Monterrey Chicken Pasta is a protein packed pasta recipe made with a low calorie BBQ sauce, veggies and gluten free chickpea pasta. An easy meal made in a skillet in under 30 minutes! Gluten Free + Low Calorie
Instructions
Place the ground chicken breast in a large skillet with 1/4 cup of the chicken broth. Add salt and pepper and bring to medium heat. Break up the meat with a spatual as the meat cooks 4-6 minutes.

Once the meat is browned, add the diced tomatoes with juices, diced green chiles, pasta and remaining chicken broth to the skillet. Bring the mixture to a boil then reduce to a simmer and cover. Cook 7-10 minutes until the pasta is cooked.

Stir the BBQ sauce and spinach into the skillet and cook until the spinach is wilted. Add the dried parsley, stir again and serve.

Store pasta in the refrgierator up to 5 days.
Nutrition
Serving: 1servingCalories: 414kcalCarbohydrates: 42gProtein: 38gFat: 14gSaturated Fat: 3gTrans Fat: 1gCholesterol: 98mgSodium: 435mgPotassium: 1009mgFiber: 10gSugar: 9gVitamin A: 1568IUVitamin C: 24mgCalcium: 113mgIron: 8mg