Golden roasted Caramelized Cauliflower with Tahini & fried onions. A delicious gluten free, Paleo, Vegan, low calorie dish that makes a tasty side or appetizer! Gluten Free, Paleo, Vegan, Low Calorie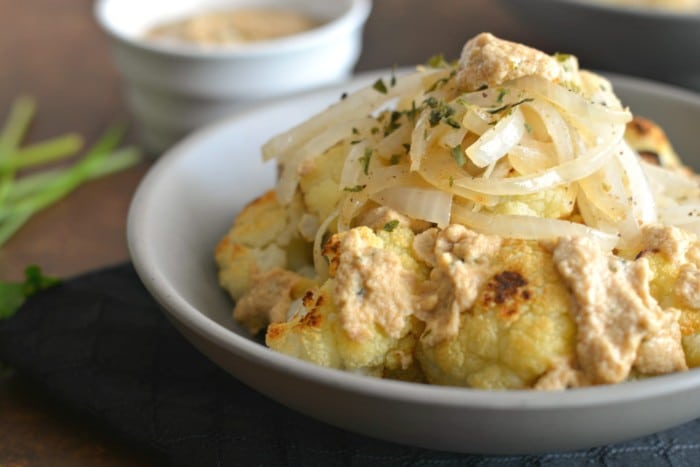 Sometimes the best food inspiration comes from your favorite restaurant. If you're been reading for awhile, then you know my all-time favorite local restaurant is Pita Jungle. Their menu is a plethora of Mediterranean style dishes that are mix of fresh, heat and spice.
[AdSense-A]
One of the many things I love about their dishes is how they're made with simple, everyday ingredients that are so incredibly delicious. When I go there, the problem becomes deciding which dish I want. Not a bad problem to have, right?
A few months ago, I ventured outside of my usual three menu suspects (because you can never have too much of a good thing) and ordered a dish I've never ordered, caramelized cauliflower with onions and tahini sauce. Something about the name jumped out at me or maybe it's just that I'm a lover of cauliflower and tahini.
It definitely wasn't the onions because that's one food I could live without any day. When I got the dish, let's just say this appetizer dish became my main dish. The dark, roasted cauliflower florets dipped into that creamy tahini sauce with it's bit of tang was enough to convince me these two were a pairing meant to be. From that moment on, I was on a mission to make my own version at home. Until I forgot about it.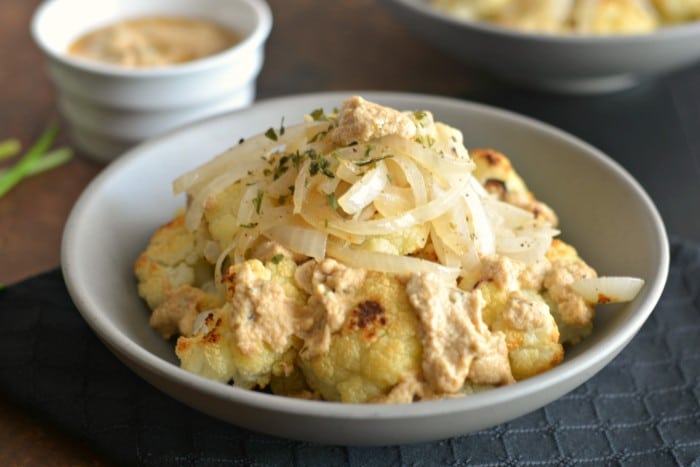 It wasn't until Sesame King replied to my spicy black bean hummus without tahini tweet asking if I'd  create a recipe with tahini that I remembered how much I wanted to re-create this fantastic recipe. What's even more awesome is they had so many great flavors to pick from I was able to put my own twist the recipe using their garlic flavored tahini. The result? Well, I might be biased but I'd argue mine's a smidgen better than my favorite local restaurant chain. So get your dipping fingers ready because this appetizer is one you won't want to share!
Get the SKINNY on the latest recipes & weight loss tips!
Sign up to receive a FREE eBOOK, a BONUS discount & weekly email tips!
Caramelized Cauliflower With Tahini
Golden roasted Caramelized Cauliflower with Tahini & fried onions. A delicious gluten free, Paleo, Vegan, low calorie dish that makes a tasty side or appetizer! Gluten Free, Paleo, Vegan, Low Calorie
Prep Time 10 minutes
Cook Time 15 minutes
Total Time 25 minutes
Calories 182 kcal
Ingredients
1 head of cauliflower cleaned, leaves removed & cut into florets (about 4 cups)
1 small white onion halved & sliced thinly (about 2 cups)
1 tbsp extra virgin olive oil
3-4 tbsp lemon juice
3 tbsp minced garlic
2 tsp paprika
2 tbsp parsley
1/2 tsp salt
1/2 tsp pepper
1/8 cup <a href="https://www.sunshinefood.com">Sesame King Roasted Tahini</a>
Instructions
Preheat oven 425 degrees

Place cauliflower in a single layer on a baking sheet lined with parchment paper

Add 1/4 tsp each salt & pepper to cauliflower

Bake cauliflower 15 minutes then turn on the broiler on high to cook another 5 minutes

Remove cauliflower from oven & place aside

While cauliflower is cooking, heat a medium pan to medium high

Add extra virgin olive oil to the pan

Once the oil is hot, add the onions to the pan

Cook the onions until tender, stirring constantly

The onions can burn fast so watch carefully & remove when tender 8-10 minutes otherwise they will burn

Place onions on a paper towel & add 1/2 tsp salt & pepper

To the pan you used to cook the onions, turn the heat to low & add minced garlic

You should have enough oil left in the pan otherwise add a tiny bit more

After a minute, turn heat off add lemon juice, paprika, 1 tbsp parsley, tahini & whisk in 12 tbsp warm water to thin (I added 12 tbsp to mine)

Be sure to continuously whisk the sauce as you're adding the water or it may burn

Place cauliflower in a bowl, add onions to the top then spoon tahini over it (I like to reserve about half the sauce for dipping)

Sprinkle remaining cauliflower on top & enjoy!
Recipe Notes
Makes 3 servings, 182 calories each
Nutrition facts per serving (1g)
Calories 182 kcal
Fat 0 g
Saturated Fat 0 g
Cholesterol 0 mg
Sodium 0 mg
Potassium 0 mg
Carbohydrates 0 g
Fiber 0 g
Sugar 0 g
Protein 0 g
Vitamin A 0 %
Vitamin C 0 %
Calcium 0 %
Iron 0 %
Custom Meal Plans
Work with Megan to develop a custom macro or standard meal plan to reach your goals.
Learn More
What I Used For The Recipe
What's one food you could live without? Do you re-create your favorite restaurant dishes?