This post contains affiliate links. As an Amazon associate I earn qualifying purchases. Click here for more about this policy.
20 Minute Baked Pesto Salmon. Steamed in foil packs, this Paleo, low calorie, gluten free meal is a healthy twist on a dinner favorite served with nut free pesto! Whole30 + Gluten Free + Low Calorie + Paleo + Low Carb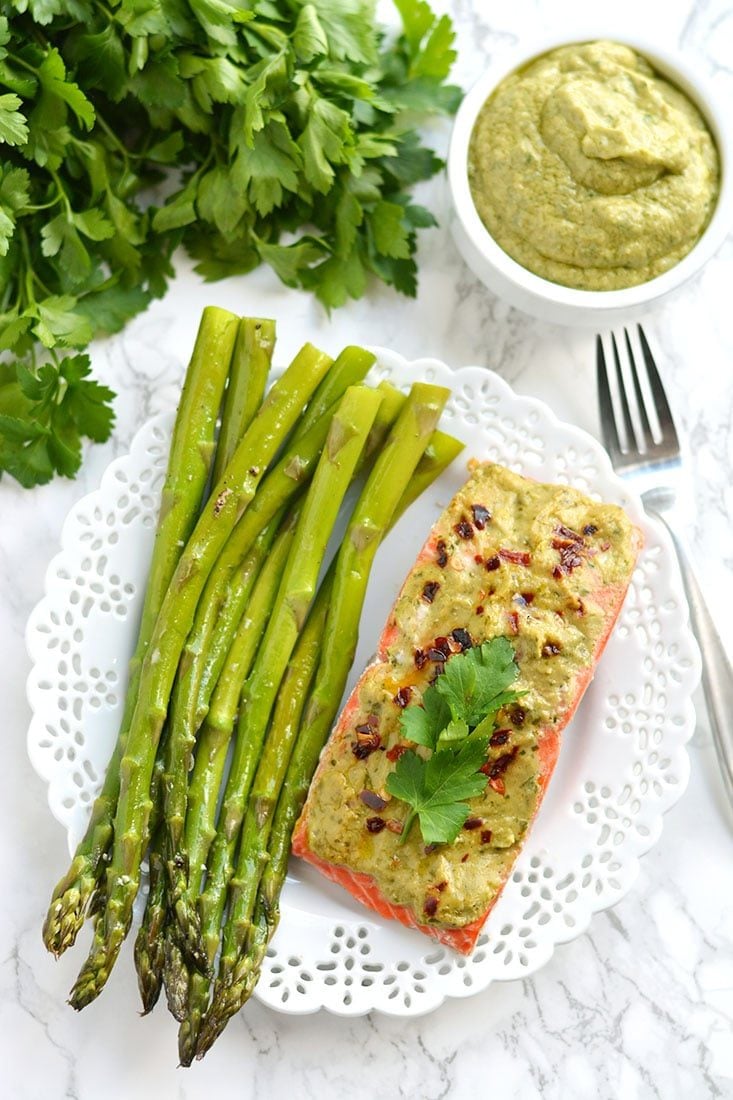 Fast. Easy. Healthy 20 minute dinners! That's my jam during the week. I may work from home, but I'm still too busy to play Martha Stewart every night. Between school, freelancing, running this website and coaching clients, life is busy and now I'm sharing that time with a guy too.
Last week I made this 20 Minute Baked Pesto Salmon dinner. Everything bakes together in foil packs. I love using them because it steams to food to perfection. My favorite way to eat salmon!
20 Minute Baked Pesto Salmon
I already had the pesto and salmon ready to go in the foil packs when he texts me saying he doesn't love pesto can he get it on the side. Who doesn't love pesto? I explained this wasn't the kind of pesto he was used to. This pesto is made with avocado and parsley.
Super creamy, with a little spark of heat. Not oily and completely nut free. You know what he said? "It's fake pesto!" Still, he was reluctant to try so I left the pesto off his salmon. But I needed to make him try it somehow.
You see, I'm the queen of sneaking healthy food into people's diets. I used to hate healthy food so I know what it feels like to look at an avocado and think there's no way I'm gonna eat that. Now it's my ultimate challenge when someone tells me they don't like a food to find a way to get them to eat it.
So when he wasn't watching, I boiled quinoa pasta and stirred in avocado pesto. He didn't know it was there and ate every bite of it! Muahahaha!!!
So I got him to eat the pesto but then, he didn't eat his asparagus. Whomp...whomp. Who doesn't eat asparagus? Ugh! Guess we have some work to do in the vegetable department.
Oh, and in case you're wondering. He's a good cook. A few days earlier he made chicken fajitas. Of course, he consulted with me before making said dinner, but he did good. Such a treat having someone else make dinner while I was finishing homework and a zillion other things, and who loves me in my yoga pants! Who is this guy and how has he snuck into my life?
But enough about him! This 20 Minute Baked Pesto Salmon goes down as a success. I was busy seeing clients until he arrived and this was a simple way to get a healthy and delicious meal on the table without a lot of effort. From oven to table in 20 minutes. Now who's gonna complain about that?
I order my salmon from Sizzlefish. They deliver it frozen in a cooler to your front door which makes it easy to eat high protein and those healthy omega-3's! I love having their fish on hand for quick and easy meals.
More Salmon Recipes
Low Carb Everything Bagel Salmon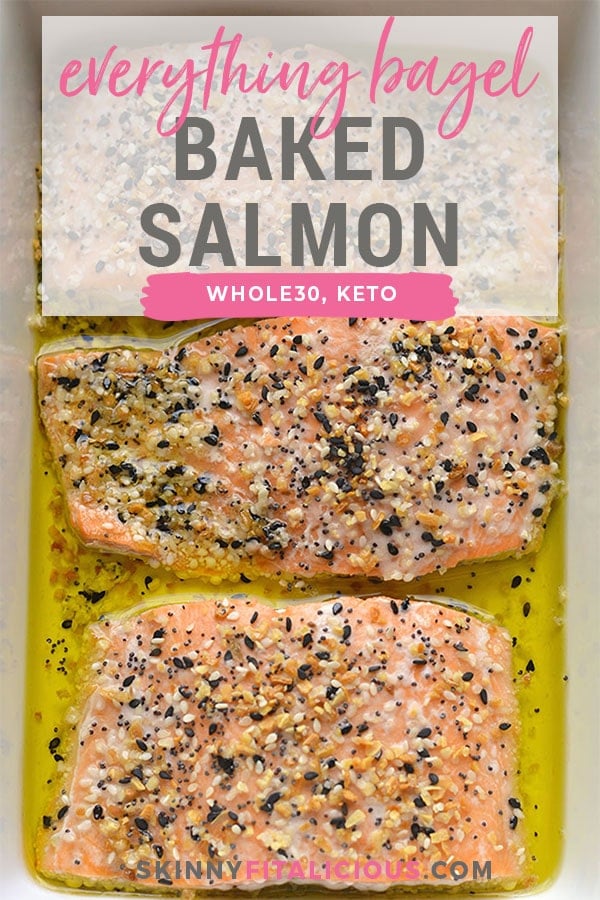 Low Carb Lemon Herb Salmon with Zucchini Noodles
20 Minute Baked Pesto Salmon
20 Minute Baked Pesto Salmon. Steamed in foil packs, this Paleo, low calorie, gluten free meal is a healthy twist on a dinner favorite! Whole30 + Low Carb + Gluten Free + Low Calorie + Paleo
Instructions
Preheat oven to 375 F. Prepare a baking sheet by place 3 sheets of tin foil on them. Make sure the tin foil pieces are large enough to cover 6-7 asparagus & salmon each.

In a food processor or blender, add all ingredients for the pesto except for the extra virgin olive oil. Blend on high until creamy then slowly drizzle in the extra virgin olive oil to emulsify.

Next place 6-7 asparagus on one foil drizzle with 1 tsp of extra virgin olive oil, sprinkle with salt & pepper. Top the asparagus with a salmon fillet. Then smooth 1 tablespoon of the pesto over the top of the salmon.

Close the foil over the salmon and asparagus by bringing the two sides together and crinkling the edges together. Crinkle the top and bottom as well until it is closed completely.

Repeat the process for the remaining 2 salmon fillets.

Place the foil packets on the baking sheet. Bake for 20 minutes until salmon is flaky.

Serve immediately with extra pesto on the side!
Notes
Pesto makes approximately 1 cup or 16 tablespoons. The nutritional value reflects one tablespoon used for each salmon fillet.
Pesto nutritional value is: 37 calories per 1 tablespoon
My Amazon shop has more products similar to those used for this recipe and that I recommend to my nutrition clients.
Nutrition
Serving: 1servingCalories: 309kcalCarbohydrates: 10.6gProtein: 11.3gFat: 26.2gSaturated Fat: 3.8gCholesterol: 20.1mgSodium: 32.3mgFiber: 6.3gSugar: 2.8g
What I Used For The Recipe