Lemon Herb Salmon Zucchini is a quick one pan meal packed with protein and tons of flavor. A 30-minute weeknight dinner that's low carb, low calorie, gluten free, dairy free and Paleo!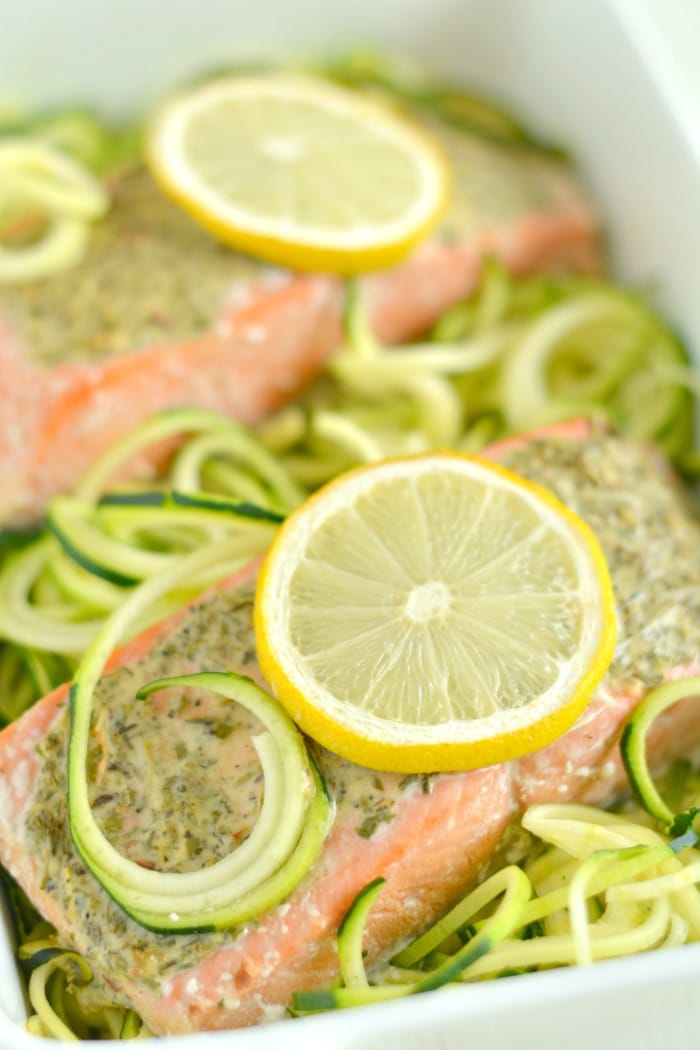 Who's ready for an easy weeknight dinner? I know I am after the crazy week I had last week! Apparently, two weeks off of school with travel to L.A. thrown in the mix is enough to throw me off track. Website issues and forgetting to order books for school didn't help either. Oh yeah, and a boatload of homework too. This round of classes is going to be a challenge.
It was one of those weeks when I felt unprepared to take on the week. Have you had one of those? You know the kind where you feel like you're walking down the street backwards and everyone is staring at you but to you, it seems completely normal? Yeah, it was not my week.
When I have those kind of weeks, I get REALLY stressed out. Suddenly, everything in the house is dirty and needs cleaning and I'm stressing about future things like surgery that's a month away. Finally, I told myself I needed to get a grip. After all, stress was what caused my missing periods and other health problems. I certainly don't want to go through that again.
So I made a list and told myself, to prioritize what has to get done right now. And you know what? Things got done. Not everything I wanted got done (sometimes I like to shoot for the moon), but the immediate things got done. Once I did that, I felt much more organized and in control and that's where this Lemon Herb Salmon Zucchini saved the day.
I was so busy working on everything that I forgot to prep dinner for two nights last week. Oops! Meal planning fail! So I dove into the freezer and found salmon that arrived from Sizzlefish last week. Thank goodness for Sizzlefish delivering straight to my door or I would have starved!
A little of this and a little of that, and I had a delicious lemon mustard dressing seasoned mixed with herbs ready to top the fish. Toss in a pan with spiralized zucchini and after baking in the oven 25 minutes, I had Lemon Herb Salmon Zucchini. Dinner solved!
It was a super simple, flavorful dinner that took less than 30 minutes that tasted fresh and delicious. This Lemon Herb Salmon Zucchini literally saved the day. Hope it saves one of yours!
3 Smart Strategies To Stop Cravings
Lemon Herb Salmon Zucchini
Lemon Herb Salmon Zucchini is a quick one pan meal packed with protein and tons of flavor. A 30 minute weeknight dinner that's low carb, low calorie, gluten free, dairy free and Paleo!
Prep Time 10 minutes
Cook Time 20 minutes
Total Time 30 minutes
Calories 236 kcal
Instructions
Preheat the oven to 350 F. Spray a 9x9 baking pan with cooking spray (coconut spray is my favorite).

In a small bowl, combine Dijon, oil, garlic, parsley, oregano, thyme, rosemary and garlic.

Layer the spiralized zucchini on the bottom of the pan then place the salmon on top of the zucchini. Sprinkle with salt and pepper to taste.

Top fish with marinade distributing it evenly between the fish and top with sliced lemons

Bake in the oven at 350 F 20-25 minutes until fish is flaky and zucchini is tender.

Serve immediately with more sliced lemon and parsley.
Course Dinner
Keyword casserole, low calorie dinner, low calorie recipe, low carb dinner, low carb recipe, paleo dinner, salmon, zucchini noodles
Nutrition facts per serving (1serving)
Calories 236 kcal
Fat 10.3 g
Saturated Fat 1.7 g
Cholesterol 60.4 mg
Sodium 134.9 mg
Potassium 0 mg
Carbohydrates 11.2 g
Fiber 3.6 g
Sugar 8.3 g
Protein 25.7 g
Vitamin A 0 %
Vitamin C 0 %
Calcium 0 %
Iron 0 %
Custom Meal Plans
Work with Megan to develop a custom macro or standard meal plan to reach your goals.
Learn More
What I Used For The Recipe
           
More Zucchini Dinners!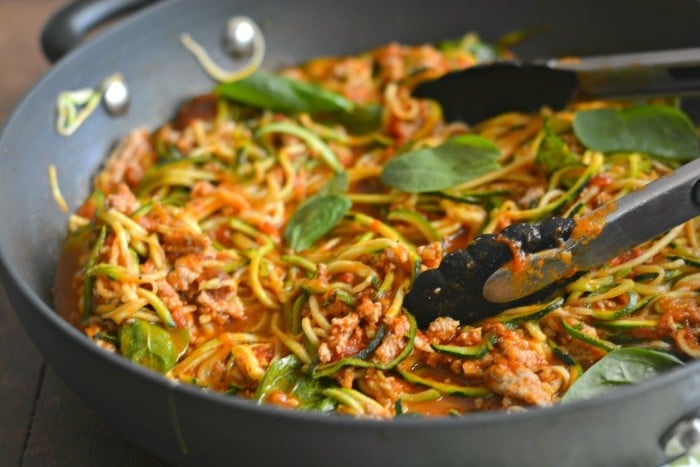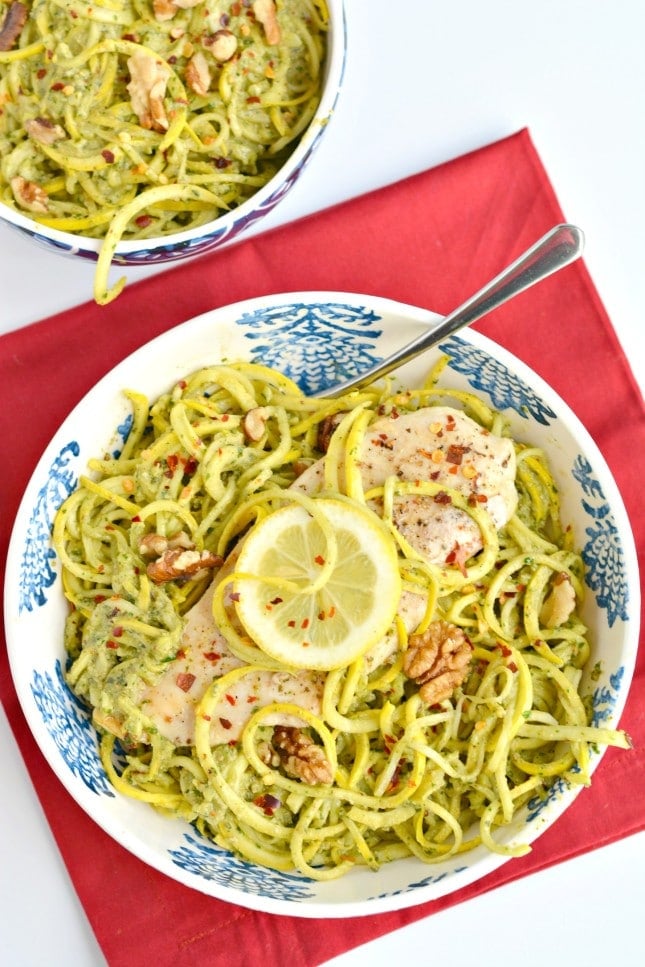 Do you stress easily? How do you deal with it?
[shareaholic app="share_buttons" id="27416563"] [shareaholic app="recommendations" id="27416571"]