Baked chicken tops spiralized squash with a homemade walnut pesto in this Walnut Pesto Chicken Summer Squash. A simple 30 minute, HEALTHY meal that's Whole 30 compliant, Paleo, Gluten Free and low calorie friendly!  
I swear this week better be good to me. The last two have been trying!  It all started when my herbs died when I was in Chicago for 3 days and the temps went from 88 to 115 and no one was here to water them. I swear I will never be able to grow anything, but I'm going to keep trying! Then the coolant system went out in my car. Thank goodness for the warranty!
Then my director informed me they were pulling swim instructors from the June schedule who didn't have advanced CPR and that included me. But in order for me to take the class, they needed to offer one which they hadn't since February. Is it worth mentioning I am already CPR certified? This stupid class has been a thorn in my side since the day I started.
Technically, they're not supposed to schedule you if you don't have all certification classes. Despite that, they scheduled me for 3 months. Oh yeah, and they tried paying me less for not having the class too. Tomorrow there's finally a class (like I was informed yesterday) so hopefully, next month I can teach again. If I didn't love instructing so much, I wouldn't bother with this. It's just wrong to treat people that way.
On the bright side, it's been nice having a month "off" to catch up on things. I've been taking FULL advantage cooking a lot of recipes, and this Walnut Pesto Chicken Summer Squash was one of the first things I got my hands into! It's packed with fresh and wholesome ingredients.
Originally this dish started out as vegetarian. I'd eat it raw or cooked for lunch or dinner. Then one night I was scrounging for dinner and needed more than the pesto zoodles so I paired it with baked chicken for a little extra protein, and that's how Walnut Pesto Chicken Summer Squash was born!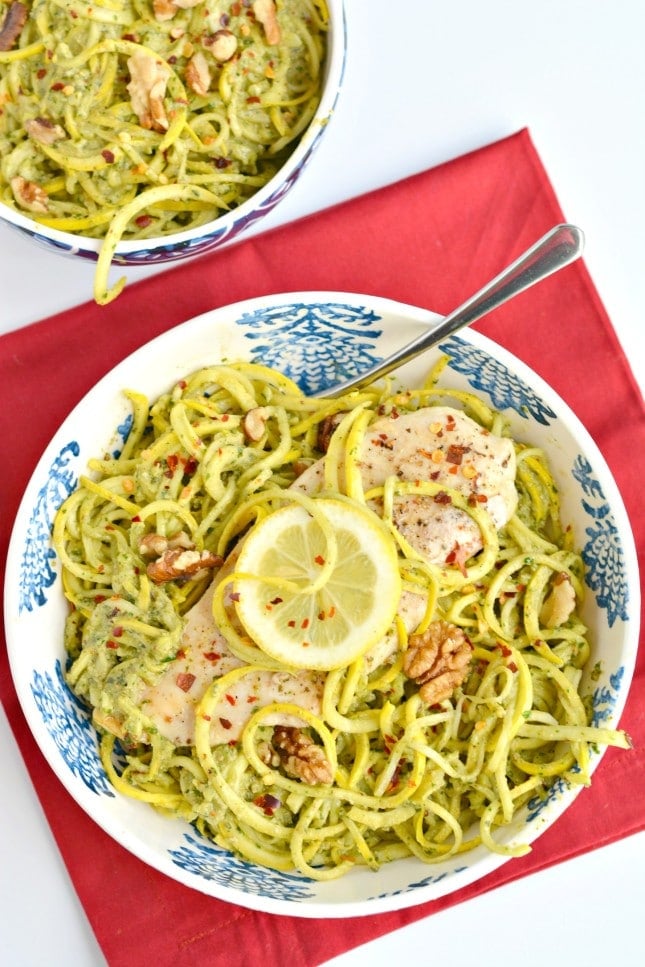 The walnut pesto is the star of the show bursting with its creamy, vibrant flavors. You can never go wrong mixing spinach and basil together in a pesto and I used walnuts for more depth and omega-3. Feel free to swap with pine nuts or another nut. Brazil nuts or hazelnuts would be amazing in this too!
As you can see, the options are endless for customizing this Walnut Pesto Chicken Summer Squash! The best part is it takes less than 30 minutes to pull the entire meal together. As much as I love to cook, I love quick and easy meals more! And it's light, yet hearty and filling. A perfect summertime (or anytime hehe) meal!
Receive a Sugar Free Meal Plan
When you join the Skinny Fitalicious Email List
Walnut Pesto Chicken Summer Squash
Prep Time 10 minutes
Cook Time 25 minutes
Total Time 35 minutes
Servings 4 servings
Calories 304 kcal
Ingredients
For the Pesto:
1/2 cup walnuts raw
3 cups basil leaves fresh
1 cup baby spinach
2 tbsp extra virgin olive oil
1/4 cup lemon juice
2 tbsp parmesan cheese
salt & pepper to taste
For the Squash & Chicken:
Instructions
Preheat oven to 350 degrees F. Add chicken breast to a glass baking dish, sprinkle salt & pepper on it and top each with a lemon slice.

Place in the oven and bake 20-25 minutes until completely baked through. While the chicken is baking, spiralize the squash noodles and set aside.

Then add the ingredients for the pesto to a food processor or blender and blend on high until the pesto is smooth.

Heat a skillet to medium heat, add half the pesto the skillet then the squash then the remainder of the pesto. Using a tongs, coat all the squash with the pesto about 2-3 minutes.

Remove from the oven and plate the squash in a bowl with the baked chicken and lemon and sprinkle with red chili peppers.

For leftovers, store chicken and squash pesto in separate containers.
Course Dinner
Keyword gluten free recipe, low calorie chicken, low calorie recipe, low carb recipe, squash, zoodles, zucchini
Nutrition facts per serving (1serving)
Calories 304 kcal
Fat 19 g
Saturated Fat 2 g
Cholesterol 56 mg
Sodium 157 mg
Potassium 953 mg
Carbohydrates 10 g
Fiber 3 g
Sugar 4 g
Protein 24 g
Vitamin A 43.7 %
Vitamin C 54.3 %
Calcium 11.3 %
Iron 12.2 %
Custom Meal Plans
Work with Megan to develop a custom macro or standard meal plan to reach your goals.
Learn More
What I Used For The Recipe