This post contains affiliate links. As an Amazon associate I earn qualifying purchases. Click here for more about this policy.
Mouthwatering Jalapeño Lime Chicken that's big on flavor and takes 15 minutes to make. A gluten free, low calorie meal, that's delicious and easy and guaranteed to spice up boring chicken! Paleo + Gluten Free + Low Calorie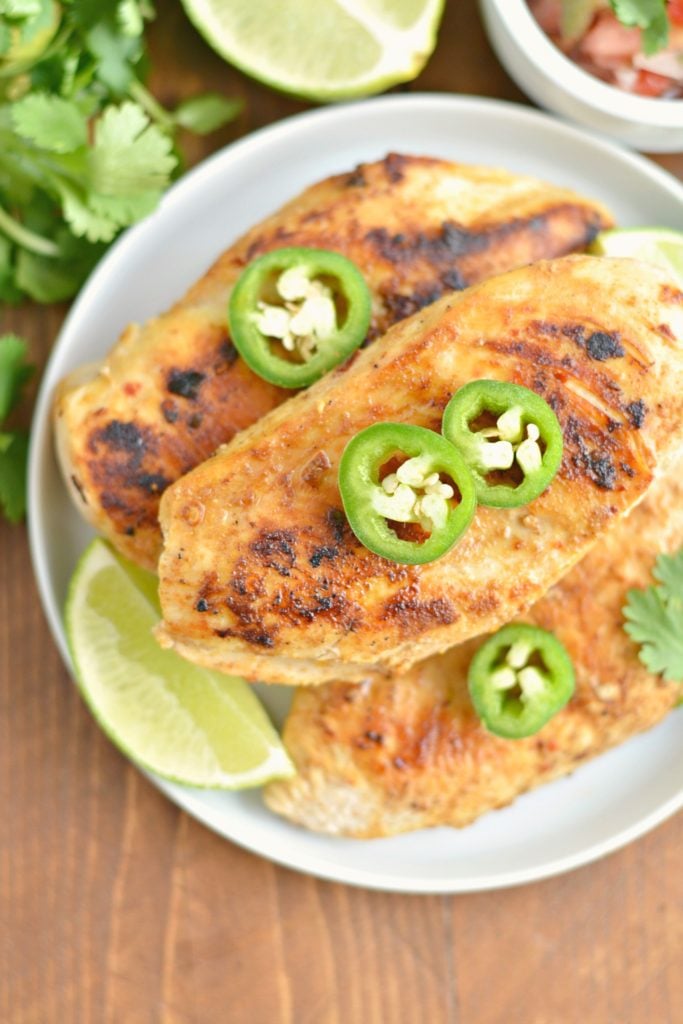 If you want to spice up your chicken, then you certainly came to the right place today! No more boring chicken for you! Chicken is a blank canvas that's open to the mind's imagination.
That's one of the reasons I love cooking with chicken so much. Not only is its great lean high protein, but you can virtually turn it into a very flavorful dish without much effort, and you know I'm big on spending less time in the kitchen and more time in the gym.
Or these days, more time on the computer thanks to nutrition school. C'est la vie! 😉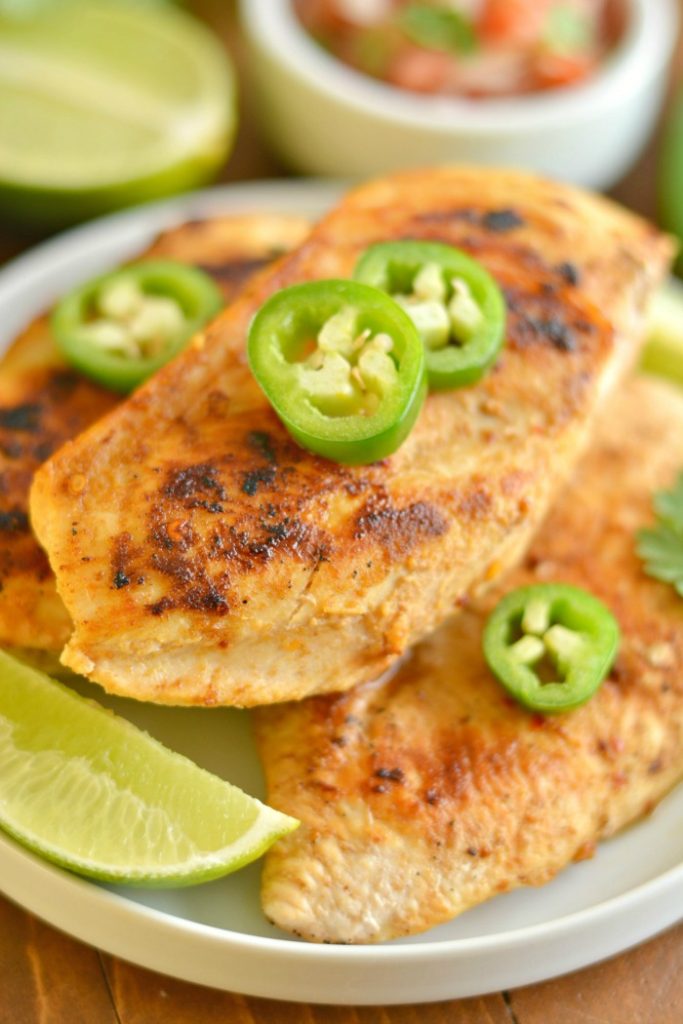 I always wanted to speak French, but that never happened. Did you know I'm fluent in Spanish, lived in Spain, worked in Mexico? These days I don't use my fluency much other than as the translator for store cashiers when there's a very obvious language barrier. My fluency does tie into this recipe, I promise!
When I worked in Mexico, the guys I worked with (I was the only girl) had weekly BBQ's. There was nothing else to do in small town Del Rio, Texas other than drink and eat.
But those men, I swear they were the best cooks. Crazy good cooks, in fact. I learned so much about cooking and marinating meat, and this Jalapeño Lime Chicken is one of the recipes I stole from them.
With just a few simple ingredients, you get tender chicken exploding with juicy, citrus flavors in your mouth. I added just a bit of spice to the recipe. Just enough to let you know it's there, but not enough to set your mouth on fire. Feel free to turn up the heat by adding more red pepper or jalapeño if you love spice!
The key to making this Jalapeño Lime Chicken extra moist and tender is marinating it for hours. I recommend a minimum of 2-3 hours, but overnight is best.
That way the chicken soaks up all the delicious lime juice and seasonings. Once it's marinated, it only takes 15 minutes before you've got juicy Jalapeño Lime Chicken in your mouth!
This recipe is a great low-carb lunch or dinner with a large side of steamed veggies. I top my chicken with blender salsa. You can't forget the salsa! It's 100% necessary. But if you're looking for a well-rounded meal, rice or plantains would make excellent additions! The dish is very versatile. You really can't go wrong!
Jalapeño Lime Chicken
Mouthwatering Jalapeño Lime Chicken that's big on flavor and takes 15 minutes to make. A gluten free, low calorie meal, that's delicious and easy and guaranteed to spice up boring chicken!
Ingredients
3 chicken breasts
1 tablespoon extra virgin olive oil
3 tablespoons lime juice freshly squeezed
1/2 teaspoon cumin
1/4 teaspoon red pepper flakes
Salt and pepper to taste
1 jalapeno sliced into quarter inch pieces
Cilantro and lime for topping
Instructions
Make the marinade by combing the extra virgin olive oil, lime juice, cumin, red pepper, salt and pepper in a bowl with 2-3 slices of jalapeño.

To a plastic container or plastic bag, add the chicken breasts and marinade. Refrigerate 2-3 hours (overnight is even better!) to allow chicken breasts to soak up the lime-y good marinade.

Remove the chicken from the refrigerator 20 minutes prior to cooking to bring to room temperature.

Heat a grill pan over medium heat (alternatively you can grill these), place the chicken and marinade on the heated pan.

Cook 7-8 minutes until the chicken browns on the bottom. Flip the chicken and cook another 7-8 minutes on the other side until cooked through completely. Depending on the thickness of the chicken, you may need more or less time.

Remove chicken from the grill pan, serve immediately and garnish with lime, cilantro and <a href="https://skinnyfitalicious.com/5-minute-spicy-fresh-blender-salsa/">5 minute blender salsa</a>!
Nutrition
Serving: 1servingCalories: 176kcalCarbohydrates: 1.4gProtein: 26.8gFat: 6.6gSaturated Fat: 1.4gCholesterol: 72.8mgSodium: 64.1mgFiber: 0.1gSugar: 0.3g
What I Used For The Recipe