This Turkey Spaghetti Zoodles is pasta without the pasta! A SUPER simple one pan dinner that's low calorie, low carb, Paleo, gluten free and takes just 10 minutes to make. This will soon be your go-to week night dinner! Paleo + Gluten Free + Low Calorie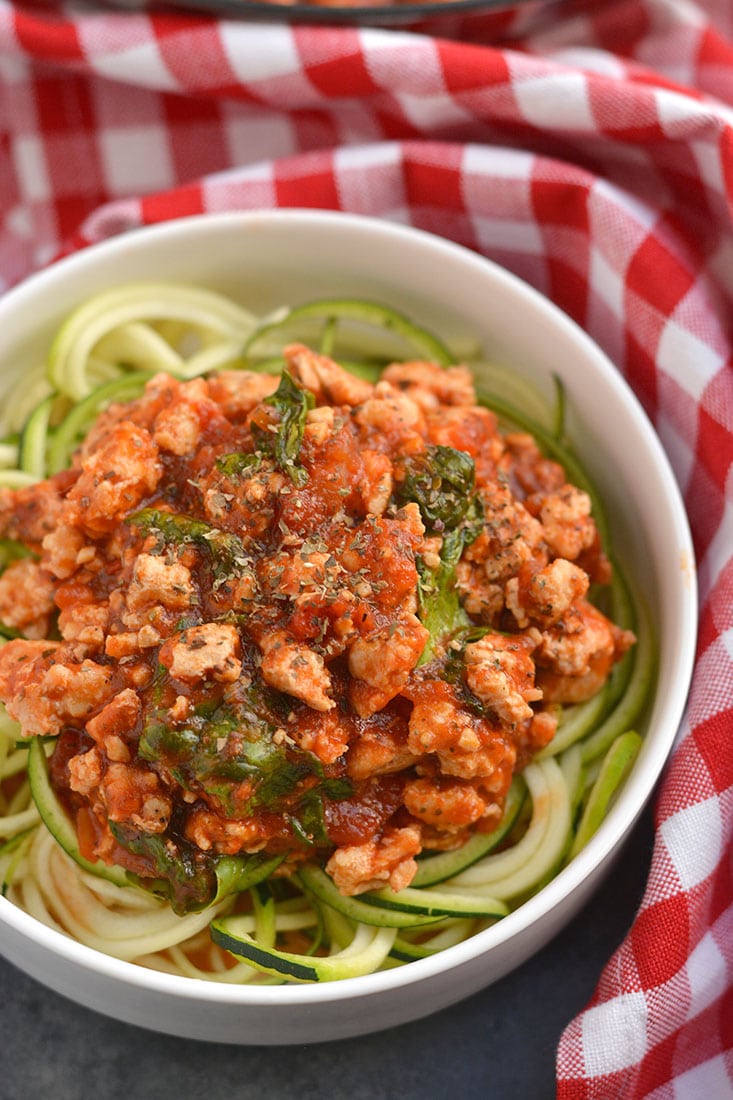 Just letting you know, this Turkey Spaghetti Zoodles recipe was originally published in April 2016. I retested, rephotographed and updated the content for you. Hope you enjoy it!
Calling all pasta lovers! If you love spaghetti but need a lighter, low carb alternative, then you can breathe a sigh of relief because I've got you covered today.
You are gonna love this Healthy Turkey Spaghetti is made with zucchini noodles! I don't remember exactly when zoodles became such a staple in my dinners, but I sure wish it would have happened a lot sooner. And no, I don't mean I wish I would have been doing it sooner because it was what all the cool foodie kids were doing either.
You see I don't do complicated dinners. In fact, if you've been around here for awhile then you know very well that I don't do complicated anything. I don't have the time or the energy. Who does really?
Spoiler alert! Spiralizing is uncomplicated. It may look all pretty and fancy and fun (<- which it is), but it's one of the easiest ways to prep veggies. Easier than cutting, chopping, slicing or roasting! It's even easier than making pasta. How many times have you waited forever for water to boil only to burn the meal or the meal ends up cold waiting for the pasta to get done?
Yeah, too much effort coordinating those things. Much easier to toss zoodles into a pot with the entire meal and have everything ready at the same time. Plus there's less pots to clean. See I'm saving you all kinds of time here!
I'm actually surprised zoodles haven't become popular at restaurants. How fun would a Zoodle restaurant be? Maybe one day for my dream cafe.
But I digress… this Low Carb Turkey Spaghetti Zoodles recipe has been a go-to dinner of mine on those crazy days when I'm rushing around like a chicken with my head cut off and have nothing to eat for dinner. It's one of those meals I make ALL THE TIME.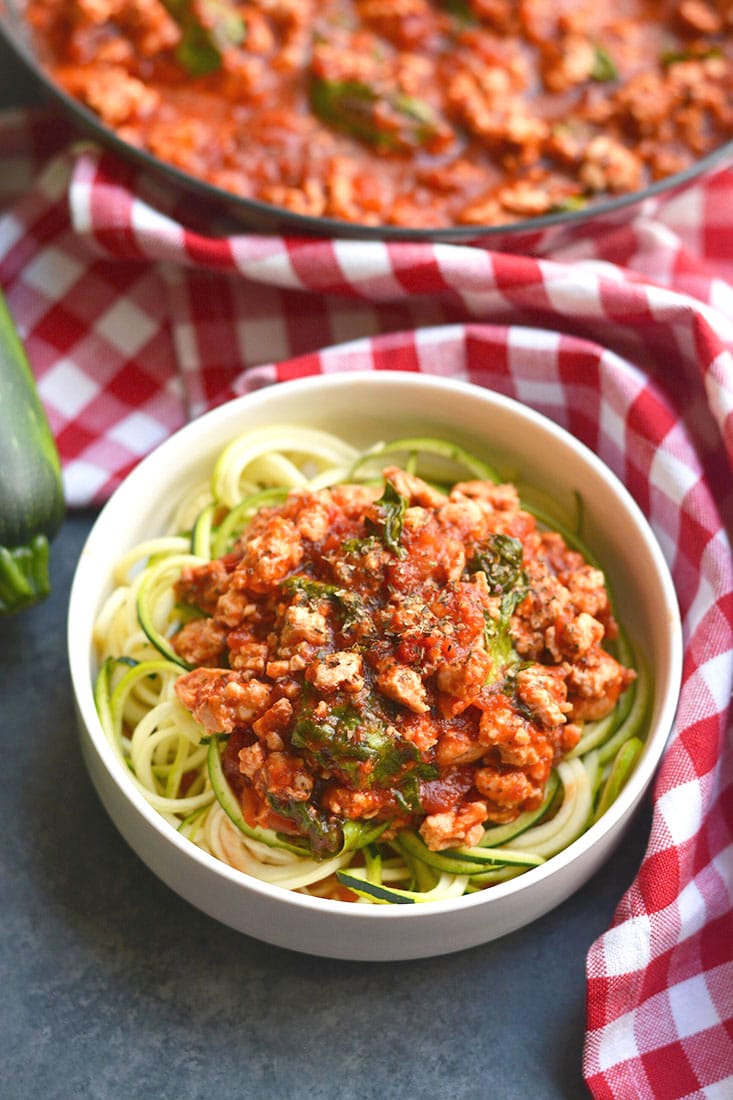 All you do is brown the turkey, add marinara, spices, spinach and zoodles and BAM! Dinner is served in 10 minutes and you will have a happy belly full of goodness! You want to hear the best part? Besides the fact that it's so ridiculously easy, it also tastes like spaghetti. Pasta without the pasta!
A spaghetti that's Paleo friendly and gluten free. You can't beat this 30 minute meal friends.
P.S. Dear lords of the dictionary will you please recognize "zoodle" as a real word and stop changing it to doodle or noodle. Thanks!
Turkey Spaghetti Zoodles
This Turkey Spaghetti Zoodles is pasta without the pasta! A SUPER simple one pan dinner that's low calorie, low carb, Paleo, gluten free and that takes 10 minutes to make. This will soon be your go-to week night dinner!
Prep Time 10 minutes
Cook Time 15 minutes
Total Time 25 minutes
Servings 5 servings
Calories 221 kcal
Instructions
Add turkey breast, garlic, bell pepper and seasonings. Use a meat masher up the meat and cook until just browned 4-5 minutes.

Next add baby spinach and crushed tomatoes. Cook another 3 minutes then add zoodles to the skillet.

Using a tongs, stir in the zucchini noodles. Cook another 2-3 minutes until the zucchini are a slightly tender. You still want them to have a crunch.

Serve immediately or store in the refrigerator up to 3 days. I recommend for storing you store the zucchini noodles separately so if you know you are not eating the full meal, leave some out. The zucchini noodles soften 1 minute on high in a microwave.
Course Dinner
Cuisine Italian
Keyword 30 minute, dairy free, dinner, gluten free, low calorie, low carb, marinara, Paleo, spaghetti, spaghetti sauce, turkey, Whole30, zoodle, zoodles
Nutrition facts per serving (1serving)
Calories 221 kcal
Fat 5.2 g
Saturated Fat 2 g
Cholesterol 57.8 mg
Sodium 378 mg
Potassium 0 mg
Carbohydrates 15.5 g
Fiber 5.1 g
Sugar 8.1 g
Protein 31.5 g
Vitamin A 0 %
Vitamin C 0 %
Calcium 0 %
Iron 0 %
Custom Meal Plans
Work with Megan to develop a custom macro or standard meal plan to reach your goals.
Learn More
What I Used For The Recipe