Crispy Oven Fried Salmon! Salmon crusted with gluten free oats, parsley and parmesan and baked on a sheet pan to crispy perfection. An healthy, gluten free weeknight meal! Low Calorie + Gluten Free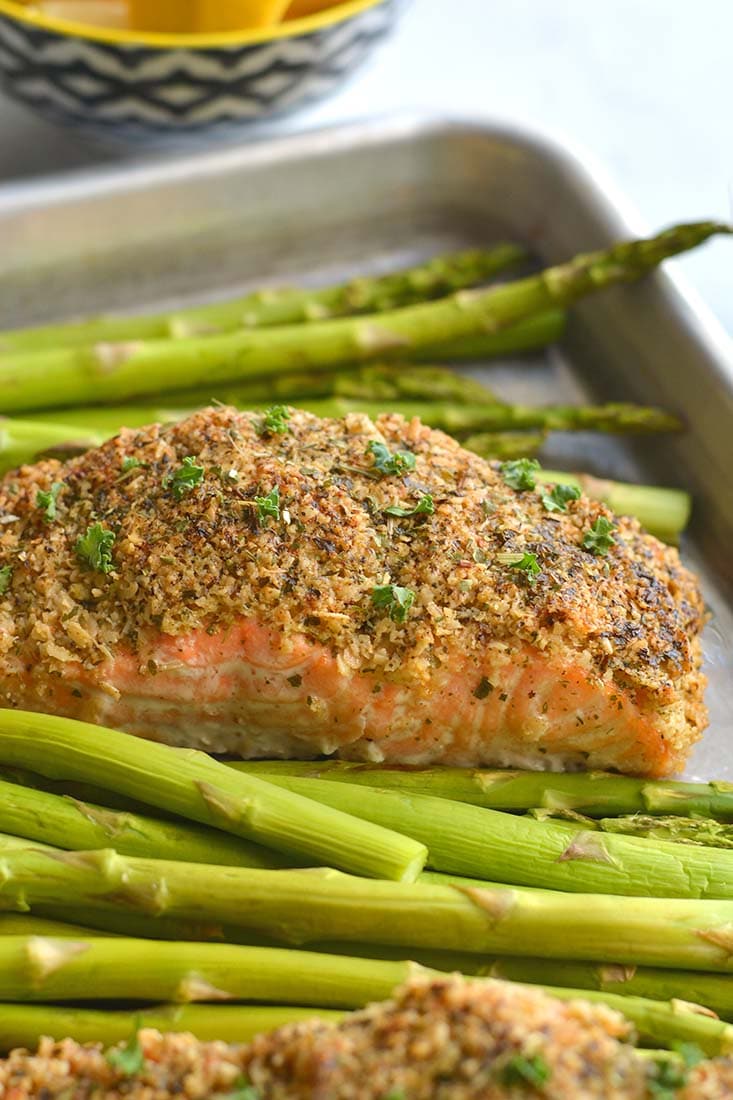 How 'bout some crispy oven fried salmon! Are you in? This is one healthy recipe you want to get in one and, if you're like many others right now I'm sure you're looking for health recipes to kick start your New Year's goals.
I'm all about health-ifying and lightening up foods. One thing I'm constantly asked is how to make "fried" versions of favorite foods. I can say first hand after years of not eating fast food and processed junk that I have ZERO cravings for these foods.
But….I will say there is something oh so comforting in enjoying a breaded fish, chicken or turkey tenders from time to time. And I know you guys are going to love this healthy oven fried salmon recipe.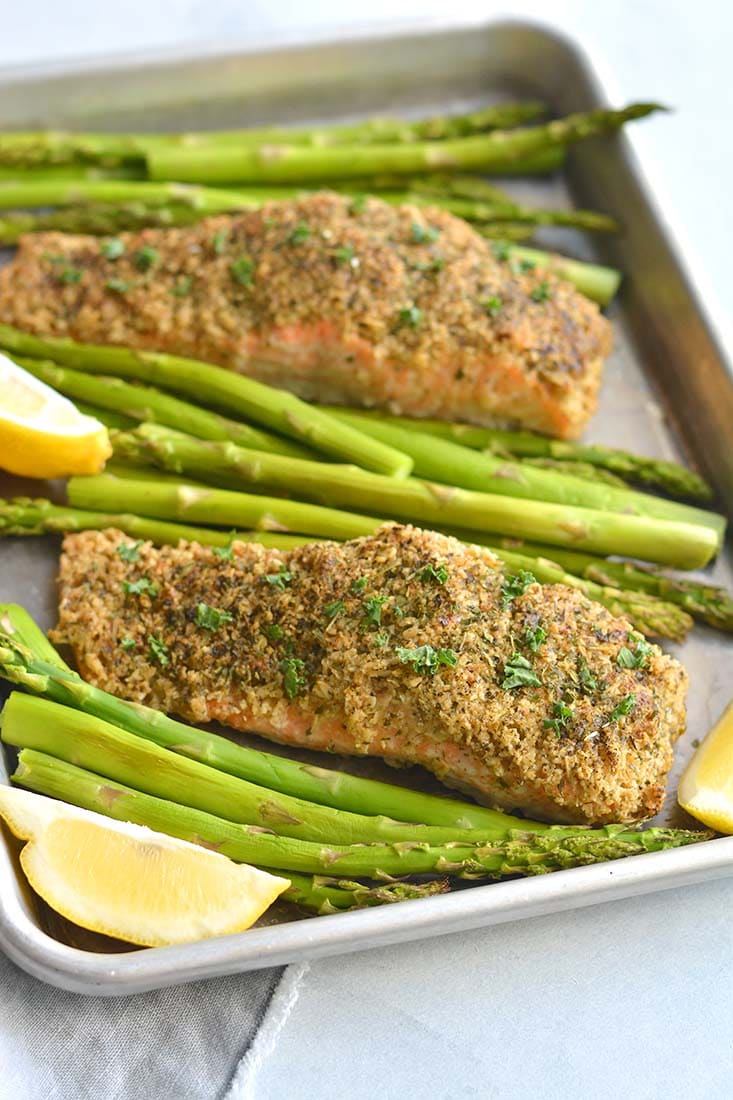 Crispy Oven Fried Salmon
Baked on a sheet pan with veggies for a no fuss meal, this is now one of my favorite ways to eat salmon. Everything's baked at a high temperature. This is what makes the salmon flaky and gives it its super crispy crust. A crust that seems like it's fried, but it's not fried!
I used gluten free rolled oats to make breadcrumbs. It's such a easy substitution to traditional bread crumbs plus you're getting fiber. Something we all need more of these days!
What You Need
Gluten Free Oats
Parmesan
Parsley
Avocado Oil
Asparagus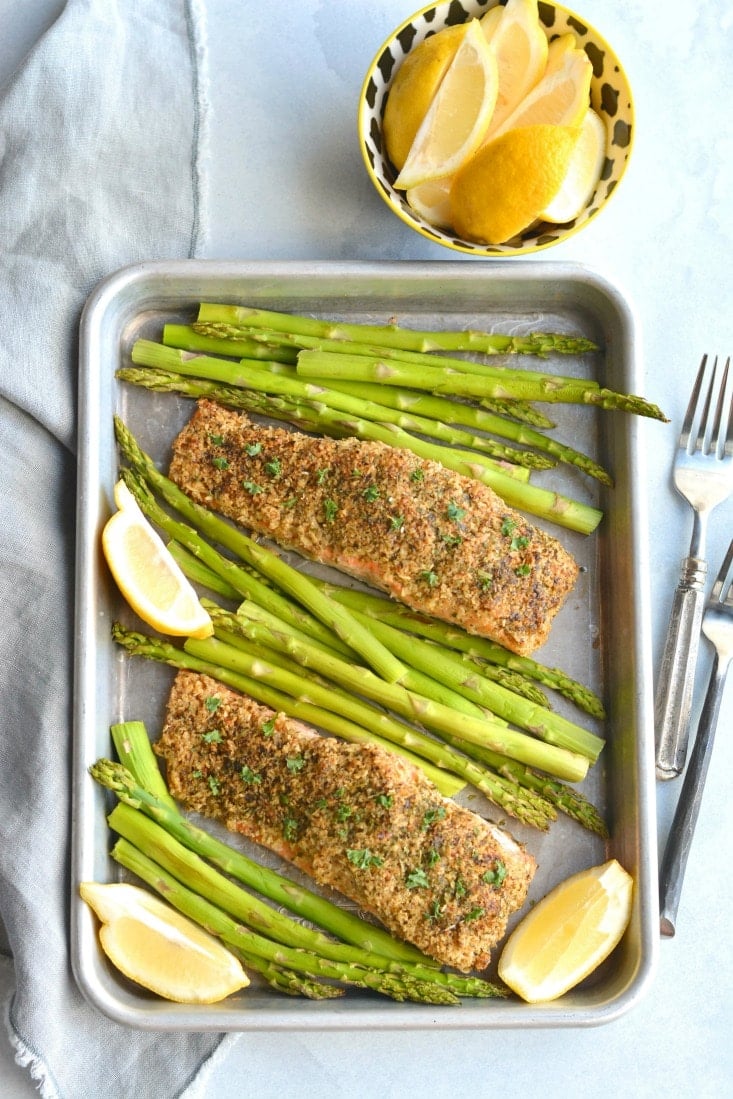 Helpful Tips
Because this dish is baked at a high temperature, you don't want to use extra virgin olive oil as it's above it's smoke pain. Instead, I recommend using avocado oil. It's high in monounsaturated fats and works well for cooking at high temperature. It complements the salmon perfectly with its mild taste. I personally don't love the taste of coconut oil in this recipe. It's too overwhelming with the salmon, but you could certainly substitute it if you like.
While the recipe is higher in fat, it's high in GOOD fat. Fat from the salmon and avocado oil. Fat that increases good cholesterol and is heart healthy. So before you look at the calories and fat and run in the other direction, remember not all fats are created equal!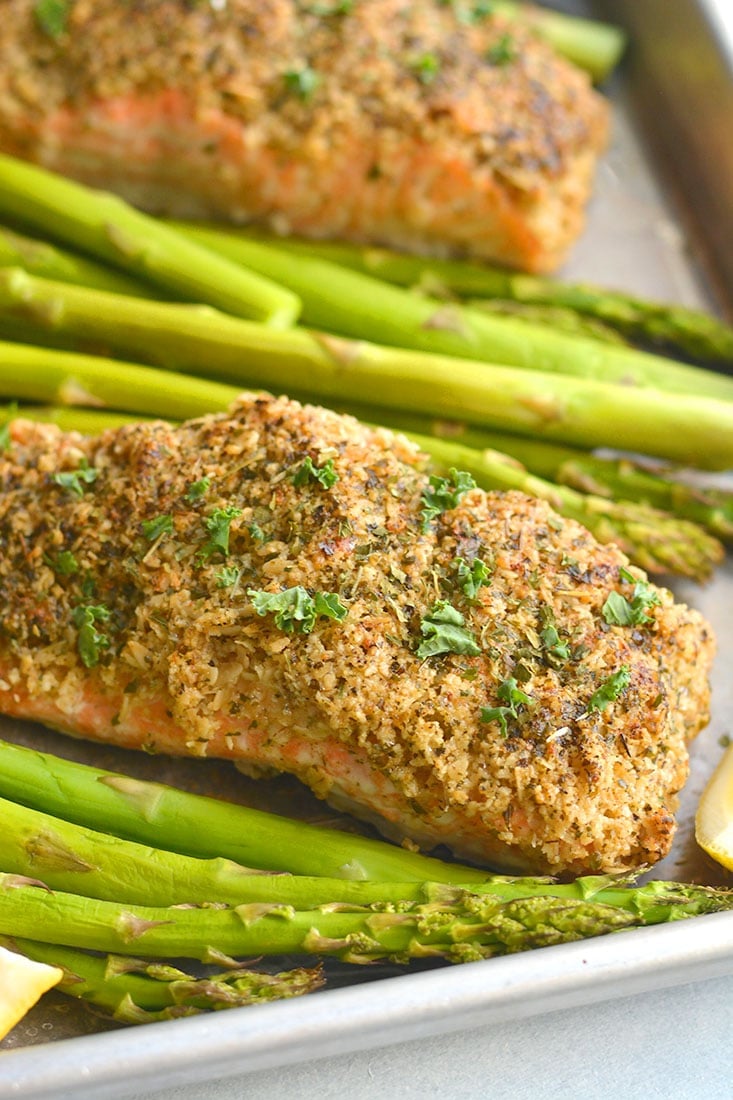 I get my salmon (and other fish) delivered from Sizzlefish (you can use code SKINNYFIT for a discount!). Much more convenient than buying it in the store and it comes already pre-portioned so I don't even have to think about measuring or weighing my fish. Definitely check them out! Because we all need more fish in our life too.
If you make the recipe, tag @skinnyfitalicious on Instagram or Facebook so I can share your creations!
Crispy Oven Fried Salmon
Crispy Oven Fried Salmon! Salmon crusted with gluten free oats, parsley and parmesan and baked on a sheet pan to crispy perfection. An healthy, gluten free weeknight meal! Low Calorie + Gluten Free
Prep Time 15 minutes
Cook Time 15 minutes
Total Time 30 minutes
Servings 2 servings
Calories 495 kcal
Instructions
Preheat the oven to 400 F. Prepare a medium baking sheet with parchment paper.

In a blender or food processor, blend together the gluten-free rolled oats, parmesan, salt, pepper and parsley. Blend until oats are broken down into a crumb-like mixture.

Transfer to a mixing bowl. Add the avocado oil to the mixture and stir to combine. It should be slightly wet. If not, add slightly more until it absorbs all the oats.

Place the salmon on the prepared sheet pan and spread the asparagus around it. Spray with olive oil cooking spray and sprinkle the asparagus with salt and pepper.

Divide the oat mixture and place on top each salmon filet. Press slightly with your fingers to until each filet is completely covered.

Bake 12-15 minutes at 400 F until the crust is golden and the salmon is flakey.

Remove from the oven and serve immediately.
Course Dinner
Cuisine Dinner
Keyword asparagus, crispy, easy, fried, gluten free, low calorie, oats, salmon, sheet pan
Nutrition facts per serving (1serving)
Calories 495 kcal
Fat 34 g
Saturated Fat 5 g
Cholesterol 319 mg
Sodium 125 mg
Potassium 736 mg
Carbohydrates 24 g
Fiber 6 g
Sugar 4 g
Protein 27 g
Vitamin A 2270 %
Vitamin C 31.2 %
Calcium 118 %
Iron 6.4 %
Meal Plans
Get a meal plan designed to meet your weight loss goals.
Learn More
What I Used For The Recipe