This post contains affiliate links. As an Amazon associate I earn qualifying purchases. Click here for more about this policy.
Healthy Fish Sandwich is made low calorie with almond flour baked in the oven. A healthy breaded fish sandwich recipe that's flavorful and gluten free. Paired with a tasty 2-ingredient hot sauce for a healthy meal. Gluten Free + Low Calorie + Paleo + Low Carb
I'm obsessed with fish sandwiches! I've yet to find one that isn't processed and made with better for you ingredients though. So, here we are making homemade fish sandwiches. It's super simple to make them at home and you can freeze them for a future meal too!
This healthy fish sandwich recipe is baked in the oven and made with nutrient dense ingredients making it healthier and so much better for you than fast food fish sandwiches or freezer fish sandwiches at the store.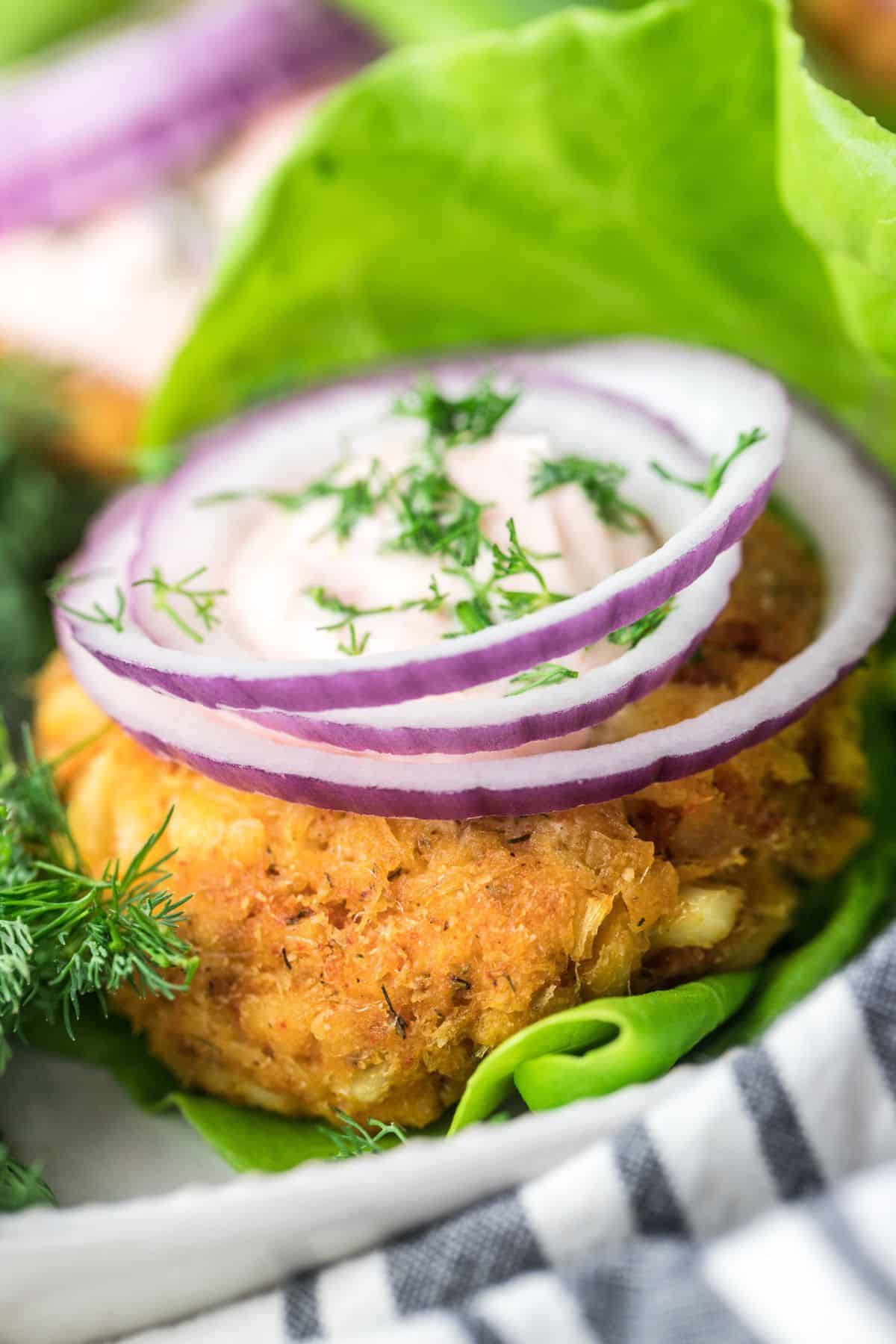 What Makes This Fish Sandwich Recipe Better For You
Not only is this fish sandwich recipe baked in the oven making it healthier than fried versions, but also here's a few more reasons why it's better for you!
Low Calorie - This fish sandwich recipe has 164 calories each. Calories are important for weight loss because you need a calorie deficit, but having the right ingredients to make up a calorie number is always more important than the number.
Healthy Fat - This recipe has 7 grams of total fat per serving, 1 of which is saturated which is less optimal fat. The almond flour is higher in fat than other flours, but has GOOD FAT your body needs.
High Protein - Each sandwich has 24 grams of protein. This is an ideal amount of protein for a meal.
Low Carb - The recipe is naturally low in carb due to using the almond flour as the breading.
Gluten Free - This recipe is naturally gluten free.
Paleo - The recipe is Paleo friendly and grain free.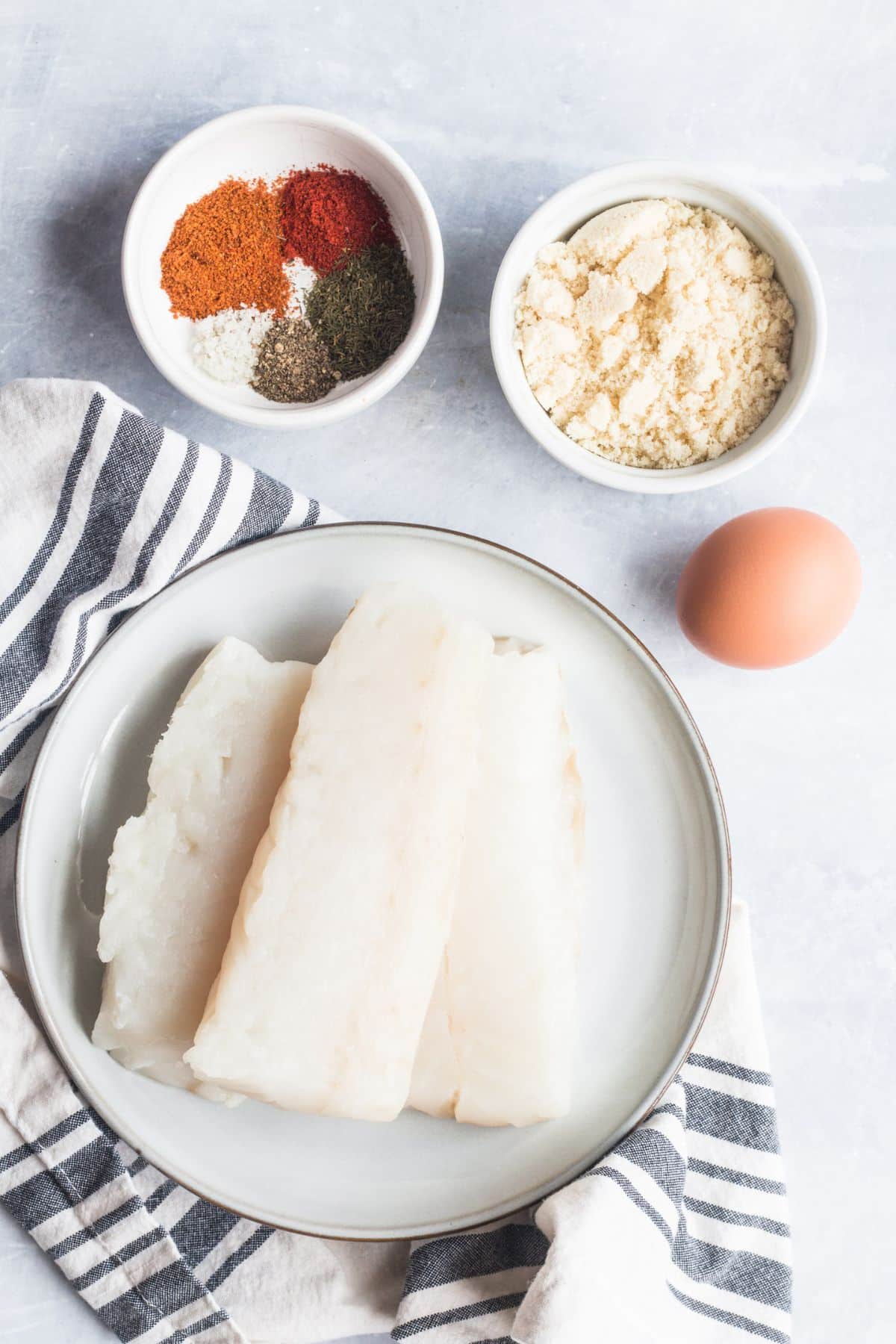 Ingredients To Make Low Calorie Fish Sandwiches
Here's what you need to make fish sandwiches with almond flour. You will also need a sheet pan to bake the cod and sandwiches and mixing bowls for breading the fish.
Cod (I get mine from Sizzlefish - code SKINNYFIT gets you a discount)
Almond Flour
Egg
Paprika
Cayenne Pepper
Dill
Salt and Pepper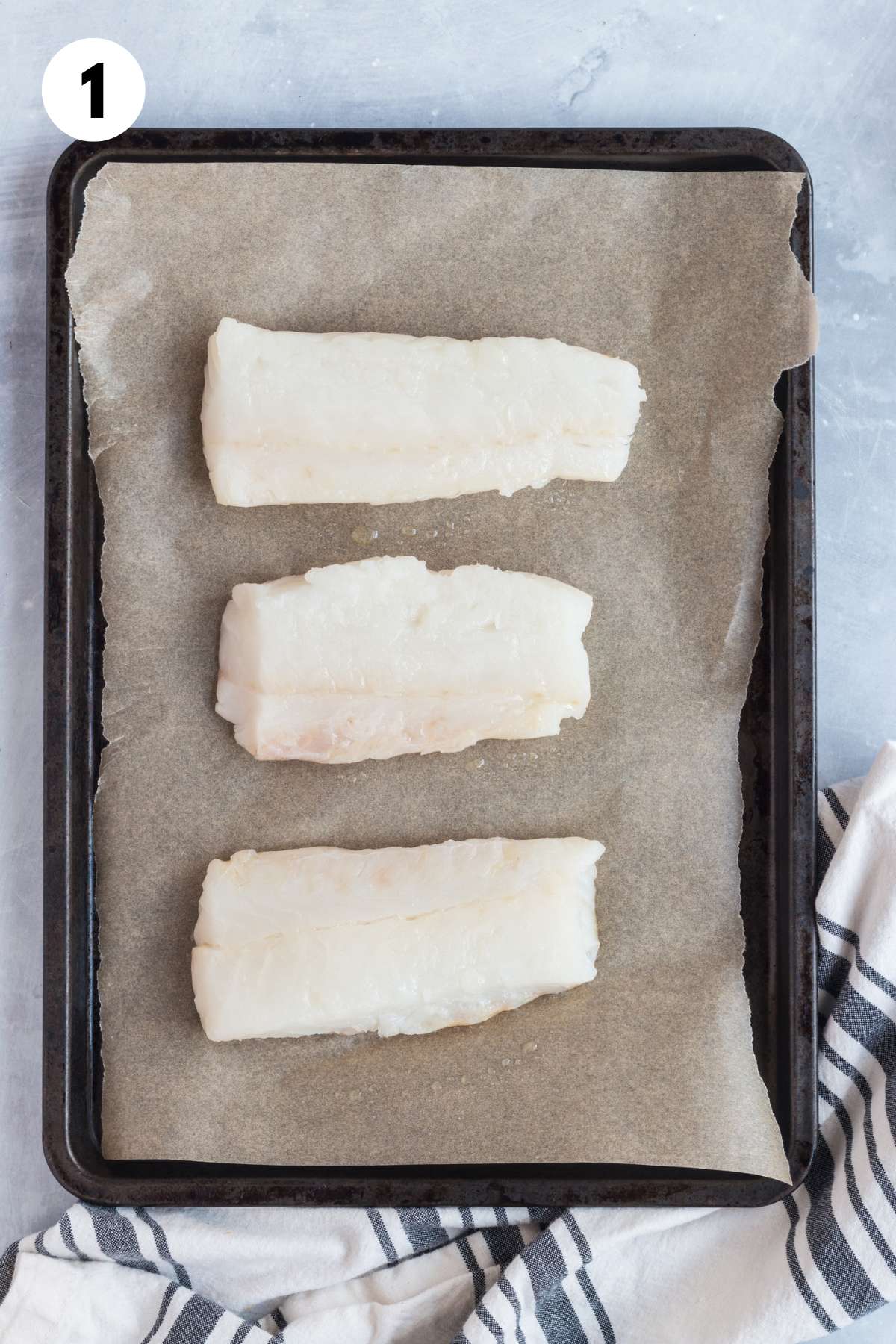 How To Make Paleo Fish Sandwich
First, prep the cod before making your fish sandwiches. It does not need to be thawed before baking. I buy my cod delivered and frozen from Sizzlefish. They come individually portioned so you don't have to mess with weighing the right quantity. Four of Sizzlefish individually wrapped cod's work fine!
Place the cod fillets on a baking sheet and bake in the oven 25 minutes. Then remove from the oven, cool about 5 minutes before shredding the cod into flakes in a mixing bowl with a fork. Add the remaining ingredients and mix together well.
Form the mixture into 4 patties then place them on a baking sheet. Bake them in the oven until golden brown then remove and serve! I served mine with a Sriracha Greek Yogurt sauce. For a dairy free option, you can use almond yogurt instead. It's such a delicious sauce so I recommend you don't miss out on this step!
How To Store Fish Sandwich
The fish sandwiches keep in the refrigerator up to 5 days after baking. To reheat, place them in the oven on a baking sheet for 12-15 minutes at 350 F or reheat in the microwave for 2-3 minutes.
You can prep the fish sandwiches up to the point of baking them and place the patties in the freezer up to 30 days. Once you're ready to eat them. Place them on a baking sheet and bake. No thawing is required.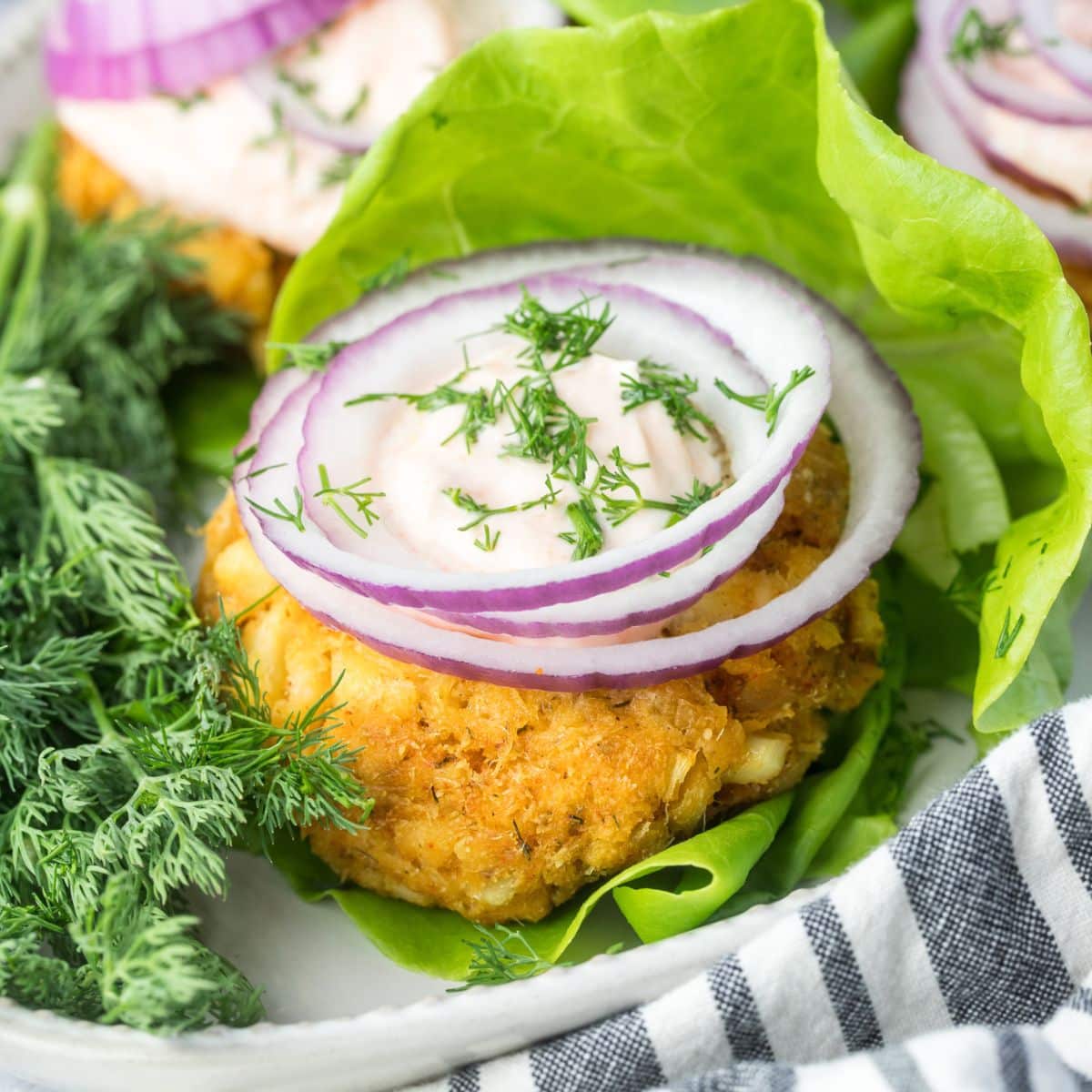 Substitutions For This Fish Sandwich Recipe
Here's the substitutions you can make with this fish sandwich recipe. Remember when you do make substitutions that the nutrition facts will change and be different from what you see in the recipe below.
Cod - Any white fish will work as a substitute. Halibut or haddock would be the best substitutes as they are hardier fish.
Almond Flour - Coconut flour will not work as a substitute. Gluten free flour and oat flour I suspect will work, but I have not tested them to know what the exact quantity would be for this recipe. If you do test them, please leave a comment to help other readers.
Egg - The egg is the binder to bread the fish with the almond flour. It can not be omitted.
Dill - May be omitted.
Seasonings - Any seasoning mix or fish seasoning substitute can be used for this recipe.
Healthy Fish Sandwich
Healthy Fish Sandwich is made low calorie with almond flour baked in the oven. A healthy breaded fish sandwich recipe that's flavorful and gluten free. Paired with a tasty 2-ingredient hot sauce for a healthy meal. 
Instructions
Preheat oven to 350 F. Prepare a baking sheet with parchment paper.

Place cod fillet (or fillets) on a baking sheet. Bake 25 minutes. Remove from the oven and cool 5 minutes.

Keep the oven on at 350 F. Discard the old parchment paper and replace with a new one.

Once the cod is cool, use a fork to shred the cod into flakes into a mixing bowl. Mix the remaining ingredients into the bowl with the cod.

Form 4 patties with the mixture then place them on the prepared baking sheet.

Bake at 350 F for 20 minutes until golden brown. Remove from the oven and serve immediately or cool completely and store in the freezer.

Refrigerate the fish sandwiches for up to 5 days or freeze up to 30 days.
Notes
My Amazon shop has more products similar to those used for this recipe and that I recommend to my weight loss clients.
If you enjoy this recipe, check out my cookbook for more delicious recipes!
Nutrition
Serving: 1sandwichCalories: 164kcalCarbohydrates: 3gProtein: 24gFat: 7gSaturated Fat: 1gTrans Fat: 1gCholesterol: 90mgSodium: 77mgPotassium: 505mgFiber: 1gSugar: 1gVitamin A: 560IUVitamin C: 2mgCalcium: 46mgIron: 1mg
What I Used For The Recipe