Low Carb Bell Pepper Sandwich! Swap the sandwich bread for sliced bell pepper. Add your toppings for an easy, low calorie lunch or snack. Low Carb + Gluten Free + Low Calorie + Paleo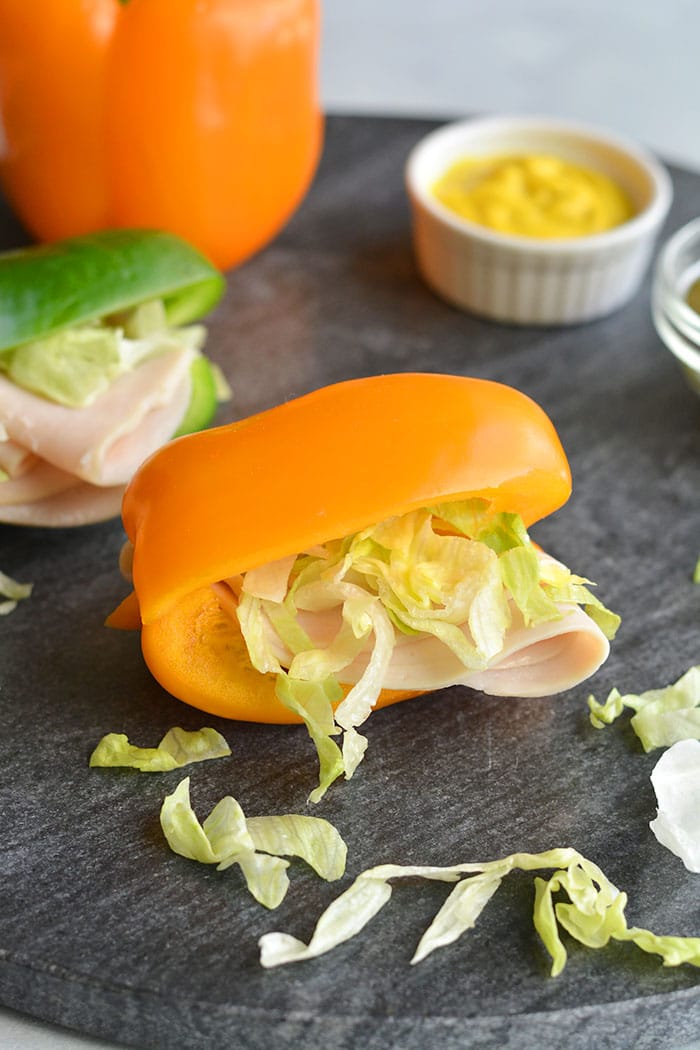 Don't get me wrong… I love a good sandwich bread but when you're trying to lose weight and adding healthier ingredients like vegetables, sometimes you have to think outside the standard sandwich bread. That's where the bell pepper sandwich came about!
Since I am gluten intolerant bread is a fickle thing. It's really hard to find gluten free bread that doesn't have a lot of processed ingredients, that doesn't cost a million dollars and tastes good. It's really made me rethink my approach to sandwiches.
Bell Pepper Sandwich
That's where this bell pepper sandwich came from friends! Playing around in the kitchen and realizing a leftover bell pepper was hardy enough to replace bread. It gives the "sandwich" a nice crunch.
Don't get me wrong… I'm not anti bread. But this is a great option if you're watching your carbs and calories.
What You Need
Bell Pepper
Lunchmeat
Shredded Lettuce
Tomatoes
Mustard or condiments of choice
Why It's A Smarter Option Than Bread (Sometimes)
Bread isn't a bad food. In fact, bread is a good source of fiber which is necessary for weight management. I talk about this more in my free weight loss training.
I never let my clients say a food is either good or bad. It's simply information for the body. That said, bread does have a lot of tricky ingredients and quite often added sugar so reading food labels is a must to finding a healthy bread.
Bell pepper in place of bread is a great option for adding more veggies and if you're watching your calories, it's an easy way to reduce calories. It's also an easy way to reserve carbs for later in the day. Let's say you're planning to go out to eat or have a special outing.
Planning ahead of time by eating something lighter like a bell pepper sandwich will help you better balance your nutrition and not feel deprived when you go out.
Healthy Sandwich Toppings Suggestions
Skies the limits on toppings! Add your favorite veggies and add your favorite protein. Do look for lunchmeat or protein that is nitrate and sugar free.
As for condiments, this is where the calories can really add up. Mustard has virtually no calories. Ketchup on the other hand, does and generally has a lot of added sugar. Again, look for one that's lower sugar or sugar free. For mayo, I recommend an avocado oil based one like this one. The quality of the ingredients matter just as much as the calories and nutritional balance.
If you try this recipe, tag @SkinnyFitalicious on Instagram. Can't wait to see your sandwich creations!
Bell Pepper Sandwich
Low Carb Bell Pepper Sandwich! Swap the sandwich bread for sliced bell pepper. Add your toppings for an easy, low calorie lunch or snack. Low Carb + Gluten Free + Low Calorie + Paleo
Prep Time 5 minutes
Total Time 5 minutes
Servings 1 sandwich
Calories 217 kcal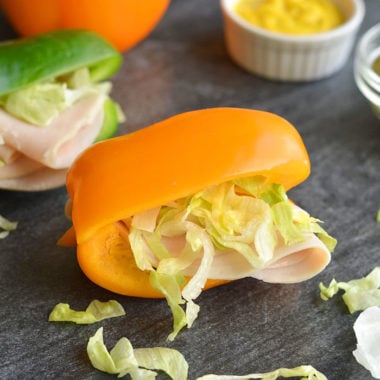 Ingredients
1 bell pepper
6 slices turkey breast or lunchmeat of choice
1/4 cup tomatoes slilced
1/3 cup lettuce shredded
2 tbsp mustard
1/2 tsp pepper
Instructions
Slice the bell pepper in half and remove the seeds. Assemble the sandwich by adding the lettuce, tomatoes, lunchmeat, pepper and mustard. Serve immediately!

To prepare in advance, slice bell pepper and keep the ingredients separate until ready to eat.
Course Dinner, Lunch, Snack
Cuisine American
Keyword bell pepper, gluten free, healthy, low calorie, low carb, lunchmeat, Paleo, sandwich, turkey
Nutrition facts per serving (1sandwich)
Calories 217 kcal
Fat 2 g
Saturated Fat 1 g
Cholesterol 2 mg
Sodium 409 mg
Potassium 381 mg
Carbohydrates 11 g
Fiber 4 g
Sugar 7 g
Protein 36 g
Vitamin A 4157 %
Vitamin C 159 %
Calcium 17 %
Iron 1 %
Meal Plans
Get a meal plan designed to meet your weight loss goals.
Learn More
What I Used For The Recipe