Healthy Breakfast Quesadilla made with egg whites, cheese, mushrooms and spinach. An easy breakfast that's filling, delicious and low calorie! Gluten Free + Low Calorie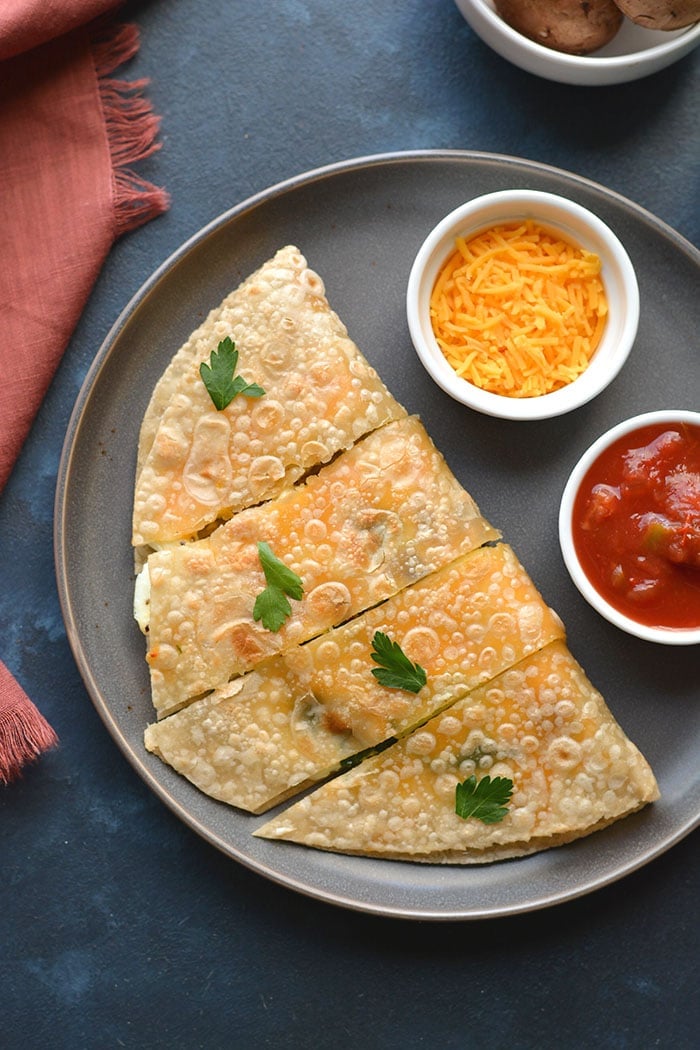 I'm that person that loves to make the same breakfast during the week days. It's just easier when you don't have to put any brain power into planning what to eat. I find the less you have to think about it, the less room for getting off track and getting overwhelmed.
On the weekends… well that's another story! That's when I find myself getting more creative in the kitchen and switching things up so I don't get bored.
Click here to pin this recipe!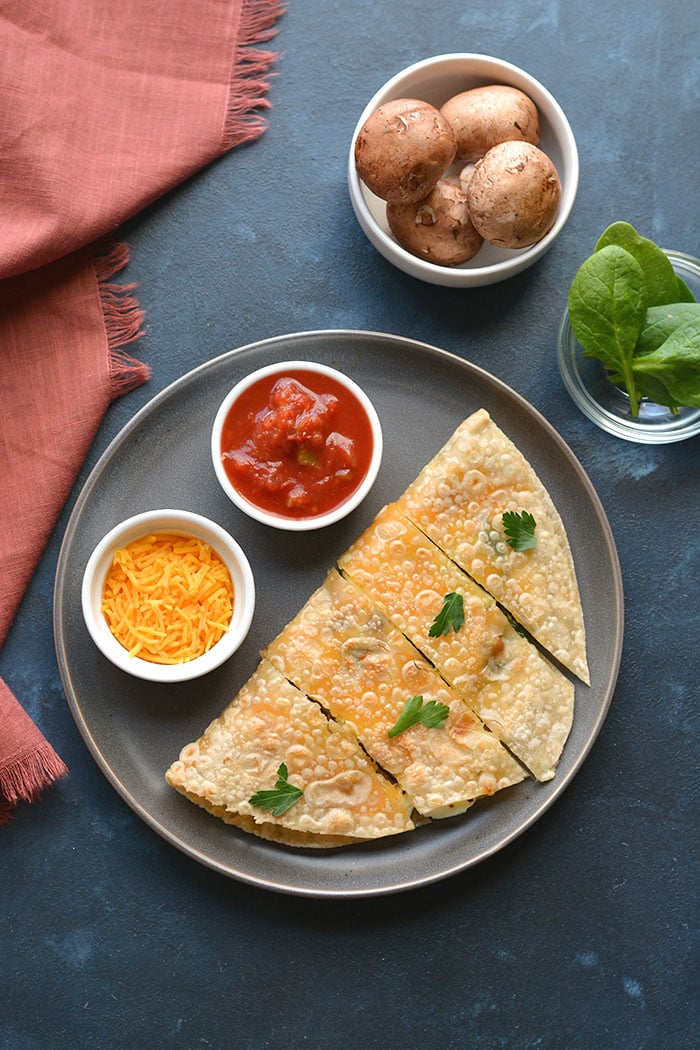 Healthy Breakfast Quesadilla
This yummy breakfast quesadilla is a great way to stick to your healthy routine without feeling deprived or bored. I swapped out a few key ingredients in this recipe to make it lighter and better for you.
First, replaced the traditional flour tortilla with a brown rice quesadilla that's higher in fiber. I talk about the importance of fiber for weight loss and a healthy diet in my free weight loss training.
Next, I added veggies to make it not only more nutritious but also more filling. You can swap out the veggies for whatever you like. The point is to add more nutrition rather than take away which most people tend to do when transitioning to a healthy diet.
Last, I swapped whole eggs for egg whites to keep the protein high while lowering the calories because there's already enough fat from the cheese.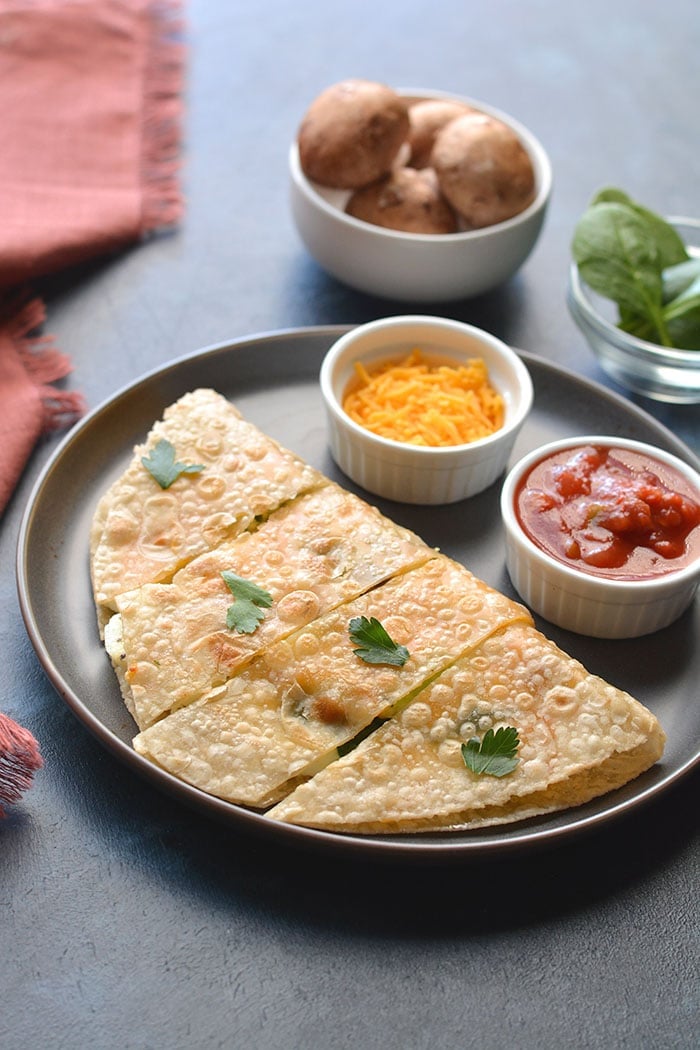 What You Need
Egg Whites
Brown Rice Quesadilla
Spinach
Mushrooms (or veggies of choice)
Cheese
Garlic Powder, Salt, Pepper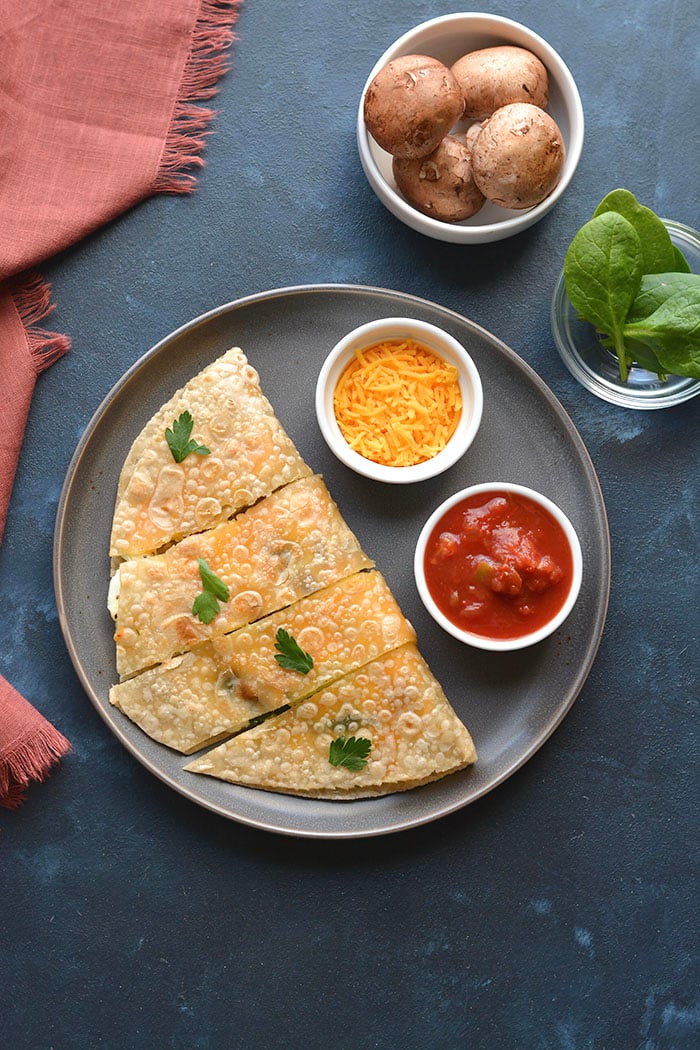 Healthy Tortilla Options
I recommend brown rice tortillas as opposed to traditional flour tortillas for a healthy breakfast quesadilla. They have more fiber and are hardier. Other quesadilla options I recommend are cassava flour or cashew (like Siete) or cauliflower based ones.
As always, check the ingredients and nutritional values to ensure they have better for you ingredients and are nutritionally balanced!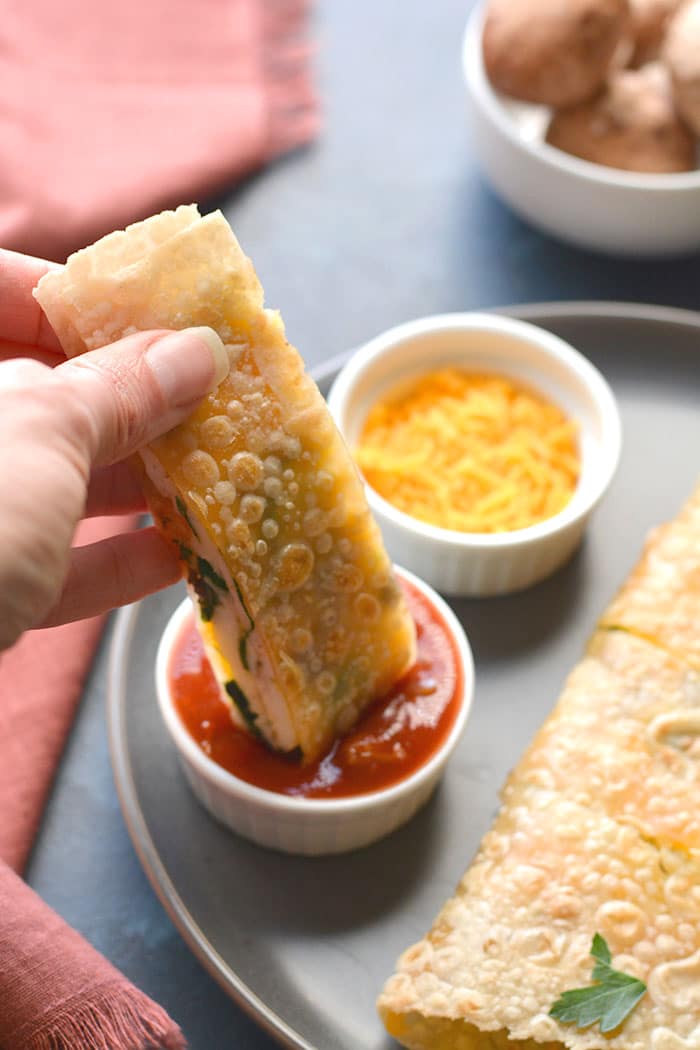 Can Whole Eggs Be Used
Egg whites are protein while whole eggs are protein and fat. So yes, you can replace the egg whites with whole eggs (it's a 2:1 ratio), however, keep in mind that whole eggs will increase the fat and the calories of the recipe.
If you're trying to lose weight, I recommend sticking with egg whites as most people over consume fat and carbs. I personally cycle egg whites and whole eggs in my diet throughout the week to get the nutrients from the yolks. Depending on where you are in your journey, you do what's right for you!
Click here to pin this recipe!
Healthy Breakfast Quesadilla
Healthy Breakfast Quesadilla made with egg whites, cheese, mushrooms and spinach. An easy breakfast that's filling, delicious and low calorie!
Prep Time 5 minutes
Cook Time 10 minutes
Total Time 15 minutes
Servings 1 serving
Calories 317 kcal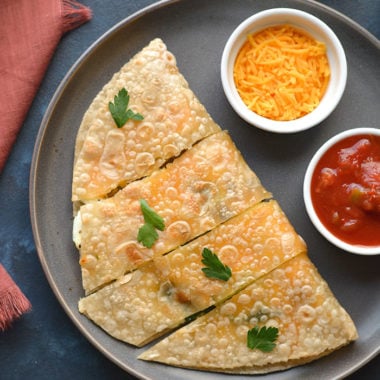 Ingredients
1 brown rice tortilla
4 egg whites
1/2 cup spinach
1/4 cup mushrooms diced
1/4 cup shredded cheddar
1/4 tsp garlic powder
salt and pepper to taste
Instructions
Spray a skillet with avocado oil and bring to medium heat. Add the spinach and mushrooms. Cook 2-3 minutes until the spinach is wilted.

Add the egg whites to the skillet with garlic powder, salt and pepper. Cook 3 minutes until the edges and center are fully cooked. Cover and cook another 2 minutes until it's fully cooked through like a pancake.

Remove the egg white from the pan and place on a plate. Take the tortilla and run it under a small drizzle of water. Shake the water off the tortilla then add it to the pan flat.

Place the cheese on the tortilla and egg white on top. Fold in half and cook 1 minute then flip and cook another minute. Remove from the skillet and serve!
Course Breakfast
Cuisine American, Mexican
Keyword breakfast, brown rice tortilla, egg white, gluten free, healthy, high protein, low calorie, quesadilla
Nutrition facts per serving (1serving)
Calories 317 kcal
Fat 12 g
Saturated Fat 6 g
Cholesterol 30 mg
Sodium 548 mg
Potassium 451 mg
Carbohydrates 27 g
Fiber 2 g
Sugar 2 g
Protein 23 g
Vitamin A 1690 %
Vitamin C 4 %
Calcium 219 %
Iron 1 %
Meal Plans
Get a meal plan designed to meet your weight loss goals.
Learn More
What I Used For The Recipe