Branch Basics Non Toxic Cleaning Products! Learn about Branch Basic's natural cleaning products, how they work and if it's worth the investment in this review.
I started using Branch Basics last year (in 2019) after the company reached out to me. You can try their starter kit and get a discount with my code SKINNYFIT. But before you purchase, let me share a little more about my experience.
I've tried many other natural cleaning brands in the past only to discover they either didn't work or they had chemicals in them but were marketing themselves as healthier cleaning brands.
Honestly, that is one of the most frustrating parts about navigating the personal care and household cleaning space. There's a lot of products using terms like "natural" and "clean", but their products really are not.
I use the EWG (environmental working group) app to determine if a product is clean. If you're not using this app, I highly recommend it! It rates the product and tells you what chemicals are in a product.
Not only are many other natural cleaning products falsely advertising and making it more confusing for consumers, let's face it... they also don't work well. There's a real stigma around natural products for this reason. Not to mention, they're expensive!
I can confidently say that Branch Basics works amazing and I love it! The prices are reasonable and it's simple and HEALTHY to use!
Branch Basics Discount Code
Branch Basics is offering a discount to you using code SKINNYFIT if you want to try it. This code works on their starter kits.
What Is Branch Basics?
Branch Basics is an all natural, non toxic cleaning product. All products are plant and mineral based, free of preservatives, non-GMO, not tested on animals and hypoallergenic.
The products can be used for general household cleaning, hand washing, laundry and even cleaning your appliances and shoes! HAHA we literally cleaned a pair of dirty white shoes using it!
How Does Branch Basics Work?
Branch Basics sells a multi-purpose concentrate. The concentrate is mixed with water and added to re-usable mixing bottles they provide you with in their starter kit.
The bottles are easy to refill and are labeled clearly so you know exactly how much to fill them. Note, the ratio of concentrate to water differs based on the type of cleaning (streak, all-purpose, hand washing etc.). Their bottles make it very easy to know exactly what to do!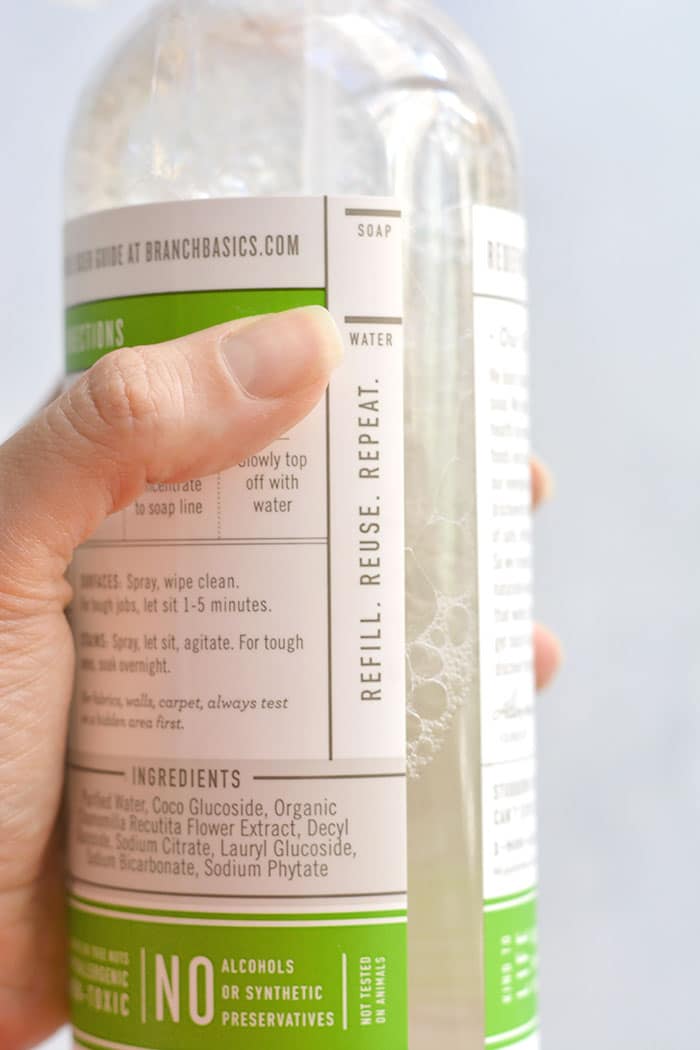 What Is Branch Basics Made With?
Purified Water, Coco Glucoside (Sugar-Based Cleanser), Chamomilla Recutita (Chamomile) Flower Extract*, Decyl Glucoside (Sugar-Based Cleanser), Sodium Citrate (Food-Grade Emulsifier), Lauryl Glucoside (Sugar-Based Cleanser), Sodium Bicarbonate (Food-Grade Baking Soda), Sodium Phytate (Plant-Based Antioxidant), Sapindus Mukorossi Fruit (Soapberry) Extract*. A * = certified organic.
More details about their ingredients is on their FAQ page!
Does Branch Basics Work?
YES! Unlike other natural cleaning brands, Branch Basics does work and holds up to the hardest spills, stains and cleaning jobs. I've even used it to clean my oven and that's saying a lot!
I also use the oxygen boost for my smelly gym clothes and it's removed the stink from them.
I think most of us generally believe that in order for a cleaning product to do a good job that it has to have chemicals, strong fragrances and be harsh. They don't!
How Much Does Branch Basics Cost?
Starter Kit: $59
Starter Kit + Oxygen Boost: $69
Concentrate: $49
Oxygen Boost: $10
Get 10% off any of these products using code SKINNYFIT!
One bottle of concentrate lasts me a long time. I've had mine for 8 months and the bottle is still half full and I clean a lot with the amount of food blogging I do!
Here's an image from their website that shows you exactly what that one concentrate will do.
What I Love About Branch Basics!
No fragrance, affordable and actually works. That sums up what I love about Branch Basics!
Fragrance is one of the most toxic and unregulated chemicals on the market and it's the #1 thing I recommend you get out of your personal care and household routine. If you did want to add scent, you could add essential oils to the concentrate. Branch Basics recommends this one their website!
While Branch Basics may seem like a higher investment at first glance, it actually isn't because it lasts a long time and you get the reusable bottles. Not to mention it isn't your health worth the investment?
My favorite part about Branch Basics is something I mentioned previously. It actually works! From gross bathrooms, stinky gym laundry, dirty white shoes to scummy ovens, Branch Basics does the job!
If you want to try Branch Basics, I recommend ordering a starter kit. You get a discount with code SKINNYFIT. I know you'll love it as much as I do!