This post contains affiliate links. As an Amazon associate I earn qualifying purchases. Click here for more about this policy.
These Healthy Freezer Friendly Soup Recipes are low calorie, easy to make and made with real food ingredients! From chili to chicken soup to simple slow cooker meals there's a recipe for everyone here. All recipes are gluten free with several options for low carb, vegan and Paleo too!
Grab your meal prep containers and plastic bags and make yourself a healthy freezer friendly soup recipe that's delicious, balanced in nutrition and low in calories!
This Low Carb Instant Pot Taco Soup recipe is made lighter with healthy, real food ingredients. Sour creams makes this easy soup recipe creamy and it's ready in just 30-minutes in a pressure cooker. Easy to make in a pot or slow cooker and only 244 calories per serving.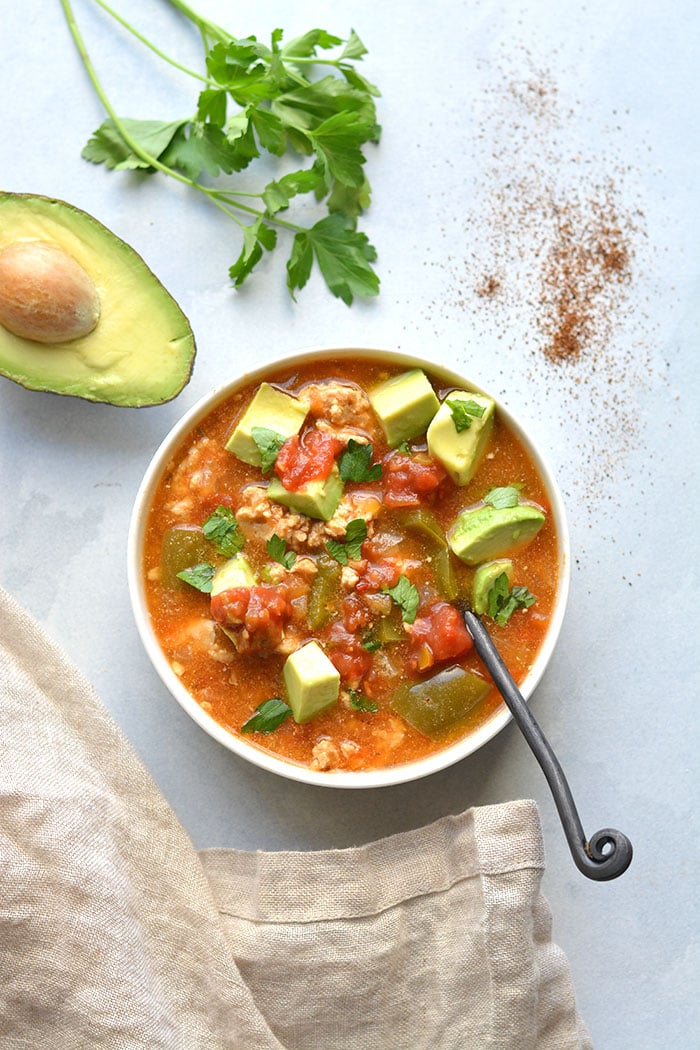 This hearty Turkey Kale Enchilada Soup is made easily on the stovetop, made high in fiber and protein and packed with delicious flavors. 329 calories per serving and made in under 30 minutes.
This High Protein Chickpea Minestrone Soup is the best Instant Pot or slow cooker soup! Simple, healthy, delicious and nutritious. 37 grams of protein, 13 grams of fiber and 395 calories per serving.
Instant Pot Turmeric Chicken Rice Soup is the best traditional soup made quickly in a pressure cooker. It's light, wholesome and has an anti-inflammatory boost. A simple, healthy and nutritious meal. 253 calories per serving!
Creamy Low Carb, Paleo Chicken Cauliflower Soup is a healthy soup recipe that's also anti-inflammatory. Made dairy free and 346 calories per serving.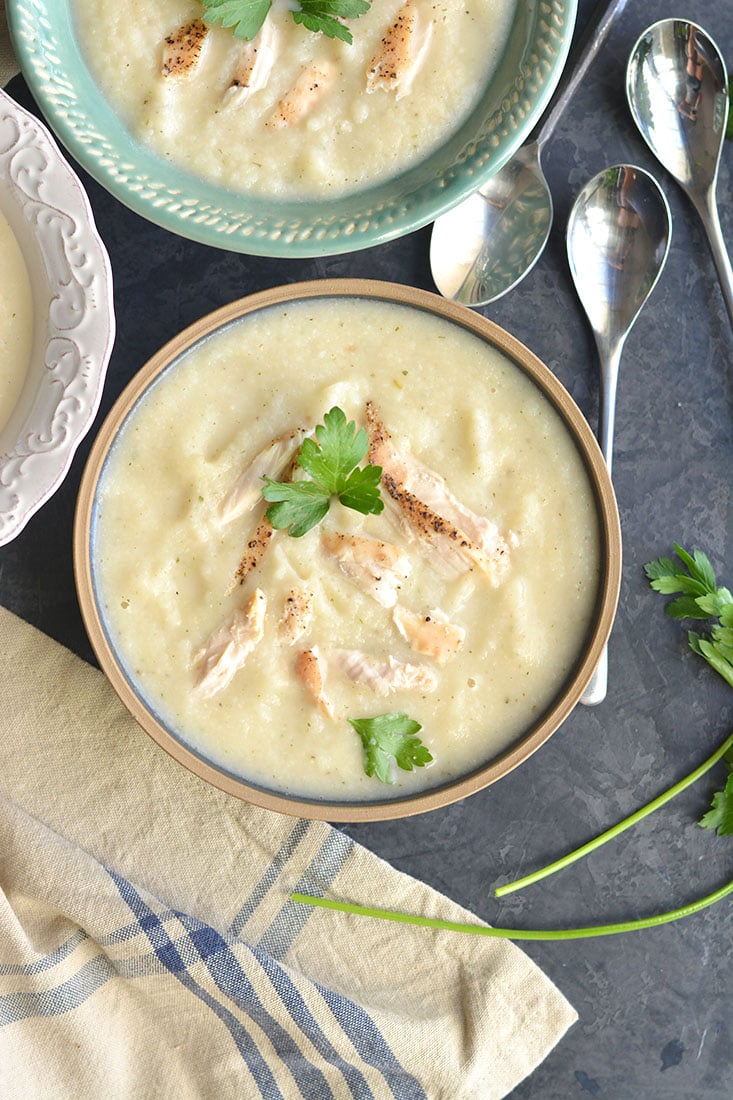 A gluten free and Paleo soup that's nourishing and slightly spicy! Roasted then blended pasilla chilies and carrots give this soup amazing flavors. Made in 30 minutes in an Instant Pot with a stovetop option! 22 grams of protein and 210 calories per serving.
Chipotle Shrimp Taco Soup is an easy to make recipe in 30 minutes. Super spicy with veggies, lean protein, spices and herbs. A soup you can eat year-round that's packed with nourishment and flavor! Paleo, dairy free and 211 calories per serving.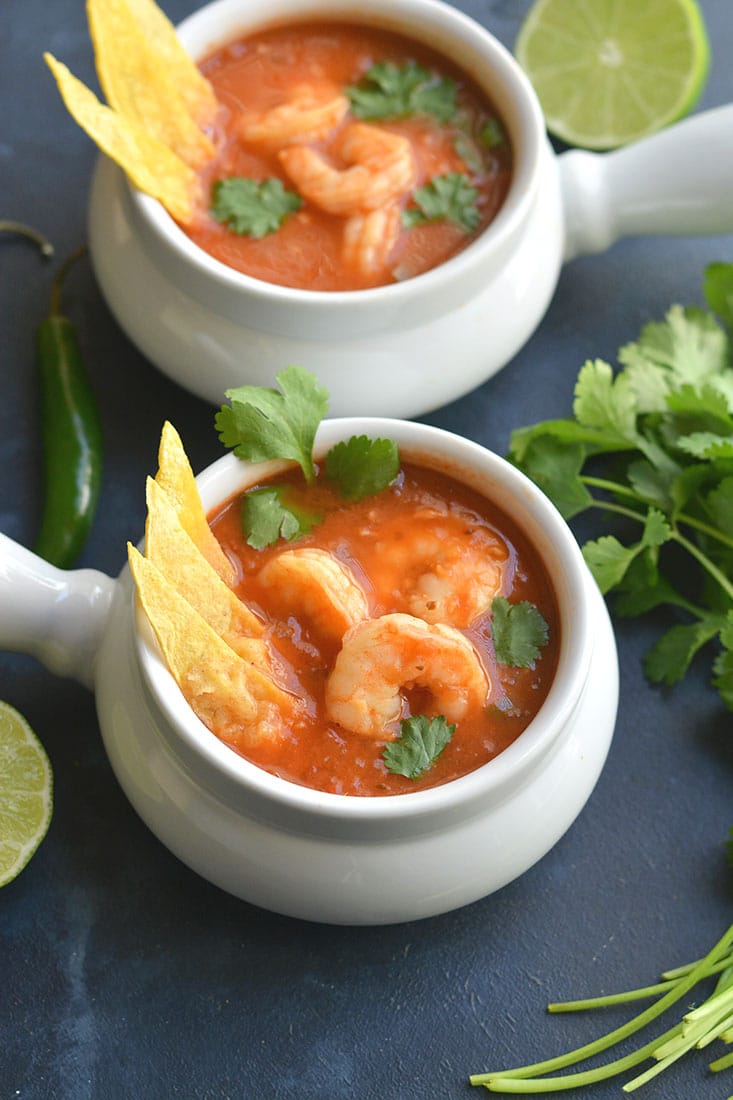 Chicken Wild Rice Soup is a flavorful meal in a bowl. Packed with veggies, protein and wild "rice" to fill you up. Kid friendly, nutritious, high protein and 270 calories per serving.
Healthy Chicken Dumpling Soup! Gluten Free dumplings snuggled in a warm bowl of dairy free chicken soup. Cozy, comforting, loaded with veggies and flavor. Only 208 calories per serving!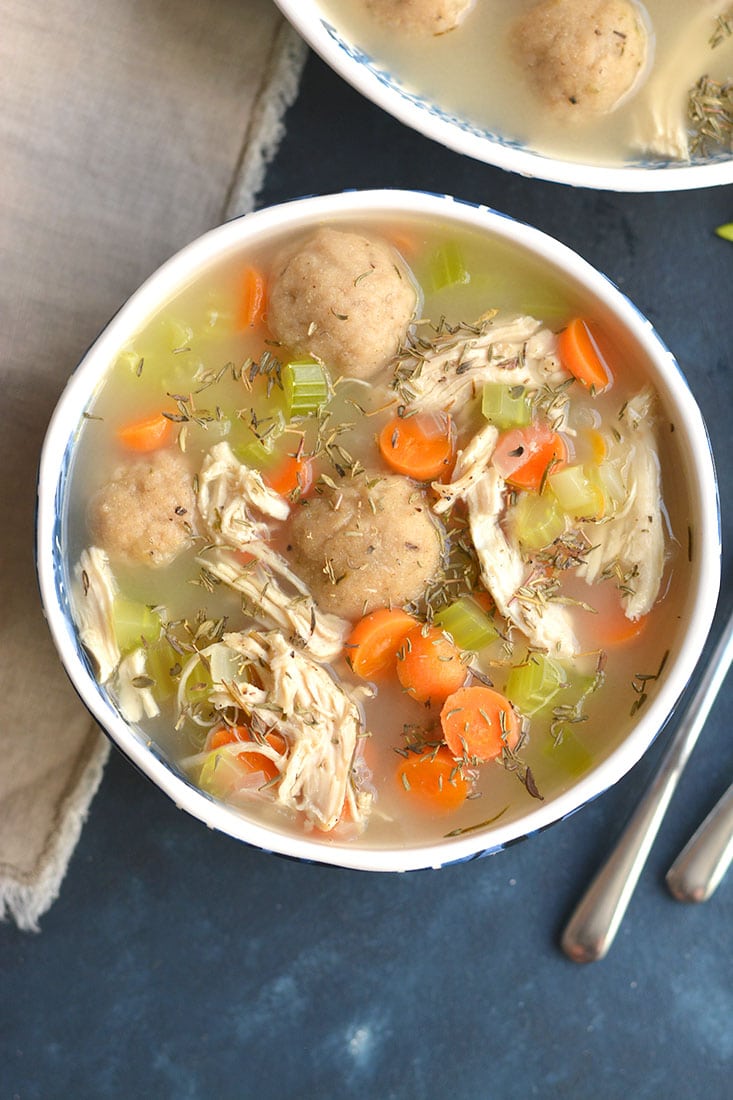 Chicken Lentil Soup is a wholesome, comforting and nutritious bowl of vegetables, rice and lentils. A delicious bowl of warm goodness with 40 grams of protein and 325 calories per serving!
A Paleo twist on classic chicken noodle soup, this low carb Chicken Noodle-less Soup is packed spaghetti squash to replace the noodles. 188 calories per serving.
Vegan Split Pea Soup made with simple and budget friendly ingredients. 18 grams of fiber, 273 calories and so so deliciously good!
This Smoky Black Bean Lentil Chili is a hearty and healthy meal for the spicy food lover! Seasoned with jalapeño and smoky paprika, this makes the perfect comfort meal. 337 calories and 22 grams of fiber per serving!
A flavorful, hearty chili make with a few simple ingredients. A fiber and protein rich meal that will feed many with 243 calories per serving. Easy to make in 20 minutes or less in one pot!
Slow Cooker Black Bean Chili! This vegetarian chili is full of zucchini and beans and a kick of spice! Hearty, filling and perfect for warming up on a cold day! Less than 300 calories per serving.
Clean Eating Turkey Chili is Paleo and Whole30 compliant. Made in one pot or a slow cooker for an EASY lunch or dinner that's wholesome and satisfying. 325 calories per serving and almost 40 grams of protein!