Vegan Split Pea Soup made with simple and budget friendly ingredients. This low calorie, easy-to-make soup is a hearty bowl of comfort and health! Gluten Free + Vegan + Low Calorie
Ever have those days where everything goes wrong, feels wrong, is off and you just can't do anything right? Or am I the only one who has these kind of days in the world? I tell myself there are more of you out there to make myself feel like I'm not the only misfit in the world.
Please tell me I am not alone! But when those no good, awful days happen there's nothing better than coming home to a big bowl of pippin' hot soup to soothe the soul and make everything right in the world again.
Thankfully, things have been relatively quiet in my world for a few months (knock on wood), but it's still comforting knowing that soup is in the freezer waiting for me when its needed.
They say soup is a poor person's meal, but I say it's a smart meal. You can pack so many vegetables and nutrition into one meal and make it taste irresistibly good. Not to mention all those vegetables are low calorie (great for weight loss!) and will keep you satisfied for hours.
Not gonna lie, this Vegan Split Pea Soup is my FAVORITE soup I've made this winter. Okay, maybe it's a tie to that smoky black bean lentil chili. I like both for different reasons! I'm gonna leave it at that because I just, can't, decide.
I really need to stop making so many delicious things because I'm having trouble deciding what meals to make these days. Either that or I need to inherit a family to cook for.
But this Vegan Split Pea Soup…is like a big bowl of comfort and health. The smoky paprika and sweet potato make it feel like the real deal. Thick, creamy and made with simple vegetarian ingredients you would never know this Vegan Split Pea Soup was meatless. Pinky promise!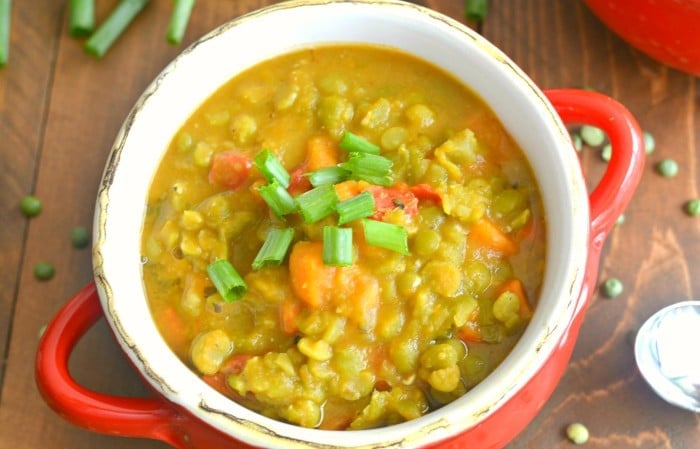 And do you want to know something else? This deliciousness is not only SUPER EASY to make, but it's budget friendly too. Say what?!?
I've been prepping for tax season (have you read my tax tips for bloggers?) and cutting back on expenses is on my mind right now. Cutting back now means I can party hard all summer long.
Kidding! But in all seriousness, you can make this entire Vegan Split Pea Soup for $1o dollars. That's less than $2 a bowl. Good for the soul, good for the bank account! Now that's what I call winning!
Vegan Split Pea Soup
Vegan Split Pea Soup made with simple & budget friendly ingredients. This low calorie, easy-to-make soup is a hearty bowl of comfort and health!
Prep Time 20 minutes
Cook Time 45 minutes
Total Time 1 hour 5 minutes
Servings 6 servings
Calories 273 kcal
Instructions
Heat a large pot over medium-high heat. Add onion, celery, bell pepper and carrots with a splash or two of broth. Cook until veggies soften about 10 minutes.

Add garlic and spices sauté another 5 minutes. Pour broth into pot with sweet potato, split peas and bay leaf.

Turn heat down to medium-low. Simmer 45 minutes covered until split peas begin to soften and pop.

Remove half the soup, place in a blender and pulse to puree. Add pureed soup back to the pot and stir well.

Serve immediately and garnish with green onions.
Course Soup
Cuisine American
Keyword dairy free, easy, gluten free, ham free, healthy, low calorie, soup, split pea, vegan, vegetarian
Recipe Video
Nutrition facts per serving (1serving)
Calories 273 kcal
Fat 0 g
Saturated Fat 0 g
Cholesterol 0 mg
Sodium 973 mg
Potassium 852 mg
Carbohydrates 51 g
Fiber 18 g
Sugar 10 g
Protein 17 g
Vitamin A 6505 %
Vitamin C 45.6 %
Calcium 54 %
Iron 3.3 %
What I Used For The Recipe