Chicken Wild Rice Soup is a flavorful meal in a bowl. Packed with veggies, protein and wild "rice" to fill you up this season. Easy to make and crowd pleasing! Gluten Free + Low Calorie
How to stay motivated? That's a question I've been getting a lot lately from clients and people at the gym and it's probably a good time to write about it because studies show most people fall off the wagon within 2 weeks. Crazy right?
I plan to write a longer post on this. Wherever you are right now, here's two "foods" for thought.
One, don't do everything at once. Add one or two new fitness things each week and one or two new meals. It's much easier to maintain doing only a few new things at a time. The mistake most people make is they do too much at once and get burnt out.
Adjusting to change takes mental and physical energy! Developing a new habit takes 6-8 weeks so give yourself that time to adjust before adding more change. Start small and grow big!
Two, do things and eat foods you love. If you really love what you're doing or eating, it's more likely you'll keep doing it over and over again. Abs are made in the kitchen, but that doesn't mean you have to eat bland foods to get the physique you want.
That's one of the reasons why I created Skinny Fitalicious Meal Plans! To help my clients reach their goals without eating boring foods.
Wherever you are in your journey, I hope this food for thought helps!
Speaking of food, grab your spoons because this Chicken Wild Rice Soup recipe is one you need to dive into! Made in one pot in under 30 minutes, loaded with veggies, tons of protein and healthy wild rice.  That's my kind of meal! EASY, warm, hearty and perfect for cold weather eating.
And, remember wild rice is not a grain. It's actually a grass. It's a food that improves digestive mobility and lowers cholesterol. It also has zinc and folate. Great energy minerals! My uncle harvests it from a lake in Wisconsin so I'm a little spoiled when it comes to this amazing food.
No time to chop veggies? This veggie chopper is a lifesaver! It does all the work for you and cuts done on the food prep so you can have this on the dinner table in under 30!
More Wild Rice Recipes!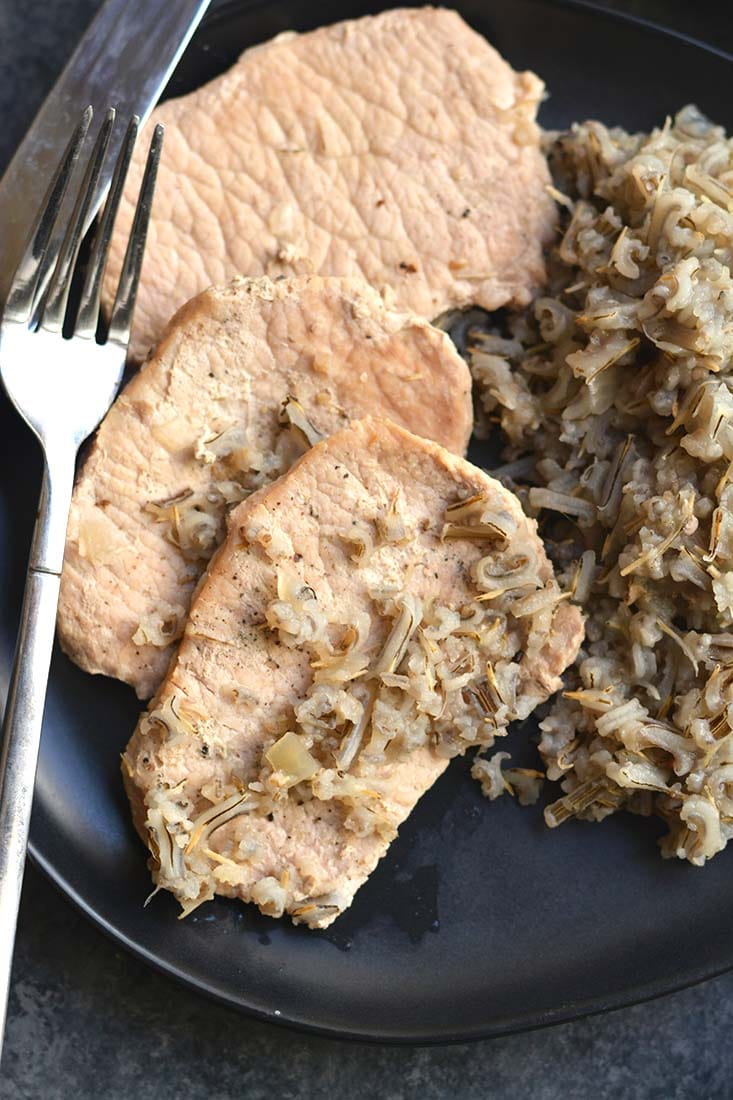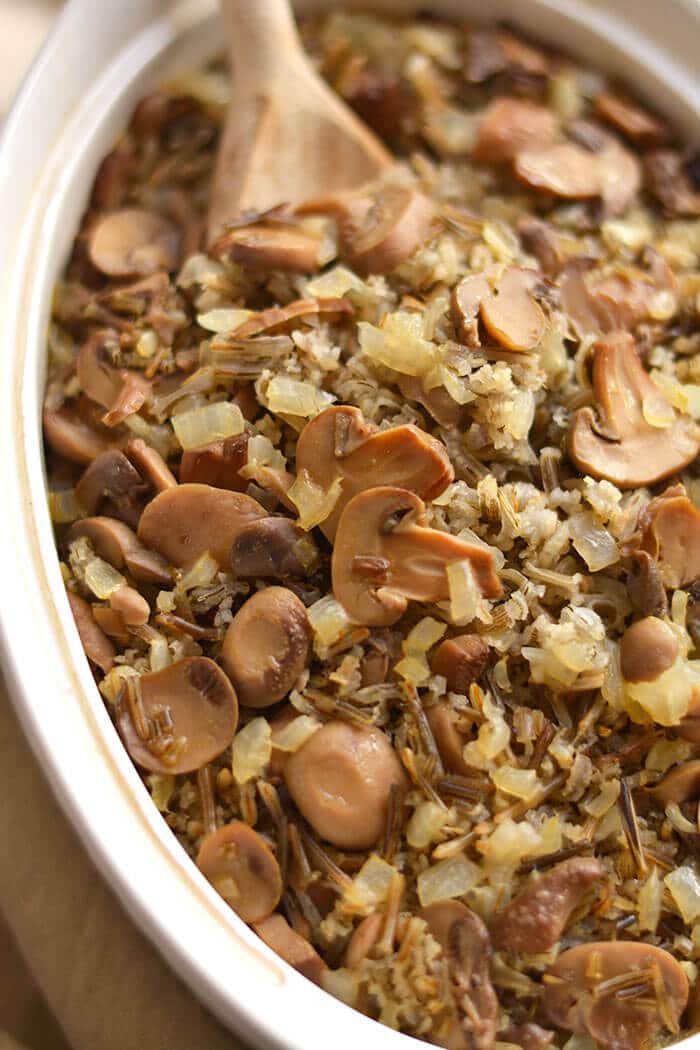 Chicken Wild Rice Soup
Chicken Wild Rice Soup is a flavorful meal in a bowl. Packed with veggies, protein and wild "rice" to fill you up this season. Easy to make and crowd pleasing! Gluten Free + Low Calorie
Prep Time 10 minutes
Cook Time 25 minutes
Total Time 35 minutes
Servings 6 servings
Calories 270 kcal
Ingredients
1 lb chicken breast boneless, skinless, cubed, uncooked
1 cup celery diced
1 cup carrots diced
1 cup white onion diced
1 tbsp garlic minced
1 tbsp extra virgin olive oil
4.5 ounces mushrooms
1 cup water
4 cups chicken stock low sodium
2 tbsp thyme
salt and pepper to taste
1 cup wild rice uncooked, washed and rinsed
Instructions
In a large pot, place extra virgin olive oil and bring to a medium heat.

Add onions, garlic, celery, carrots, mushrooms and bay leaves. Sauté 4-5 minutes or until tender.

Salt and pepper the chicken breast then add it to the pot with the veggies. Cook another 7-8 minutes stirring occasionally.

Add the water, chicken stock and thyme. Bring the pot to a boil then reduce to a simmer and cover. Simmer on low 15 minutes.

Add the wild rice to the pot. Cook another 5 minutes until rice is tender.
Course Dinner, Lunch
Cuisine American
Keyword chicken, chicken soup, easy, gluten free, healthy, lightened up, low calorie, skinny, soup, wild rice
Nutrition facts per serving (1serving)
Calories 270 kcal
Fat 4 g
Saturated Fat 1 g
Cholesterol 53 mg
Sodium 351 mg
Potassium 794 mg
Carbohydrates 32 g
Fiber 3 g
Sugar 6 g
Protein 25 g
Vitamin A 3775 %
Vitamin C 9.6 %
Calcium 46 %
Iron 1.8 %
Meal Plans
Get a meal plan designed to meet your weight loss goals.
Learn More
What I Used For The Recipe