This post contains affiliate links. As an Amazon associate I earn qualifying purchases. Click here for more about this policy.
This Classic and Healthy Wild Rice Casserole is made with mushrooms and onions. A hearty vegetarian or side dish that's easy to make and guaranteed to please a crowd. Gluten Free + Low Calorie + Vegan
Wild rice, do you love it or do you hate it? Do you even know what it is? Are you eating the boxed version? If so, we really need to talk!
First, let's get one thing straight. Wild rice is not a grain, it's a water grass seed that grows in wet fields. It has a chewy, nutty flavor and purplish hue. Nutritionally, wild rice has TWICE the protein and fiber as brown rice and is high in B vitamins (hello energy!).
Click here to pin this recipe!
Wild rice is naturally gluten free and low in calories. This is true only of the non-boxed kind. Boxed versions generally are contaminated with gluten and contain other additives that are disrupting to the balance of the body.
When you buy wild rice, look for bagged versions that only contains the rice on the ingredient lists and the label should have a certified gluten free stamp. Some markets even wild rice available in bins so you could go that route too.
Growing up in Wisconsin, I've been spoiled when it comes to wild rice. It grows abundantly in the Great Lake region, primarily near Minnesota where my Dad's family lives. In fact, my uncle goes out in his canoe and harvests wild rice during the year, has it processed then disperses it to the family.
So we've always had fresh wild rice on hand. It's been a staple in our meals for as long as I can remember. I guess there's only so much wild rice one person can eat, and I'm not complaining!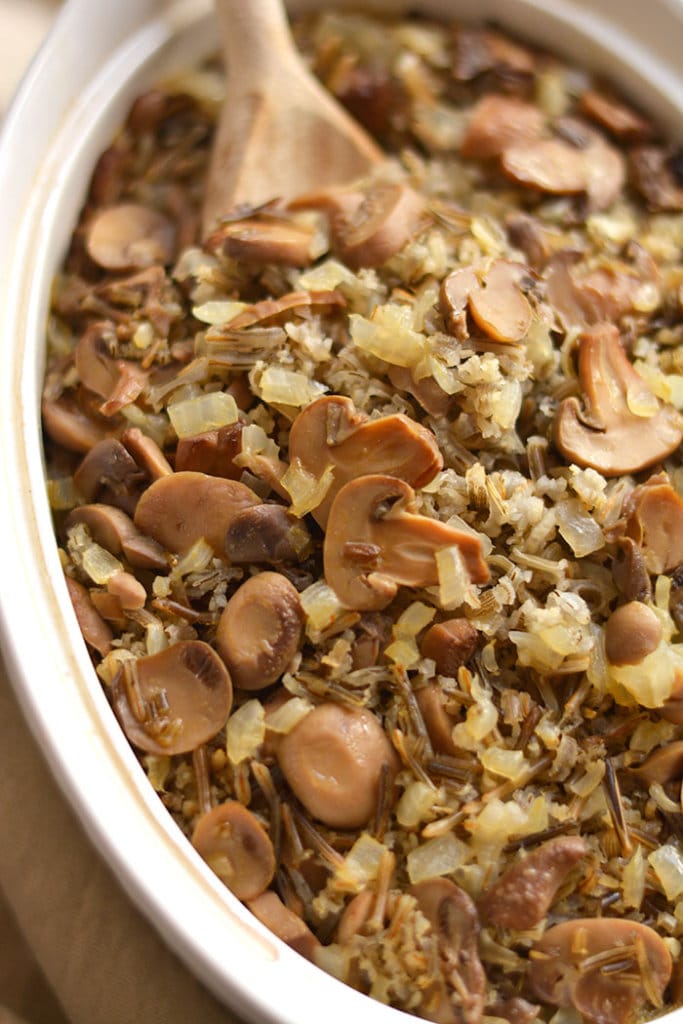 Healthy Wild Rice Casserole
The original wild rice casserole recipe, well wasn't the healthiest. It was handed down to my mother from my grandmother, and called for something crazy like 4 sticks of butter. Yikes! Talk about a grease fest.
I love wild rice so I transformed this traditional family dish into a Healthy Wild Rice Casserole by adding more onions for moisture and swapping the butter for extra virgin olive oil. The recipe turned out moist, nutty and equally flavorful as the original, only better for you!
This Healthy Wild Rice Casserole is simple to make. It does take an hour to bake in the oven, but the oven's doing the work and frankly the wait is well worth it! This can be served as a side paired with a green vegetable and lean protein like chicken, fish or turkey. It's warm, comforting and wholesome. Perfect for a winter meal!
For those of you new to baking rice in the oven, it does bake. In fact, I have another casserole recipe that readers comment all the time confused they're baking uncooked rice in the oven (even though the recipe card already says this).
YES, you bake the rice uncooked! The trick is using a small casserole dish. Anything too big will not allow the liquid to boil which means it could take three hours to cook instead of one.
But what I really want you to know about this recipe is that most of the time you don't have to do much to "healthify" a dish. Simple swaps can take a dish from a cholesterol fat bomb to a heart and waist friendly dish that tastes amazing.
My challenge to you is to think about traditional family dishes you have and ways you can transform them into healthier versions.
Click here to pin this recipe!
Healthy Wild Rice Casserole
This Classic & Healthy Wild Rice Casserole is made with mushrooms & onions. A hearty vegetarian or side dish that's easy to make & guaranteed to please a crowd. Gluten Free + Low Calorie + Vegan
Instructions
Preheat the oven to 350 F. Take out an 8x8 baking dish and set aside.

While the oven is heating, Bring the vegetable broth to a boil in a pot.

At the same time, heat a skillet over medium heat. Add extra virgin olive oil, onions and mushrooms. Sauté vegetables 3 minutes then add rice. Continue cooking until onions are translucent and the mixture is fragrant.

Transfer the vegetables and rice to a small baking dish then pour vegetable broth over it.

Cover and bake at 350 F 1 hour. Remove from the oven and serve immediately.

Store leftovers in the refrigerator up to 1 week.
Notes
Different types of wild rice may yield different results. I'm using freshly harvested wild rice.
My Amazon shop has more products similar to those used for this recipe and that I recommend to my weight loss clients.
If you love this recipe, check out my low calorie cookbook for more delicious recipes and weight loss tips!
Nutrition
Serving: 1cupCalories: 97kcalCarbohydrates: 15.8gProtein: 3gFat: 2.3gSaturated Fat: 0.3gSodium: 317mgFiber: 1.4gSugar: 1.7g
What I Used For The Recipe