This Cashew Chicken Bake is a simple, one dish dinner packed with protein and vegetables. A healthy gluten free, low calorie meal the whole family will love! Gluten Free + Low Calorie
Sometimes I forget what it's like. What it's like to be unhealthy and just starting out with weight loss and fitness. It feels like another person's life, a life that's not mine. When I think about it, it's like I'm having deja vu. It came to me when I making this Chicken Cashew Bake, a go-to recipe I've been making for years.
Click here to pin this recipe!
I forget that I once was a pizza and fast food for dinner loving kind of person. I also forget how I didn't used to cook and had to teach myself how to when I was losing weight so I could eat healthier, low calorie food.
I get so caught up making "healthy" recipes for everyone to swoon over that I forget how many of you are just starting out like I once was. 
So while I, as a health nut, may be currently loving my fancy zucchini oatless oatmeal, to someone else that may seem totally crazy because their version of dinner is pizza and take-out and that's just too far of a leap for someone to take.
Which brings me to this Cashew Chicken Bake. This has been a simple, go-to recipe of mine for years. One of the first, of many EASY dinner recipes that are lightened up. It's a healthy, low-calorie version of a take-out favorite of mine. It's also a spin on my easy chicken stir-fry.
This Cashew Chicken Bake is made with simple swaps to make it healthier than the restaurant versions and you won't believe how simple it is either. Less money, less calories and less a lot less fat! This is one dinner  guaranteed the whole family will love! Sometimes the simplest recipes are the best kind.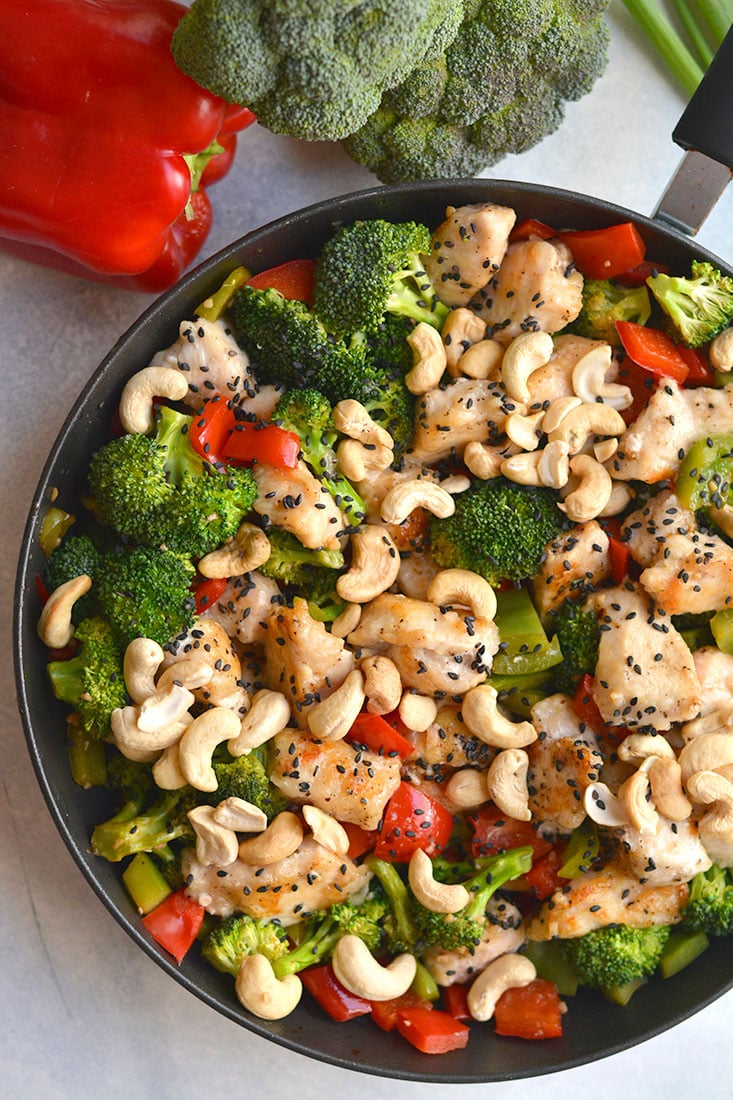 Click here to pin this recipe!
Cashew Chicken Bake
This Cashew Chicken Bake is a simple, one dish dinner packed with protein and vegetables. A healthy, gluten free and low calorie meal the whole family will love!
Prep Time 20 minutes
Cook Time 55 minutes
Total Time 1 hour 15 minutes
Servings 6 servings
Calories 277 kcal
Instructions
Preheat oven to 375 F and spray a casserole dish with nonstick cooking spray.

Place brown rice on the bottom of the casserole dish, add water then layer celery and bell pepper. Rice should be instant rice and does go in the casserole dish uncooked with chicken and veggies. Regular rice will not cook fully. If using regular rice, cook it separately.

Place chicken on top of veggies.

In a separate bowl, mix seasonings with coconut aminos, rice vinegar, garlic and ginger then add mixture to casserole. Layer water chestnuts on top.

Bake 45 minutes at 375 F uncovered.

Remove from oven, add cashews and bake another 10 minutes.

Top with sliced green onions for garnish and serve.
Recipe Notes
Brown rice is used in the recipe and the rice goes in the casserole dish per the instructions. Use an instant rice like Minute Instant Brown Rice for the recipe to ensure it cooks in the casserole.
Make sure the baking dish you use is full when before you bake. If there is open space in the dish, then the rice will not bake. 
Recipe makes 6 servings. I recommend you divide the servings evenly among 6 containers.
My Amazon shop has more products similar to those used for this recipe and that I recommend to my weight loss clients.
If you love this recipe, check out my low calorie cookbook for more delicious recipes and weight loss tips!
Like this recipe? See my Skillet Cashew Chicken.
Course Dinner, Lunch
Cuisine Asian, Chinese
Keyword baked, cashew, casserole, chicken, dairy free, dinner, glutenfree, healthy, low sugar, lowcalorie, soy free
Recipe Video
Nutrition facts per serving (1serving)
Calories 277 kcal
Fat 12.8 g
Saturated Fat 2.8 g
Cholesterol 36 mg
Sodium 0 mg
Potassium 0 mg
Carbohydrates 24.3 g
Fiber 2.6 g
Sugar 3.3 g
Protein 18.8 g
Vitamin A 0 %
Vitamin C 0 %
Calcium 0 %
Iron 0 %
What I Used For The Recipe