This post contains affiliate links. As an Amazon associate I earn qualifying purchases. Click here for more about this policy.
These Healthy Snickerdoodles are a classic cookie with a healthy makeover. Made with oat flour with no refined oil or sugar, these healthier cookies take 10 minutes to make & are guaranteed to blow your baking socks off! Gluten Free + Low Calorie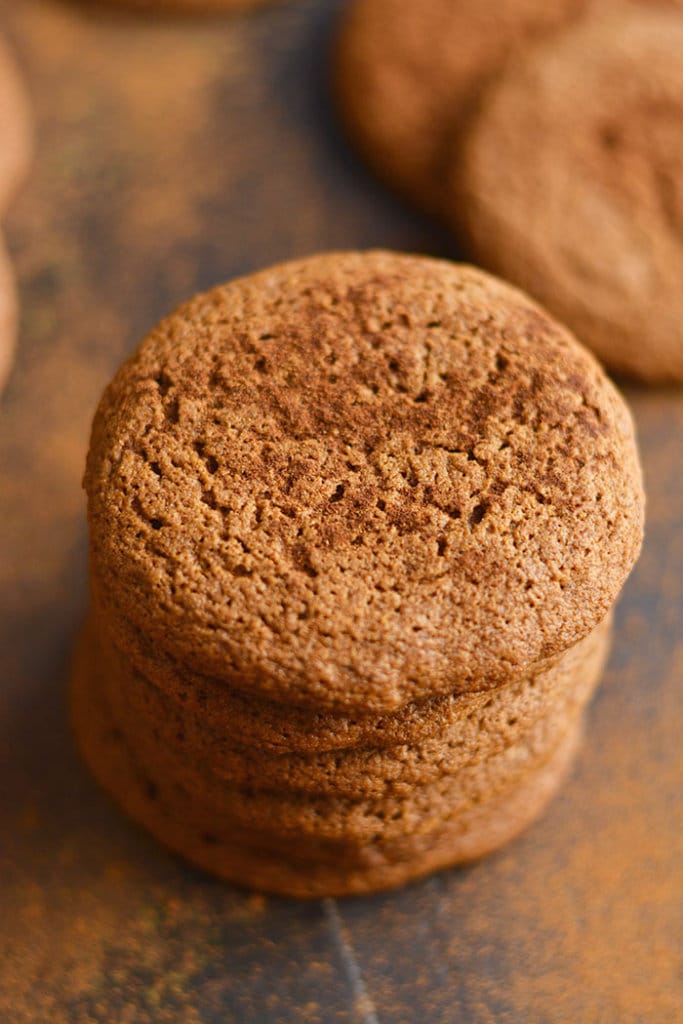 It's Monday and I bring you cookies! But first, let's catch up a bit. So, I have this new hip and while being pain free has made me much more confident and comfortable in my two legs again, I can't help but wonder when someone looks at me why they're looking at me.
For example, last week I was at the gym and as I was walking out a very good looking guy at the door turned around to watch me walk out. I caught him doing it in the reflection of the door. Boys, are not very smart sometimes.
As I walked away, I couldn't help but wonder. Was I limping? Did he notice I'm weaker on that side? I'm not limping anymore, but maybe I just think I'm not.
Maybe he knows I have a hip replacement. How could that be possible? Or worst, maybe I have something on my butt? Does my butt look big in these pants?
Yes, these were the thoughts that went through my head. All in 10 seconds. However, never did it cross my mind that maybe he was looking at me because um, well he's a guy and I'm a girl, and men look at women. My mind immediately went to all the worse possible things he could be thinking. Every bad thought.
I'm telling you this because those are exactly the kind of thoughts that leads many of us to depending on food for emotional needs. As a health coach, this is one of the top issues I work on with my clients. So before you reach for the proverbial cookies, I want you to think about what you're feeding.
Now 'bout these cookies! These are not just any cookies. These are Healthy Snickerdoodles made with gluten free oat flour. They're bursting with sugary, cinnamon-y flavor. Perfect for winter cuddling. Cozy, comforting and oh, so good.
The best part? They're low calorie and HUGE. Like you guys, they're the size of my face. In fact, I might suggest you use one tablespoon of batter to make these instead of the two I listed in the instructions. Because W-O-W these are cookie monster BIG! I'm not a cookie expert or anything, but I'm pretty sure these could win the world's biggest snickerdoodles.
World record aside though, if you're looking to sneak something food into a family or friend's (or maybe your own) diet these Healthy Snickerdoodles are the way to do it. Now, let's get baking!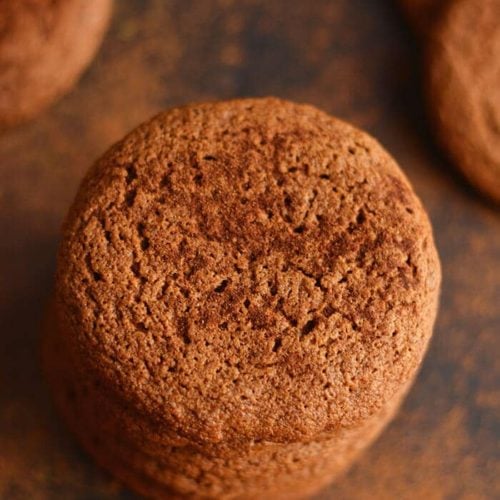 Healthy Snickerdoodles
These Healthy Snickerdoodles are a classic cookies with a healthy makeover. Made with oat flour with no refined oil or sugar, these healthier cookies take 10 minutes to make and guaranteed to blow your baking socks off! Gluten Free + Low Calorie
Instructions
In a large mixing bowl, combine egg white, molasses, vanilla extract, salt and sugar. Mix until well combined.

In a separate smaller bowl, sift together the oat flour, baking soda, cinnamon and cream of tartar. Add one tablespoon of the flour to the liquid and gently fold to combine. Then add melted coconut oil (this prevents it from hardening) and mix to combine. Continue adding 2 tablespoons of the flour to the batter and folding until it is fully incorporated into the batter.

Place batter in the refrigerator 20 minutes to chill. Then remove and drop 1 tablespoon of the batter onto the prepared baking sheet. Do not make them any larger as they do spread thin. You need to form the batter into the shape of cookie, pressing them together and up a bit with your hands. The batter will spread quite a bit and thin during baking so do not make them too big. Keep them spaced out 3-4 inches on the baking sheet so they have room to grow and puff them up a bit with your hands before baking. 

Bake at 350 F 10-12 minutes until golden brown.

Remove from the oven and immediately sprinkle with cinnamon for dusting.

Transfer to a wire baking rack to cool 10 minutes then DEVOUR!
Notes
The batter makes 12 BIG cookies. You could easily make 24 small cookies with this recipe. They are THIN cookies so that it is what you should expect.
Measure the flour properly for baking or you will have a dough that's too thick.
My Amazon shop has more products similar to those used for this recipe and that I recommend to my nutrition clients.
Nutrition
Serving: 1cookieCalories: 176kcalCarbohydrates: 20.1gProtein: 2.5gFat: 10gSaturated Fat: 8gSodium: 126.8mgFiber: 1.3gSugar: 9.4g
What I Used For The Recipe