This post contains affiliate links. As an Amazon associate I earn qualifying purchases. Click here for more about this policy.
Healthy Zucchini Chocolate Cookies are low calorie, gluten free and packed with oats and chocolate flavor. A chewy, healthy oat cookie recipe that's kid approved. A sneaky way to eat your veggies! Gluten Free + Low Calorie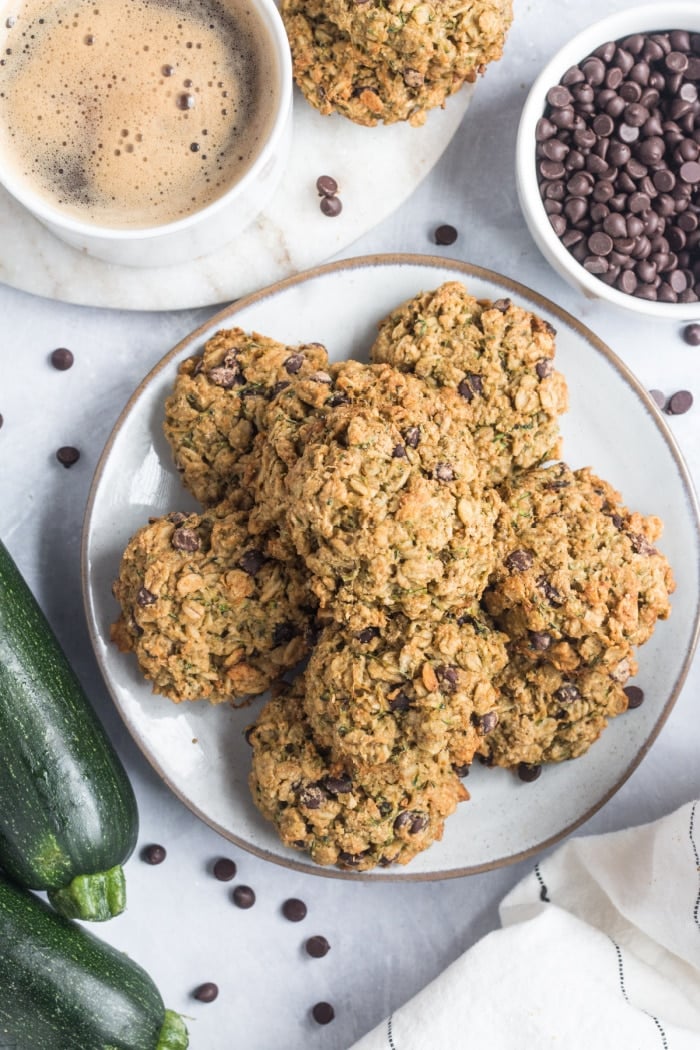 If you're looking for a yummy cookie recipe to make, then you came to the right place today! These Zucchini Chocolate Chip Cookies are amazing! They're a spin off of my Zucchini Chocolate Oatmeal Bites that are very popular!
Of course, you can't taste the zucchini. That's what I love about baking with zucchini. You can sneak in into virtually anything and sneak more veggies in without even trying. A great way to get yourself and the kiddos to eat more of the veggies which you know I'm all about!
Zucchini or any squash is great to bake with because it adds moisture to the batter which is what makes these Zucchini Chocolate Cookies thick and chewy! Not to mention they're nutritious too.
Healthy Zucchini Oatmeal Chocolate Cookies
Here's a few more reasons why I love this healthy cookie recipe!
Low Calorie - Each cookie is 150 calories. Calories are important for weight loss, but the ingredients that make up the calories are always most important. This recipe is made with nutrient dense ingredients so this 150 calorie cookie is always better for you than an Oreo.
Higher Protein - Cookies are naturally higher in carbohydrates so balancing that with protein and healthy fat is important for blood sugar regulation. Each cookie has 3 grams of protein which is great!
Healthy Fat - The healthy fat balances the carbohydrates in the recipe. Each cookie has 7 grams of fat, 1 gram of which is from saturated (less optimal fat) and the remainder comes from healthy fat from the extra virgin olive oil.
Higher Fiber - Oats are a good source of fiber, which is part of the carbohydrate food group. This cookie recipe made with oats is healthier and balanced with protein, fat and carbohydrates.
Gluten Free - This recipe is made with gluten free ingredients. If that's not important to you, you do not need to use gluten free oats.
Dairy Free - All ingredients are dairy free. Again, if that's not important to you, feel free to use dairy.
Ingredients For Zucchini Oatmeal Cookies
Here's the ingredients you need to make zucchini cookie with oats. I also recommend large baking sheet and mixing bowls like these.
Zucchini, about 1 medium zucchini
Egg White
Baking Soda
Cinnamon
Salt
Mini Chocolate Chips, dairy free
How To Make Healthy Cookies With Zucchini and Oats
Making cookies with zucchini and oats is very easy and actually a lot of fun! To start, shred the zucchini with the skin on. You can shred zucchini by hand with a cheese grater or a small food processor like this one. I prefer doing it in a food processor. You simply chop the zucchini into quarters, add to the processor then pulse several times until shredded.
Next preheat the oven, prepare a large baking sheet then mix together the oats, flour, cinnamon, sugar, salt and baking soda in a large mixing bowl. In a separate, smaller mixing bowl stir together the egg white, vanilla extract and olive oil. Add the shredded zucchini to the wet ingredient mixing bowl and stir.
Then combine the wet ingredients with the dry ingredients. Fold in the chocolate chips then scoop 2 large tablespoons of the batter onto the baking sheet to form one cookie. Repeat until the batter is gone. I got 14 medium sized cookies. Bake the cookies in the oven about 12 minutes or until the edges are lightly browned then remove and keep them on the baking sheet another 5 minutes before transferring to a wire baking rack to fully cool.
Substitutions For Healthy Zucchini Cookies
Here are the substitutions I recommend for this zucchini cookie recipe. Please remember that substituting ingredients will change the nutritional values of this recipe.
Zucchini - If you don't like zucchini, then I recommend this banana oat cookie recipe instead.
Egg White - You can substitute the egg white for half of a whole egg. Egg White to whole egg ratio is always 2 egg whites to 1 whole egg.
Vanilla Extract - Almond extract can be used. I do not recommend omitting the extract as it gives the cookies their flavor.
Extra Virgin Olive Oil - Coconut oil can be substituted. I do not recommend substituting applesauce for the oil in this recipe. The fat is necessary for holding these cookies together.
Coconut Sugar - Any sugar works in this recipe, but I prefer coconut sugar as it is slightly lower glycemic than other sugars. If you want a zero calorie option, monkfruit is what I recommend.
Rolled Oats - You can use instant oats, but the cookies may not hold together as well since the rolled oats are larger.
Oat Flour - Gluten free baking flour can be used. I never bake with white or whole wheat flours so I can't say if those will work. Coconut flour will not work. Almond flour has not been tested.
Cinnamon - You can omit this or replace with nutmeg.
Chocolate Chips - Any chocolate chips can be used with this recipe.
Zucchini Chocolate Chip Cookies
Healthy Zucchini Chocolate Cookies are low calorie, gluten free and packed with oats and chocolate flavor. A chewy, healthy oatmeal cookie recipe! Gluten Free + Low Calorie
Instructions
Preheat oven 350 degrees F. Prepare a baking sheet with parchment paper. In a large bowl, combine oat flour, baking soda, salt, cinnamon and oats. Set aside.

In a small mixing bowl, whisk together the olive oil, egg white and vanilla extract. Add the shredded zucchini to the wet ingredients and stir to combine.

In a separate bowl, combine the dry ingredients - sugar, flour, oats, baking soda, cinnamon and salt.

Next fold the wet ingredients into the dry ingredients incorporating it well. Then fold the chocolate chips into the batter dispersing throughout.

Spoon 2 tbsp of the batter at a time onto the prepared baking sheet. Bake 12 minutes or until slightly golden brown around the edges. Remove from the oven and transfer to a wire baking rack to cool.

Keep in an air tight container up to a week in the refrigerator or up to a month in the freezer.
Nutrition
Serving: 1cookieCalories: 150kcalCarbohydrates: 18gProtein: 3gFat: 7gSaturated Fat: 1gTrans Fat: 1gCholesterol: 1mgSodium: 176mgPotassium: 99mgFiber: 2gSugar: 4gVitamin A: 25IUVitamin C: 2mgCalcium: 17mgIron: 1mg
What I Used For The Recipe