This post contains affiliate links. As an Amazon associate I earn qualifying purchases. Click here for more about this policy.
Healthy Lemon Cashew Cookies made grain free with 5 ingredients. These healthy cookies are lower in calories and lower in sugar. Paleo + Vegan + Low Calorie + Gluten Free
Everyone has their challenges when it comes to their own personal nutrition. Mine is I tend to not eat enough healthy fat. I grew up during the time when everyone was told to not eat fat.
Fast forward to today and I have to really pay attention to my fat consumption, but I'm still practicing it! What better way to add fat to your diet than a cookie made with healthy fat?
These Healthy Lemon Cashew Cookies are a great way to add healthy fat to your diet while satisfying your sweet tooth!
What Makes These Lemon Cashew Cookies Better For You
Here's a few reasons why these lemon cookies made with cashew butter are healthier and a better option.
Low Sugar - real maple syrup is used in a small quantity to lightly sweeten these cookies without going overboard. Most cookies have way more sugar added them than they need. When it comes to sugar, I believe eating REAL sugar like maple syrup is always better than sugar substitutes.
Flourless - these cookies are made simply with unsalted, no added sugar cashew butter. Cashew butter, if you've never had it, is very smooth and creamy. It (as well as other nut butters) makes a great base for cookies and a better option than traditional flours.
Gluten Free - this cookie recipe contains naturally gluten free ingredients.
Dairy Free - there's no dairy in this recipe.
Low Calories - These cookies are 144 calories each. I know someone will say 144 calories is too many but the truth is from a nutrition standpoint it is not too many. Cookies usually range from 300-400 calories each and truthfully, food is never all about the numbers. It's about what that food does to your metabolic hormones and how it influences your hunger, energy and cravings. I talk more about this in my free training.
Ingredients for Healthy Lemon Cookies
The beauty of these creamy, silky cookies is that you just need 5 ingredients to bake these guys. P.S. I've got you covered with substitutions below.
Cashew Butter - unsalted with no sugar added
Maple Syrup
Lemon Juice
Sea Salt
How To Bake Lemon Cookies Flourless With Nut Butter
I love baking cookies, but I especially love baking cookies that are flourless like these because it's so easy!
Step one is to add the ingredients to a food processor or blender. Blend until the ingredients are smooth. I scrape down the sides after blending then blend again just to be sure everything is combined.
Then on a sheet pan covered with parchment paper, drop dough onto it using an ice cream scoop. You can also use a tablespoon measuring spoon. Expect the dough to be sticky and gooey. After dropping the dough smooth and shape it with your fingers. I recommend dampening your fingers with water to do this so it doesn't stick to you.
Next bake the cookies 10-12 minutes at 350 F then remove from the oven and cool on the baking sheet. The cookies will crumble if you remove them from the baking sheet too soon so be patient!
I add lemon zest on top of my cookies after they cool before enjoying! Store your cookies in the refrigerator up to 14 days or 90 days in the freezer.
Substitutions For Healthy Lemon Cashew Cookies
Here's a few substitutions you can make for these lemon cookies. Remember that substitutions you make will change the nutritional values you see in the recipe card below.
Cashew Butter - any nut butter or seed butter will work with this recipe. Peanut butter, almond butter, sunflower butter, tahini would all substitute well in this recipe. I recommend the substitute you use is creamy, unsalted with no sugar added.
Maple Syrup - Like I mentioned previously, I personally believe in using real maple syrup as zero calorie flavored syrups have a lot of chemicals in them and it's not clear what that does to the body long-term. If you're diabetic or watching your sugar, you can use maple flavored syrup made from monkfruit as an alternative. I would not recommend powdered sugar substitutes as this recipe needs the liquid to get the right texture and consistency.
Lemon Extract - you can substitute for vanilla extract or maple extract.
More Healthy Cookie Recipes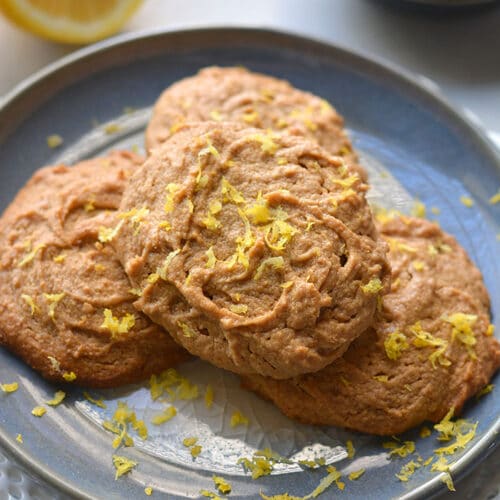 Lemon Cashew Cookies
Healthy Lemon Cashew Cookies made grain free with 5 ingredients. These healthy cookies are lower in calories and lower in sugar. Paleo + Vegan + Low Calorie + Gluten Free
Instructions
Preheat oven to 350 F. Prepare a baking sheet with parchment paper.

In a food processor or blender, combine all ingredients (except lemon zest) then process until the dough is smooth.

Using a medium ice cream scoop, drop the dough onto the prepared baking sheet. This is approximately 2-3 tablespoons. Damp your fingers with water to shape the cookies as they will not rise or shape much during baking.

Bake 10-12 minutes or until the edges are browned.

Remove from the oven and cool on the baking sheet 10 minutes before adding lemon zest, carefully removing and enjoying!

Store cookies in the refrigerator up to 14 days or in the freezer up to 90 days.
Nutrition
Serving: 1cookieCalories: 144kcalCarbohydrates: 10gProtein: 4gFat: 11gSaturated Fat: 2gSodium: 101mgPotassium: 133mgFiber: 1gSugar: 4gVitamin A: 1IUVitamin C: 1mgCalcium: 17mgIron: 1mg