This post contains affiliate links. As an Amazon associate I earn qualifying purchases. Click here for more about this policy.
Healthy Waldorf Salad is made low calorie with a creamy, lemon Greek yogurt sauce with no added sugar and no mayo. A healthy side dish or appetizer that's easy to make, naturally gluten free and delicious! Gluten Free + Low Calorie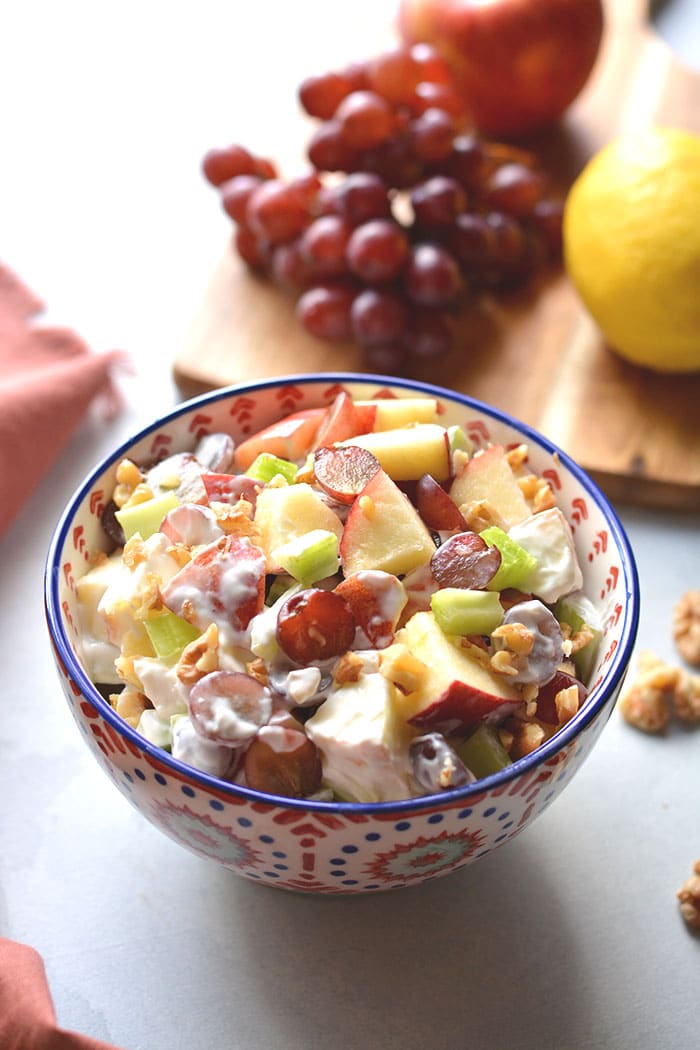 A Waldorf salad is a fruit salad made with fresh apples, grapes, celery and walnuts dressed in mayonnaise, and traditionally served on a bed of lettuce as an appetizer, side dish or small meal.
It's a great recipe to make during warmer months, requires no cooking and comes together effortlessly.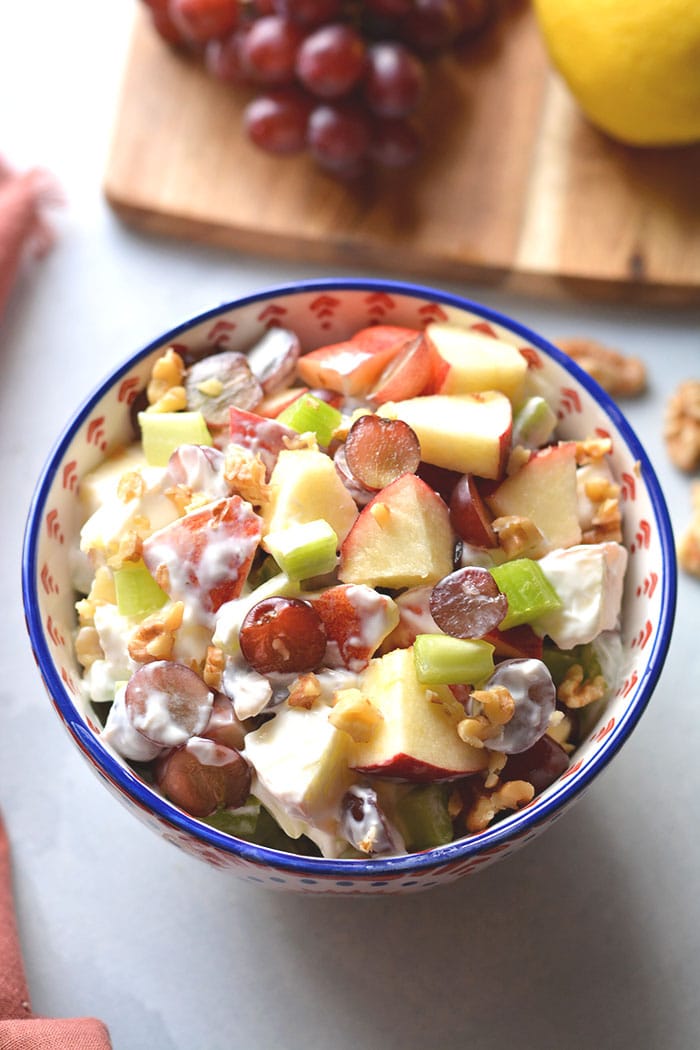 What Makes This Waldorf Salad Better For You
This recipe is a healthier spin on a Waldorf salad by replacing the traditional mayonnaise with Greek yogurt. Greek yogurt is lower in calories and higher in protein making this version healthier and it's just as tasty and creamy as the real deal!
Low Calorie - 94 calories per serving with this recipe and the ingredients are all nutrient dense foods that play an important role in hormone health and the body's functions.
Lower Fat - Since this recipe is made with Greek yogurt instead of mayo the unhealthy fat content is lower.
Higher Protein - The Greek yogurt boosts the protein content. It's only 3 grams per serving, but that's better than traditional versions.
Gluten Free - This recipe is naturally gluten free.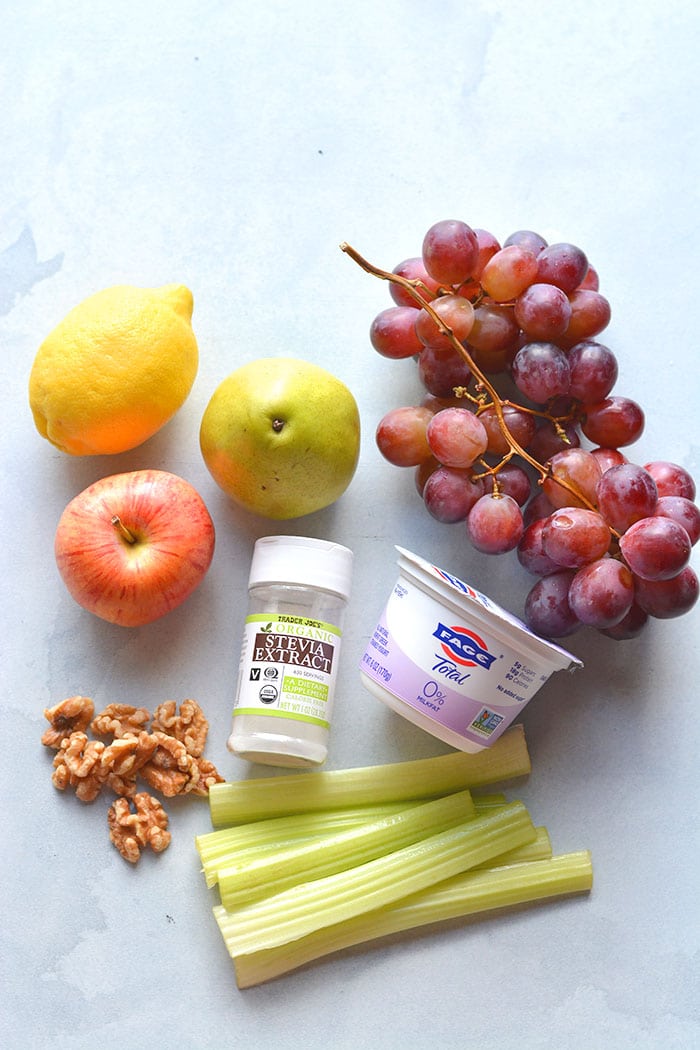 Ingredients You Need To Make A Waldorf Salad Low Calorie
Here's what you need to make this lower calorie Waldorf Salad. You will also need a large mixing bowl and I highly recommend an apple slicer to make the prep easier.
Red grapes or grapes of choice, I recommend seedless
Apples, I love Gala
Asian Pear
Walnuts, raw
Celery
Stevia, monkfruit or sweetener of choice
Lemon
Greek yogurt, plain and nonfat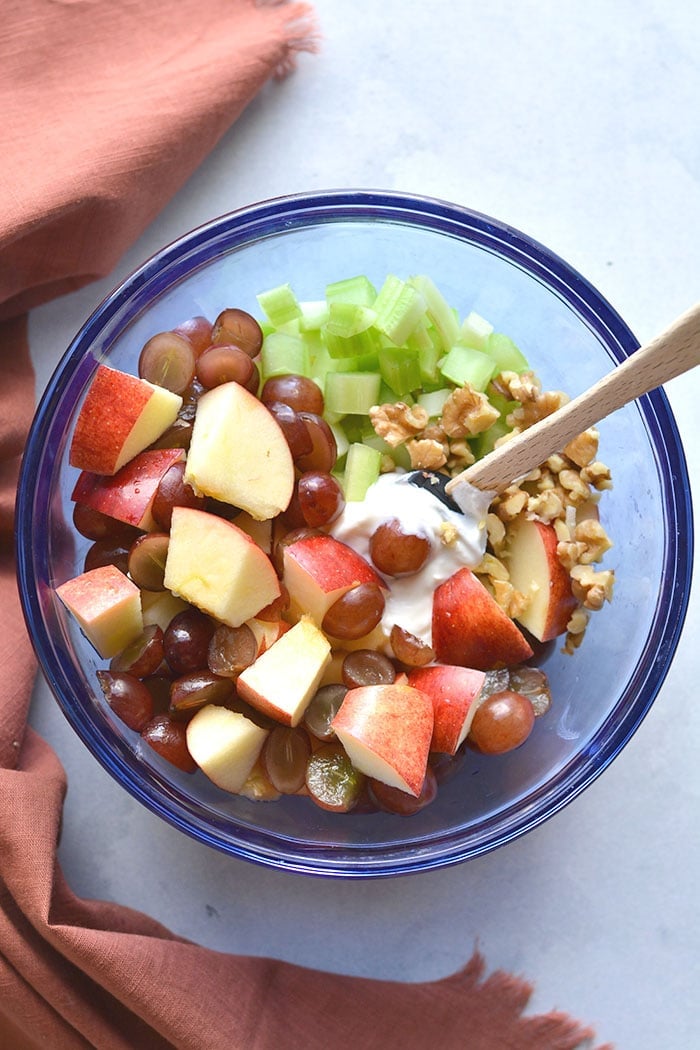 How To Make A Lighter Waldorf Salad
This salad is a breeze to make! The first and most difficult step is chopping the fruit, celery and walnuts but honestly, I find that task to be a stress reliever and I enjoy it!
Place the Greek yogurt in a mixing bowl, squeeze the lemon juice in with it, add the stevia than add the fruit, celery and chopped walnuts. Stir to combine and refrigerator 30 minutes before serving and enjoying!
What To Serve With Waldorf Salad
Waldorf salad should be served chilled as an appetizer, side salad or small meal. If you want to make it a complete meal, I recommend adding lean protein like shredded chicken, turkey, lunchmeat, fish like tuna, salmon or shrimp.
How To Store A Waldorf Salad
Waldorf salad can be stored in the refrigerator up to 5 days. This is the maximum amount of time I recommend as the apples and pears will go bad after this. The lemon juice does help to preserve them, but after 4-5 days they will begin to breakdown. I do not recommend freezing this salad.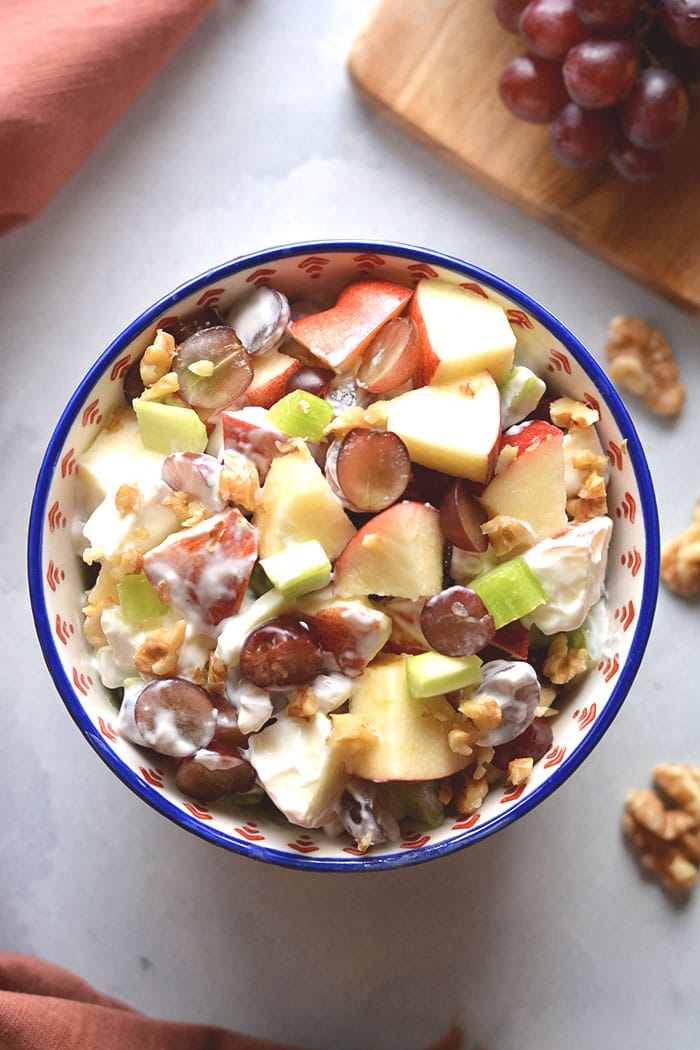 Recipe Substitutions For Gluten Free Waldorf Salad
It's very easy to swap out ingredients in this Waldorf Salad recipe. Here's a few recipe substitutions I recommend. Please keep in mind that recipe substitutions you make will change the nutrition information you see in the recipe card below.
Greek yogurt - Dairy free yogurt can be substituted. I do find dairy free yogurts to have a ton of added sugar in them which is why I personally avoid them. An avocado oil based mayonnaise can be substituted as well. The dairy free yogurt or avocado oil mayo option would make this recipe Paleo friendly. The dairy free yogurt would make this vegan friendly.
Celery - Can be omitted if you prefer fruit only.
Apples - Pears would be a good substitute.
Pears - Omit or replace with apples.
Grapes - Any grape variety may be substituted along with cherries, blueberries, blackberries or raspberries.
Stevia - I love Trader Joe's stevia as it doesn't have an aftertaste like many others do. You can substitute with a sweetener of your choice. Monkfruit is a good zero calorie alternative. Honey or maple syrup could be used (1-2 tablespoons) instead, but will increase the calories.
Lemon - The lemon can be omitted, but does help keep the apples from going bad.
Walnuts - They can be omitted or replace with any nut or seed.
Protein - You can easily increase the protein content of this recipe by added shredded chicken, salmon or turkey to the salad.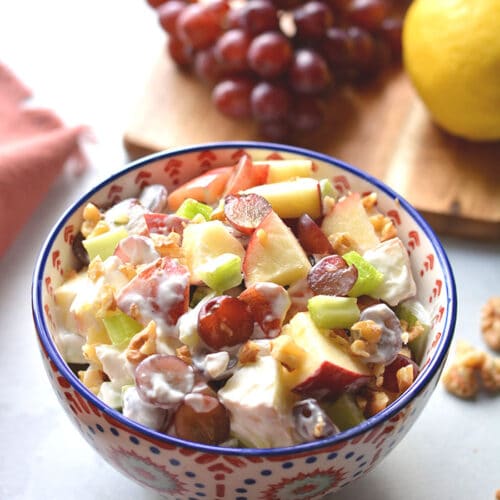 Healthy Waldorf Salad
Healthy Waldorf Salad is made low calorie with a creamy, lemon Greek yogurt sauce with no added sugar and no mayo. A healthy side dish or appetizer that's easy to make, naturally gluten free and delicious!
Ingredients
2 red apples cubed
1 pear cubed
2/3 cup red grapes seedless
1/2 cup celery diced
2 tablespoons walnuts raw and chopped
1/2 cup nonfat Greek yogurt
2 tablespoons lemon juice
stevia to taste or sugar of choice
Instructions
Chop the fruit into cubes, dice the celery and roughly chop the walnuts.

In a mixing bowl, stir together the Greek yogurt, lemon juice and stevia. Add the fruit, celery and walnuts. Stir to combine then refrigerate to chill 30 minutes before serving.

Store leftovers in the refrgierator up to 5 days.
Notes
Portion size is about 1/2 cup. Portion size will vary depending on the size of your pears and apples. 1 1/2 cups of chopped apples and 2/3 cup of pear is what you need for this recipe.
My Amazon shop has more products similar to those used in this recipe and that I recommend to my weight loss clients.
If you enjoy this recipe, check out my cookbook for more delicious recipes.
Nutrition
Serving: 1servingCalories: 94kcalCarbohydrates: 18gProtein: 3gFat: 2gSaturated Fat: 1gPolyunsaturated Fat: 2gMonounsaturated Fat: 1gTrans Fat: 1gCholesterol: 1mgSodium: 14mgPotassium: 197mgFiber: 3gSugar: 13gVitamin A: 91IUVitamin C: 7mgCalcium: 33mgIron: 1mg