This post contains affiliate links. As an Amazon associate I earn qualifying purchases. Click here for more about this policy.
Coconut Greek Yogurt Fruit Salad! Made with fresh fruit, Greek yogurt, vanilla and coconut milk. This salad is a healthier spin on fruit salad. Paleo + Vegan options included. Low Calorie + Gluten Free
Large bowl of fruit coming at you today! If you're new to Skinny Fitalicious, you might not know that I started this website to share my lightened up recipes with friends. After losing 80 pounds, so many people were asking me how I did it and what I ate.
They tasted my recipes at parties and work gatherings and wanted to know how I made everyday recipes delicious and healthy. Wanna know what's funny about that? I still have a lot of recipes stored in my brain for a rainy day.
That being said, let me present you with…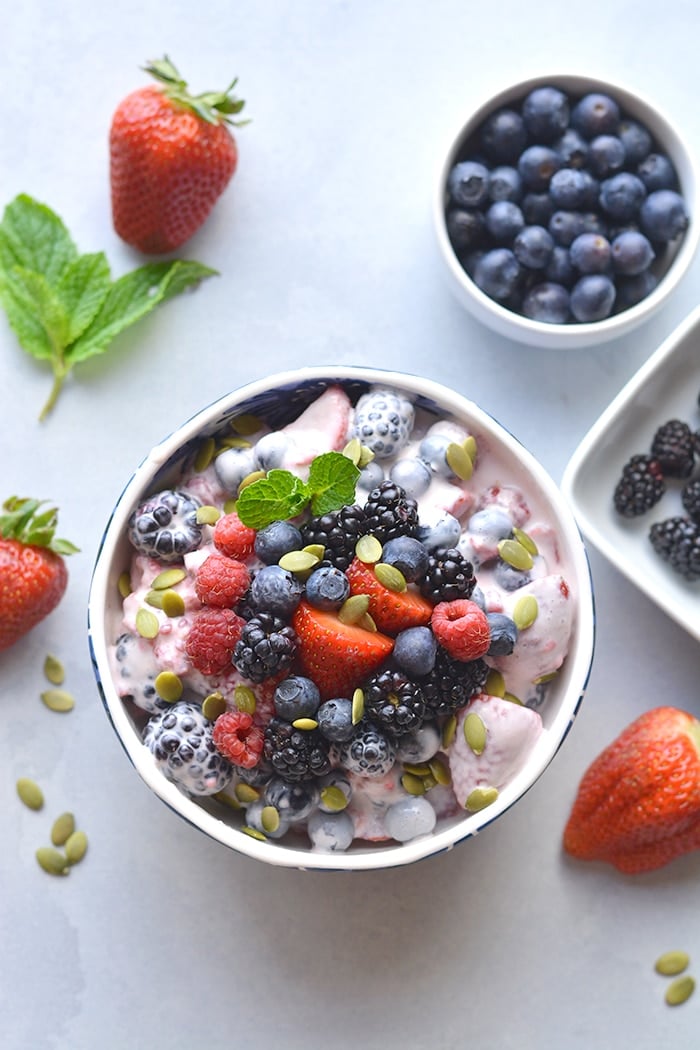 Coconut Greek Yogurt Fruit Salad
This is not your average fruit salad by any means. Creamy, delicious fruit salad bursting with sweetness and a hints of vanilla flavor.
It combines simple everyday ingredients – Greek yogurt, vanilla extract, coconut milk and a touch of stevia to make it taste like perfection and well, slightly addicting.
This is one salad you will be obsessed with!
Plain Greek yogurt is a great substitute to heavy creams and cheeses that are generally used in fruit salads (see helpful tips below for Vegan and Paleo substitute).
It also has a secret ingredient…PROTEIN! That protein is key for balancing the sugar in the fruit. Everything is about balance especially when it comes to sugar!
Coconut milk gives this salad it's smooth, creamy texture. Hence…COCONUT GREEK YOGURT FRUIT SALAD.
In my humble opinion, it's better than any other milk combination with Greek yogurt (see helpful tips below) and gives the salad a hint of coconut flavor which is amazing with the vanilla. If you haven't tried it, you need to get on it.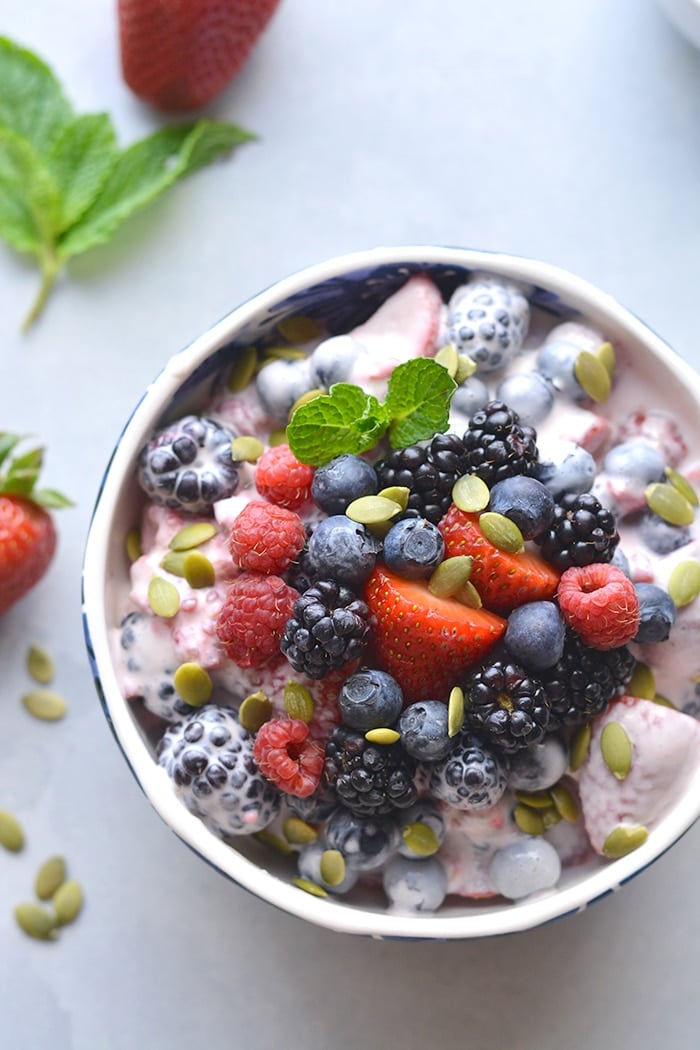 What You Need
Strawberries
Blueberries
Raspberries
Blackberries
Coconut Milk
Stevia (optional)
Pumpkin Seeds
Helpful Tips
You can use coconut milk in a can or the refrigerated kind. Either works! I prefer the canned as it's a bit thicker than refrigerated and has less additives.
But truthfully… any milk will work with this recipe. The milk is used to slightly thin the Greek yogurt. Otherwise it's too thick and clumpy for my taste.
If making this recipe as Paleo or Vegan version (aka dairy-free and not using Greek yogurt), then I recommend using no milk.
Coconut yogurt or almond yogurt are much thinner than Greek yogurt and the result would be too runny. Double the yogurt and you're good to go!
This Coconut Greek Yogurt Fruit Salad is sure to be the life of the party! If you make it, tag SkinnyFitalicious on Instagram or Facebook so I can re-share your creations.
Coconut Greek Yogurt Fruit Salad
Coconut Greek Yogurt Fruit Salad! Made with fresh fruit, Greek yogurt, vanilla and coconut milk. This salad is a healthier spin on fruit salad. Paleo + Vegan options included.
Prep Time 10 minutes
Chill Time 20 minutes
Total Time 30 minutes
Servings 4 servings
Calories 96 kcal
Instructions
Place the Greek yogurt, coconut milk, vanilla and stevia in a blender. Blend on high until smooth. Note, if the mixture is too thick add another 1-2 tablespoons of milk and blend again.

Transer the berries to a large mixing bowl then pour the yogurt mixture over the berries. Stir to combine. Stir in optional pumpkin seeds for crunch!

Chill in the refrigerator 20 minutes then enjoy! Recipe keeps up to 5 days.
Recipe Notes
My Amazon shop has more products similar to those used for this recipe and that I recommend to my nutrition clients.
If making this recipe dairy-free for Paleo and Vegan, substitute the Greek yogurt with coconut yogurt or almond yogurt and double the quantity so it is 1 cup. Also, omit the milk. Coconut yogurt and almond yogurt are already thin.
Course Appetizer, Side Dish
Cuisine American
Keyword blackberry, blueberry, coconut, fruit salad, gluten free, greek yogurt, healthy, high protein, low calorie, raspberry, refined sugar free, strawberry
Recipe Video
Nutrition facts per serving (1serving)
Calories 96 kcal
Fat 4 g
Saturated Fat 3 g
Cholesterol 1 mg
Sodium 12 mg
Potassium 225 mg
Carbohydrates 12 g
Fiber 4 g
Sugar 7 g
Protein 4 g
Vitamin A 75 %
Vitamin C 34.9 %
Calcium 47 %
Iron 0.8 %
What I Used For The Recipe