Homemade Sugar Free Cranberry Sauce naturally sweetened with oranges and spices. Easy, warm, filling! Wonderful as a side or gift. Gluten Free + Paleo + Vegan + Low Calorie
Hey Friends! How was your weekend? This weekend was a blur to me. I did a whole lot of nothing and it felt wonderful. Friday night I made Italian chicken in the crockpot (recipe coming soon) we watched an old movie and laughed at the 80's hair. On Saturday I walked 8.7 miles (WOOHOO) in the morning and later we ate pizza and watched hockey. Yesterday I taught spin then met an old friend for lunch and watched the Packer game. Gotta love fall weekends!
That said, over the weekend the guy says to me "yeah, it's almost Christmas!" I was like OMG I'm so not ready to think about that. When we were at Costco a few weeks ago, they had Christmas trees next to the Halloween candy which reminded me that Thanksgiving is just a few short weeks away.
It gave me an excuse to remake this Sugar Free Cranberry Sauce. It's one of the very recipes I ever put on this blog, and one of my most popular one's during the holidays. It was due for updated pictures with a revamped recipe! I added cloves this time and it made all the difference.
Cranberry sauce is something I've never liked. Not ever. Something really creeps me out about the ridges jellied cranberry gets from the side of the can. Seems so alien-like. I've never been able to bring myself to eat it. It wasn't until I ate this sandwich that had cranberry chutney on it that I discovered how good it can be. Ever since I had that sandwich a few years ago, I've been dreaming of re-creating my own version of it with this homemade sugar free cranberry sauce.
This sugar free cranberry sauce is naturally sweetened with oranges and spices. If you feel it needs a little something more, you can always add maple syrup or honey. It's always easier to add then to subtract. Delicious, EASY to make and will make your house smell like holiday heaven. No excuses with this recipe! Just 10 minutes of boiling and simmering and voila it's done! I recommend you make it ahead of time. It tastes so much better after chilling in the refrigerator for a night or two.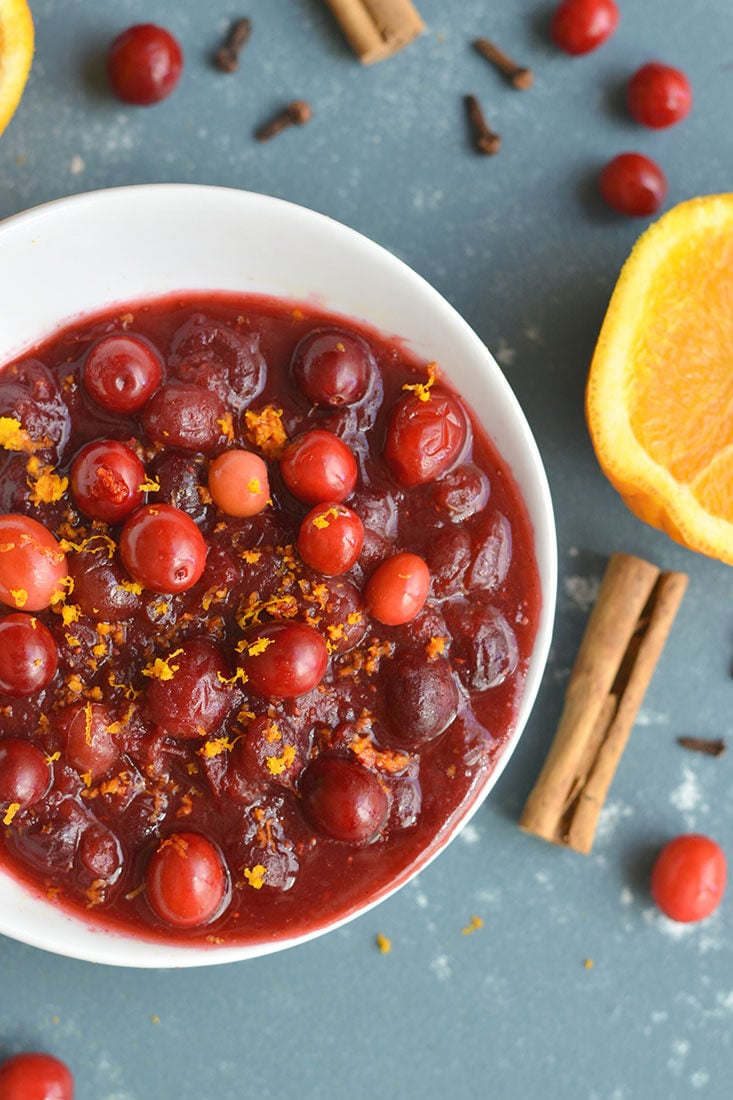 I enjoy my cranberry sauce on Thanksgiving turkey, salmon, pumpkin pancakes, leftover turkey sandwiches or even on yogurt. Put it in a mason jar, tie it with a bow and give it as a present. People love food as gifts!
Get the SKINNY on the latest recipes & weight loss tips!
Sign up to receive a FREE eBOOK, a BONUS discount & weekly email tips!
Sugar Free Cranberry Sauce
Homemade Sugar Free Cranberry Sauce naturally sweetened with oranges and spices. Easy, warm, filling! Wonderful as a side or gift. Gluten Free + Paleo + Vegan + Low Calorie

Prep Time 10 minutes
Cook Time 10 minutes
Total Time 20 minutes
Servings 10 servings
Calories 57 kcal
Instructions
Add orange juice (or water) and cranberries to a large pot.

Bring to a boil ~7 minutes until cranberries begin to pop.

Reduce to a simmer then add orange, cinnamon, cloves, nutmeg and zest.

Simmer on high 3-5 minutes until fragrant then reduce to low for another 5 minutes.

Remove from heat and transfer to an airtight container or serve immediately.
Recipe Notes
Trader Joe's liquid stevia is perfect for adding sweetness to this side without adding sugar or calories.
1/4 cup per serving
I buy my health food staples from Thrive Market.
Nutrition facts per serving (1g)
Calories 57 kcal
Fat 0 g
Saturated Fat 0 g
Cholesterol 0 mg
Sodium 2 mg
Potassium 0 mg
Carbohydrates 15 g
Fiber 0 g
Sugar 9 g
Protein 0 g
Vitamin A 0 %
Vitamin C 0 %
Calcium 0 %
Iron 0 %
Custom Meal Plans
Work with Megan to develop a custom macro or standard meal plan to reach your goals.
Learn More
What I Used For The Recipe
          

Ever make homemade cranberry sauce? Does jellied cranberry weird you out? Is cranberry sauce a must have at Thanksgiving?