This post contains affiliate links. As an Amazon associate I earn qualifying purchases. Click here for more about this policy.
Paleo Vegan Raspberry Crumb Bars! Dairy-free, made with almond flour and wholesome ingredients! A truly addicting grain-free dessert that's good for you. Gluten Free + Low Calorie + Vegan + Paleo
The question of the day...is it crumb bar or is it crumble bar? I never know what's appropriate so of course, I consulted Dr. Google and discovered a bunch of good looking recipes.
Some with the word crumble bar and some with crumb bars. So you tell me. Which one is it? 
I went with crumb because crumble to me insinuates that something will fall apart and I don't want you to think the same. 
I know I'm overthinking this crumb vs. crumble thing but hey, you have to think about these things as a blogger or Google won't share your creations and this is one creation you need in your life.
Now that we got that out of the way, let me introduce you to...
Paleo Vegan Raspberry Crumb Bars
A decadent, berrylicious bar made healthy with wholesome ingredients that's Paleo friendly and egg free for Vegan lovers too. Yep! These Paleo Vegan Raspberry Crumb Bars are basically everything you need!
This recipe is a spin on my blueberry protein walnut oat bars. A very popular (old) recipe on Skinny Fitalicious and a good one if you're nut free - just omit the walnuts and replace with gluten free oats!
Unlike the gluten free oats in the other recipe, this one uses almond flour and nut butter! It gives the bars a nice little nutty flavor. A great contrast to the sweetness of the berries. Fruit and nuts always go so well together! 
Now I know what you're thinking...it's easier to go to the store and buy bars instead of making them. So here's the thing. Making your own, you get to control the ingredients. For example, this recipe is guaranteed to have much less sugar than anything you buy in a store.
It's also higher in fat which means better absorption of the nutrients from the berries and less cravings. Truthfully, that's why I love baking with almond flour.
Unlike white or wheat flours that raise blood sugar, the fat in the nuts helps slow the blood sugar response so your body can utilize the energy from the sugar better. It's a win! 
And let me just say...these bars are surprisingly easy to make. They're not as complicated as they look. Better to eat though! Just ask my boyfriend who ate the entire pan on his own. 🙂
What You Need
Tapioca Flour
Raspberries
Almond Butter
Baking Powder
Helpful Tips
I recommend making the crust AHEAD of time and storing in the refrigerator. It thickens the crust slightly so it's a bit easier to work with. You could do it the night before or 1-2 hours before baking. If you don't have time to do that, it will still bake well. It's just something I discovered that makes it easier.
I tested these Paleo Vegan Raspberry Crumb Bars using both almond butter and peanut butter. If you're strictly Paleo, use almond butter or cashew butter. If you're Vegan, use what you like! I do not recommend using sunflower butter. It will turn green when baked with baking soda. 
I do not have a coconut flour only version of this recipe. Coconut flour cannot be replaced one-for-one in recipes. It requires an entirely different recipe so if you play around and find something that works, let me know if in the comments and I'll update the recipe for others. Enjoy the recipe!
More Bars To Try
Vegan Blueberry Protein Walnut Oatmeal Bars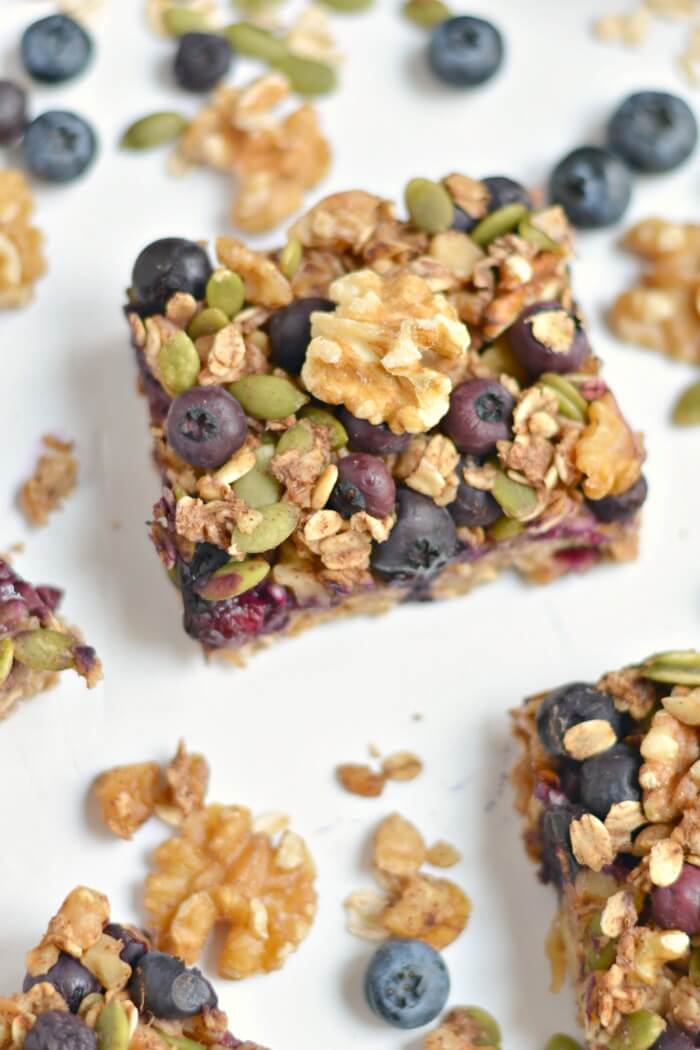 Honey Oats Chocolate Chip Granola Bars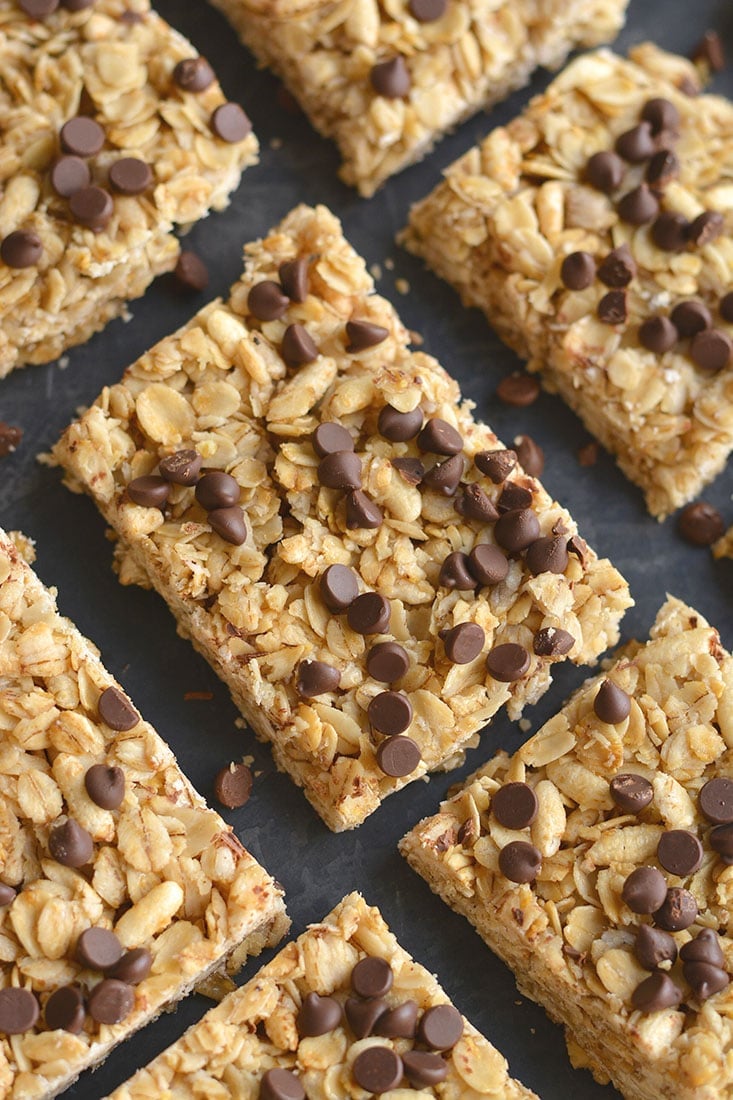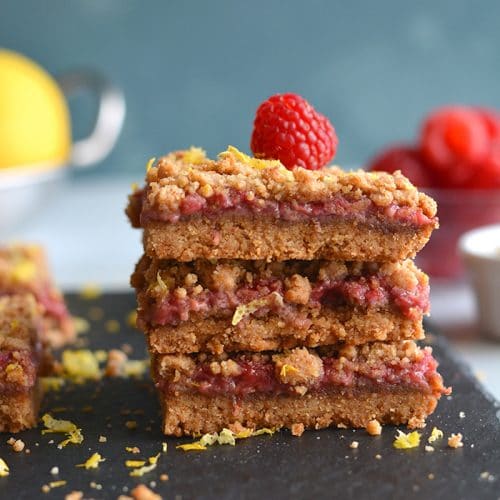 Paleo Vegan Raspberry Crumb Bars
Paleo Vegan Raspberry Crumb Bars! Dairy-free, made with almond flour and wholesome ingredients! A truly addicting grain-free dessert that's good for you. Gluten Free + Low Calorie + Vegan + Paleo
Equipment
Standing Mixer

8x8 Baking Pan
Instructions
Preheat the oven to 350 F. Prepare an 8x8 baking pan with parchment paper.

In a standing mixer, add the almond flour, coconut flour, baking soda and coconut sugar. Blend to combine then remove from the mixer and transer to a bowl.

To the standing mixer, add the peanut butter (or almond butter), vanilla extract, salt and coconut oil. Blend until combined then add the flour mixture to the wet ingredients.

Blend the ingredients until the mixture is crumbly.

Transfer 3/4 of the flour mixture into the prepared baking pan to form the crust. Press the dough together using your fingers into the bottom and corners. It will easily stick together.

Bake at 350 F for 10 minutes.

While the crust bakes, prepare the raspberry filling by adding the raspberries, coconut sugar and lemon juice to a saucepan.

Bring the saucepan to a medium heat while breaking up the berries with a whisk or spatula.

Once the berries are broken up, stir in the arrowroot powder. Let the filling simmer until thickened about 5 minutes then set aside to cool.

Remove the crust from the oven and cool at room temperature 5 minutes.

Spread the raspberry filling over the top of the crust in an even layer. Sprinkle the remaining 1/4 dough over the top of the raspberry filling.

Bake at 350 F for 25 minutes.

Remove from the oven and cool 5 minutes at room temperature. Sprinkle the lemon zest over the top then finish chilling the bars in the refrigerator 20 minutes before slicing and serving. The longer they chill the better they taste and easier they are to cut.
Nutrition
Serving: 1barCalories: 311kcalCarbohydrates: 20gProtein: 9gFat: 24gSaturated Fat: 8gSodium: 224mgPotassium: 133mgFiber: 6gSugar: 8gVitamin A: 10IUVitamin C: 7.7mgCalcium: 55mgIron: 1.3mg
What I Used For The Recipe