Healthy Carrot Cake Pancakes! These moist, mildly spiced pancakes taste like real carrot cake only in breakfast form and better for you too! Gluten Free + Low Calorie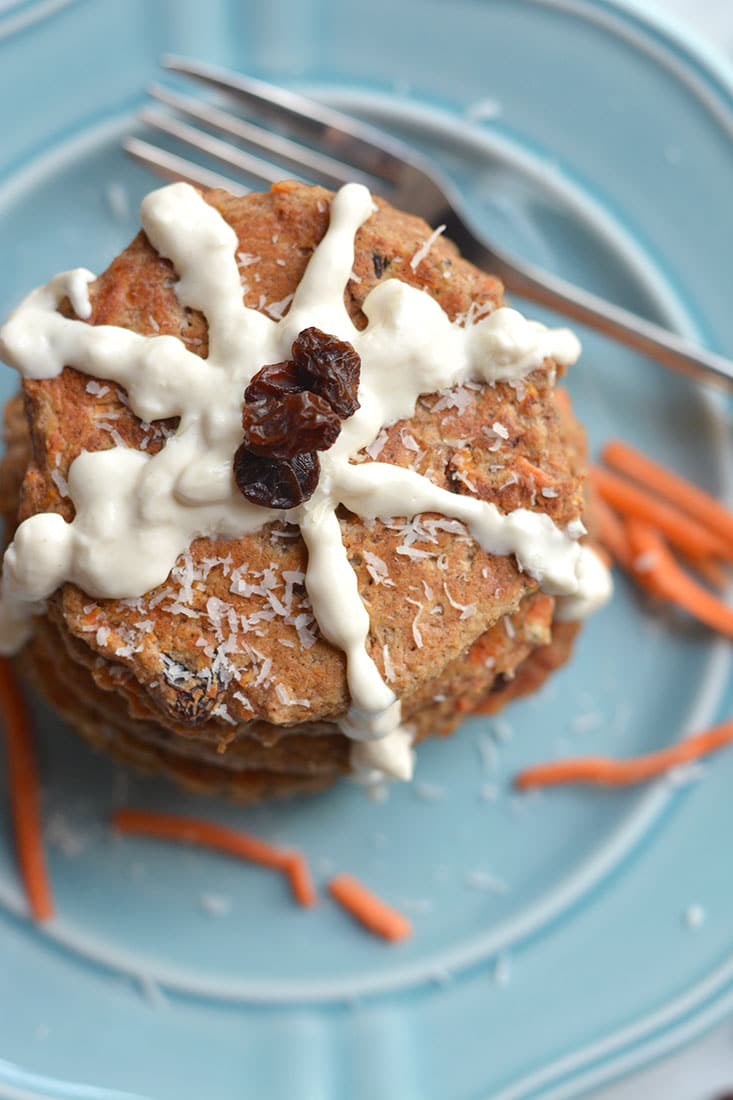 Monday! I'm not sure I'm ready for you. I'm tired from playing all weekend. It started Friday with a photo shoot I did for PR/marketing followed by a lunch date with a friend. The shoot was on her side of town so it was the perfect excuse for some girl time.
The shoot was completely out of my comfort zone. I much rather be behind in the camera rather than in front of it. I'll share pictures soon! The rest of the weekend I spent hanging with the man. But fun ends today because I'm back to work and school.
Today I start a new class. SOCIAL MEDIA. OMG help me! I haven't seen the syllabus yet, but I'm sure I could be teaching the class. My last few classes before graduation have been about building a business, starting a website, social media, etc.
Needless to say, I haven't gotten much out of them because they're for beginners and it's been mostly busy work. The good news is that's opened up a good chunk of time for me to spend more time with friends and the guy.
While I love working from home, I miss seeing real people everyday. Being in school the last 18 months, hasn't lent me much time to see other people. During the week I work and manage SF and on the weekends I do homework.
There's hasn't been time leftover for anything in between. It's been nice to finally get some of that back and feel like a real person again. June graduation, you can't come soon enough!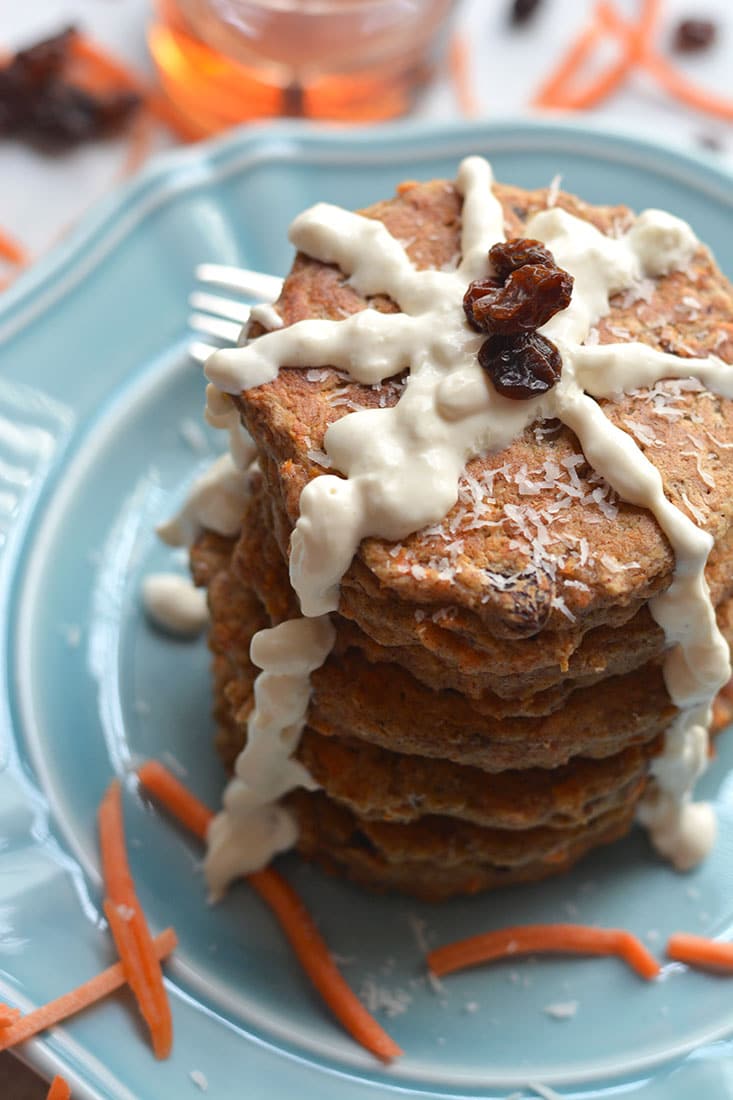 More time, also means more time for recipe creating and these Healthy Carrot Cake Pancakes are one recipe creation gone right. They're phenomenal if I do say so myself!
You know I can't resist a good pancake. As a matter of fact, my dream is to have a cafe with all my healthy pancakes one day. But these. O-EM-G. They are out of this world tasty good. They will definitely be going on the menu!
I added the ingredients of real carrot cake to the recipe, but made them lighter and healthier so you can feel good about eating them. Because truthfully, they are so good that you may eat them all in one sitting. But have no shame, they're worth every delectable bite.
For the topping, I used Greek cream cheese mixed with a teaspoon of nondairy milk. Make sure you don't forgot the cream cheese topping because that's what gives the pancakes that real cake-like flavor!
If you can't find Greek cream cheese, you can always substitute low fat cream cheese. I like the Greek version better because of the added protein and less lactose. Easier for my sensitive digestion!
Thick, chewy, mildly sweetened, and spiced with cinnamon and nutmeg, these Healthy Carrot Cake Pancakes taste like real carrot cake. You will die and go to pancake heaven!
Healthy Carrot Cake Pancakes with Greek Cream Cheese (GF, Low Cal)
Healthy Carrot Cake Pancakes! These moist, mildly spiced pancakes taste like real carrot cake only in breakfast form and better for you too! Gluten Free + Low Calorie
Ingredients
For the Cream Cheese Frosting:
Instructions
In a large bowl combine the Greek yogurt, milk, coconut oil, maple syrup and vanilla. Then add the baking soda, flour, cinnamon, nutmeg, raisins and unsweetened coconut flakes and fold to combine the ingredients evenly.

Scoop 1/4 cup of the batter onto the preheated skillet to form one pancake. Using a spatula, spread and flatten the batter. Repeat for the remaining batter.

Bake 3-5 minutes until the edges begin to appear golden brown.

While the pancakes bake, add the ingredients for the frosting to a small plastic sandwich bag. Squeeze the ingredients together to blend and soften the cream cheese a bit. Set aside.

Flip the pancakes and cook another 3-5 minutes on the other side. Transfer to a wire baking rack to cool.

Serve the pancakes with the cream cheese frosting on top by cutting a small tip off the end of the sandwich bag and squeezing the frosting onto the pancakes.
Notes
Nutritional values are for the pancakes without the cream cheese frosting.
Calories with the cream cheese frosting are 112.
My Amazon shop has more products similar to those used for this recipe and that I recommend to my nutrition clients.
Nutrition
Serving: 1pancakeCalories: 96kcalCarbohydrates: 15.2gProtein: 4gFat: 2.2gSaturated Fat: 1gCholesterol: 0.6mgSodium: 26.3mgFiber: 2.3gSugar: 4.9g
What I Used For The Recipe