Paleo Zucchini Pasta Salad! Replace pasta with spiralized zucchini for a light, refreshing and filling pasta salad! A low carb pasta salad filled with vegetables. Pair with your favorite lean protein for a complete meal. Low Carb + Gluten Free + Paleo + Low Calorie + Vegan
For many of you, summer will be coming to an end in a few weeks. Me, on the other hand, summer is here to stay until November. I love living in Arizona but gosh, the summer really feels like it drags on forever. I'm so ready for normal weather where I'm not sweating like crazy on my morning walks. On the bright side, the warmer weather has me craving all the vegetables!
Many of you have requested a lightened up pasta salad and today you're getting it. Zucchini Pasta Salad! Low in carbs, Paleo and Vegan friendly, dairy free and of course, gluten free and low in calories. Basically, this salad covers everything!
This Zucchini Pasta Salad is made entirely from fresh vegetables. No cooking involved. WOOHOO! The only thing you need to do is prep, toss and eat! It doesn't look like much food, but don't let it deceive you.
All the veggies together are incredibly filling and delicious! And, you can always add chicken breast or shrimp on top for more protein. The red onion and artichokes in the recipe are gut friendly. Good bacteria love to feed on these so, I guess you could say this is gut healing too!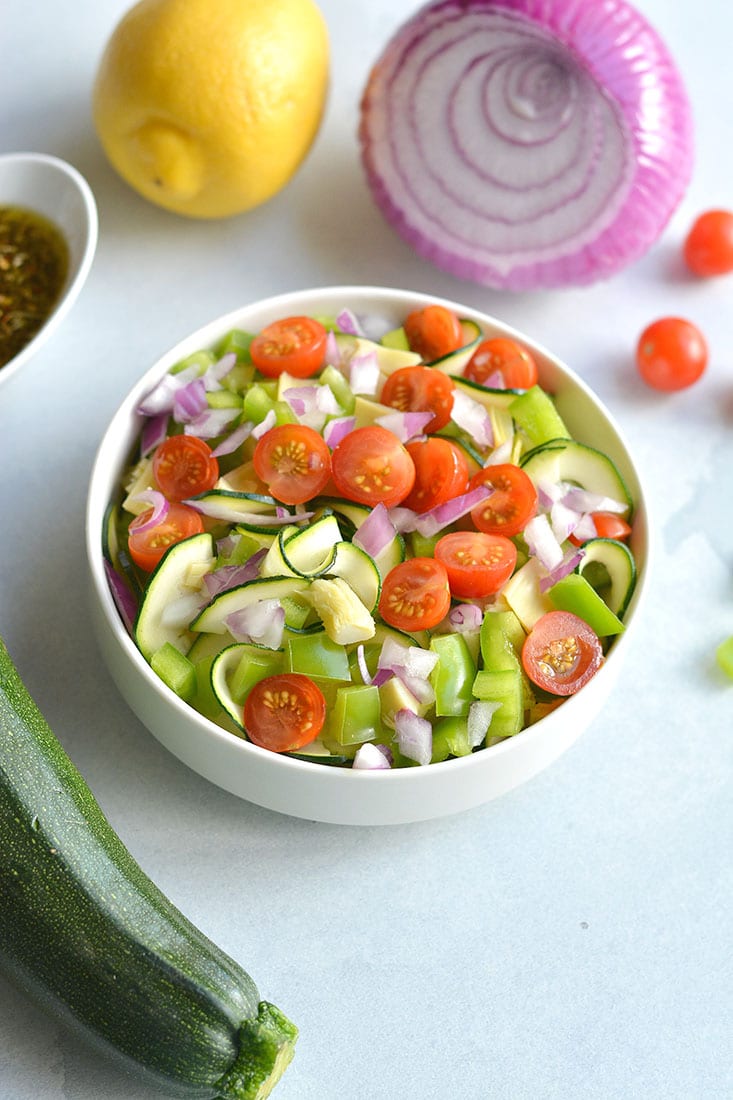 For the recipe, I used my spiralizer to make large ribbons out of the zucchini to resemble the texture and crunch of al dente pasta. It made the perfect substitute to carb heavy pasta. A light and refreshing pasta salad for a hot day! Let me know if you try it!
Receive a Sugar Free Meal Plan
When you join the Skinny Fitalicious email list
Zucchini Pasta Salad
Prep Time 15 minutes
Servings 2 servings
Calories 275 kcal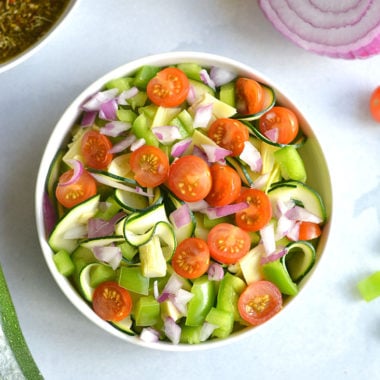 Ingredients
For the Salad:
2 medium zucchini spiralized, #2 blade
1 cup grape tomatoes sliced in half
1/2 cup red onion diced
1/2 cup artichoke hearts water drained & roughly chopped
1 green bell pepper diced
Instructions
In a bowl, whisk together the ingredients for the dressing. Set aside.

In a separate large bowl, toss together the vegetables for the salad. Drizzle with the dressing and serve.




If not serving immediately, store the dressing separate from the salad until ready to eat.
Recipe Notes
Visit my shop for more products I used for this recipe and recommend to my nutrition clients.
Course Lunch, Salad
Keyword gluten free pasta salad, low calorie pasta salad, low carb, low carb recipe, paleo pasta salad, pasta, pasta salad, zucchini, zucchini noodles
Nutrition facts per serving (1serving)
Calories 275 kcal
Fat 19 g
Saturated Fat 2 g
Cholesterol 0 mg
Sodium 217 mg
Potassium 898 mg
Carbohydrates 22 g
Fiber 5 g
Sugar 11 g
Protein 5 g
Vitamin A 36.8 %
Vitamin C 132.7 %
Calcium 6.4 %
Iron 9.5 %
Custom Meal Plans
Work with Megan to develop a custom macro or standard meal plan to reach your goals.
Learn More
What I Used For The Recipe