This post contains affiliate links. As an Amazon associate I earn qualifying purchases. Click here for more about this policy.
Healthy Greek Yogurt Shrimp Salad is a low calorie, low carb, high protein salad bursting with delicious flavor. A quick lunch or dinner to meal prep for an easy meal that's ready to eat! Low Calorie + Low Carb + Gluten Free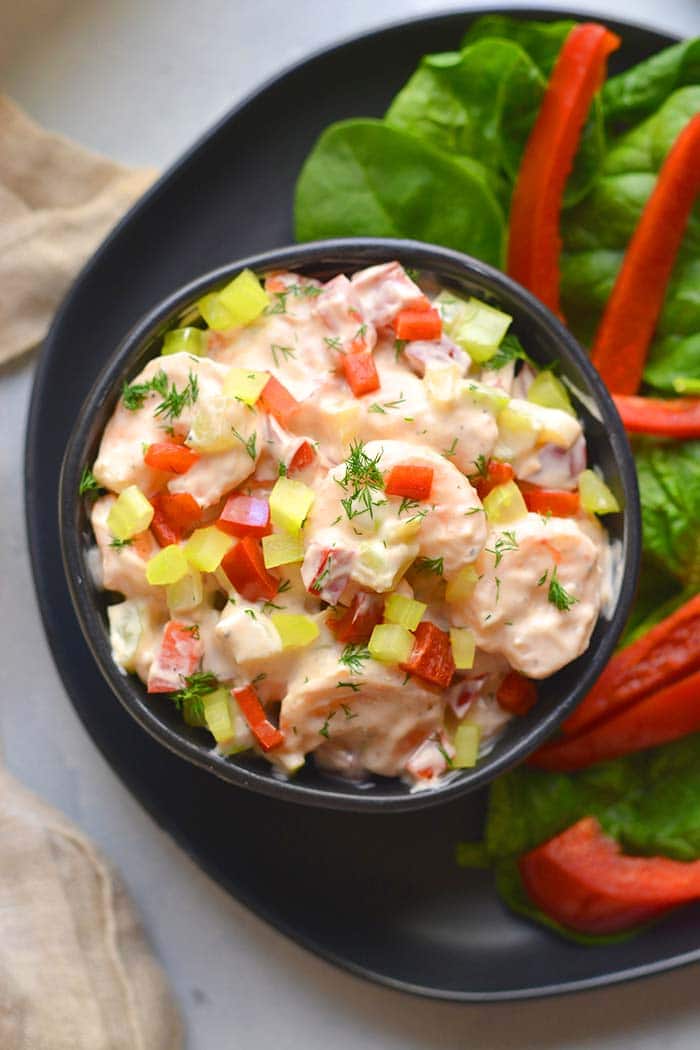 Looking to spice up your lunchtime meal? I've got the perfect solution for you today: Greek Yogurt Shrimp Salad! It's filled with protein, veggies and has a hint of spice from buffalo sauce. Tons of delicious flavor, creamy and filling. It's perfect for a quick lunch served over a bed of greens or served as an appetizer. You choose!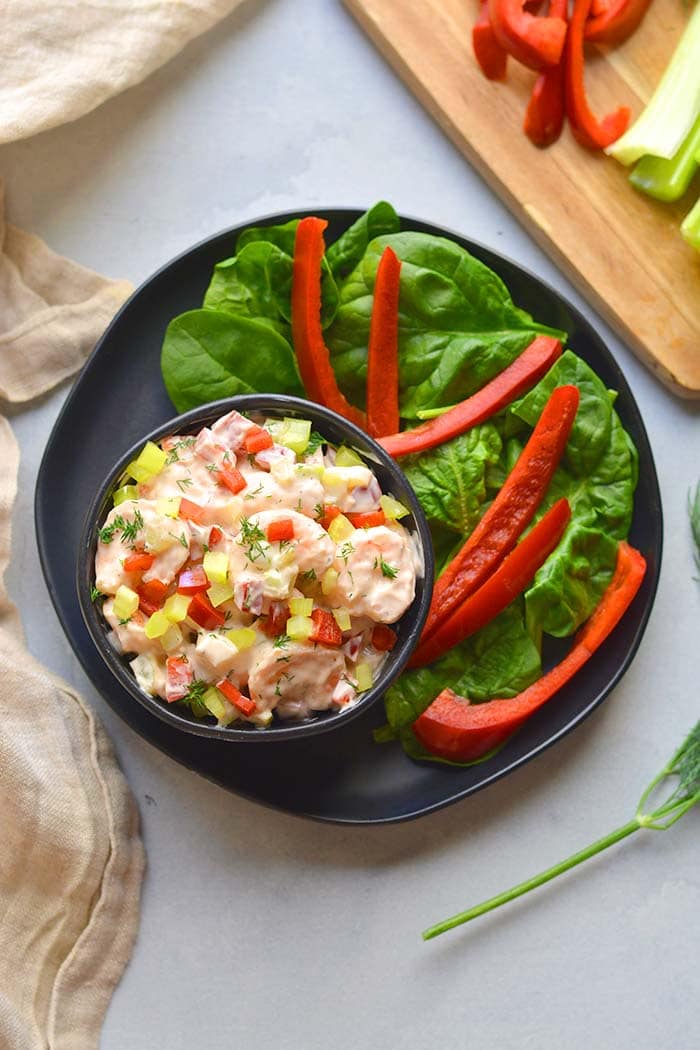 What Makes This Shrimp Salad Healthier?
I always like to share the why behind a recipe so you can learn and apply concepts from my recipes to any that you're making at home. Here's a few reasons why this shrimp salad is better for you.
Higher Protein - 30 grams of protein per serving in this recipe! That's what I recommend for females because protein is great for stabilizing blood sugar and hunger.
Low Calories - Calories are not everything when it comes to weight loss. Yes, you must have a calorie deficit to lose weight, but the quality of the food matters just as much as the numbers. This recipe has 180 calories per serving. 180 calories of this shrimp salad will have a much different impact on your metabolic hormones than a 180 calories worth of crackers. That's what hormonal weight loss is about!
Low Carb - I am neither a proponent of low carb or low fat diets, but we do want to control carbs during weight loss for women over 35 as most women are insulin resistant due to hormonal changes at this stage of life which I discuss in more detail in this podcast episode.
Gluten Free - This recipe is naturally gluten free.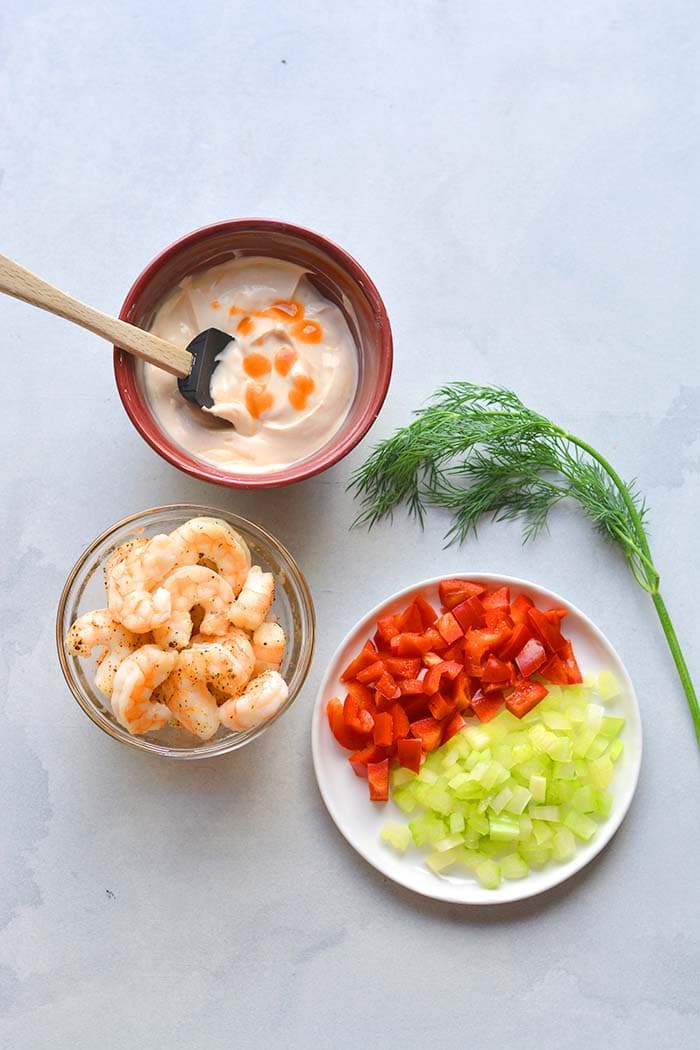 Ingredients for Greek Yogurt Shrimp Salad
Here's what you need to make your high protein shrimp salad. I also recommend having a mixing bowl and glass storage container.
Shrimp (I get mine from Sizzlefish - code SkinnyFit gets you a discount!)
Red Bell Pepper
Celery
Dill
Buffalo Sauce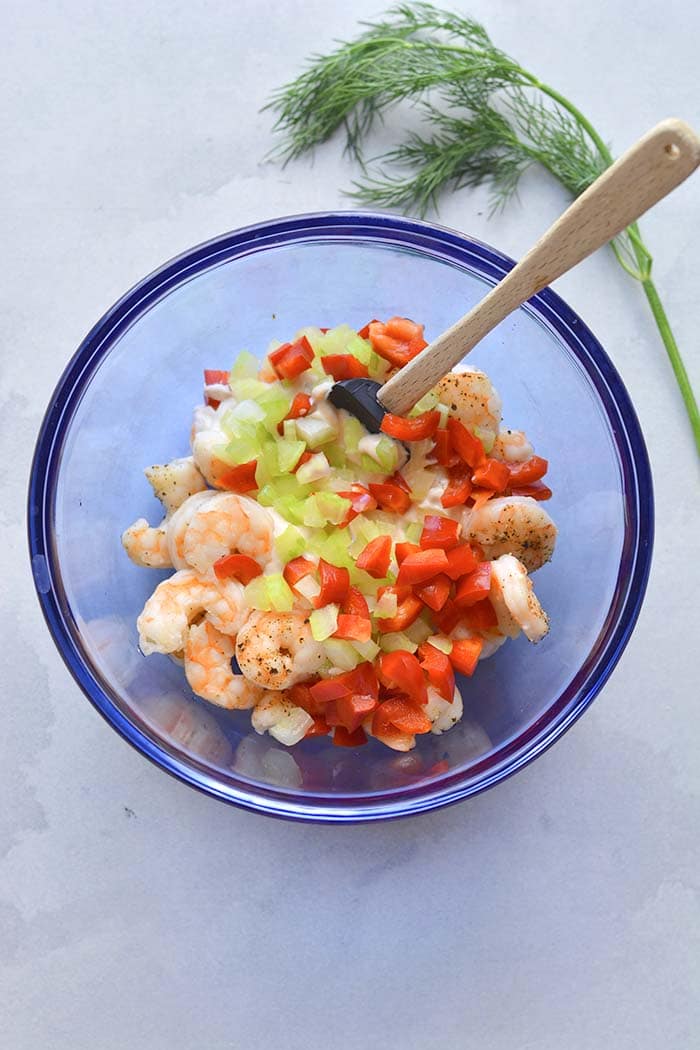 How To Make Shrimp Salad with Greek Yogurt
Here's how to make a Shrimp Salad with Greek yogurt. Hint... it's super easy and you'll want to make this over and over again for an easy meal prep that's filling and delicious!
To start, decide if you want to cook your shrimp or purchase it precooked. I personally dislike precooked shrimp. I think it tastes rubbery and tough, but if that does not bother you buying it precooked is perfectly fine.
Whether you're purchasing your shrimp precooked or raw, you will need to thaw the shrimp ahead of time. I usually stick mine in the refrigerator the night before using. Then remove the tail and devein if needed.
If you are using raw shrimp, then you will want to cook it first which is easy. Place the shrimp on a sheet pan and bake in the oven at 350 F for 10 minutes or until opaque. Remove the shrimp from the oven and cool a few minutes.
To make your low carb Greek yogurt shrimp salad, simply stir together all the ingredients in a large mixing bowl. I like dividing mine into serving sizes right away so it's no fuss and ready to eat.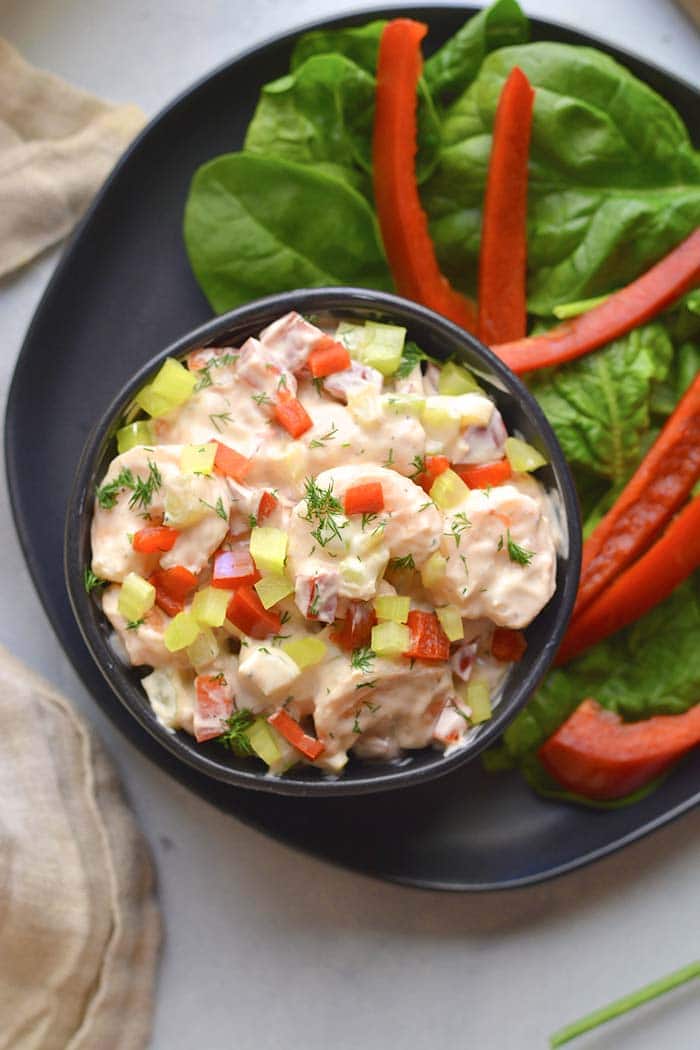 What To Serve Shrimp Salad With
I recommend eating your shrimp salad with a large bed of greens. I personally like kale or spinach, but any greens you enjoy works. This shrimp salad recipe is also delicious on it's own; however, the greens add more volume and nutrients so you'll stay fuller longer!
You could also serve this an appetizer with healthier crackers or veggie sticks. I would double or triple the recipe if you plan to do that.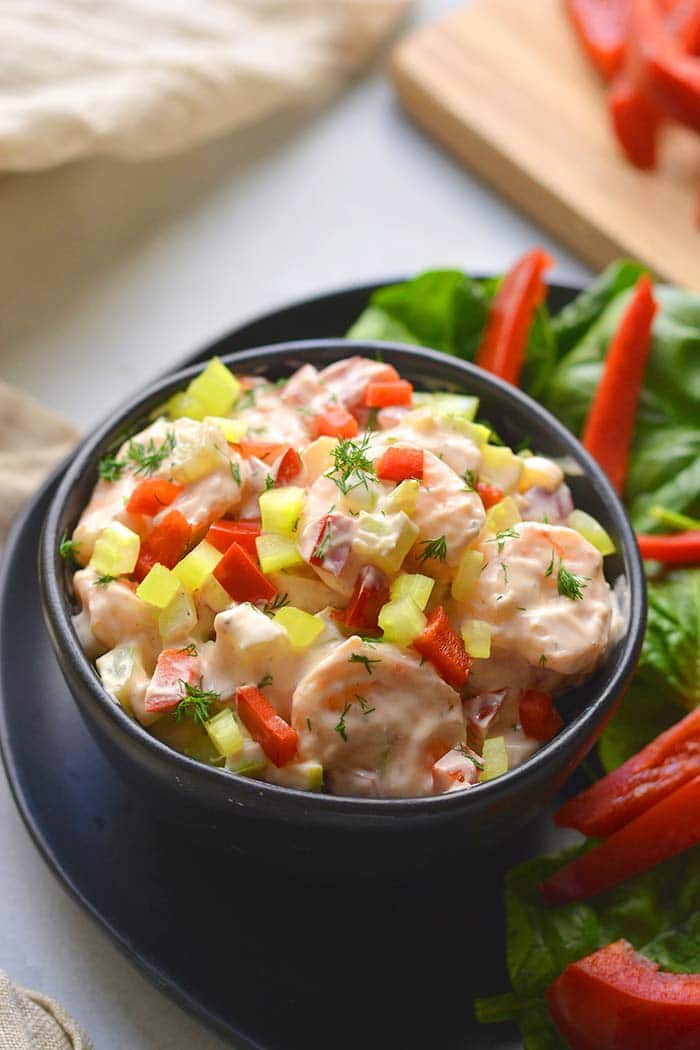 Substitutions for Healthy Greek Yogurt Shrimp Salad
Here's substitutions you can make with your Healthy Shrimp Salad. Please keep in mind that any substitutions you make, will change the nutritional values you see listed in the recipe card below.
Shrimp - Crab, canned tuna, clams, scallops or mussels can be substituted. You can substitute chicken. Here's my high protein chicken salad recipe!
Greek Yogurt - Non dairy yogurts like almond or coconut yogurt can be substituted.
Buffalo Sauce - Omit if you like.
Veggies - Any veggies can be added to this recipe. Load them up and replace them to what suites you best!
Dijon Mustard - Spicy brown mustard, yellow mustard or horseradish sauce are what I recommend as substitutes.
Dill - This can be omitted and replaced with dried parsley.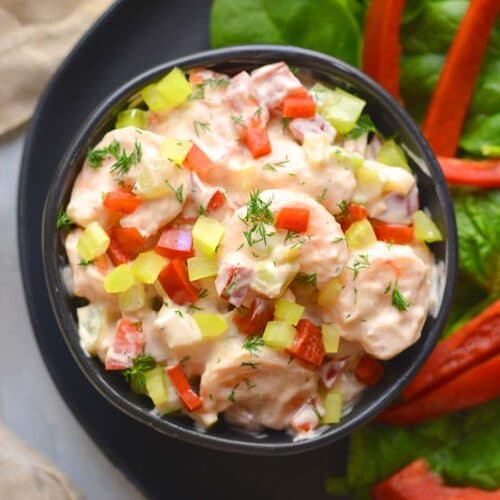 Healthy Greek Yogurt Shrimp Salad
Healthy Greek Yogurt Shrimp Salad is a low calorie, low carb, high protein salad bursting with delicious flavor. A quick lunch or dinner to meal prep for an easy meal that's ready to eat! Low Calorie + Low Carb + Gluten Free
Instructions
In a large bowl, combine the shrimp, celery, bell pepper, Greek yogurt, Dijon mustard, buffalo sauce and dill. Stir to combine and serve over a large bed of greens!

If you prefer cooking raw shrimp instead of purchasing it pre-cooked, place in the oven at 350 F on a sheet pan for 10 minutes or until opaque.

Remove, cool and mix with the ingredients. You can also purchase pre-cooked shrimp.
Nutrition
Serving: 1servingCalories: 180kcalCarbohydrates: 8gProtein: 30gFat: 3gSaturated Fat: 1gTrans Fat: 1gCholesterol: 288mgSodium: 1263mgPotassium: 440mgFiber: 3gSugar: 5gVitamin A: 2118IUVitamin C: 83mgCalcium: 253mgIron: 3mg