Dieting inside out! Hear my weight loss client Katie's phenomenal weight loss journey and why doing the outer work to lose weight doesn't work without the inner work.
Katie struggled on the inside with her mindset and self acceptance. This resulted in her struggling with food and her weight for decades.
Katie dieted since she was a teenager. She did all the diets! Losing weight and always gaining it back.
Elaine, Katie's Mom, was a weight loss coaching client of mine. After seeing her mother's incredible transformation, Katie decided to take the plunge and sign up for weight loss coaching too.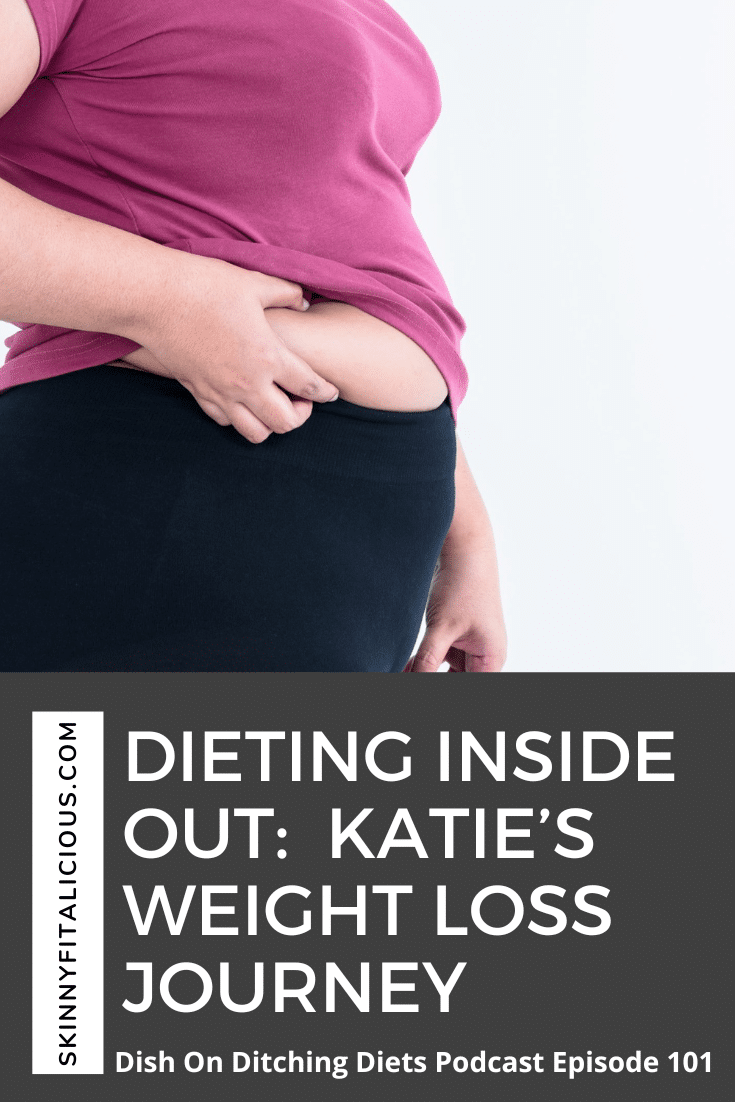 During weight loss coaching, Katie realized she was always manipulating food through different diets thinking it would fix her, but it was never a lasting change.
She discusses in this Dish On Ditching Diets podcast episode, what changed in her mindset during coaching to create a sustainable lifestyle she can do until she's 85 years old.
Katie candidly speaks of her struggles during coaching. How doing something as simple as a 10-minute daily walk took her months to master, what she did to finally master it and her self discovery to recognizing she needed to do things for HERSELF not other people.
She shares the freedom she now has around food and most importantly, her mind.
Before weight loss coaching Katie was constantly battling her mind and hiding in her home because of her weight.
Although Katie has not lost all her weight (she has a ways to go still!), she now has a new career as a high school sex educator that she never imagined doing before.
Katie's life has truly changed as a result of coaching. Her story is a testament that losing weight does not change your life. Your mindset changes your life!
Exactly why doing the outer work to lose weight doesn't work without the inner work! I hope you enjoy Katie's story. Hear it all in the podcast.
In this Dish On Ditching Diets Podcast Episode, You Will Hear:
Katie's Realization That Manipulating Food Did Not Equal Self Love
Katie's Diet History - She's Been Dieting Forever!
How Katie Started Coaching - Her Mother Elaine Was A Client Too!
Why Katie Says You Need To Diet Inside Out
How Katie Went From Hiding In Her House To Becoming A HS Sex Educator
What Katie Did In Coaching To Gain Freedom & Self Love
Katie's Advice To Other Women Over 35 Struggling To Lose Weight
Never Miss An Episode! Subscribe to the Dish On Ditching Diets Podcast on Apple, Google Play, Stitcher, Spotify or Amazon Music
Related Dish On Ditching Diets Podcast Episodes