This post contains affiliate links. As an Amazon associate I earn qualifying purchases. Click here for more about this policy.
No more wondering what's for dinner! Make these Healthy 30 Minute Week Night Meals part of your meal planning. They make healthy eating EASY and delicious. See the tips below for prepping in advance so all you have to do is come home, cook and eat!
For those who are new, keep in mind that I don't eat red meat so my meals consist of chicken, turkey and fish. If you are a meat eater, I have nothing against you. Feel free to make swaps where appropriate. If you're unsure, leave a comment and let me know. Now let's eat!
10 Minute Skinny Orange Chicken
A light version of a takeout favorite, this take on orange chicken is one you can feel good about eating with its wholesome ingredients. The best part is it takes 10 minutes to make. That's less time than it takes to get take-out!
Prep Tip: Chop the chicken and prep the marinade the night before so all you have to do is cook!
[AdSense-A]
This turkey spaghetti zoodles is a Paleo twist on traditional spaghetti and noodles that's low carb, tremendously filling and takes less than 20 minutes. My most frequent go-to meal!
Prep Tip: Spiralize the noodles the night before. They stay perfectly fresh overnight.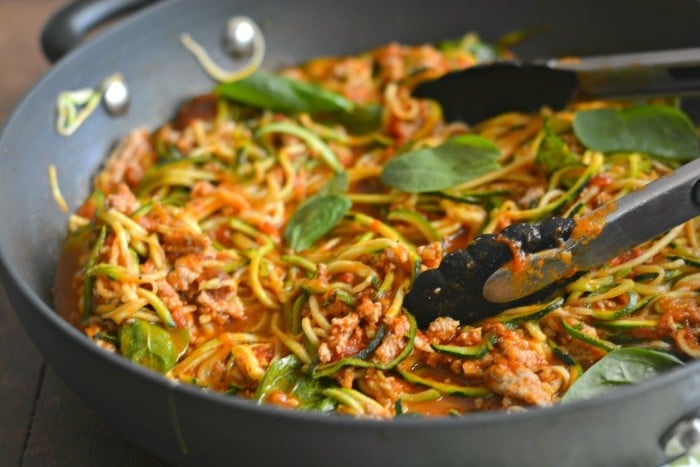 When it comes to saving time in the kitchen, crockpots are the answer! These crockpot chicken taco bowls are packed with so much flavor from the spices mingling in the crockpot for hours while you're away. Making take-out at home never was so easy or delicious!
Prep Tip: Slice the peppers and clean the chicken the night before then the next morning toss everything in the crockpot to do the cooking for you.
No chicken ever tasted better than this roasted Greek Yogurt Paprika Chicken with lemon and cilantro. It makes the perfect week night meal that's high protein and pairs well with any vegetable or starch.
Prep Tip: Marinate the chicken the night before or over the weekend and all you have to do is toss in the oven to roast for dinner. Easy peasy!
This Lemon Herb Salmon Zucchini is a quick one pan meal packed with tons of protein and flavor that's also low carb, low calorie and Paleo. An easy weeknight dinner that goes from oven to plate in 30 minutes and takes very little prep!
Prep Tip: Take the fish out of the freezer the night before and prepare the marinade. Spiralize the squash the night before too so all you have to do is toss in the baking dish and click bake! 
Spice up boring chicken with a mouthwatering Jalapeño Lime Chicken that's big on flavor and takes 15 minutes to grill. Not a fan of spice? No problem! Adjust the spices to your liking and it will turn out equally delicious!
Prep Tip: Marinade the chicken the night before so it's ready for the grill when you want dinner, and it will make the chicken extra flavorful too!
[AdSense-A]
Who could resist chicken served on spiralized squash with a homemade, creamy walnut pesto you could eat by the spoonful? This Walnut Pesto Chicken is a healthy, Whole 30 approved meal that comes together in under 30 minutes. Looks like it should take longer, but it really doesn't!
Prep Tip: Prepare the pesto and spiralize the squash the night before. Also, be sure to clean and thaw the chicken. Then all you do is cook!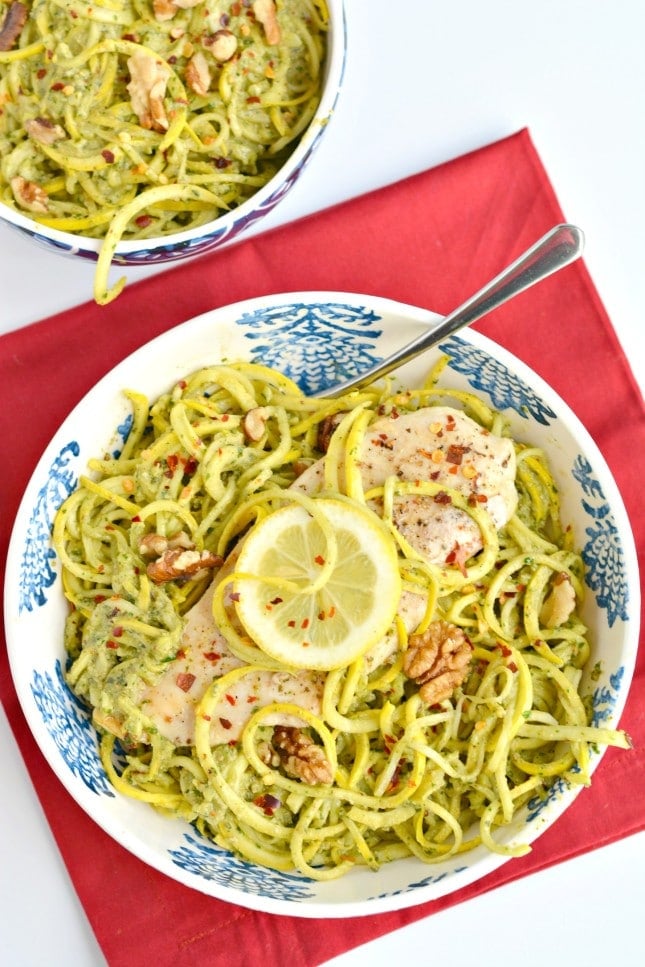 This Asian inspired dish tastes better than your take-out favorite only for less calories, less sodium and less fat. A healthy Paleo stir-fry meal in under 20 minutes!
Prep Tip: Make this meal ready to make by cleaning the shrimp and chop the broccoli over the weekend or night before you plan to make the stir fry.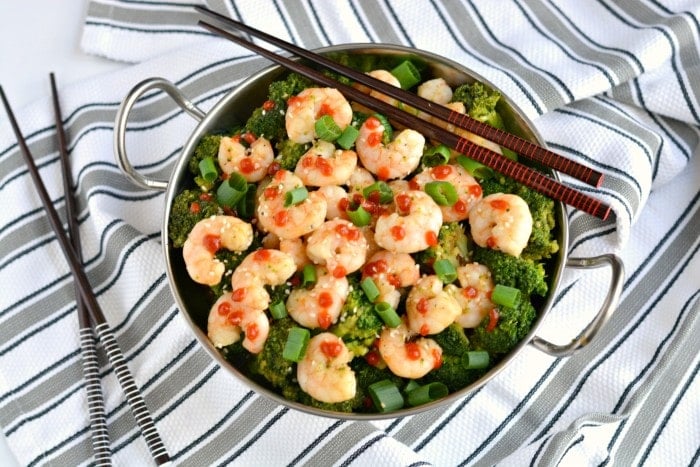 This tortilla-less chicken enchilada bake has a rainbow of freshly chopped vegetables and an irresistible homemade enchilada sauce. Perfect for serving over lettuce or rice!
Prep Tip: Chop the veggies and chicken over the weekend and made the 10 minute enchilada sauce. Layer everything in a baking dish, cover and place in the refrigerator 3-4 days. Then all you do is bake!
If you need a comforting and EASY weeknight meal, look no further. This One Pan Baked Salmon Asparagus & Sweet Potato is perfectly baked in 30 minutes on a single pan for EASY cleanup and makes one filling meal!
Prep Tip: Chop the veggies the night before and thaw the salmon. The next day all that's left to do is assemble on a baking sheet and bake!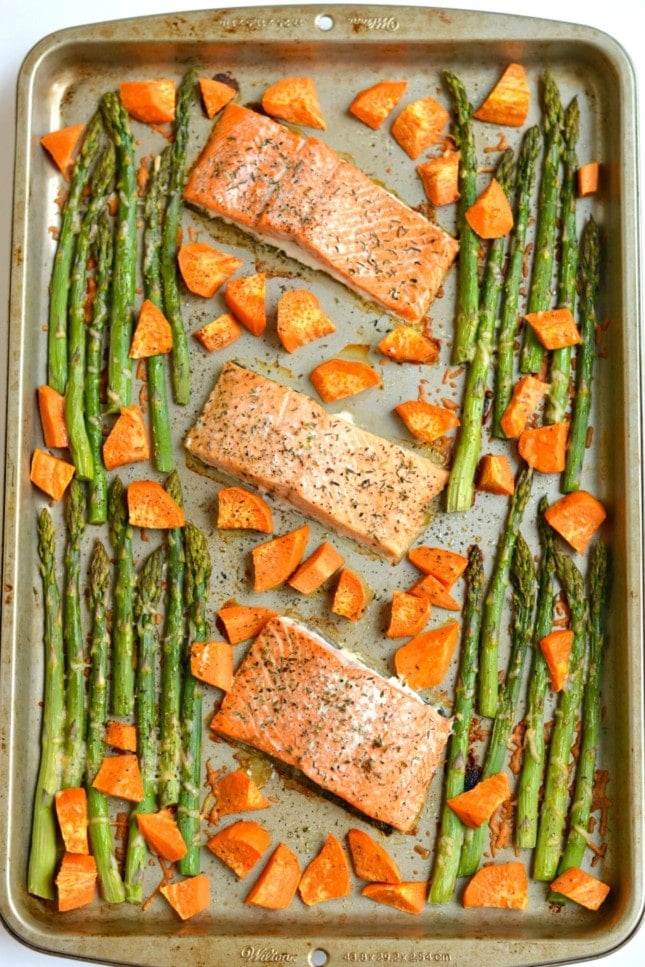 My most pinned recipe! This crockpot Italian chicken and peppers turns simple ingredients into a flavorful pizza-tasting meal that's nourishing. Serve over lettuce, zoodles, rice or pasta for a complete meal.
Prep Tip: Chop the bell peppers the night before and thaw chicken as necessary. Note, you can also buy frozen bell peppers at Trader Joes. Life changing! The next morning toss everything in your crockpot and forget about it until dinner!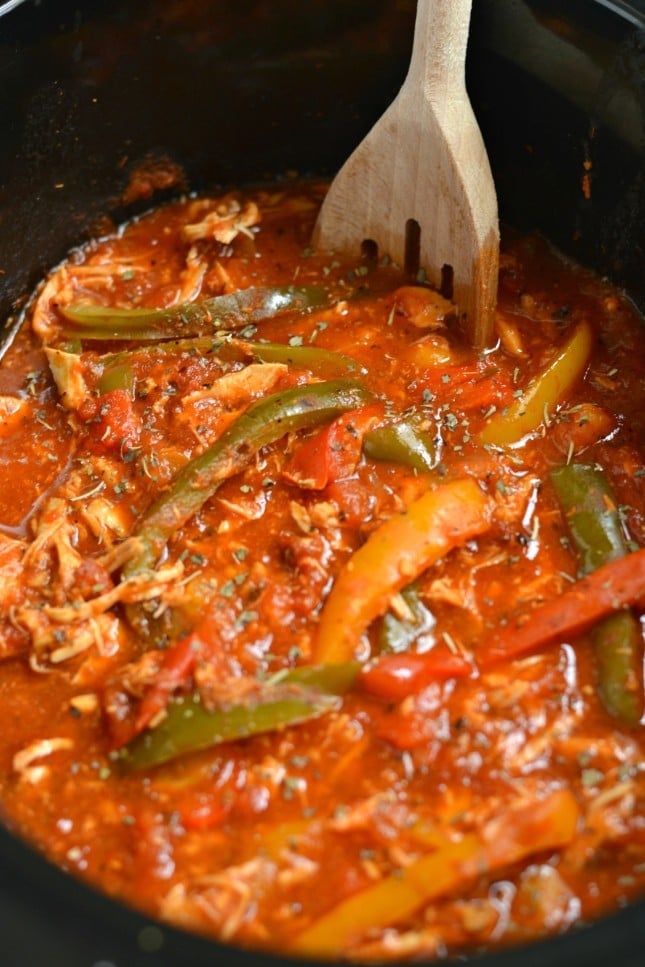 What's your biggest challenge with weeknight meals?
[Tweet "Make dinner easy with these #Healthy 30 Minute Week Night Meals! #food"]