Almost too pretty to eat, this nutritious banana & dairy-free Kale Strawberry Pineapple Smoothie doesn't even taste healthy! Gluten Free + Low Calorie + Vegan
I have something delicious to share with you to kick off your Monday! But before we get to this mysteriously delicious recipe let's catch up a bit. Today marks week two of tibia healing. Many of you have asked about the car accident and my tibia fracture.
I'm so grateful for your heartfelt comments. I've been trying to pretend this isn't happening to me and I guess I need to crawl out of my hole and accept this is happening. I have to say I was stunned beyond belief when the doctor called after the emergency MRI to say I had a fracture. Not a stress fracture, a real fracture.
Thankfully it was a clean break that didn't require surgery, but still it's a very real hole-in-the-bone fracture. I could not believe it. What made it worst was when she told me about the recovery. I can't put weight on it for 2-3 months.
I'm in a knee brace & on crutches until they check me in 4 weeks then maybe I might be able to begin some weight bearing at that time, but only time will tell. I'm not supposed to drive very far either which is why my Mom is now here. The research I've done says 6-12 month full recovery for this type of break. I can't even wrap my brain around that right now.
They put me in a knee brace right away, but fitting the brace to my body was a circus. It took two people and more than an hour to sort of get it on me. They were all up in my skirt trying to get it on. It just wouldn't fit right on my leg and every time I stood up it fell down.
It went from my groin to my ankle. After 24 hours of wearing it, my weak femur and hip were in excruciating pain. I knew I couldn't wear it any longer and wasn't about to compromise other parts of my body for it. After going through months of therapy earlier this year to break down built up scar tissue in my femur & hip from being immobilized from my injuries last year, I wasn't about to put myself through that pain again.
I called my doctor. She insisted I had to wear the monster but said I could come in Monday morning to see if they could make a custom brace for me that would be shorter and lighter. She suspected I was too small for the other one (BTW it still weirds me out when people say I'm small). I asked her what type of brace I needed so I could research online.
Two clicks later and I found this one on Amazon for $80 (the other was $1000). Thanks to Amazon Prime I had it the next day. I started wearing it right away. It's extremely light & much more comfortable. Monday morning I had my doctor check it out. She said it was what I needed, showed me how to adjust it and I was on my happy way.
Now I look like a freak wearing a boot on my left foot for a plantar fascia tear, a brace on my right knee and crutches. My foot doctor told me I could stop wearing the boot because my tibia was the priority, but the truth is the tibia doesn't hurt me at all.
The inflammation is under control with the meds they gave me (although those make me sleep all day), but holly cow the tear in my foot is the most painful thing ever! It's very angry and being on crutches isn't helping.
I'm trying to stay off my feet as much as possible. I've been told to swim and strength training to keep my legs and body strong. It's going to be a long road of recovery, but right now my only focus is my health. Nothing else.
I can't stress enough to you to be your own health advocate and stand up to doctors when you know something isn't right for your body. Not everything is textbook and drugs. Find what works for you and if one doctor doesn't listen, find one who does and do not give up until you get what you need!
Speaking of what you need, you NEED this smoothie. Not only is it pretty, it's packed with sneaky healthy ingredients. I made one for Mom and she asked "what's in this? it's really good!" My response was kale, strawberries, pineapple & applesauce. I know it sounds weird, but trust me!
Sometimes the most unexpected things go best together. P.S. if you make it, be sure to tag me on Instagram. Anyone who does, I'll do a roundup of your pics with a link back to your blog. Enjoy!
Receive a Sugar Free Meal Plan
When you join the Skinny Fitalicious Email List
Kale Strawberry Pineapple Smoothie
Almost too pretty to eat, this nutritious banana & dairy-free Kale Strawberry Pineapple Smoothie doesn't even taste healthy!
Prep Time 10 minutes
Total Time 10 minutes
Servings 1 smoothie
Calories 165 kcal
Instructions
In a blender or food processor, combine strawberries, almond milk & 1/2 cup ice then process until smooth. Pour into a glass.

Rinse out your blender or food processor then add kale, pineapple, sweetener and applesauce. Blend until smooth then top your glass with the green smoothie.

Course Smoothie
Keyword dairy free, gluten free smoothie, kale, low calorie drinks, pineapple, strawberry, vegan recipe, vegan smoothie
Nutrition facts per serving (1smoothie)
Calories 165 kcal
Fat 2 g
Saturated Fat 0 g
Cholesterol 0 mg
Sodium 191 mg
Potassium 619 mg
Carbohydrates 36 g
Fiber 4 g
Sugar 23 g
Protein 4 g
Vitamin A 133.9 %
Vitamin C 198 %
Calcium 27.3 %
Iron 10 %
Custom Meal Plans
Work with Megan to develop a custom macro or standard meal plan to reach your goals.
Learn More
What I Used For The Recipe
   
More Smoothie Inspiration?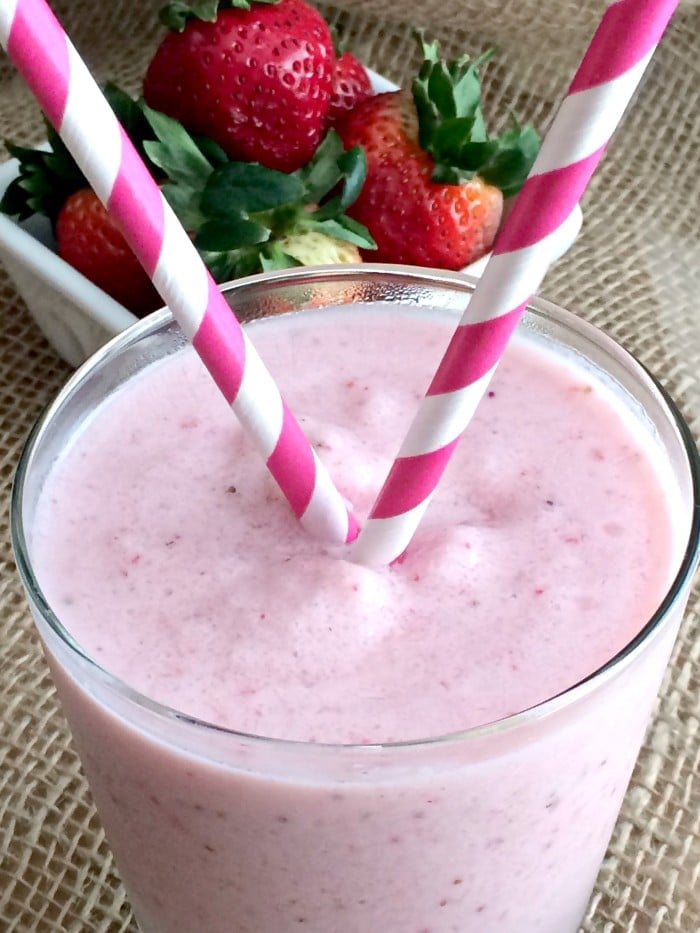 Citrus Pineapple Melon Smoothie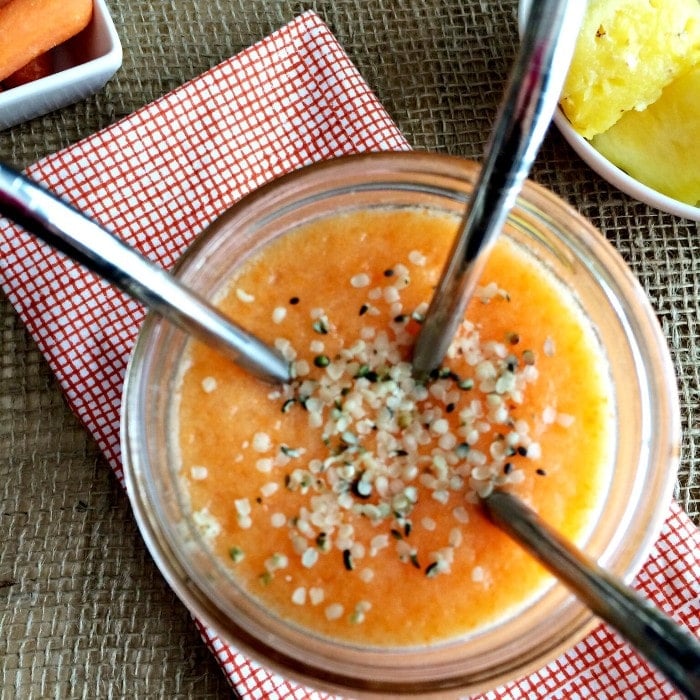 Strawberry Mango Tango Smoothie