This post contains affiliate links. As an Amazon associate I earn qualifying purchases. Click here for more about this policy.
Vegan Kale Strawberry Pineapple Smoothie! A healthy layered smoothie made banana free, dairy free and naturally sweetened with stevia and applesauce. Almost too pretty to eat! Gluten Free + Low Calorie + Vegan + Paleo
This Kale Strawberry Pineapple Smoothie was originally published August 2015. I've retested and re-photographed the recipe. It's a goodie! 
People drink smoothies for a variety of reasons. Some for convenience and some for their sweet tooth. After all, it IS a deliciously sweet treat!
Instead of drinking a smoothie for convenience or for your sugar craving, let's think about drinking a smoothie for a change for it's healing anti-inflammatory powers. Ah did I say healing? YES friends! Smoothies made with antioxidant rich fruits are healing. Think of it as food with super power!
Click here to pin this recipe!
Antioxidant rich fruits protect your body from disease development and help to reduce inflammation. The more colors the more variety of antioxidants and protection you get. That's why they say eat the rainbow! Are you cool with that?
I hope you are! Food really is healing and your body will love you more when you feed it good things.
Kale Strawberry Pineapple Smoothie
This smoothie is one you need friends. A mighty powerful one too! Not only is it pretty with it's colorful layers, it's packed with antioxidants from the berries and pineapple.
I made one for Mom and she asked "what's in this? it's really good!" My response was kale, strawberries, pineapple & applesauce. I know it sounds strange, but trust me. It's good!
It's a creamy blend of the perfect sweet flavors. No added sugars, real INGREDIENTS (free of dairy, and bananas), and naturally sweetened with applesauce and stevia. Plus this is one of the thickest fruit plant smoothies I've ever had. Ahhh so so perfect for those on a gluten free diet.
Sometimes the most unexpected things go together and this is one combination you MUST try!
What You Need
Strawberries
Almond Milk
Pineapple
Kale
Applesauce
Stevia
Ice Cubes
Helpful Tips
For this recipe, I recommend using fresh strawberries instead of frozen. Why? The fresh berries give the smoothie it's vibrant color! Frozen berries DO work, but just know the color will be a few shades lighter. You will not need to add ice cubes if using frozen berries. They should have enough water on their own!
I definitely recommend a high-speed blender like this one to make this recipe. It will blend the kale nice and smooth. There's nothing worst than a big chunk of kale getting stuck in your straw! It's also a great thickener to the pineapple in the top layer of the smoothie. So good!
No more tips friends! Let's get blending andgGive this kale strawberry pineapple smoothie a whirl shall we?
More Smoothies To Try!
Strawberry Greek Yogurt Smoothie
Blueberry Protein Zucchini Smoothie
Chocolate Mocha Protein Smoothie
Cantaloupe Mint Citrus Smoothie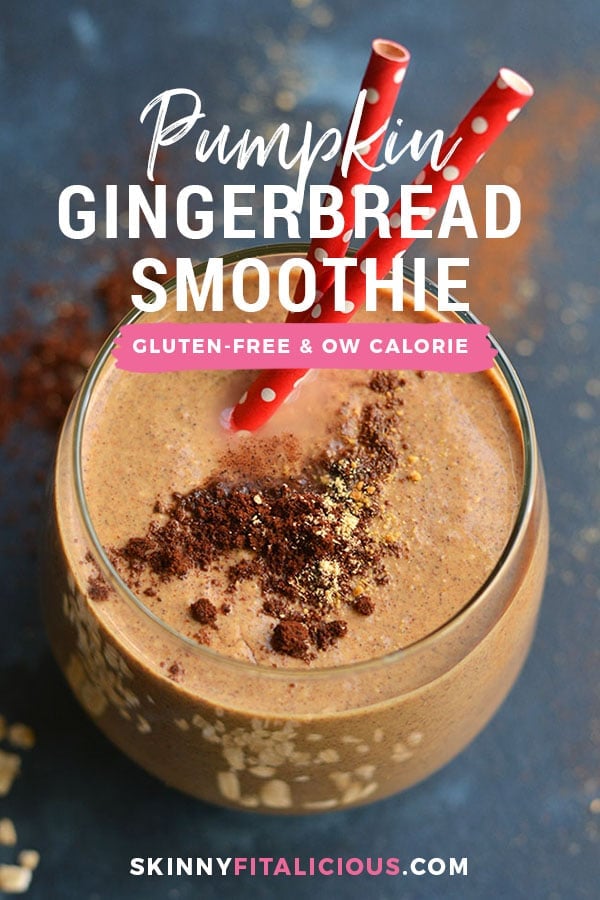 Click here to pin this recipe!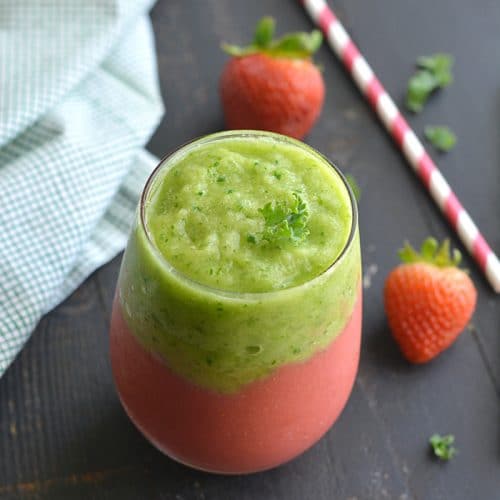 Kale Strawberry Pineapple Smoothie
Almost too pretty to eat, this nutritious banana and dairy-free Kale Strawberry Pineapple Smoothie doesn't even taste healthy!
Ingredients
For the Pineapple Kale Layer
1 cup kale chopped ,ribs & stems removed
2/3 cup pineapple chopped, frozen
1/2 cup unsweetened applesauce
2 ice cubes
Instructions
In a high-speed blender, combine strawberries, almond milk and ice cubes then process until smooth. Pour into a glass. Place in the freezer while you prepare the next layer.

Rinse out your blender with water then add kale, pineapple, applesauce and ice cubes. Blend until smooth then top the glass with the kale pineapple layer.


Serve immediately!
Nutrition
Serving: 1smoothieCalories: 180kcalCarbohydrates: 40gProtein: 5gFat: 3gSaturated Fat: 1gSodium: 195mgPotassium: 649mgFiber: 5gSugar: 26gVitamin A: 6760IUVitamin C: 176.6mgCalcium: 276mgIron: 1.9mg
What I Used For The Recipe