Carrot Cake Protein Smoothie! A high protein breakfast or snack that tastes like carrot cake with minimal ingredients and tons of flavor! Low Calorie + Gluten Free
If you're looking for an easy high protein breakfast with a spring-y feel, you've come to the right place today!
Personally I'm not a huge fan of smoothies because I'd rather eat my calories than drink them.
That's just me, but not everyone is the same and sometimes you just want something that's easy to throw together in a blender to satisfy you for a quick meal.
Carrot Cake Protein Smoothie
This yummy protein smoothie is not only higher in protein, but it tastes like carrot cake. Now you can have your cake without all the calories!
The best part it's simple, egg free and easy way to satisfy a craving for a snack or as a meal replacement.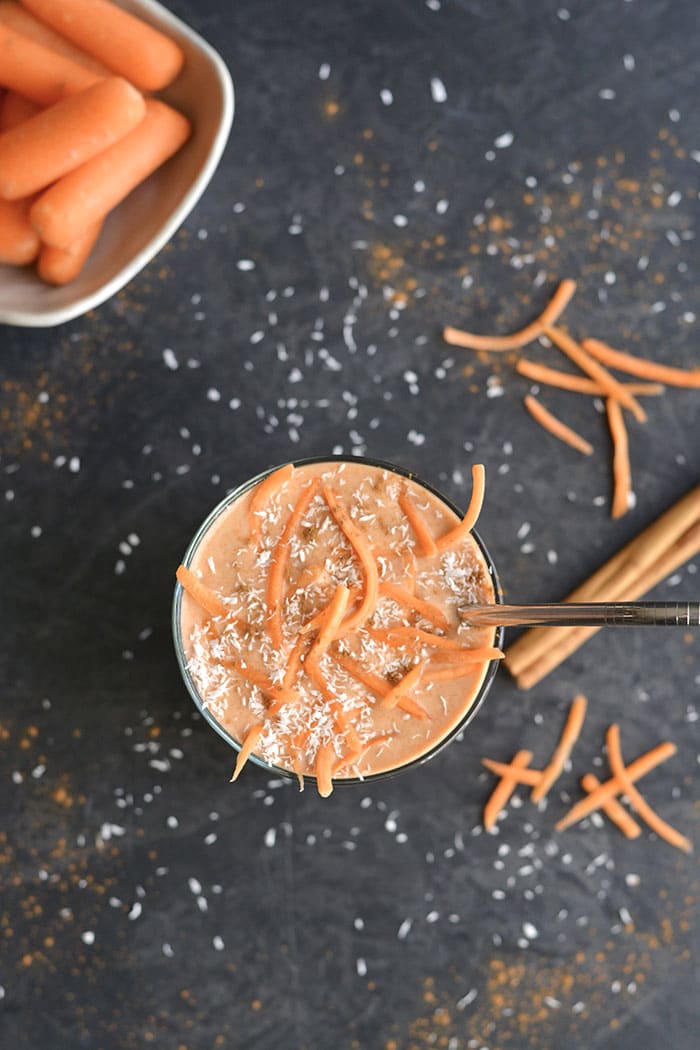 What You Need
Vanilla Protein Powder
Carrots
Unsweetened Cashew Milk or milk of choice
Cinnamon
Vanilla Extract
Stevia
Coconut Flakes
Ice
What kind of protein powder to use for smoothies?
You can use any vanilla protein powder in a smoothie recipe, but make sure it's one you enjoy drinking on its own.
I personally do not use protein powders with whey protein as they do not agree with me, but if they work for you then you can use them!
My favorite brands for protein powders are Garden of Life, Orgain, Vega Protein & Greens and Nutiva Hemp Protein.
What to substitute for protein powder in smoothies?
Greek yogurt, dairy free yogurts like almond or coconut, cottage cheese or collagen peptides can be substituted for protein powders. I actually love Greek yogurt and collagen peptides when I'm out of protein powder.
If none of these options are things you like, then consider that a smoothie isn't for you. A smoothie should always be balanced with protein and many women I work with confuse protein and fat.
They add nuts and seeds or nut butters to their smoothies thinking it's protein. It's not. Nuts, seeds and nut butters are fats.
While these things do have a small amount of protein, they primarily consist of fat. If you're having a smoothie, you either need to add protein to the smoothie or eat protein on the side to control the blood sugar response.
Being smart about how you make your smoothie is key!
Carrot Cake Protein Smoothie
Carrot Cake Protein Smoothie! A high protein breakfast or snack that tastes like carrot cake with minimal ingredients and tons of flavor!
Prep Time 10 minutes
Total Time 10 minutes
Servings 1 smoothie
Calories 199 kcal
Instructions
Place all ingredients in a blender. Blend until smooth and creamy.

Pour into a glass and enjoy!
Course Breakfast, Snack
Cuisine American
Keyword breakfast, carrot, carrot cake, egg free, gluten free, high protein, low calorie, protein, smoothie
Nutrition facts per serving (1smoothie)
Calories 199 kcal
Fat 4 g
Saturated Fat 1 g
Cholesterol 74 mg
Sodium 309 mg
Potassium 352 mg
Carbohydrates 16 g
Fiber 2 g
Sugar 5 g
Protein 24 g
Vitamin A 10692 %
Vitamin C 4 %
Calcium 219 %
Iron 1 %
Meal Plans
Get a meal plan designed to meet your weight loss goals.
Learn More
What I Used For The Recipe