A tasty PB&J Superfood Smoothie made with acai, protein powder, fruit, nut butter, Greek yogurt & more! A vitamin & mineral packed breakfast or snack, resembling a favorite childhood sandwich. Gluten Free + Low Calorie!
Confession time. This is only the third smoothie bowl I've ever made. Gasp! Number one was last summer and number two last fall. I guess you could say I'm a newbie when it comes to smoothie bowls. In fact, I'm not usually a smoothie lover because I'm always so cold, but once summer rolls around with its triple digit heat I'm like give me all the SMOOTHIES!
You see for years after losing 80 pounds, I was scared to venture outside of the foods I was comfortable eating. So I kept eating the same foods the same way, every day until well, one day I became a food blogger and that all went out the door! Becoming a food blogger and freelance food photographer, has definitely forced me out of my food bubble. Summer also has a way of getting me out of food rut.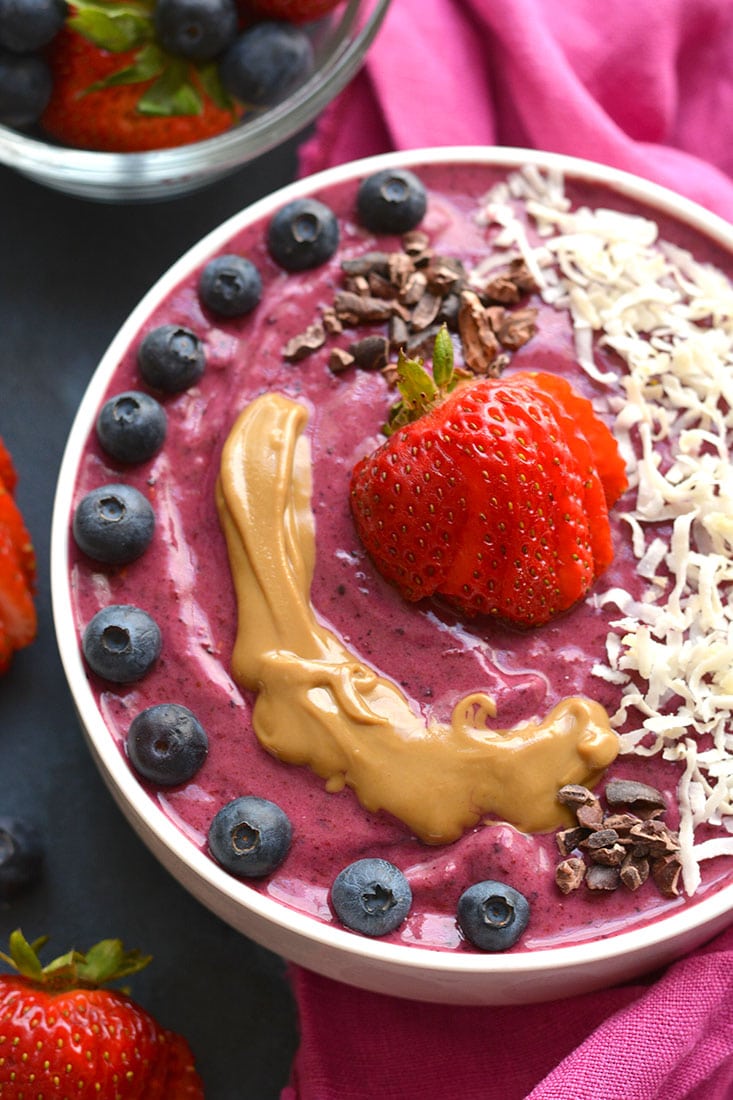 Because once the heat cranks up, all I crave are fresh salads, veggies and a whole lot of fruit. But this fruit…oh yes! This fruity, berrilicious smoothie bowl comes in the form of a tasty, creamy, satisfying PB&J Superfood Smoothie Bowl.
How exactly do you make a smoothie bowl PB&J style? Glad you asked! Mix berries (the jelly) with a little nut butter (the peanut butter) and you've got a smoothie version of a PB&J sandwich.
But this isn't just any PB&J smoothie. This one is thickened with Greek yogurt and Bob's Red Mill Nutritional Booster, a plant-based protein with 20 grams of protein. I've been using this protein powder for a year. I love adding it to my smoothies because it makes them extra thick. Perfect for getting just the right consistency for a smoothie bowl. Because no one wants to eat a runny smoothie bowl now, do they?
Bob's Red Mill Nutritional Booster is high in protein and fiber. Fiber is so important for weight loss and good health, but often forgotten about in the land of calorie counting and macronutrients. It also contains probiotics and pre-biotic fiber which can increase gut health and immunity.
Oh wait, it's gets better though! I added spinach because well greens are a must and you gotta sneak them in where you can. Trust me, you won't even know it's there. I swear! Then I also snuck in some acai powder which is high in antioxidants making this a real superfood smoothie.
Now, I'm willing to bet you can't make a sandwich as good or as pretty as this? So grab your spoon and your Bob's Red Mill Nutritional Booster and lets cheers spoons together!
Don't have nutritional booster? No worries! Grab a coupon here!
3 Smart Strategies To Stop Cravings
PB&J Superfood Smoothie
A tasty PB&J Superfood Smoothie made with acai, protein powder, fruit, nut butter, Greek yogurt and more! A higher protein vitamin and mineral packed breakfast or snack, resembling a favorite childhood sandwich. Gluten Free + Low Calorie!
Prep Time 5 minutes
Total Time 5 minutes
Servings 2 bowls
Calories 229 kcal
Instructions
Place all ingredients for the smoothie in a food processor or

blender

. Blend on high a few minutes then scrape down the sides and blend again until smooth.

Transfer to a bowl, top with optional toppings and devour!
Recipe Notes
Nutritional information does not include optional toppings.
Ingredients for the smoothie can be frozen in a ziplock bag and blended when ready to eat.
Recipe makes a lot. One really large smoothie bowl, or a smaller bowl.
My Amazon shop has more products similar to those used for this recipe and that I recommend to my nutrition clients.
Course Breakfast, Drink, Smoothie
Cuisine American
Keyword acai, breakast, gluten free, healthy, high protein, low calorie, protein powder, smoothie, smoothie bowl, vegetarian
Nutrition facts per serving (1smoothie)
Calories 229 kcal
Fat 12.2 g
Saturated Fat 0.6 g
Cholesterol 2.5 mg
Sodium 161.9 mg
Potassium 0 mg
Carbohydrates 27.3 g
Fiber 10.7 g
Sugar 11.9 g
Protein 20.1 g
Vitamin A 0 %
Vitamin C 0 %
Calcium 0 %
Iron 0 %
Custom Meal Plans
Work with Megan to develop a custom macro or standard meal plan to reach your goals.
Learn More
What I Used For The Recipe
I was selected for this opportunity as a member of CLEVER and the content and opinions expressed here are all my own.