Healthy Kale Sausage Pepper Soup! An easy 30 minute one-pot meal with nourishing vegetables, beans and chicken sausage. High in fiber and protein. Gluten Free + Low Calorie
My secret weapon for combating cold weather? Soups! It can be tough during the cooler months to eat healthy foods with enough veggies and fiber. Something all my clients struggle with.
The trick to to this is to cooking seasonally. That means cooking in away that gives your body the nourishment it needs. Switching from cold salads and to warm, nourishing soups. And as you know, I like to keep it simple even when it comes to soup.
Healthy Kale Sausage Pepper Soup with Beans
This healthy soup is hearty, filling and balanced in nutrition. Made with chicken sausage, veggies and beans for a lighter soup recipe. Simple ingredients that are guaranteed delicious and to keep you full!
This soup recipe comes together in under 30 minutes making it perfect for a quick weeknight meal or easy meal prep. It's a great for freezing and saving for a day when you don't feel like cooking.
What You Need
Red Bell Pepper
Kale de-stemmed
Chicken Broth
White Onion
Garlic
Paprika, Parsley
Salt and Pepper
How To Make Healthy Sausage and Bean Soup
It's so easy I know you're gonna love this for a quick meal! Start by adding a little cooking spray to the bottom of a pot and bringing to medium heat. Then add bell pepper, onion and garlic. Sauté several minutes until soft. Note, I choose to use cooking spray instead of oil to sauté the veggies to keep the recipe nutritionally balanced as the sausage already has enough fat in it.
One the veggies are soft, add the chicken sausage, chicken broth, kale, paprika, parsley, salt and pepper to the pot and bring to a strong simmer. Reduce to low, cover and simmer on low for 20 minutes. Stir the beans in with the other ingredients and warm another 5 minutes before serving.
Can You Freeze Your Kale Sausage Pepper Soup
Yes! There's two ways to make this a freezable meal. One way is freezing before making it. Add kale, onions, garlic, bell pepper and chicken sausage to a stasher bag and store in the freezer until ready to cook. Then follow the method in the instructions to warm and add the spices, beans and broth.
The second way to make this a freezable meal is to freeze after it is cooked. Simple store it in the freezer and when you're ready to eat, thaw and warm on the stove or in a microwave. This recipes makes a lot. I generally freeze half of it for a rainy day. It makes an easy, quick meal.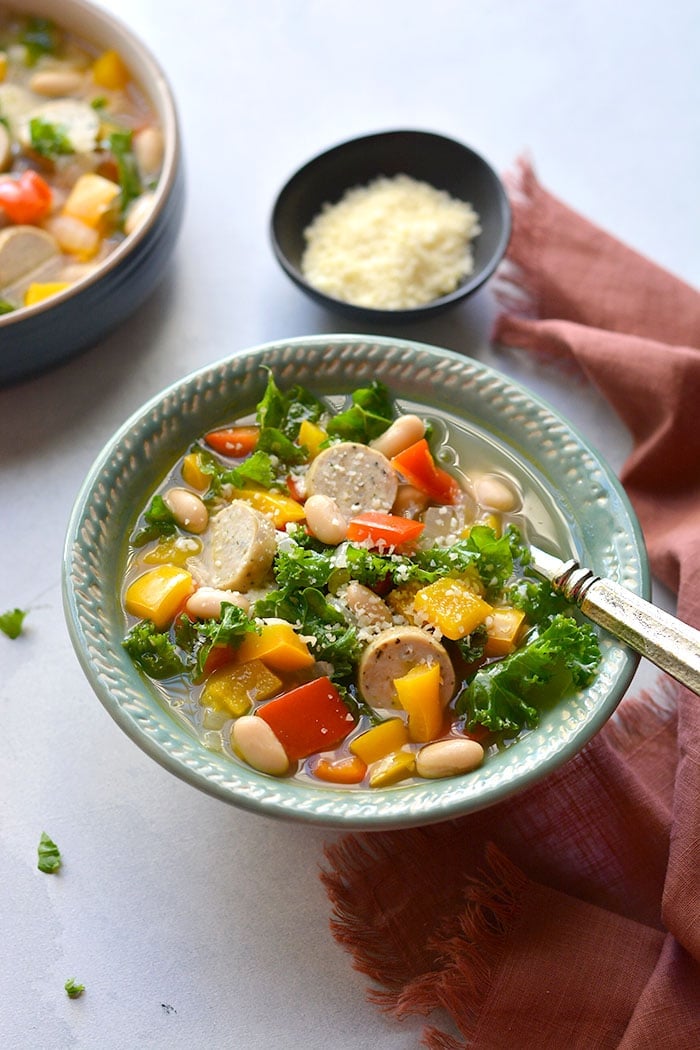 Can You Replace The Beans In Soup
I love beans in soup for a healthy complex carbohydrate. Beans are high fiber making them filling and incredibly nutritious. If you can't tolerate beans or aren't a bean person, you can easily replace the beans with butternut squash, lentils, quinoa, rice or cauliflower rice. Any of those would be delicious substitutions to beans!
More chicken soup recipes to enjoy
Instant Pot Turmeric Chicken Rice Soup
Creamy Chicken Cauliflower Soup
Whole30 Chicken Noodle-less Soup
Healthy Kale Sausage Pepper Soup
Healthy Kale Sausage Pepper Soup! An easy 30 minute one-pot meal with nourishing vegetables, beans and chicken sausage. High in fiber and protein. Gluten Free + Low Calorie
Prep Time 15 minutes
Cook Time 30 minutes
Total Time 45 minutes
Servings 4 servings
Calories 332 kcal
Instructions
Heat a large soup pot over medium heat. Spray with cooking spray just enough to cover the bottom of the pot. Add diced onions, bell peppers and minced garlic. Cook 5-7 minutes until soft.

Add the chicken broth, sliced chicken sausage, kale, paprika, parsley, salt and pepper. Stir and bring the pot to a strong simmer then reduce to low and cover 20 minutes.

Stir in the cannellini beans and cook another 5 minutes to heat. Serve immediately.

Recipes keeps in the refrigerator up 7 days or can be frozen up to 60 days.
Course Dinner, Lunch
Cuisine American
Keyword 30 minute, bell pepper, cannellini bean, chicken sausage, gluten free, healthy, kale, low calorie, sausage, soup
Nutrition facts per serving (1serving)
Calories 332 kcal
Fat 14 g
Saturated Fat 3 g
Cholesterol 60 mg
Sodium 2000 mg
Potassium 789 mg
Carbohydrates 35 g
Fiber 6 g
Sugar 3 g
Protein 25 g
Vitamin A 11413 %
Vitamin C 179 %
Calcium 240 %
Iron 5 %
Meal Plans
Get a meal plan designed to meet your weight loss goals.
Learn More
What I Used For The Recipe