This post contains affiliate links. As an Amazon associate I earn qualifying purchases. Click here for more about this policy.
Paleo Sausage Kale Coconut Egg Muffins made with coconut flour for a rich, creamy texture. High protein, low carb breakfast muffins that are hearty, filling & taste like mini pizzas! Gluten Free + Low Calorie + Paleo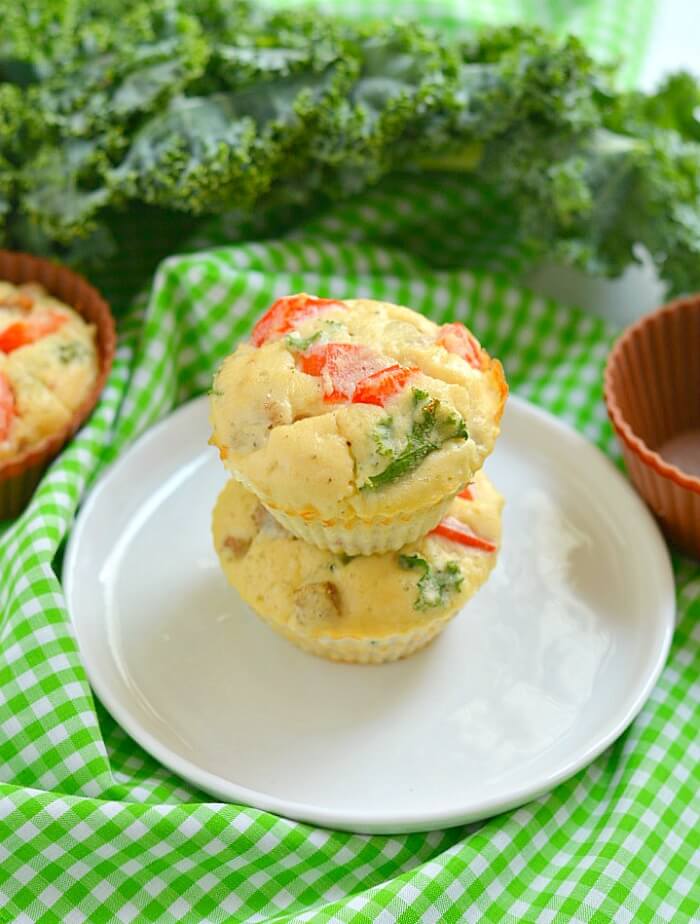 Hello Muffin Monday! Do I have a goodie for you guys. But first, important reminder! Today is the last day to register for Fall Group Coaching. Make sure you head over and register before you forget. I would hate to see you miss out on this amazing program and accountability group!
Okay, so fast forward to muffins…
You know how much I adore my egg muffins. Easy spinach pepper egg muffins and cauliflower egg muffins are regular rotations on my weekly meal prep. It's an easy way to get a protein packed breakfast and sneak in some veggies. Egg muffins also guarantees you'll be eating healthy every morning because there's no fuss of cooking. All you need is 30 seconds in the microwave and EAT!
I've taken egg muffins to a whole new levels with these Sausage Kale Coconut Egg Muffins. They are serious egg muffin business! You're probably not going to believe this, but these taste a lot like a sausage egg muffin from McDonald's. I could be wrong about that, seeing as it's been over a decade since I had one. Either way the creamy, dense texture of these remind me a lot of them.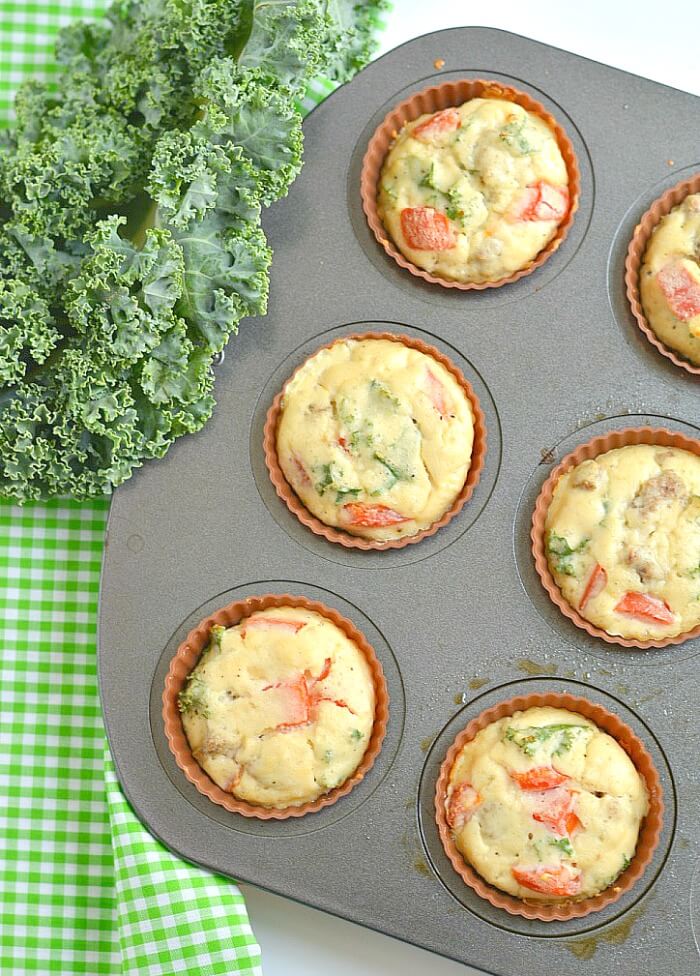 For these Sausage Kale Coconut Egg Muffins, I added coconut flour, and let me just say it makes these amazing. That coconut flour gives them them a rich, almost butter-like texture. It makes them much heartier than a regular egg muffin and more filling too!
The sausage gives the breakfast muffins extra protein and a tasty, salty, pizza like flavor no one can resist. At least I can't. Some habits never get old! The kale and pepper tie everything together and add a bit of crunch.
There's definitely a lot of fun to be had with this recipe. It's like pizza. The topping options are endless and anything you add is guaranteed delicious. If you make them, be sure to tag me on Instagram so I can re-share your pizza making masterpieces!
Sausage Kale Coconut Egg Muffins
Paleo Sausage Kale Coconut Egg Muffins made with coconut flour for a rich, creamy texture. Hearty and filling breakfast muffins that tastes like mini pizzas! Gluten Free + Low Calorie + Paleo + Low Carb
Prep Time 10 minutes
Cook Time 25 minutes
Total Time 35 minutes
Servings 12 servings
Calories 65 kcal
Instructions
Preheat oven 350 F. Prepare a muffin tin with liners or spraying liberally with cooking spray. Muffin liners work best here!

In a medium bowl, whisk together the eggs white, eggs, milk, salt, pepper and thyme until frothy.

To the eggs, add sausage, kale, red bell pepper and coconut flour. Stir together just until the coconut flour has been absorbed by the mixture. Do not over mix or the batter with stiffen from the coconut flour.

Add the batter to the muffin cavities, dividing it evenly among the 12 cavities.

Bake at 350 F for 25 minutes.

Remove from the oven and transfer muffins to a wire rack to cool 5 minutes before eating.

Store muffins in the refrigerator 4-5 days. They also freeze well!
Course Breakfast
Cuisine American
Keyword breakfast, coconut, egg cup, egg muffin, gluten free, healthy, kale, low calorie, low carb, Paleo, sausage
Nutrition facts per serving (1egg muffin)
Calories 65 kcal
Fat 2 g
Saturated Fat 0.1 g
Cholesterol 6.5 mg
Sodium 137.8 mg
Potassium 0 mg
Carbohydrates 1.3 g
Fiber 0.4 g
Sugar 0.4 g
Protein 7.4 g
Vitamin A 0 %
Vitamin C 0 %
Calcium 0 %
Iron 0 %
What I Used For The Recipe