This post contains affiliate links. As an Amazon associate I earn qualifying purchases. Click here for more about this policy.
These Low Carb Low Calorie Veggie Substitutes are more filling, nutritious and delicious. They will keep your blood sugar stable and give you more energy. Replace pasta, rice and other grains with these!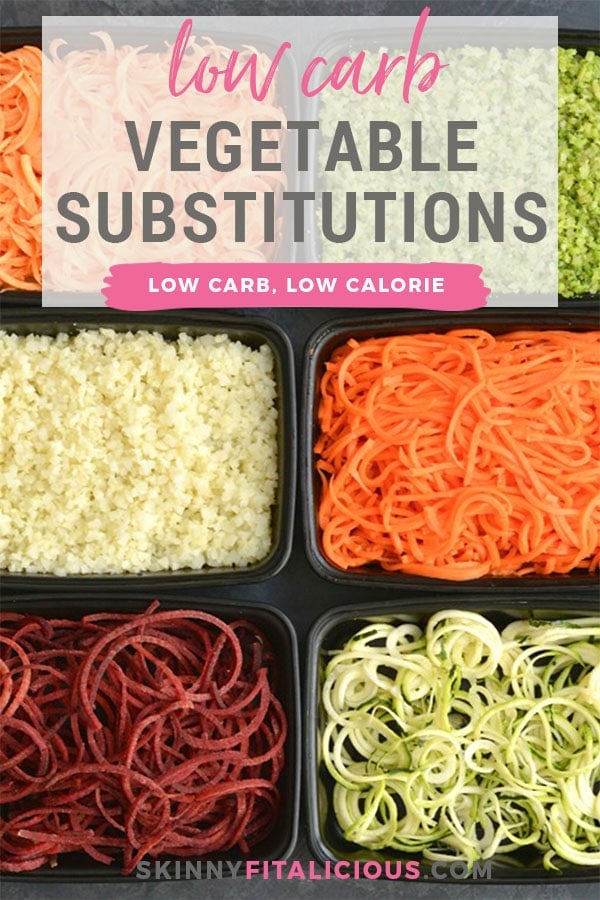 The number one question I get from the ladies in my group coaching is what swaps are better to eat for this and that. I love this group because some of the solutions are obvious, but for many they are not. Brainstorming and talking through options as a group is a supportive way to give others a helping hand in their healthy eating. That's why I love this community!
For instance, pasta. This is always a question I get. What can I substitute for pasta? Before answering that question, we need to understand why we are substituting pasta.
So, when I was losing 80 pounds one of the very powerful things I learned by counting calories was how many calories I was wasting away on pasta. A mere 3-ounces of pasta has 200 calories on average. Most individuals eat 4-5 times that at a minimum. That's at least 1000 calories of mere pasta!
Now calories are not everything, but the fact is a higher carbohydrate content food like pasta is stored as fat unless you burn it. Your muscles only have so much space for storing carbohydrate energy. When you overeat carbohydrates, your body stores them for a rainy day. This is why there's been a drastic increase in obesity, heart disease and type II diabetes.
What I realized losing weight and counting calories was I could eat MORE FOOD by eating low carb low calorie veggie substitutes. To me, more food was more important than eating 3-ounces of pasta.
Because guess what? The 3-ounces of pasta did nothing for me. I would temporarily feel satisfied from the carb rush then be starving 20 minutes later. Why? Because they're empty calories with not a lot of fiber to balance the blood sugar spike.
Vegetables are more filling and I'm willing to bet you never overeat them. You don't eat one carrot and another and another until you're binging on carrots. That's because carrots have fiber and water which slow the blood sugar response and make you feel full.
The bottom line? Carbs are stored as fat if you over eat them because your body has limited storage for them. You get more bang for your buck eating those low carb low calorie veggie substitutes! And, as a bonus you get all the minerals and nutrients from veggies that you need.
Now that you understand why we substitute with low carb low calorie veggies, let's talk about what the options are.
Low Carb Low Calorie Veggie Substitutions
Cauliflower rice, broccoli rice, beet noodle, zucchini noodles (zoodles), carrot noodles, spaghetti squash and sweet potato noodles (<- lower in carbs than russets).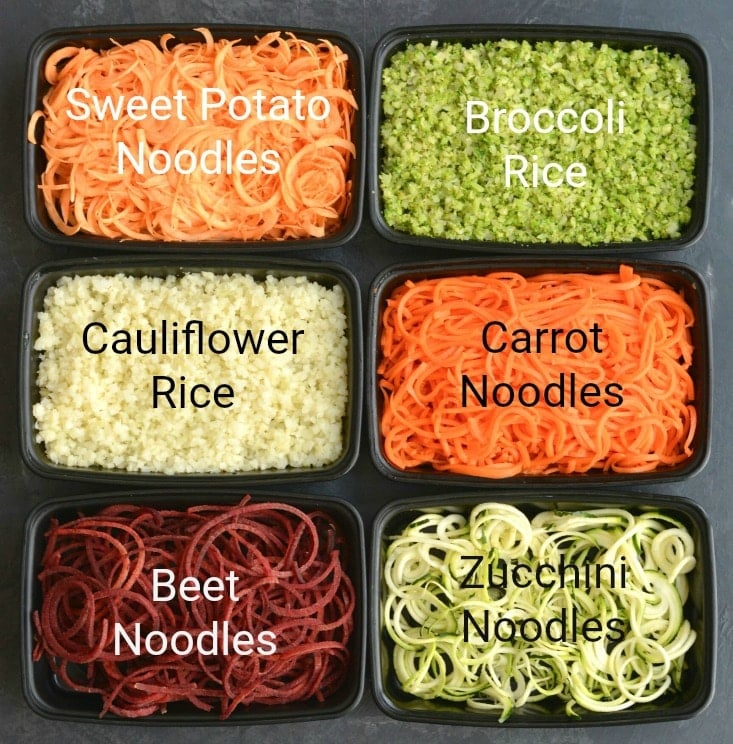 Where Do You Find Them
Veggie substitutes can be found in the produce section of your grocery store or in the frozen food section. You can spiralize them or roughly chop them into rice using a blender or food processor at home. With the exception of spaghetti squash and sweet potatoes, you can buy them already riced or spiralized in the produce section of frozen food section. This costs a bit more, but my time is valuable so the little extra is a huge win!
How To Replace Them
Replace them in recipes that call for rice, quinoa, couscous, spaghetti, any pasta variety, potatoes, or anything carbohydrate heavy. I even recommend to my clients they add them to these recipes to help them eat less of those carbs. For example, mix cauliflower rice in with brown rice to make it more filling and dense. You'll eat less!
What Recipes To Make With Them