A healthy version of Chinese takeout, this Gluten Free Kung Pao Shrimp is healthy, soy free and dairy free. Sweet, spicy and ready in 20 minutes! Gluten Free + Low Calorie with Paleo option
Asian dishes are by far my favorite to make! They're easy to lighten up and they have incredible flavor making it easy to make them a staple in your kitchen. I mean when something tastes delicious, you always want to make it over and over again no matter how many veggies are snuck in it. Am I right?
Which leads me to…veggies! Asian dishes are usually loaded with veggies and those veggies always taste amazing submerged in the sauce. The pickiest of eaters will always eat veggies when they're prepared the right way and have the right flavor. This recipe does all that! Let's make a veggie packed gluten free kung pan shrimp…
Gluten Free Kung Pao Shrimp
This recipe will become a NEW 30-minute dinner favorite in your house and will get your picky eaters to eat more vegetables! It takes 10 to prep and 20 minutes to cook. When I want a healthy meal during the week or when I'm too tired to cook on the weekend, a stir fry like this gluten free Kung Pao shrimp is what I make!
This dish is healthier because unlike other stir fries, this one's not breaded. It's higher in protein and loaded with veggies.
And did I mention it's crazy delicious? The sauce is everything and it's likely if you're already enjoying a gluten free diet or have been for awhile, that you already have all the ingredients to make it in your home. Incredibly filling, flavorful and a healthier option than takeout. What more do you need?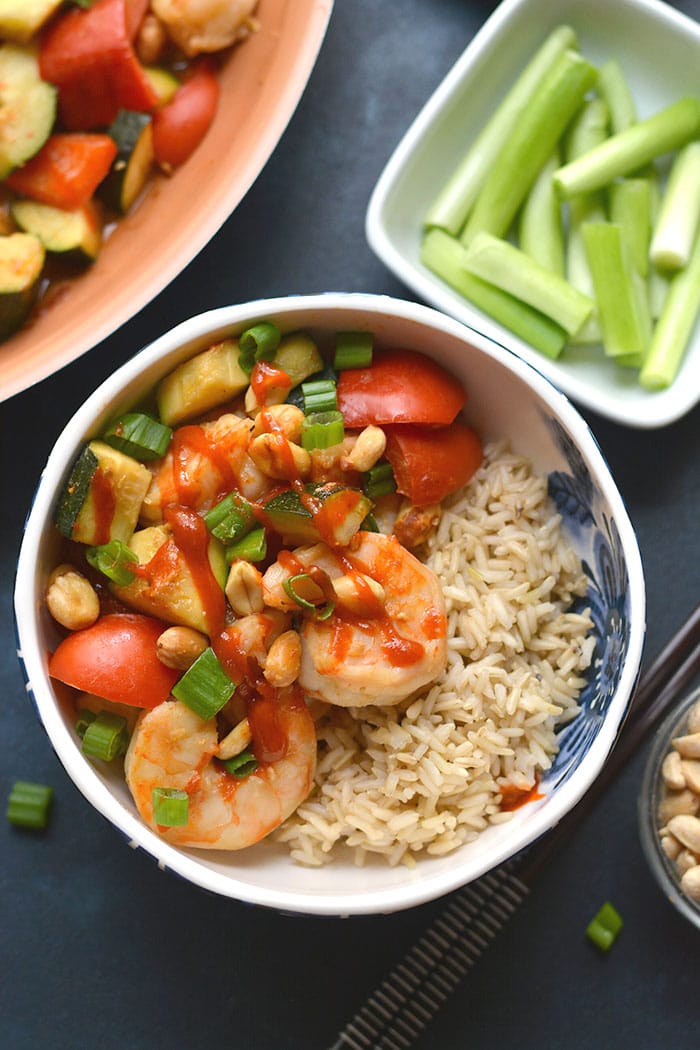 What You Need
Zucchini
Red Bell Pepper
Scallions
Peanuts
Rice or Cauliflower Rice
Coconut Aminos
Sriracha
Almond Butter
Olive Oil
Rice Wine Vinegar
Ground Ginger
Helpful Tips
This Kung Pao Shrimp is not overly spicy. Most restaurants use spicy chili peppers or Sichuan peppercorn to spice up theirs. The Sriracha gives this recipe the right amount of spice without putting your mouth on fire. Feel free to spice it up or down as much as you like!
To make this lower carb or Paleo, simply swap the rice with cauliflower rice or your favorite low carb veggie substitute. I find cauliflower rice tastes better when it's absorbed with the right flavor and this is certainly a good one to try it with!
Other Asian Recipes To Try
Most Asian recipes can be made lighter and healthier, and in under 30 minutes. Here's more lightened up recipes to try!
If you make this recipe or any others, tag SkinnyFitalicious on Instagram or Facebook or let me know in the comments below. I love seeing what you make!
Gluten Free Kung Pao Shrimp
A healthy version of Chinese takeout, this Gluten Free Kung Pao Shrimp is healthy, soy free and dairy free. Sweet, spicy and ready in 20 minutes! Gluten Free + Low Calorie with Paleo option
Prep Time 15 minutes
Cook Time 20 minutes
Total Time 35 minutes
Servings 4 servings
Calories 380 kcal
Instructions
Add the rice to a pot of boiling water according to package instructions.

Bring a large skillet to medium heat. Add the olive oil, garlic, zucchini and bell pepper. Stir to combine.

Cook the veggies 5 minutes or until slightly tender. While the veggies cook, stir together the ingredients for the sauce - coconut aminos, rice wine vinegar, almond butter, ginger and Sriracha.

Add the sauce and the shrimp to the skillet. Stir to combine. Cook 5 minutes or until the shrimp is opaque. Stir in the peanuts and scallions.
Course Dinner
Cuisine Asian
Keyword 30 minute, asian, chinese, coconut amino, dairy free, dinner, gluten free, healthy, kung pao, low calorie, shrimp, soy free, takeout
Nutrition facts per serving (1serving)
Calories 380 kcal
Fat 15 g
Saturated Fat 2 g
Cholesterol 285 mg
Sodium 1406 mg
Potassium 644 mg
Carbohydrates 30 g
Fiber 4 g
Sugar 5 g
Protein 29 g
Vitamin A 2120 %
Vitamin C 104.2 %
Calcium 213 %
Iron 4.1 %
Meal Plans
Get a meal plan designed to meet your weight loss goals.
Learn More
What I Used For The Recipe