This post contains affiliate links. As an Amazon associate I earn qualifying purchases. Click here for more about this policy.
Meal Prep Chicken Teriyaki Broccoli! A classic recipe made with less sugar and soy free. An easy recipe that's quick, delicious and nutritious! Gluten Free + Low Calorie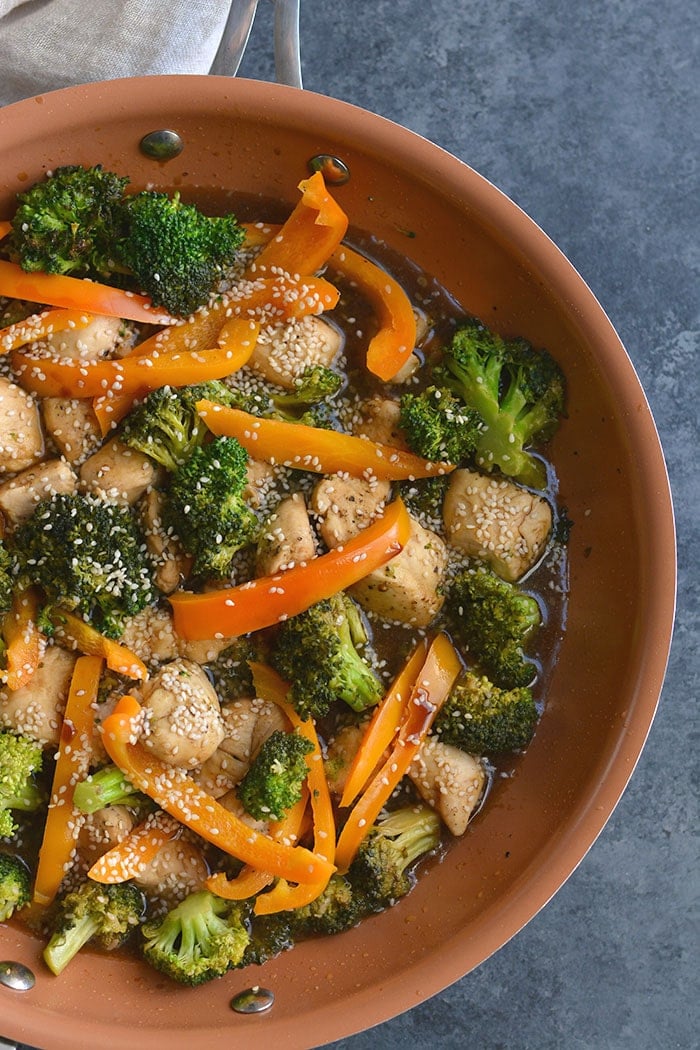 Friends! We finally hit success in my home. I don't know about you, but getting my boyfriend to try anything new or healthy is like pulling teeth. Ya feel me? I mostly make what I want and if he doesn't want it, he makes himself something else.
I'm not a personal chef and I coach my clients to do the same with picky eaters in the house. Offer it and if they don't like it they, they can make something for themselves or in the case of younger children, they'll eat when they're truly hungry. 
This Meal Prep Chicken Teriyaki Broccoli came from a woman in my group coaching. Ironically, she almost didn't join. She told me in January she didn't have enough money to start her weight loss journey.
I asked her where she'd be in a month without my help then she realized she had to join. After 6 weeks, she told me joining was the best decision she ever made!
Meal Prep Chicken Teriyaki Broccoli
So yes, many of my recipe ideas come from my clients or my picky other half. But I'm not complaining! This Healthy Chicken Teriyaki Broccoli was desperately needed on this website.
A classic recipe that's lighter, soy free, gluten free and low in sugar. Asian take-outs always have a ton of added sugar and most people don't realize it. 
In fact, there's no added sugar in this recipe either. Many recipes across the internet have honey added to them and you don't need that.
Too much added sugar causes hormones disruption and insulin resistance and there's already enough hidden sugar everywhere. The vegetables and coconut aminos have enough natural sweetness. Most people just don't realize this. 
To make this soy free chicken teriyaki, I swapped gluten free soy sauce with coconut aminos. It has the same flavor as soy, but without the inflammatory properties. 
What You Need to Make Healthy Chicken Teriyaki
Chicken breast (or meat of choice)
Broccoli
Bell Pepper
Brown Rice (or cauliflower rice)
Apple Cider Vinegar
Avocado Oil
Arrowroot Powder or Cornstarch
Ginger, Garlic
Helpful Tips
To make this low carb or Paleo, swap the brown rice with cauliflower rice. There's two ways you can cook cauliflower rice or you can simply, add it to the skillet to soak up the sauce.
Bulk it up by adding more veggies! Bok choy, Chinese cabbage, shredded carrots, green bean, okra would be nice additions. If you do add bulk, recommend you double the coconut aminos and apple cider vinegar so there's more sauce. This meal prep is really so simple and versatile so make it what you want! 
I love getting recipe ideas from my clients and readers and if there's anything you'd like to see more of, drop a comment below and let me know!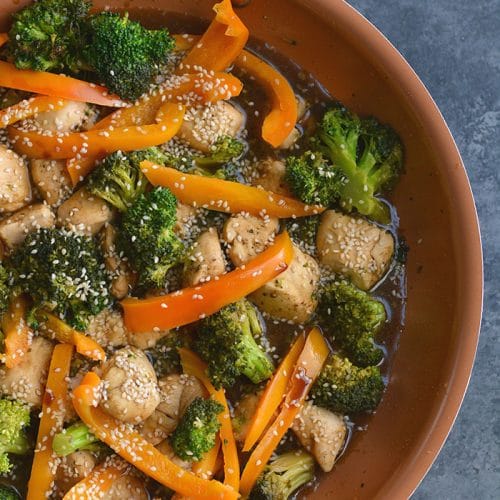 Meal Prep Chicken Teriyaki Broccoli
Meal Prep Chicken Teriyaki Broccoli! A classic recipe made with less sugar and soy free. An easy recipe that's quick, delicious and nutritious! Gluten Free + Low Calorie
Instructions
To a large pot, measure the rice and add water according to package instructions. Set to boil and cover. Cook until done.

Heat a large skillet to medium heat. Add the oil, chicken, garlic, ginger, salt, pepper and cook 4-5 minutes flipping once until no longer pink.

While the chicken cooks, whisk together in a small bowl the coconut aminos, apple cider vinegar and arrowroot powder.

To the skillet, at the coconut aminos mixture with the broccoli. Stir and cook 5 minutes until broccoli begins to soften.

Add the sliced bell pepper to the skillet and cook another 5 minutes or until all the veggies are to desired tenderness. Sprinkle with sesame seeds and divide into 4 meal prep containers with cooked rice.
Nutrition
Serving: 1servingCalories: 443kcalCarbohydrates: 48gProtein: 30gFat: 13gSaturated Fat: 2gCholesterol: 72mgSodium: 490mgPotassium: 790mgFiber: 4gSugar: 2gVitamin A: 1250IUVitamin C: 81.2mgCalcium: 94mgIron: 2.4mg
What I Used For The Recipe