The March 25th 14 Day Sugar Challenge sign ups are in full swing! I LOVE doing these challenges to teach you to reset your hormones from sugar cravings.
I no longer offer the 14 Day Sugar Challenge. Click here to see my weight loss coaching programs.
I'm sure you're not adding spoonfuls of sugar to everything you eat, but I am sure that sugar's in everything you eat and drink. Even in healthy foods that say organic, Paleo, Keto, etc. have added sugar. It's so easy to overeat sugar if you're not eating for your hormones and paying attention.
The problem is cutting added sugar from your diet isn't enough to reset your hormones.
Insulin, leptin and Ghrelin are key hormones for cravings and weight loss.
Insulin is your fat storing hormone and with increased sugar consumption you become insulin resistant. As your cravings increase and you eat more sugar, insulin is released more frequently causing decreased sensitivity to sugar and increased fat storage.
You also become leptin resistant. Most overweight people are leptin resistant. This means your brain doesn't recognize the fat stored in your cells and thinks you're starving.
Ghrelin is the hormone in your stomach that tells your brain when you're full. This hormone gets blocked when you eat too much added sugar which is why you can eat a bag of chips or cookies endlessly and never feel full.
Sugar cravings are a sign that Insulin, Leptin and Ghrelin are out of balance.
How do you balance your hormones & stay consistent?
Step 1 - Eat for your hormones
Cutting added sugar from your diet isn't enough to reverse these hormone imbalances. In the 14 Day Sugar Challenge, I teach you how to eat for your hormones.
Step 2- Shift your thought patterns that drive your behavior to eat junky foods when you're feeling negative about yourself
Let's face it. You can do ANYTHING for 14 days. But can you do it beyond the 14 days? Not without my help. You have to work on mindset to stay consistent. The emotions that make you turn to food when you feel bad about yourself. That's what I teach you AFTER the 14 Day Sugar Challenge in my group coaching.
Testimonials from others
14 Day Sugar Challenge
The 14 Day Sugar Challenge is a 14 day group challenge in my private Facebook group where I provide you with a nutrition guideline you are challenged to follow for 14 days. I provide you with an example meal plan and recipes for you to design your meal plan. I think it's important to LEARN how to create your own meals so you can do it yourself beyond the challenge.
Each day during the challenge, I provide a video for you to watch which helps you identify where your cravings are coming from so you can work to identify your cravings and fix them. I'm told by those who have taken the challenge that the videos provide A TON OF VALUE in identifying where cravings come from.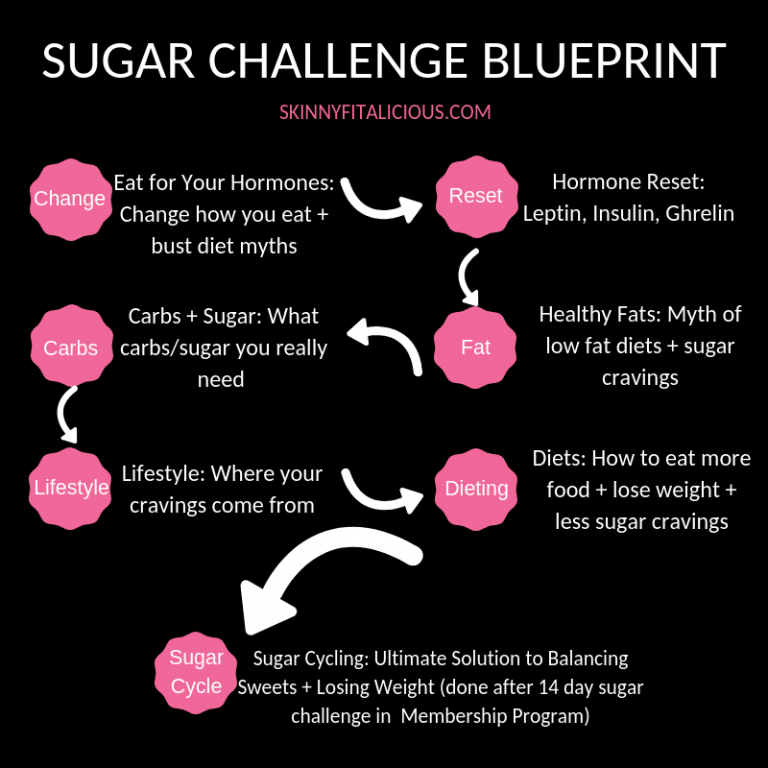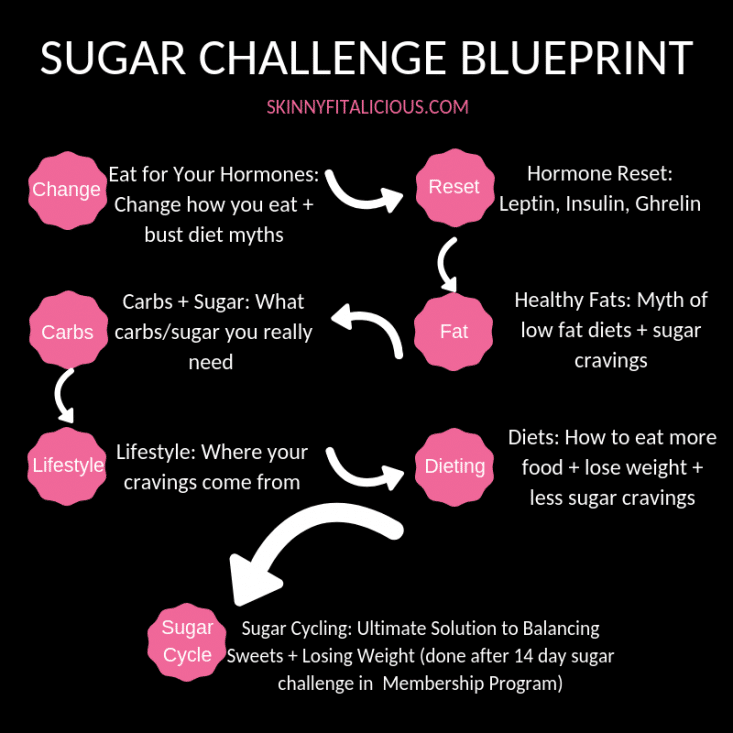 Group Coaching Program
After the 14 days, you work with me in the group coaching for 3 months. A FREE bonus when you sign up!
The first step is you scheduling a 1:1 call with me to review your health concerns and goals. After your 1:1 call, I design a custom plan for you to follow. This is custom because everyone's goals will be different. For some, this may be custom macronutrients and calories while for others it may be more lifestyle, intuitive eating and supplement focused.
As you follow your plan, you continue to get mentorship from me in the Facebook group. Ask questions, watch trainings videos in my membership website and I keep you engaged with challenges and mindset discussions.
While you are in the program, you have access to my group coaching site where all videos, documents and trainings exist. You can access and watch them anytime! There's over $3000 worth of videos and content in this platform. It has everything you need to get you on track with your goal!
Sneak peak at the group coaching site
Bonuses When You Sign Up
BONUS 1: 3 Months FREE Membership (valued at $549)
BONUS 2: Custom Macros + Health Blueprint (valued at $189)
BONUS 3: 1:1 Call with me (valued at $129)
How To Sign Up
Sign up now through March 25th!